Frang, CBSO, Yamada, Symphony Hall Birmingham review - the tingle factor |

reviews, news & interviews
Frang, CBSO, Yamada, Symphony Hall Birmingham review - the tingle factor
Frang, CBSO, Yamada, Symphony Hall Birmingham review - the tingle factor
Thoughtful Shostakovich from Vilde Frang, non-stop thrills in Respighi's Roman triptych
Thursday, 20 February 2020
Roman holiday: Kazuki Yamada
There's a particular moment of a particular recording – I suppose every slightly over-obsessive record collector has one – that I just keep listening to over and over again. It's in Fritz Reiner's 1960 Chicago Symphony recording of Respighi's The Fountains of Rome, and it comes right after the first flood of the Triton Fountain starts to recede.
The violins glide up into their cadence; just two notes, but the gesture is so graceful, so effortless, and so gloriously, naturally stylish that it gives me shivers every time. I wondered if Kazuki Yamada would get the CBSO's violins to do something similar in this live performance, and sure enough he did. Not, I'm sure, because he'd heard that recording or was striving for effect. But simply because it felt so right; and because that's the sort of conductor he is.
By that stage in the concert, admittedly, I was experiencing tingles of auditory delight at roughly 20 second intervals. Yamada is the City of Birmingham Symphony Orchestra's principal guest conductor, and you could see why the musicians like him. If the orchestra's music director Mirga Gražinytė-Tyla's supercharged musical intelligence evokes memories of Rattle in Birmingham, Yamada is reminiscent of Andris Nelsons: a smiling, engaging presence who seems to exude music, and who can shape massive sonorities with the wave of a finger. He makes it look so easy: sculpting lush, baroque swirls of sound or sending sensuous quivers through a velvet sheet of string tone. He's light on his feet too, practically breaking into a boogie in the finale of Respighi's Roman Festivals, and shouting encouragement to a CBSO which – at the end of what were effectively three concertos for orchestra in close succession – sounded as fresh as it had at the start of the evening.
By programming all three of Respighi's Roman tone poems as one quasi-symphonic triptych, Yamada was clearly playing to his strengths. You might, perhaps take issue with his decision to begin with Roman Festivals and end with The Pines of Rome. The orgiastic final Befana of Roman Festivals – where Respighi grabs huge fistfuls of Petrushka, Die Tote Stadt, Le Sacre du Printemps and Turandot and piles them all up in one ear-splitting, Ivesian sonic collision – is a fairly impossible act to follow. But Yamada kept right on, bright eyed and seemingly determined to make each successive detail of Respighi's technicolor orchestration out-ravish the last. The miracle was how translucent it sounded – even with offstage brass and organ doing their best to shake the walls down. Mandolin solos, horn calls, Rosenkavalier dissonances and jangling spurts of piano and glockenspiel shone out with hallucinatory brilliance.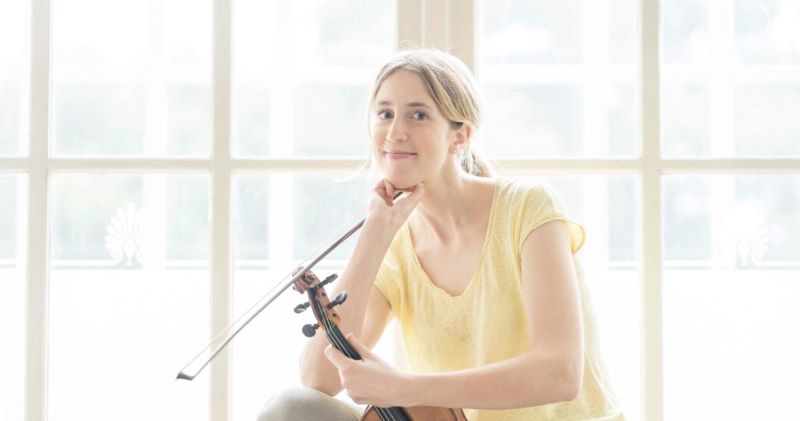 Still, the depth and delicacy of the quiet music was the real highlight: aided by Yamada's willingness to let his players fly free, and to back them up with delicate, fluid sensitivity. The closing bars of the Fountains became a whispered cadenza for full orchestra; and in The Pines of the Janiculum clarinettist Oliver Janes shaped his solo with melting softness, while Yamada supported him with cello and bass chords that moved as naturally and as gently as breathing. The final, roof-raising Pines of the Appian Way crowned an evening of some of the most dazzlingly virtuosic orchestral playing I've heard this century; but I don't think the audience's cheers were just for the loud bits.
The concert had begun with Shostakovich's First Violin Concerto – a sombre foil to the Respighi, in which Yamada was noticeably restrained. The result, quite rightly, was to place the soloist Vilde Frang (pictured above) front and centre. Her tone is ripe enough to suggest the old-school Russian intensity of the work's dedicatee David Oistrakh, but it also has a woody, untamed quality which stood out all the more poignantly against Yamada's grey, subtly-layered strings and black, loamy bassoons. More to the point was the unaffected assurance of Frang's playing: her ability to place each phrase exactly where it needed to be, whether in the opening Nocturne (shaped by Frang in a single, singing paragraph) or a finale whose needlepoint brilliance was all the more thrilling for being so masterfully controlled. Again: it's not always the loud bits that stick in the memory.
some of the most dazzlingly virtuosic orchestral playing I've heard this century
rating
Share this article