Helaine Blumenfeld: 'Beauty has become synonymous with something banal' |

reviews, news & interviews
Helaine Blumenfeld: 'Beauty has become synonymous with something banal'
Helaine Blumenfeld: 'Beauty has become synonymous with something banal'
To coincide with her retrospective 'Hard Beauty', the sculptor talks about philosophy, language and the conflicting roles of artist, mother and wife
Tuesday, 27 September 2016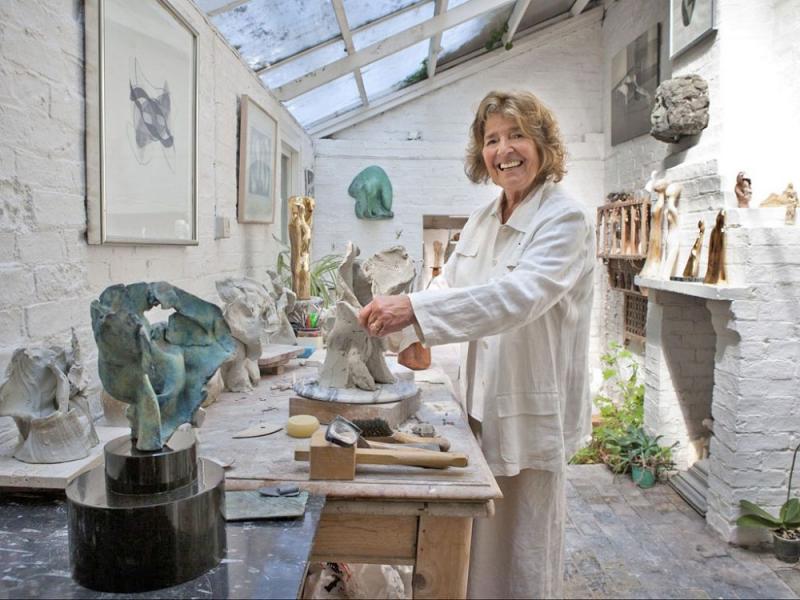 Helaine Blumenfeld in her studio in Grantchester, 2012
Helaine Blumenfeld was living in Paris in the 1960s when she received an invitation from the Russian-born sculptor Ossip Zadkine to attend one of his salons. Zadkine had emigrated to Paris at the beginning of the century, evolving a style influenced first by Cubism and then African art.
His most celebrated sculpture
The Destroyed City
(Rotterdam) had drawn comparisons with Picasso's
Guernica
, while his social circle had included Henry Miller, Picasso, Brancusi and Modigliani. So when he invited the then unknown Blumenfeld over after seeing her sculptures in the atelier where he had been director, it seemed like an admission to the highest echelons of the Paris art world.
There was, however, a misperception on Zadkine's part. "He said to the man who was running the atelier, 'Will you send this chap to me on Sunday?'", Blumenfeld relates. "Everyone thought it would be very funny to send me along without letting him know I was a girl. When he opened the door to me he said, 'What are you doing here?' After his initial surprise, we got along very quickly. By the end of the afternoon he had invited me to come and work in his studio."
Half a century later Blumenfeld has more than 80 large-scale sculptures, and several smaller works in public and private collections around the world (pictured right: Continuity, 2016). Her swooping translucent Spirit of Life towered opposite Park Lane's Dorchester Hotel in 2014, while her dramatic bronze Fortuna will shortly be unveiled at Canary Wharf. She has exhibited alongside Henry Moore, has been described as "a force of nature" by Director of the Getty, Timothy Potts, and was awarded an OBE for services to sculpture in 2008. In recent years, her works have trebled in value, and a retrospective of her career has just opened in Mayfair. Yet despite this, when she met Zadkine, she confesses, "I didn't really think of myself as an artist."
Prior to moving to Paris, she had left her native New York to do a PhD in moral philosophy at Oxford. "I was studying John Locke's theory of ethics," she says. "I was interested in the way we know who we are and act according to our own beliefs without being swayed." Yet Blumenfeld was plagued by the sense that words were not enabling her to express her most profound thoughts about what it was to be human. "It seemed the more I had the less I could describe something in a way that emotionally moved people."
Then Blumenfeld and her husband Yorick – the American writer and futurologist – travelled to Naples where for the first time she saw ancient sculptures created during the Cycladic era. "These archaic – mainly female – figures with their distinctive form really spoke to me, they seemed a way into another vocabulary. John Locke tried to develop a language of moral philosophy that would function like mathematics. I had been struck by the apparent impossibility of that aim, but this [kind of abstraction] really communicated something to me."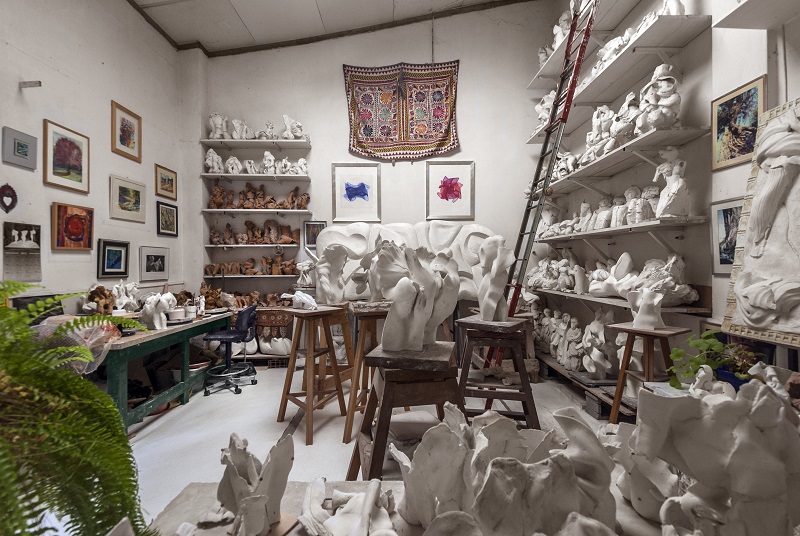 We have met in the complex of studios where Blumenfeld works in the foothills of the Apuan Alps. She divides her time as a sculptor between here and Cambridge. Now in her mid-seventies she could easily be taken for a woman in her fifties, dressed with understated glamour in a simple white jacket and long undulating skirt. She first came to Pietrasanta in 1975, a town that became famous following Michelangelo's quest to work with the pure and exquisitely luminous marble from the surrounding mountains (pictured above: Blumenfeld's studio in Pietrasanta).
"At first I didn't come for the marble, I had come to do bronze casting," she continues. "But when another sculptor – Alice Penalbala – saw my models she said, 'You should really be doing these in marble'. I started to learn to carve, and joined Studio Sem (run by Sem Ghelardini, the charismatic artisan, partisan and bon viveur). It was very hardcore, I really had to prove myself.'"
Though Blumenfeld's toughness is in no doubt, what defines her work is the delicate course it charts between abstraction and figuration. She is sometimes described as the heir to Moore, but her work has a more multi-layered, ethereal quality. "The stories I tell through sculpture are those complex wars that go on inside you, those struggles to balance who you are," she declares. She often thins the stone so it distills light in a way that adds an extra dimension to the sculpture. "What I try to define is beyond words," she continues. "It is to do with the sense that we have a soul, which is not a religious entity – it's something far beyond that."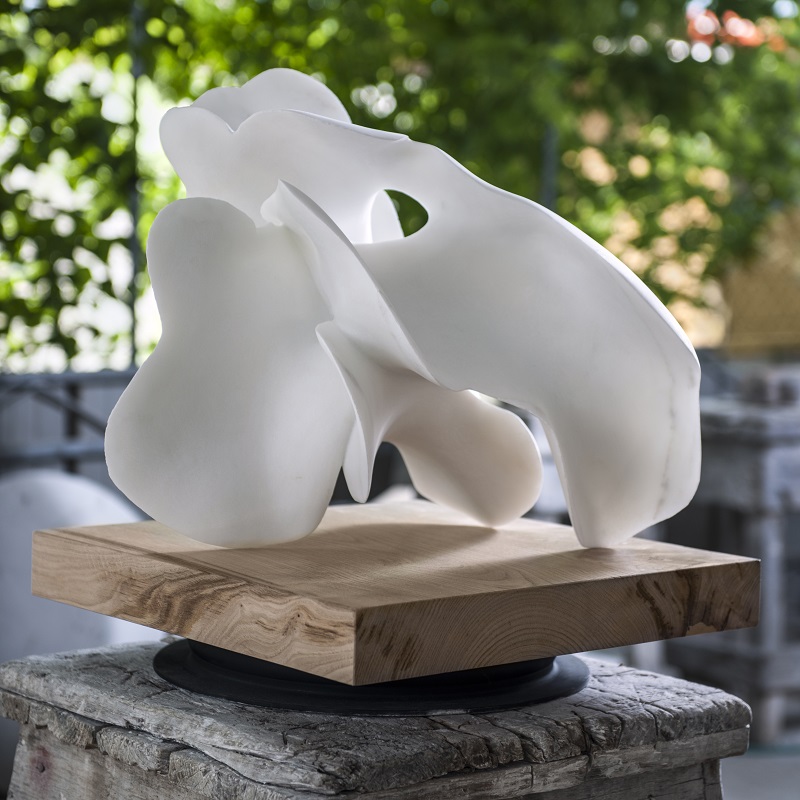 She is also preoccupied by the tussle between having a career and being a wife and mother. Often her sculptures divide into two, three or more parts, which can be moved to evoke the shifting tensions of existence. A striking example is her Two Sides of a Woman, 2016 (pictured left), where one part represents a diminished female figure attached to her male partner, the other the strong independent woman she once was. It's fascinating, not least because she gives the impression of being a woman whose fierce self-reliance is well complemented by an intellectually dynamic relationship with her husband of more than 50 years.
She has more obviously experienced conflict balancing her career with motherhood. Both her sons are now in their forties – one is the TV producer Remy Blumenfeld, while the other, Jared, worked as the regional administrator of the US Environmental Protection Agency. Blumenfeld is frank about her concerns that the time she spent away from her sons when she was working in Pietrasanta had a traumatic effect on them. "They're very proud of me now, so I think I've redeemed myself, but we did have some terrible times. Women have a very hard time balancing those different aspects of themselves."
This is not an expression of anger, more an acknowledgement of the inevitable complexity of existence. "There is no beauty without pain", Blumenfeld declares at one point. "It's one of the great tragedies of our era that beauty has become synonymous with something banal." I say that for someone who complains about the limitations of words, she is extremely articulate about her vision. She smiles. "The work does it much better," she replies.
The stories I tell through sculpture are those complex wars that go on inside you, those struggles to balance who you are
Share this article