theartsdesk Q&A: actor Polly Walker on 'Bridgerton' and the new breed of period drama |

reviews, news & interviews
theartsdesk Q&A: actor Polly Walker on 'Bridgerton' and the new breed of period drama
theartsdesk Q&A: actor Polly Walker on 'Bridgerton' and the new breed of period drama
Talking wigs, women, and her (brief) experience of coronavirus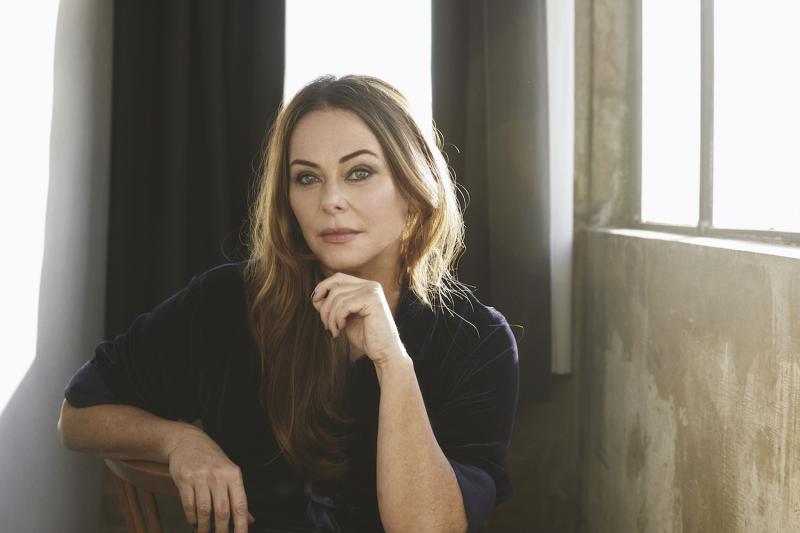 Polly Walker: 'Women are incredibly strong and powerful, and rule the world'
Polly Walker's character in Netflix's sumptuous new Regency romance, Bridgerton, could've easily been little more than a villainous Mrs Bennet.
We meet Lady Featherington as she's forcing one of her daughters into a tiny corset, muttering about how she could fit her waist "into the size of an orange and a half" when she was the same age. But Walker finds the tragedy amid the comedy, creating a character you can't help but sympathise with, as she's done before in
State of Play
and
Line of Duty
. With a second outing pretty much in the bag, Walker discusses what makes
Bridgerton
so refreshing, how she's spent lockdown, and what's next for Lady Featherington.
LAURA DE LISLE: You're no stranger to period drama, but Bridgerton is a different kind of period drama from what we're used to. Did it feel different when you were making it?
POLLY WALKER: Whatever part you play, you try very hard to identify with it and make it real, and current. I try to approach all parts like that. What struck me about this one was the epicness of the production, the largeness, the generosity. It was all quite over-the-top, in a way, bigger than anything I've had before. That was unusual, and fun to experience.
That must have come from the big-budget, Netflix-drama aspect as well.
Exactly. It's nice to walk on a set and find out it's not made of polystyrene! You could sense that there was real money and quality – and the calibre of the people working on it, the designers, was top-notch. I felt very lucky to be part of that world and their creative process.
Your character, Lady Featherington, is fascinating, because a lot of your early scenes are comic, but she's written sympathetically, and you portray her very subtly. How did you approach her?
I didn't want her to be pantomime-esque or ridiculous, because so many negative things are said about her by everyone else: that she's pushy, and she has bad taste, and all that. I had to approach it quite differently, and find the humanity in her. And I found her to be incredibly soft-hearted. She was operating in a world as a kind of outsider, and had a lot of things thrown at her with no support. I thought she was admirable, and very brave, and she picks herself up, and shows remarkable resilience. Yes, she's funny, and that tragicomic element is fun to play – there's always funny and there's always sad. She's both those things. Obviously, I played her, so I like her! But she's a really great character, to be honest, with a lot of positive qualities.
She's an extremely resourceful woman. She's got these three daughters that she's trying to marry off, and they're not the easiest to marry off. That fact hasn't escaped her. She's doing her best. She has an absolutely terrible husband, who treats her like crap. I think she deserves a break. I'm hoping, in Season 2, she gets a break. But I doubt it, because there's too much fun to be had in torturing her. I'm very curious as to who they have lined up to take over the estate. It's shocking, that I lose everything, and some random male relative gets everything. It's going to be awful, but she'll have to suck it up. She's an incredibly proud character, so it's going to be tough for her. She has a large ego.
That seems to be forgiven in male characters more than it is in female characters.
Completely. But 'twas ever thus! (Walker as Lady Featherington, pictured below.)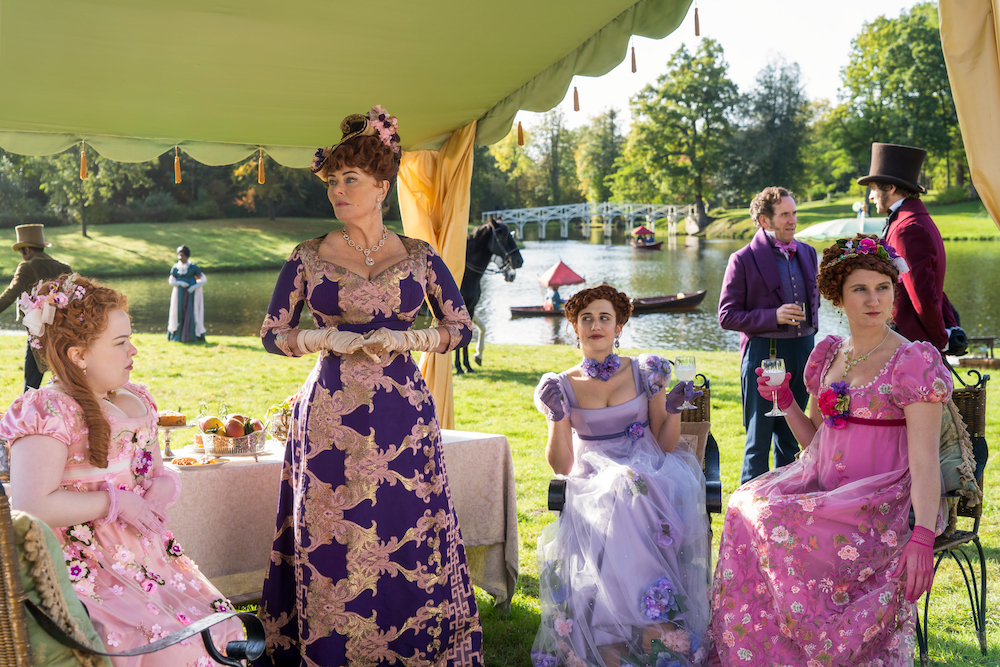 A lot of Bridgerton is about marriage – not just the classic Pride & Prejudice question of who you're going to marry, but also the state of being married. Do you have any thoughts on that?
I think it was very good that they did that. There's the idealised romantic love that Regé [Regé-Jean Page, who plays love interest Simon Basset] and Phoebe [Dynevor, heroine Daphne Bridgerton] portray. And there's Mrs Bridgerton, who had a wonderful loving relationship with her husband that produced eight children. We get the male-female dynamic from so many different angles, and some of it's nice, and a lot of it's not so nice, and that's very true of relationships. That's one of the reasons why people have enjoyed watching it, I think, because it still feels relevant. It's not some historic, boring, unrelatable story. I mean, arranged marriage still goes on in the world, doesn't it? Sometimes it's very successful, but I don't think I'd like to do that. My marriage was obviously not a love match. And yet I'm a loving mother, a dutiful mother. I know my role, and I try to do it to the best of my ability.
Towards the end, Ruby Barker's character asks you how she'll survive being married to a man she doesn't know, and you say, "You find small things to love, and eventually they add up."
Yes, and she found that in her children and her life and her lifestyle. I don't think it was with her husband. But I could be wrong – maybe I'll discover next season that it was a mad, passionate love affair.
I know everybody always wants to talk about the Regency costumes, and I'm afraid I'm no different. What was it like wearing Lady Featherington's wig all day?
That's so interesting, because most people immediately jump to the corset. But the wig was crucial, for me, to playing Portia Featherington. I've just got brown hair, there's nothing remarkable about my hair colour. And then I pop that wig on and it was so bright, and it was styled so brilliantly, that it really helped me get into character. They have to wrap your hair flat around your head, and then you get this stocking, so you look like you're bald. They put the wig on top of that, and you have about 10 million hairpins, which is fine at 11 o'clock in the morning. By eight o'clock at night, you literally feel like you've had a lobotomy. And it's heavy! And you can't touch it – I touch my head and my hair all the time, but you have to be very careful, so as not to mess it up. It's the sort of part where it's a full-on experience, and that was the part that I was most afraid of, the physical side. That I would feel too constrained, and it would be painful, and annoying, and tiring. And it was all those things, but you need them to play those parts. You knew it looked good, so you put up with the torture.
Have you felt that with other parts?
Definitely. In period ones, the corset is a major issue, and is deeply uncomfortable. You get used to it. I did a film years ago called Restoration, and I was in a corset, and they pulled it incredibly tight. I was very nervous, as well, because I had a scene with Robert Downey Junior. So I was hyperventilating anyway, before I even got on the set. It was touch and go whether I would pass out. It's challenging, wearing corsets. You get used to it. Rome was quite a full-on costume, too. I was in big ten-inch platform sandals that I couldn't walk in. There's all sorts of dramas going on underneath the costume (pictured below, Walker as Gill Biggeloe in Line of Duty).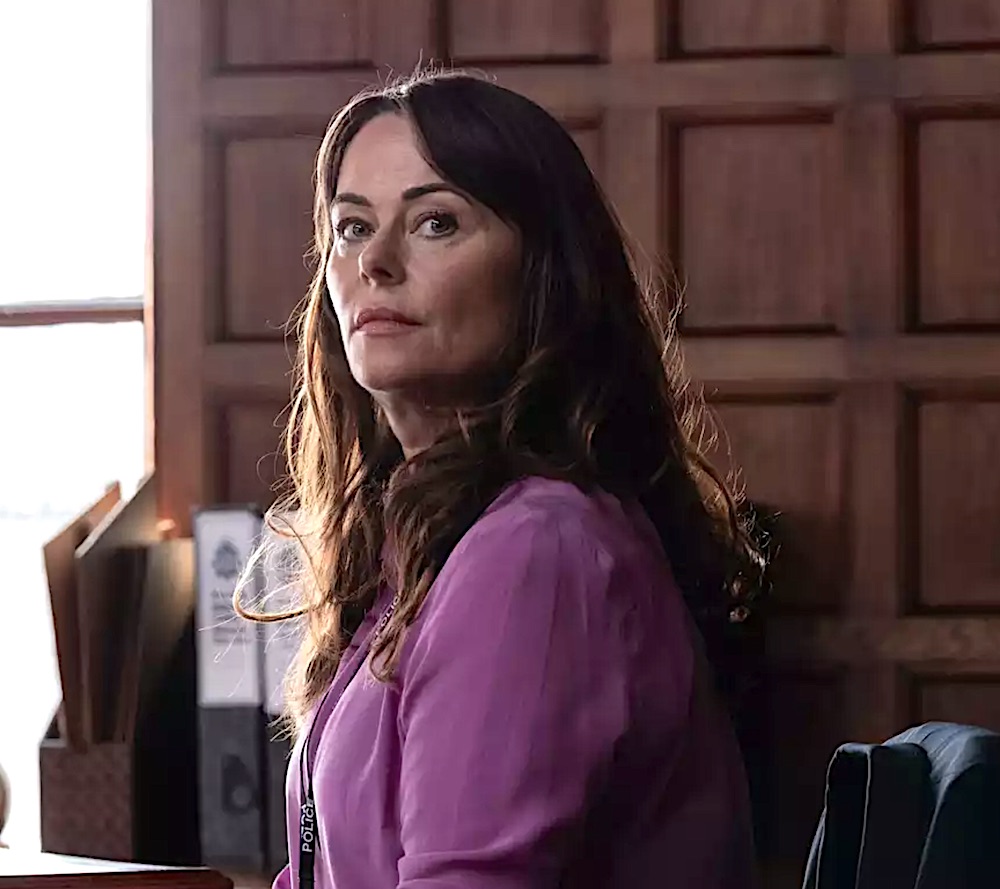 I was thinking about what you said about not being able to touch the wig, and then about the scene where Portia is getting her eyebrows done. She's so precise about where she wants them, and she has to hold herself a certain way all the time. Do you think that affects her character?
I definitely think she had a game face. That's basically all she was about, game face. That's fun to play, because you know that behind that game face, there's a human being with a beating heart, whose feelings get hurt, as hers did, frequently. That's fun, to present the façade but also hint at what's going on underneath, because that asks of you as an actor to do quite subtle, detailed work, which I like to do. You see all sorts of big characters in life, and you just know that when they go home, that's not what it's about, really. She's very concerned about her looks and being attractive, and is hugely conscious of any kind of defect. I think she also doesn't reveal that much. She's incredibly defensive and protective. The greatest relationship she has is with her housemaid, Mrs Varley [Lorraine Ashbourne]. Probably Mrs Varley is the love of her life.
You've mentioned it already, but what do you think is next for Lady Featherington, in the inevitable second series?

She'll have a new man who she'll have to answer to. I hope that's full of conflict and is as difficult as it can be made to be. Or – I doubt this, but maybe Portia will fall in love. It would be great to see the older woman experience of falling in love. I can't imagine that will happen. And just conquering society and becoming the Queen, maybe. That would be nice.

Do you think she'll grieve Lord Featherington (Ben Miller)?
Possibly. Without a man at her side, she has no security or status, so she'll be grieving the money, certainly. Clothes are very important to her; she's going to have to scale back on fabric, which might be a problem. As far as him… I don't think so, but you never know. He gave her status, but he wasn't very loving. There weren't many scenes of him lying next to her, stroking her forehead and saying "I love you, Portia".

That reminded me of something else I noticed about the series: in many ways, it's all about the women, even though it takes place within a patriarchy. Lady Featherington has power through her husband, but the marriage market is dominated by mothers.
That's right. I think women are incredibly strong and powerful, and rule the world, really. Obviously, we are the superior gender. It's nice that the show explores women. It was lovely to be on a set with so many women. Normally, you just get wheeled out, and you're the token woman. You don't generally get to spend time with other actresses, or hear their stories. I loved that.
Was there anyone you bonded with in particular?
I was always with my little group, who were all amazing, and a lot of fun. I spent a lot of time sat next to Ruth [Gemmel], who plays Mrs Bridgerton, in the make-up chair. They're a really cool bunch of people, I have to say. It's nice to see faces that you don't generally see on the telly, as well. It's refreshing. Everybody felt so happy to be there, there were no divas.
What's lockdown been like for you? Or lockdowns, rather.

Each one's been different, really. The first one was the easiest, because we had that lovely weather. It was all quite novel. I had been working hard, so I was pleased to not be allowed to go out. I was just at home in the garden, like most people, going for walks and chilling out. Obviously I was scared, but it wasn't so bad. This one's tough, because the weather's so horrible, and we know what we're in for, and it's all pretty miserable. There are no definite answers. I think the first time round, we were more hopeful that it would be a bit more – I don't know, over, sooner than it has proven to be, and that we would be out of it. But that hasn't happened. I've actually had coronavirus.
What was that like?

I wouldn't recommend it! Luckily I was able to just lie on the sofa and cry on the phone to anyone who'd listen to me. I'm fine now. But it's rubbish, what can I say? I don't know that I can put a positive or funny spin on it. The sooner everybody gets vaccinated, the sooner we can try to rebuild our lives and our confidence again.

What are you looking forward to in 2021?

I'm looking forward to, hopefully, another season of Bridgerton. I'm looking forward to working, to restrictions being lifted, to the weather, to being able to see and hug my kids. To going out to restaurants. Simple pleasures.
I had about 10 million hairpins, which is fine at 11 o'clock in the morning. By 8 o'clock at night, you feel like you've had a lobotomy
Share this article