It's a Sin, Channel 4 review - poignant, funny, vibrant masterpiece
It's a Sin, Channel 4 review - poignant, funny, vibrant masterpiece
Russell T Davies's deep and shapely drama about the impact of AIDS on 1980s London
Gather ye rosebuds: Omari Douglas, Nathaniel Curtis, Olly Alexander, Callum Scott Howells and Lydia West
Finally, it seems, the time is right for a major British TV drama about how the AIDS crisis hit the early 1980s London gay scene.
We've come a long way even since the audacious launch of Russell T Davies's triumphant
Queer As Folk
, also on
Channel 4
, in 1989:
RuPaul's Drag Race
would have been inconceivable on mainstream television then, but here's the second and much more creative UK series on BBC Two.
It's A Sin
has much to celebrate, too, but also much to warn about and mourn, and in the midst of a different kind of virus ravaging the world, it offers unexpected resonances.
Davies rose to new heights in the astounding dystopian drama Years and Years – seeming more prescient than ever in each detail (deadly virus in refugee barracks, anyone?), so it was obvious he was ready to go deep here. His beautifully crafted trajectory in Episode One of It's a Sin, moving from solos to ensembles, introduces us in the early stages to three young gay men.
The first we meet is Ritchie Tozer from the Isle of Wight, heading for university and soon discovering he has to make it as a performer. He's played, with a mixture of youthful vivacity and utterly plausible vulnerability, by Olly Alexander, no mere wannabe as a singer, and an all-round Mensch; it's a nice touch that Alexander's band, Years and Years, gave its name to Davies's previous masterpiece, while "It's a Sin" was a hit by the Pet Shop Boys; friends are now flourishing their stylishly-designed LPs with that track included. Roscoe Babatunde (Omari Douglas) makes a flamboyant exit from the oppressive bosom of his religious Nigerian family, telling them he's off to "23 Piss Off Avenue London W Fuck," while sweet virginal boy from the Valleys Colin Morris-Jones (Callum Scott Howells) starts out in a very straight-laced lodgings and a closeted tailor's shop run by an Uncle Monty type (Nicholas Blane as Mr Hart pictured above with Neil Patrick Harris and Callum Scott Howells).
Enter, at Ritchie's college, Ash Mukherjee of the flowing locks (Nathaniel Curtis), who has a passion-killing lesson to teach his would-be lover on their first sexual encounter ("you need a good wash – down there"), and Jill Baxter (Lydia West, pictured below with Alexander), who persuades him to change from law to drama. Ah, you think, here's the token woman you get in all such gay-male dramas, but Davies is too good to fall for that, and he has too fine an actor in West to settle for anything bland. The layers of prejudice when Ritchie takes Jill to visit his parents (Shaun Dooley and Keeley Hawes) are deliciously, excruciatingly unwrapped – the "where are you from originally" to Jill, the father's horror at Ritchie's announcement that he's taking up a flouncing-around subject. And the coming-out is still to come… In the second episode, we will also witness Jill's unwilling complicity in a cover-up as the mysterious "gay flu" takes its toll on a member of gay community known to all.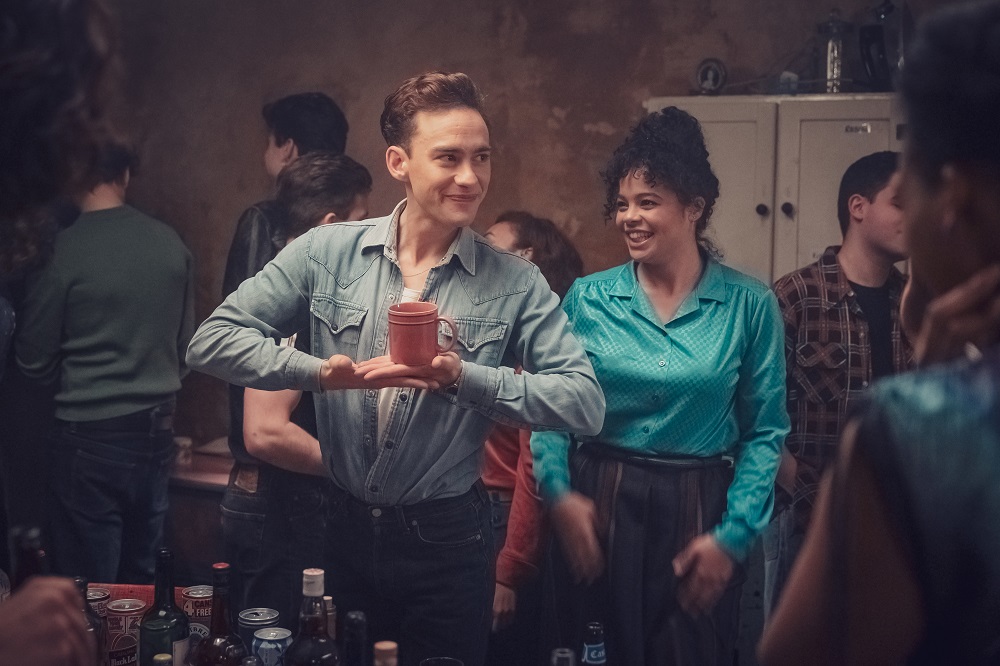 For most of the main characters in Episode One, though, it's a brush-aside-able rumour, introduced almost casually to Ritchie by a dark lady at a flat-warming party. Colin witnesses the first horrors of isolation, and estrangement from a partner of 30 years, in the sympathetic shape of senior tailor's man Henry Coltrane (Neil Patrick Harris, unrecognizable at first, to me at least, in his perfect-English-gent characterisation). Davies hits on all the details of what we didn't know then; anyone the same age as the main characters, as I was, will identify. The more difficult thing is to make the spirit of celebration and promiscuity of a community that doesn't know it's on the edge believable, and in that the episode succeeds, too; there's a riotous feast of couplings and threesomes brilliantly synchronized with the hilarious medley of Hooked on Classics, the Royal Philharmonic moneyspinner which came out in 1981, each new classical hit coinciding with a new adventure portrayed in a couple of seconds.
The strands are tied together with the launch of a new household, and the final cross-cutting is both brilliant, poignant and queasy; I've revealed too much already, so that at least will hit home with all the freshness it needs. With no false footing in the episodes I've watched, the prediction is for a classic as surefire in 2021 as Years and Years was in 2019. The sensitive handling of the first deaths suggests this is already on a par with the 2013 Swedish AIDS drama Don't Ever Wipe Tears Without Gloves, so in one way the depths have already been charted. I don't know whether the appearance of Stephen Fry in Episode Three will be an enticement, but everyone should see It's a Sin.