Great Expectations, BBC One review - modernised, muddied and muddled |

reviews, news & interviews
Great Expectations, BBC One review - modernised, muddied and muddled
Great Expectations, BBC One review - modernised, muddied and muddled
Steven Knight gives the Dickens classic a Peaky Blinders feel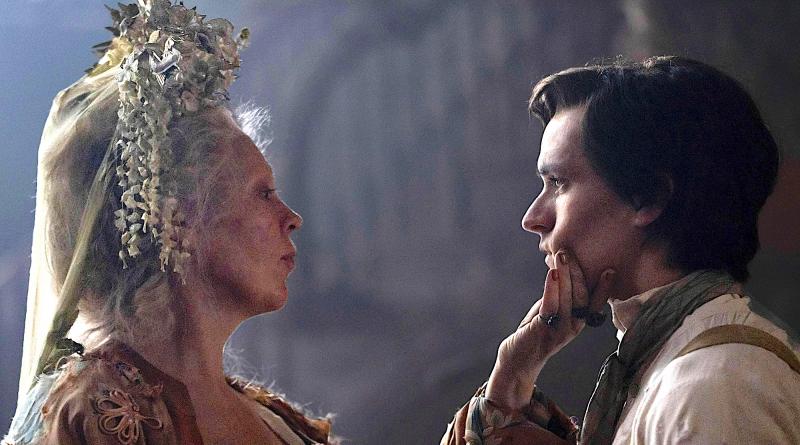 Game on: Olivia Colman as Miss Havisham with Fionn Whitehead as Pip
There's no point in being upset with the writer Steven Knight for doing what he usually does; even so, many viewers will find what he has done with Charles Dickens's Great Expectations far too Peaky for their tastes.
Knight's role is described as having "created and written for television" a script "based on" the Dickens novel (much as he did with his 2019 reworking of A Christmas Carol). And that is what you get: a lurid Victorian gothic, so noir at times that you have trouble trying to follow what's happening, and to whom, especially at night. A handful of the novel's peripheral characters haven't made the move to TV, which is standard practice in an adaptation of a chunky tome. But some significant plot points have gone missing, too. Those who know the book will find watching this series an exercise in spotting familiar landmarks in a fog.
Those who don't know the book and have never seen a screen adaptation of it (that includes Knight himself, he has said) will probably find his version sufficiently like Taboo, another of his gothic period creations, to sustain them for long stretches. He has delivered a pared-down tale of a poor young man with ambitions, played out in a class-bound, rule-bound, vicious mercantile society, where all heritage is tainted by the doings of Empire and emotional exchange has become solely transactional. It's no coincidence that when Pip (Finn Whitehead) heads up to London to better his social status, buoyed by a bequest from an anonymous benefactor, his main workplace is "the Exchange", where ships' cargoes are indemnified.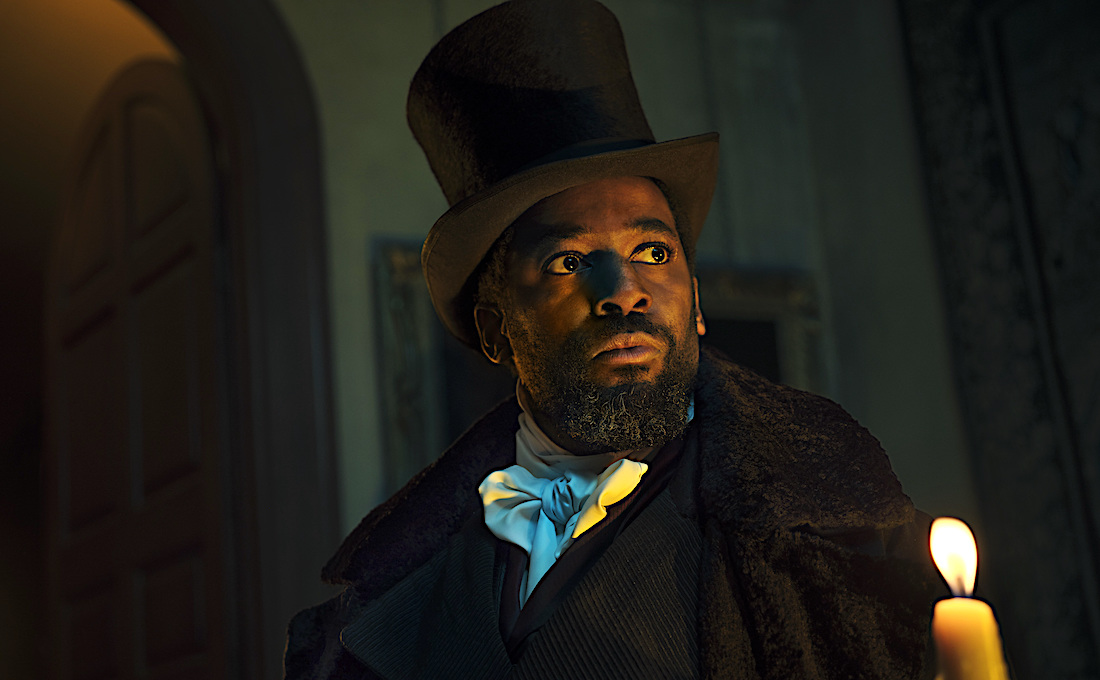 This is a coming-of age drama with touches of Industry, the contemporary drama set in a modern trading office. Knight's London is a multi-racial capital, too, more like the real thing than most period dramas allow. Lawyer Jaggers is commandingly played by Ashley Thomas (pictured above), a Top Boy alumnus, his delightful sidekick Wemmick by Rudi Dharmalingham; and the mixed-race Estella is Shalom Brune-Franklin (pictured below with Whitehead), a standout in the last series of Line of Duty.
Racism isn't an issue in the piece, but avarice is. Pip's role is to help Jaggers make an illicit fortune from a dodgy scheme insuring uninsurable ships. Nobody in possession of wealth here is free from the stain of how their inheritance was earned, pillaging the colonies and transporting slaves on the open seas.
A key trader in human misery is Miss Havisham (Olivia Colman), who callously buys and sells human company with the greed of a slaver. Her delight in stage-managing the drama of proud Estella's unkindness to Pip, a "labouring boy", leaves all the nasty after-taste of somebody arranging a voyeur's treat. In the book she has "fancies" of avenging a dreadful wrong done to her; here they have been turned into what she calls "sick fantasies".
Colman has none of the shrunken look specified by Dickens for Miss Havisham, but she can project her cruelty effortlessly. In just one 10-second shot, while she watches her icy young ward Estella and Pip meet, a ghost of a smile plays on her lips and her eyes suddenly burn with what looks like lust, but is pure revenge.
Characterisation, though, is more TV drama-land's "types" than anything Dickens wrote. McDonnell's Joe, for example, is projected throughout as a kindly blacksmith but not enough like the "gentle Christian man" Pip eventually learns to appreciate, an illiterate who speaks in a comic local idiom all his own. It's left to Matt Berry's Mr Pumblechook to introduce some of Dickens's usual eccentric flavours. Berry (pictured below) has the orotund delivery of a self-satisfied man, a snob who is only too happy to hire out Pip to a well-heeled woman who wants him to keep her ward company – just one of the script's relationships posing as charity that are nakedly transactional. But Pumblechook, like several others, effectively disappears after episode one as Knight plays whack-a-mole with his characters.
This is the problem for any adaptor: unless you install Pip as the narrator throughout, as Dickens did, the flesh Pip adds to the bones of the plot have to be secured by other means. And Knight isn't that interested in adding psychological nuance so much as punching up the action and mystery quotas. From episode two onwards, he really starts unmooring his script from the original. (A parental warning might go: S&M, opium smoking, cutting, suicide, physical violence, coarse language). You either have to switch off or park what you know about Dickens and sign up for the wild ride Knight is on, straight to the seamy side of London – its brothels and pleasure gardens, opium dens and dank back alleys, a world of cut-throats and hanging judges – where little of the playful sweetness Dickens throws into the mix via the social comedy of his minor characters makes the cut.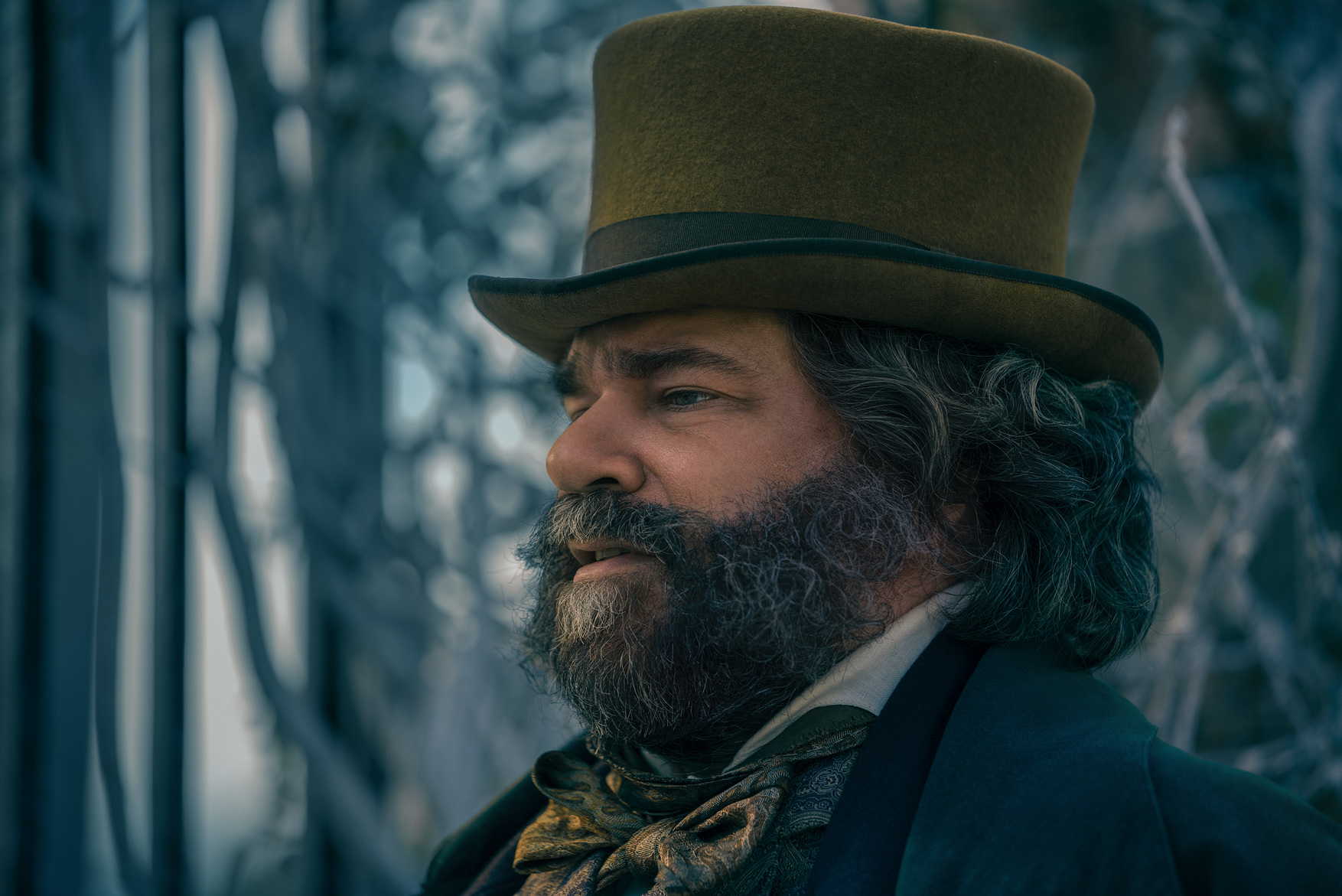 It's a visually striking production, with brooding aerial shots of the maze-like marshes and dynamic camerawork that takes us over Pip's village and under the Thames. There is no Nick Cave guitar-thrashing on the soundtrack, but it has an atmospheric score by Kiefus Ciancia that majors in resonating chords interwoven with tolling bells and gongs and the soprano voices of a ghostly choir.
Can you create a television version of a much loved novel that suits everybody watching? Clearly not, if what the audience wants is more of what it already loves. And accusing this one, as some have done, of being "woke" for its attack on Empire seems misplaced: you can almost hear Dickens the campaigning social reformer and fighter of injustice clapping and cheering from his grave. What a shame, though, that, as a suspenseful mystery, it loses the plot almost literally in its final stretch, and one of the great bittersweet literary finales barely limps across the line.