If You Don't Let Us Dream, We Won't Let You Sleep, Royal Court Theatre |

reviews, news & interviews
If You Don't Let Us Dream, We Won't Let You Sleep, Royal Court Theatre
If You Don't Let Us Dream, We Won't Let You Sleep, Royal Court Theatre
Political play about austerity and protest is perceptive and provocative, but too short
Thursday, 21 February 2013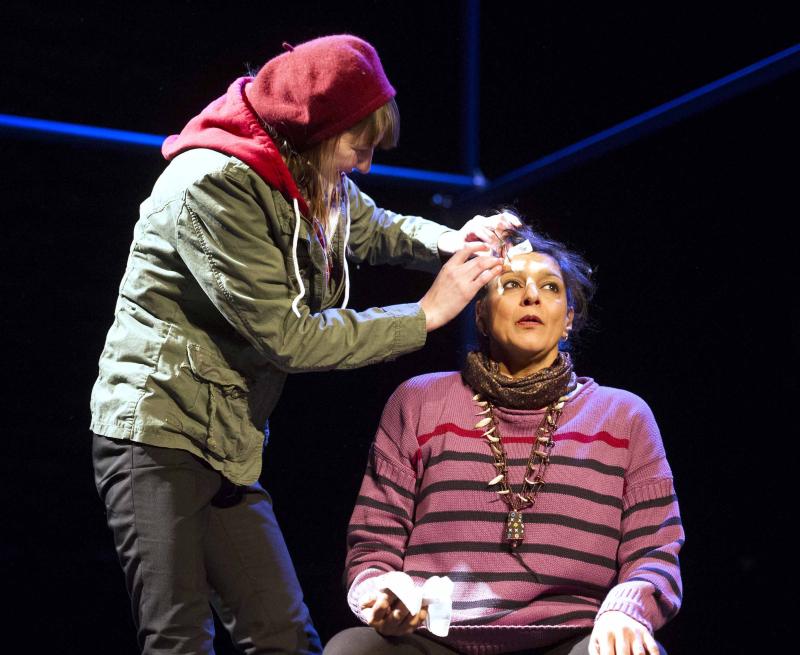 Economic pain: Laura Elphinstone and Meera Syal in 'If You Don't Let Us Dream, We Won't Let You Sleep'
Is this the most poetic title in London theatre today? Anders Lustgarten's new play joins a ragged march of work, from David Hare's The Power of Yes (2009) to Clare Duffy's Money: The Gameshow (currently at the Bush Theatre), which attempts to tackle the global financial meltdown. Unlike these other shows, however, it's USP lies in its claim to offer a solution to the pains and penalties of economic austerity.
Set in a dystopic version of current times where, to the tune of David Cameron's plummy praise of the market, all social services have become businesses, the play rapidly spray-paints a picture of acute depression and decay. Prisons are organised on market principles; hospitals function for profit; and the government aims to privatise the air we breathe. In the streets, the sound of breaking glass bends your eardrums while the smell of burning cars hangs in the air.
On one side squat the fat-cat bankers and hedge-fund managers
Running through the debris of a riot-prone society are a handful of characters. On one side squat the fat-cat bankers and hedge-fund managers — led by Meera Syal's McLean — and on the other side are the rest. Especially note-worthy is Ryan, a young working-class lad in trouble with the police and whose path violently crosses that of McDonald, an African migrant. The compact cast play other political activists and various teachers, care workers and victims of austerity.
After a rapid series of snapshots, the 75-minute play ends up in a squatted courthouse in which a group of protestors plan to put the system on trial in a Court of Public Opinion (pictured below right). Lustgarten's portrait of these disparate characters is sympathetic and instantly recognisable, as are the points that they make about fighting the system. Best of all are the speeches about how "debt is our word for love" and details of how governments in the past have simply written off much of what they owe.
None of this is likely to convince either Cameron or Osborne, but that is precisely the point. Lustgarten is arguing that the policy of austerity is a political coup whose purpose is to open up more areas for the privatisation of everyday life. And these new markets — in the health service, child care and prisons — will enrich the few while the many will only get poor wages. With pardonable exaggeration it is an acute vision of what is already gradually happening.
If you don't like dramas that wear their hearts on their sleeve then this might not be the show for you. Like the activists it puts on stage it doesn't much care what you think. It tries to tell it as it is, with all its confusion, naivety and idealism — and that to me is very attractive and even rather moving. Director Simon Godwin's stripped back production fields an ensemble cast of eight who deftly play all the many parts (Syal also plays a protestor), and the confrontation between Daniel Kendrick's Ryan and Lucian Msamati's McDonald is particularly emotional. Although it must be admitted that the play suddenly stops just as it gets interesting, this is a perceptive, provocative and poetically political reading of the state we're all in.
If you don't like dramas that wear their hearts on their sleeve then this might not be the show for you
rating
Explore topics
Share this article