Enron, Noël Coward Theatre |

reviews, news & interviews
Enron, Noël Coward Theatre
Enron, Noël Coward Theatre
A first-class play brings financial fraud to paranoid, gripping life
Wednesday, 20 January 2010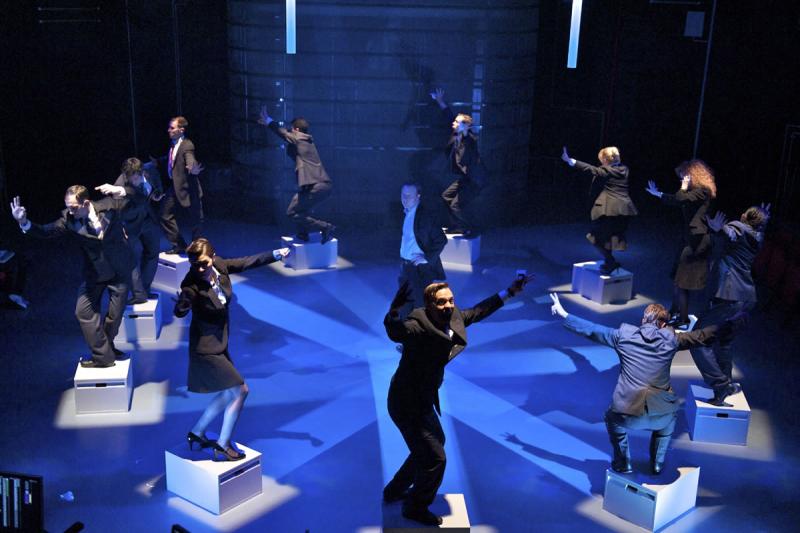 Lucy Prebble's Enron: 'a multitude of staging effects, from song-and-dance numbers to vivid caricature, make this a thoroughly engrossing evening'
Crisis makes people hungry. In the case of the banking collapse, this seems to take the form of an ignoble itch for revenge, and a more laudable hunger for knowledge. What exactly happened and what went wrong? As Enron, Lucy Prebble's wonderful play about a previous financial scandal, roared into the Royal Court after its sell-out run at Chichester, there was time to reflect on just why this play has been such a huge success. And by success, I really mean success.
After a further sell-out run at the Royal Court
[where I reviewed it: AS]
, it is now in the Noel Coward Theatre in London's West End.
For those with short memories, Enron was the Texan energy company which was feted by Fortune magazine for six successive years as the most innovative enterprise in America. It could do no wrong; it made massive profits. Then it went spectacularly bust in 2001, and the roots of its innovative success were made public. Yes, you guessed it, the company was run on a fraudulent basis and made its billions by cheating the markets. A nice irony, given the market ideology which made it tick. To this day, public services are being cut in the state of California to pay for the costs of Enron's fraud.
At the centre of the play is Jeffrey Skilling, Enron's top executive, played with immense flair and sympathy by Samuel West, who grows before our eyes from a shy nerdish geek into one of those Master-of-the-Universe types whose overweening confidence and blatant disregard for mere mortals makes you impatient to see, and enjoy, their comeuppance. As Skilling discards his specs, and starts paying visits to the gym, West's own muscles seem to expand with his increased confidence. Spanning the years between 1992 and the early 2000s, the play focuses on Skilling's relations with three other people: company founder Kenneth Lay, financial wizard Andy Fastow and Claudia Roe, Skilling's rival. In other words, the archetypes of father figure, younger brother and troublesome lover.
But the wonderful thing about the play is its clarity. Prebble explains the complex financial instruments developed by Skilling and Fastow by using a variety of theatrical devices, from the straight lecture to visual metaphors involving baby dinosaurs or light sabres. In Rupert Goold's compelling and dynamic production, which was first staged on a larger thrust stage at the Minerva Theatre in Chichester, a multitude of other effects, from song-and-dance numbers to vivid caricature, make this a thoroughly engrossing evening. I particularly liked the portrayal of Lehman Brothers as a pair of conjoined identical twins. With a Broadway transfer on the horizon, the question is: will American audiences appreciate it as much as we do?
But while the play has been widely touted as a timely comment about the current banking collapse, Enron is both less and more than this. It is about the hubris of trying to create a virtual economy (the company abandoned making energy for inventing a market to sell it) and the nemesis of fraudulent accounting (setting up fake companies to hide its losses). The most immediate victims were the company staff, who were persuaded to sink all their savings into Enron shares, and who all then lost everything. At its greatest stretch, this is a play about capitalism — and the message is that Enron is us.
The huge buzz that this show packs makes it an exhilarating ride through the world of cash and capital, with thumping music and flashing lights — and a real sense that making money must be fantastic fun. Only near the very end, when West shows Skilling bent with failure, shrinking into a crazed paranoid state, is the human cost to himself of his doings clearly visible.
But the main problem with the play could be called the Richard III syndrome. In theatre, it is very difficult to put a great actor onstage and make them play an unsympathetic villain. So West's Skilling gradually seduces the audience, and grows slowly but surely into a tragic figure, soliciting our sympathy through the sheer conviction of his performance, as well as through the breathtaking audacity of his fraudulent activities. Here is grandeur; here is tragedy of the Shakespearean kind.
Supported by equally superb acting from Tim Pigott-Smith as Lay, Tom Goodman-Hill as Fastow and Amanda Drew as Roe, West presents Skilling as a complex character and thus anchors the play, which is brimming with ideas, in human reality. This may not be a perfect piece of theatre: the Claudia Roe character is under-used and a final showdown between her and Skilling is artfully, if frustratingly, withheld from us; also the narrative point about 9/11 is a bit unclear. But it is still the best new play on in London at the moment. If you hunger for a taste of the contemporary, this corporate banquet is the feast for you.
Explore topics
Share this article