Sunken Garden, English National Opera, Barbican Theatre |

reviews, news & interviews
Sunken Garden, English National Opera, Barbican Theatre
Sunken Garden, English National Opera, Barbican Theatre
21st-century opera so busy being digital that it forgets to be an opera
Opera through the looking-glass: Van der Aa and Mitchell's opera is lost in a hall of mirrors
Sunken Garden is described officially as a "film opera". Two words. Emphatically unhyphenated. No attempt made to neologise or fashion some third-way genre terminology. It's not a symbol that bodes well for mutually-informed, sensitive interdisciplinary thinking, but in Michael Van der Aa and David Mitchell's work English National Opera have come one tiny, shuffling step closer to realising that elusive multimedia idée fixe that has so preoccupied the company under John Berry.
First we had the atrocity that was Mike Figgis's Lucrezia Borgia (soft-core rompings on screen and wooden barkings on stage), then the curious but fatally flawed Two Boys with its digital meta-play, and now Sunken Garden – the first opera conceived in cinematic 3D. It's been a gradual move towards self-awareness, a process in which we've all understood the degree to which film and technology must be integrated conceptually and thematically as well as technically into an opera for it to work.
Never quite makes the transition from clever visual trick to embedded artistic gesture
And it's not only ENO. At Lyon just a few weeks ago video artist Gary Hill premiered his new space-age Fidelio (heading to Edinburgh this summer) in which live action and projected images interact freely, creating a third visual dimension even as it kicks down the fourth wall. The opera world is trying harder than ever to develop, to keep itself current and (shudder) relevant. But in trying on so many different multimedia identities for size, has it forgotten who and what it really is?
"The public will only believe the truth if it is shot in 3D," sings video artist Toby Kramer (Roderick Williams) midway through Sunken Garden. And we in the audience laugh, sharing the little joke with Mitchell's knowing libretto. Mitchell gets it; Van der Aa gets it: so why then is this collaboration between two such clever and talented artists so unsatisfying, so lacking in emotional truth?
Perhaps it's the sense that if the opera-makers and composers themselves don't trust the music and drama to do their work, then it becomes very hard for the audience to trust either. Every attempt to get closer, more naturalistic, more current in Sunken Garden – and they are legion – only defers the emotions another degree further away. The colours in the digital Eden may be brighter, the flowers rather more lovely (even the insect-life is vividly present) but in practice they might as well be a Brechtian rectangle with "Garden" scrawled on it for all the immediacy they generate. Yes there's exhilaration and marvel to be had in the precise, minute integration of holographic and real action, but it never quite makes the transition from clever visual trick to embedded artistic gesture.
The work's many-stranded Mitchell narrative (constructed from pre-filmed spoken segments, integrated video and live music, and more conventional opera) makes a knowing nod to all the familiar operatic tropes. There's a wicked sorceress, an imprisoned princess, a magical land and a questing hero. It's lovingly done, but also incredibly convoluted. Of all the aspects of opera for so progressive a work to remain faithful to, the contorted Handelian plot might not be the obvious choice.
The noir-ish, digital-ish subject matter feels strangely close to Two Boys, without solving any of the pacing problems that the earlier thriller-opera raised. The denouement feels rushed, and with too much exposition left to the end there's something of a scramble to assimilate the final twists. The best moments are Mitchell's Bennett-esque Talking Heads, but these seem like the yearnings of a piece that doesn't want to be an opera at all, but would rather just be allowed to tell its story the old-fashioned way, thank you very much.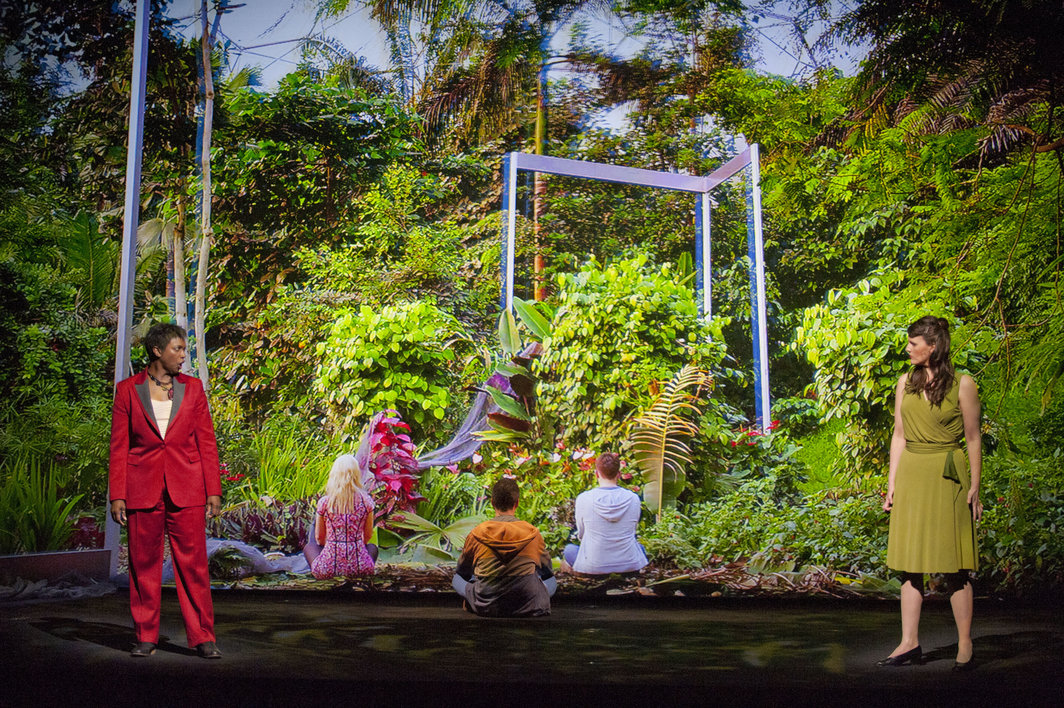 Which brings us to the music. Van der Aa has an expansive musical vocabulary that is accessible enough for the ear but also substantive enough for the mind. Yet this isn't the composer at his best. Pastiche moments of baroque and dance music showcase his breadth of reference, and his brittle, vicious little ostinatos chafe pleasingly against the smooth arcs of his vocal writing, but when emotions run high he consistently ducks out, sending spoken words in to sub for the arias we might have had. The performers however, both live and holographic, are excellent, with Katherine Manley once again proving her vocal quality. And conductor André de Ridder makes an efficient job of the score.
The qualities that make a good film are, if not antithetical, then surely at odds with the reach-out-and-touch immediacy of opera – the livest of live art-forms. And while both come down to good storytelling and emotional truth, they each arrive there by entirely distinct routes. Two roads diverge in Mitchell and Van der Aa's digital wood and they have chosen to take both at once. It's a process that ultimately leaves them standing exactly where they started – questioning whether there can ever be such a thing as a great, truly multimedia opera?
Why then is this collaboration between two such talented artists so unsatisfying, so lacking in emotional truth?
rating
Explore topics
Share this article
Subscribe to theartsdesk.com
Thank you for continuing to read our work on theartsdesk.com. For unlimited access to every article in its entirety, including our archive of more than 10,000 pieces, we're asking for £3.95 per month or £30 per year. We feel it's a very good deal, and hope you do too.
To take an annual subscription now simply click here.
And if you're looking for that extra gift for a friend or family member, why not treat them to a theartsdesk.com gift subscription?