Faith, Hope & Charity, National Theatre review - a grim compassion |

reviews, news & interviews
Faith, Hope & Charity, National Theatre review - a grim compassion
Faith, Hope & Charity, National Theatre review - a grim compassion
Rich in empathy, dramatically raw, Alexander Zeldin's bleak study of society on the edge
Wednesday, 18 September 2019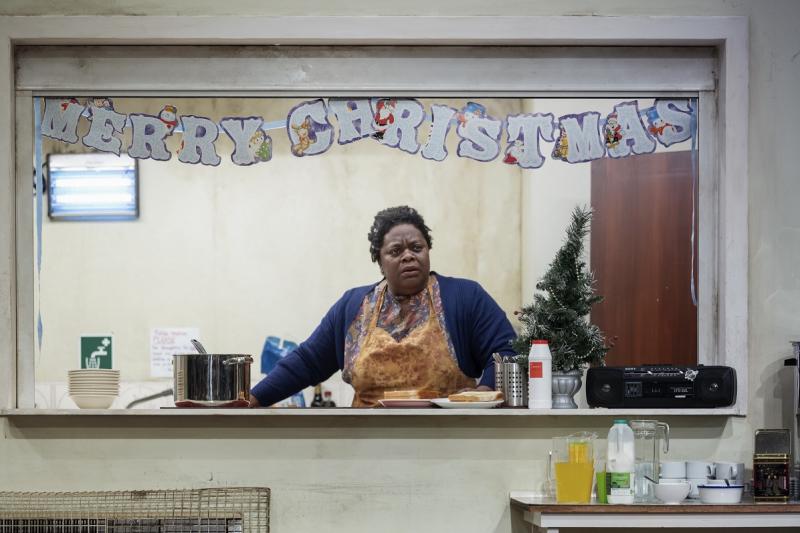 Not exactly a merry Cristmas: Cecilia Noble as Hazel in 'Faith, Hope and Charity'
Alexander Zeldin continues his devastating analysis of modern Britain in this culminating play of a (very loose) trilogy that started with 2014's Beyond Caring, followed by LOVE two years after that.
These are bleak
dramas
that show human beings washed up on the edges of a society in which levels of social support have been brutally pared down, even as they contend with change that has drastically disbalanced established ways of life, from zero-hours contracts (
Beyond Caring
) to homelessness
(LOVE)
.
The Dorfman
has become a signature setting for the anonymous, dilapidated institutional spaces that his characters inhabit, the traditional boundaries between cast and audience broken down as actors move in and out of the theatre's front rows; even the audience seating here is functional, while
Zeldin's
directorial device of keeping the house lighting up throughout performance remains (it changes only when a character switches a light on or off on stage).
The run-down community hall of Faith, Hope & Charity is a typical such location, a gathering place of sorts for those who come for the free lunches prepared by Cecilia Noble's Hazel (main picture), who's the natural lynchpin of this temporary community (how different her sheer resilience here is from the scene-stealing ebullience of her recent role in Natasha Gordon's Nine Nights). It's an environment of stacked chairs and tables, a kitchen hatch, the stark monotony relieved only by the sight of an outside yard with a few flowers, a nice touch in Natasha Jenkins's set (even if, depressingly, it seems to be raining all the time). Newly arrived to help Hazel is Mason (Nick Holder, who was so memorable in LOVE, pictured below), who's taken over the choir singing that follows meals, though he's somehow an uneasy presence, well-meaning but with a nervous diffidence which suggests he's avoiding his own issues.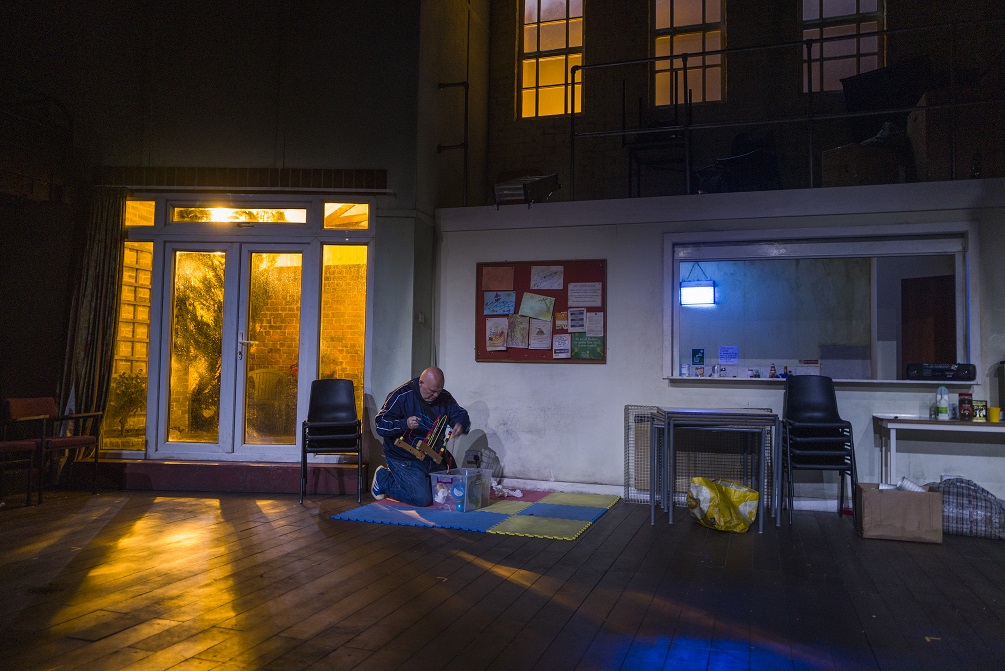 Everyone who passes through these doors has a story, though Zeldin is selective in exactly what he develops in each case; some of them are virtually non-verbal, and indeed not all those we see on stage are really characters in the usual sense (the programme describes them as "supernumeraries", which raises a somehow disturbing suggestion that the story treats their superfluity as harshly as life itself has done). There's the clearly troubled Karl (Dayo Koleosho), who's always waiting for a carer to pick him up; he speaks as little – and often as enigmatically – as the oldest visitor, Bernard (Alan Williams), who's always the last to leave, the suggestion being that nothing awaits him at home (towards the end of the play he moves into the building, stumbling about like an incongruously Chekhovian Firs). Tharwa (Hind Swareldahab) is an Asian woman whose reserve, both innate and generational, in this unfamiliar world is greater than that of her young daughter, who's eager to involve herself with the others; Corey Peterson's youthful Anthony suggests anger as well as acerbic humour.
The most developed strand involves Beth (Susan Lynch, pictured below), a mother with a history of unsuitable men who's struggling for custody of her four-year-old daughter, an experience compounded by her inability to relate to an official system (run by "posh cunts talking shite"), which imposes conditions on her like starting therapy, when the waiting list for counselling in these parts – Zeldin is resolutely unspecific in any sense of location – is a year. Her unabating anxieties are clearly testing her teenage son Marc (Bobby Stallwood) to the limits, and even the closeness of her bond with Hazel only goes so far, as the circumstances of Hazel's own situation emerge. Beth and Mark's stressed heartbreak, grappling as they do with almost inexpressible frustrations, is the performance high-water mark of the evening, even though much of it is expressed in clenching emotions: Zeldin's honesty is such that he can't give his characters "voices" that they wouldn't have in their real lives.
As in his previous works, Zeldin created Faith, Hope & Charity as a piece of devised theatre, working with both a wider community and with the cast, and he directs himself. The details of life that he has gathered come across as almost remorselessly true, but as with any work that's inherently about disconnection there's an element of dramatic difficulty in drawing the narrative together, with some structural linking feeling rather tenuous, acts of behaviour occasionally driven more by dramatic need than by character. In what is essentially fly-on-the-wall theatre – "anti-drama", you might say – the moments of brewing conflict that intersperse the action only go so far to create momentum. The second half of the evening introduces a new element to the story, but it's one of accruing sadness, a dying coda for this place that, whatever limitations it has faced in its time, did bring momentary balm for the pain that its walls have witnessed.
That issue of closure took me back to Zeldin's LOVE, which had a decimating final scene that eclipsed everything that had come before, completely relegating dramatic doubts. I don't think the slow-burn, almost out-of-time sensitivity that we feel here works so well, leaving us wondering whether Zeldin has taken his uncompromising naturalism just a step too far. There's no doubting that Faith, Hope & Charity is necessary theatre, its honesty unflinching, its compassion complete – rather that, for its message to travel as widely as it should, it doesn't quite hold together.
Zeldin's honesty is such that he can't give his characters 'voices' that they wouldn't have in their real circumstances
rating
Explore topics
Share this article