Reissue CDs Weekly: Music is the Most Beautiful Language in the World |

reviews, news & interviews
Reissue CDs Weekly: Music is the Most Beautiful Language in the World
Reissue CDs Weekly: Music is the Most Beautiful Language in the World
Exhilarating salute to the Jewish music of London's East End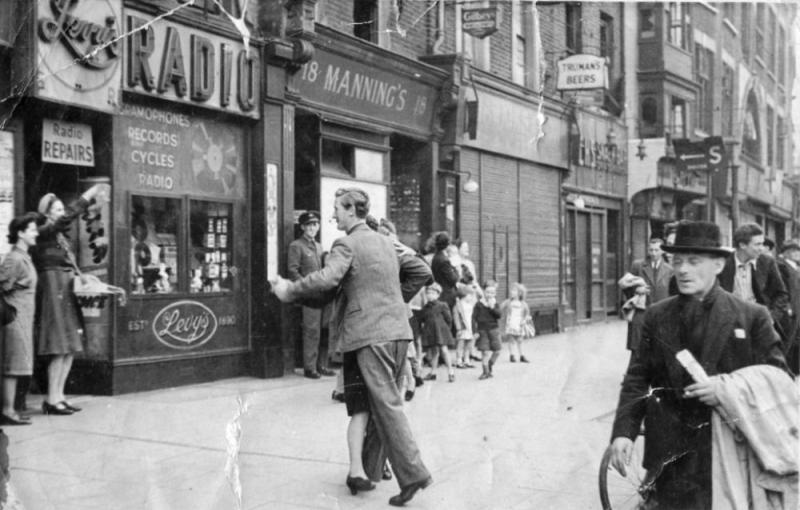 Dancing outside the Levy's shop on Whitechapel High Street, 1940s
The title comes from a slogan used in a 1920s newspaper ad for Weinberg's, a gramophone, record and sheet music shop in Brick Lane. Readers saw the words in Yiddish though.
Brick Lane was central to
London
's
Jewish
East End and those who lived in the area after the escaping the eastern European pogroms of the late 19th century brought their popular culture with them – a popular culture which, like any other arriving here, evolved and enriched Britain.
Music is the Most Beautiful Language in the World: Yiddisher Jazz in London's East End 1920s–1950s collects British Jewish-themed jazz and dance band recordings from the late 1920s to the 1950s. There is one outlier from 1960. On the journey, klezmer is incorporated into jazz, lyrics are delivered in Yinglish – a hybrid of Yiddish and English – and "Wilhelmina" from the Betty Grable film Wabash Avenue is covered. There's even rumba and rock 'n' roll of sorts. The booklet's accompanying essay is enormously enlightening. Amongst the famous names heard are Ambrose (of Ambrose and his Orchestra), Al Bowlly, Nat Gonella and Lew Stone.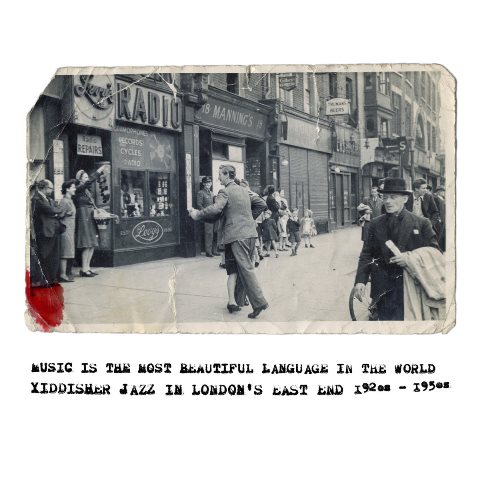 That there was a market for this home-grown music is attested to by the ads for dances in the booklet accompanying Music…. In the 1920s, the East London Judeans organisation was selling tickets to "A Select Dance" in Whitechapel at which the Colleno Syncopated Orchestra would get movers onto the dance floor. In 1950, the independent Jewish-focussed label Planet Records was established in Stamford Hill.
Not far south, the Levy's shop on Whitechapel High Street boasted it was "The Home of Music" and that it had "100,000 Records Always in Stock". The shop had the spin-off record labels Levaphone and Oriole. From 1931, it even housed a recording studio. Their more formal studio, in New Bond Street, was used to make government-sponsored propaganda broadcasts in the Second World War. In a coup. Levy's got the contract from Woolworth's to make sound-a-like records for sale in the stores so founded the Embassy label. Levy's was bought by CBS in 1964, but just before then they were the UK licensees for America's Motown label group.
While the East End Jewish entrepreneurial spirit was integral to British showbiz, the focus is on the soundtrack it created to accompany day-to-day life. On 1935's "Beigels", Max Bacon sang ""In Aldgate East, to Aldgate West, I work and I never complain, I laugh and I sing, and they call me the king of the beigels in Petticoat Lane."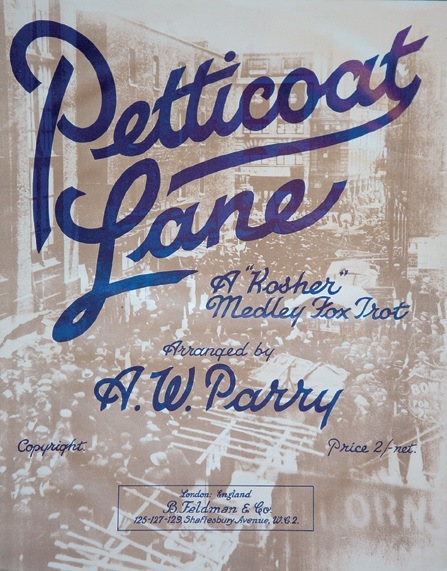 On 1929's "Petticoat Lane: A Kosher Medley Fox Trot" (pictured left: its song sheet), the compilation's earliest track, Mendel and his Mishpoche Band celebrate the street's market, a place where "The women rush to get bargains, a chicken with schmaltz, a new sock, a bit of chrain, soup, a beigel with a hole, all this you can get in the Lane. A fish-sweet, half a kishke, an onion, fish, a meaty bone, a bride with a dowry, a woman looking for a husband, such things you can get in the Lane."
Musically, Music is the Most Beautiful Language in the World roams freely. These Londoners were like any others as they were open to what was hip and happening as well as appreciating the musical equivalent of comfort food. Consequently, Max Bacon's opening track "Beigels" may come as a surprise. Even though it's a 1930's record, the rumba rhythm isn't far from ska. During the song, a plummy voice interrupts to ask what a beigel is. Naturally, Bacon explains. Even better is the comedy duo Baker And Willie's "A Day in the Lane", which frantically captures life on Petticoat Lane.
Not everything heard is a novelty or London themed. Ambrose and his Orchestra's "Selection of Hebrew Dances" is as per its title, and Lew Stone and the Monseigneur Band's version of the sentimental "A Brivella Der Mama" is designed to evoke yearnings for times and places past.
Which is partly what Music is the Most Beautiful Language in the World: Yiddisher Jazz in London's East End 1920s–1950s is about. It also tells a story which needs recounting by documenting an often overlooked integral aspect of British cultural history. And it's great fun too.
Next week: Jazz in Detroit / Strata Concert Gallery / 46 Selden – Charles Mingus caught live in 1973
Klezmer is incorporated into jazz and lyrics are delivered in Yinglish – a hybrid of Yiddish and English
Explore topics
Share this article