Reissue CDs Weekly: Gary McFarland |

reviews, news & interviews
Reissue CDs Weekly: Gary McFarland
Reissue CDs Weekly: Gary McFarland
The return of 'Soft Samba' and 'The In Sound', two of the jazz individualist's best albums
Gary McFarland ponders his possible impact on The Free Design and Love
Although Gary McFarland's 1965 album The In Sound had the Samba and Bossa Nova influences which were colouring the sound of American jazzers from around 1962, it was on the button for the year it was released. This despite sporting a pop art sleeve evoking those of the swing-based easy listening albums from Enoch Light and Terry Snyder issued by the Command label in 1959.
The In Sound's sensitivity to a then-current zeitgeist is confirmed by its fast-on-the-uptake version of "(I Can't Get No) Satisfaction", which The Rolling Stones released as a US single on 6 June 1965 – the album was recorded at two sessions on 2 and 31 August 1965, soon after the Stones' single hit the charts. Furthermore, Gabor Szabo's free-form guitar solo on the album's "Wine And Bread" has a kinship with the John Coltrane-inspired work on The Byrds' "Eight Miles High", the first version of which was recorded in December 1965; the same month as the release of The In Sound. And overall, the album's deconstructed rhythms and fractured instrumental interplay suggest an au courant avant-gardist mind-set.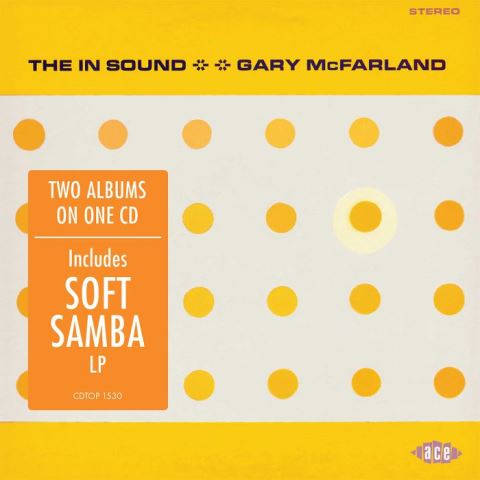 McFarland was moving fast, soaking up contemporary influences and fusing them with his own sensibility of how jazz could be reconfigured for the period after The Beatles relandscaped popular music. Before The In Sound, he had already telegraphed where he was at with Soft Samba, which was issued in February 1965. It was recorded at sessions in June, September and October 1964 and opened with a track titled "Ringo, Won't You Marry Me". Of the album's 11 other offerings, four were covers of Beatles' songs.
According the liner notes of the new two-albums-on-one-disc reissue of The In Sound & Soft Samba, McFarland had said "the jazz business is confining" in the run-up to the release of Soft Samba. The jazz bible Down Beat unwittingly confirmed his view when it reviewed Soft Samba as "cheap and trivial…musical self-pollution." In Britain, Melody Maker declared it "the least memorable album of the year." Having Antônio Carlos Jobim on guitar and Willie Bobo on percussion was of no matter.
Fifty-plus years on from when they were originally released, Soft Samba and The In Sound do not sound trivial and certainly are memorable. The latter sounds timeless – it is the album on which McFarland unequivocally embraced his own muse: one looking beyond genre constraints to fashion music as pop as it was jazz. Elsewhere, the liner notes ponder his possible impact on the bands The Free Design and Love. This is moot as it's more likely both outfits drew from the same inspirational well as McFarland. However, and much later, McFarland definitely had an effect on Stereolab: they released an EP in 1999 which borrowed The In Sound's title and cover image.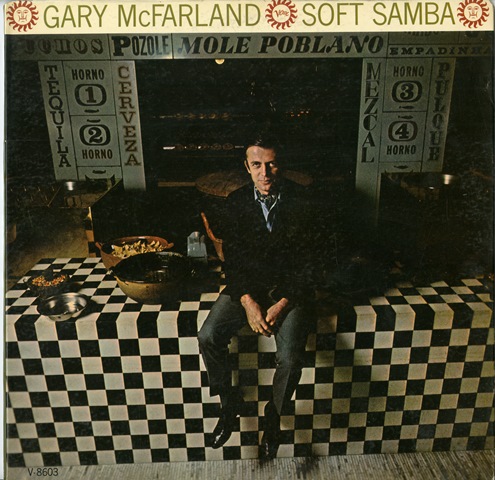 The In Sound has the edge on Soft Samba as it's the more idiosyncratic album. It feels as if McFarland was aware of how far he had moved beyond where he was bracketed. The version of the 1940's novelty song "Bloop Bleep" has an arch, borderline flat vocal which is close to being out of tune. The instrumental arrangements and line-up are familiar from American takes on Samba and Bossa Nova, but the rhythms have replaced by a metronomic repetitiveness. Throughout the album, McFarland allows his vibes to take a back seat to the guitars: Gabor Szabo's fluid, proto-psychedelic soloing and Kenny Burrell's see-sawing, staccato two-chord pulse. The effect is hypnotic.
Retrospect brings context to both albums. McFarland was born in 1933 and became interested in jazz in the late 1940s. He began playing the vibes in 1955, joined his first band in 1957 after which he studied music. Despite his early compositions being performed by The Modern Jazz Quartet and Gerry Mulligan, his first credits on record were as an arranger rather than as a performer. In 1962, he scored Stan Getz's Big Band Bossa Nova album and recorded with Anita O'Day. His first album with a sole credit arrived in 1963. Five years later, he became one of the founders of the fascinating, multi-genre label Skye which in 1969 issued his extraordinary jazz-soul concept albums America The Beautiful and Slaves. Soft Samba and The In Sound were recorded by a musical polymath who was always pushing forward.
McFarland died in November 1971 so did not live to see that his musical trajectory could be assessed as a linear, albeit unconventional, journey. The wonderful The In Sound is the perfect entry point into his unique world.
Next Week: A Kaleidoscope of Sounds – box set of seven-inch reissues of British freakbeat and psychedelic gems
'Down Beat' reviewed Gary McFarland's 'Soft Samba' as 'cheap and trivial…musical self-pollution'
Explore topics
Share this article
Subscribe to theartsdesk.com
Thank you for continuing to read our work on theartsdesk.com. For unlimited access to every article in its entirety, including our archive of more than 10,000 pieces, we're asking for £3.95 per month or £30 per year. We feel it's a very good deal, and hope you do too.
To take an annual subscription now simply click here.
And if you're looking for that extra gift for a friend or family member, why not treat them to a theartsdesk.com gift subscription?