Chilling Adventures of Sabrina, Netflix review - girl power goes supernatural |

reviews, news & interviews
Chilling Adventures of Sabrina, Netflix review - girl power goes supernatural
Chilling Adventures of Sabrina, Netflix review - girl power goes supernatural
Bold and politicised update of teenage witch saga
Saturday, 03 November 2018
Kiernan Shipka as Sabrina (left), with Michelle Gomez as Madam Satan
Not to be confused with Nineties supernatural sitcom Sabrina the Teenage Witch, Netflix's new incarnation of the high-schooler with infernal powers is a ghoulish thrill-ride which boldly surfs the dark side, with a pronounced feminist and
k">gay slant. It's the story of the titular Sabrina Spellman (Kiernan Shipka, who played Don and Betty Draper's daughter Sally in
Mad Men
) as she struggles to reconcile the half of her which is a human teenager with the supernatural lineage of her warlock father Edward.
As her 16th birthday looms, Sabrina prepares for her "dark baptism", when she must sign herself up for eternal service to the Dark Lord and leave all that human clutter behind. Her aunt-witches Hilda and Zelda assume it's a done deal, but Sabrina is torn by doubts. Even the personal intervention of Satan's treacherous, silver-tongued emissary Father Faustus Blackwood (Richard Coyle) can't persuade her, but he won't stop trying.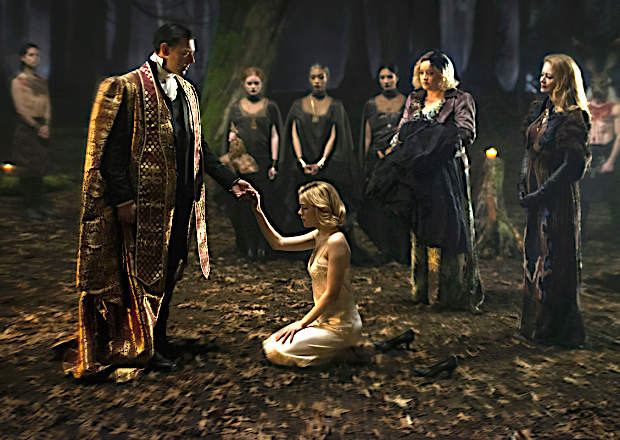 Chilling Adventures... was created by Roberto Aguirre-Sacasa, who has been a writer for Marvel Comics and TV shows including Glee and Riverdale. The show's setting in the fairy-tale small town of Greendale represents a strangely familiar yet cunningly warped America. Elderly-looking cars and old-fashioned diners with chrome furnishings and neon lighting suggest we've flashed back to the era of American Graffiti or Happy Days, while Sabrina's home life in a rambling pile with her two wacky aunts, who run a mortician's business in the back, brings The Addams Family vividly to mind.
But illusions of family-friendliness are shattered by images of jump-out-of-your-chair horror (hanged witches dangling from trees, ghastly materialisations of the Evil One, a brutal stabbing with pumping arterial blood etc), while Sabrina and her pals are more like earnest post-grad students than high school teens. They're all toting smartphones and sit around discussing the metatextual implications of David Cronenberg movies, and are precociously "woke". When her friend Susie – played by "non-binary" actor Lachlan Watson – is being bullied by boys at Baxter High School, Sabrina proposes forming a female solidarity group where "we can discuss issues and problems we're facing and come up with proactive solutions." To which her black friend Rosalind (Jaz Sinclair), who has unsuccessfully tried to launch a Daughters of the Black Panthers club at the school, replies: "You mean like a club to topple the white patriarchy?" The result is WICCA (Women's Intersectional Cultural and Creative Association). It may be pushing the boundaries of a fantasy drama about witches, but they might have made it sound a bit less like a gender studies dissertation.
Unsurprisingly, the outlook isn't great for the male characters. The boys who bully Susie are dumb, hulking football jocks who can barely scrape together a brain cell to share between them, though the "gay shame" revenge that Sabrina inflicts on them jars with the show's flamboyant exhibition of pansexuality elsewhere (in the three "Weird Sisters" and especially in Sabrina's cousin Ambrose, a kind of Puck/Pan figure played with languid abandon by Chance Perdomo). Sabrina's boyfriend Harvey (Ross Lynch) is delightful but woefully dim, oblivious to his girlfriend's secret powers and forehead-smackingly ignorant about her unearthly double life. Baxter High's principal George Hawthorne (Branson Pinchot) is an authoritarian sexist dinosaur, though his terror of spiders earns him punishment in the form of a teeming arachnid plague.
Best to sit back and revel in the show's array of glittering female roles. Lucy Davis (The Office) provides light relief as kindly but hapless Aunt Hilda, forever in the baleful shade of her dominating sister Zelda. Miranda Otto's portrayal of Zelda (pictured above) may be the best thing in the show. It's a magisterial display of haughty divadom as she delivers lines in a smoky New England drawl, equidistant between Bette Davis and Katharine Hepburn, smoking cigarettes clasped in a Norma Desmond-style holder. Running her close is Michelle Gomez, transformed from dowdy, spinsterish schoolteacher Miss Wardwell into the super-vamp Madam Satan. Sabrina doesn't all work all the time, but at its best it disembowels some familiar formulas and makes them feel fresh and newly-minted.