Witches and Wicked Bodies, British Museum |

reviews, news & interviews
Witches and Wicked Bodies, British Museum
Witches and Wicked Bodies, British Museum
From classical antiquity to the Victorian era, witches have held artists under their spell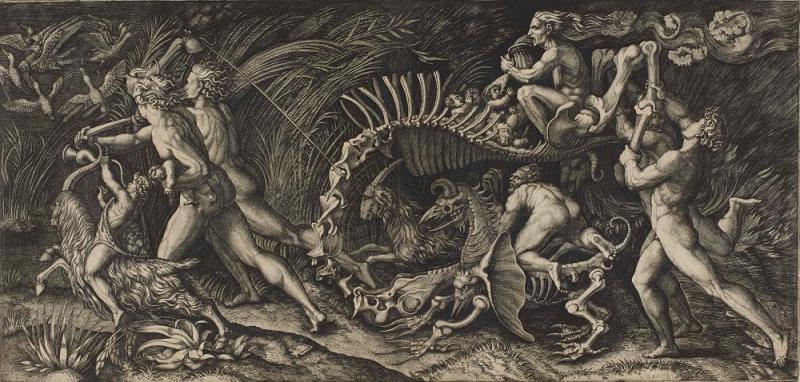 Agostino Veneziano, 'The Witches' Rout (The Carcass)', c.1520
Wicked women have always sold well, but more than that, they have fired the artistic imagination in a quite exceptional way. Exploring the depiction of the witch from the 15th to the 19th century, this exhibition is packed with images that must number amongst the most dramatic, atmospheric and gripping ever made, proof if it were needed of the energising effects of a truly inspiring subject.
From wizened hags to beautiful seductresses, witches could embody every sin and vice associated with women, and long after the fear of witchcraft itself had subsided, witches served as repositories for the darkest of misogynistic attitudes.
Dangerous women have had a presence in western art and literature since antiquity, with harpies and sirens, strange winged women who devoured infants and lured sailors to their deaths, appearing on vases and pots from ancient Greece. But it was in the Renaissance that the figure of the witch developed into the broomstick-riding hag we recognise today, and the prints and drawings from this early period are undoubtedly the most compelling. From the 15th through to the 17th centuries, artists were exploring witch imagery in earnest, and no wonder: during this time witches were the cause of considerable public alarm and were routinely persecuted, while the growth of the print industry meant that images and ideas about these dangerous creatures could be circulated with unprecedented ease.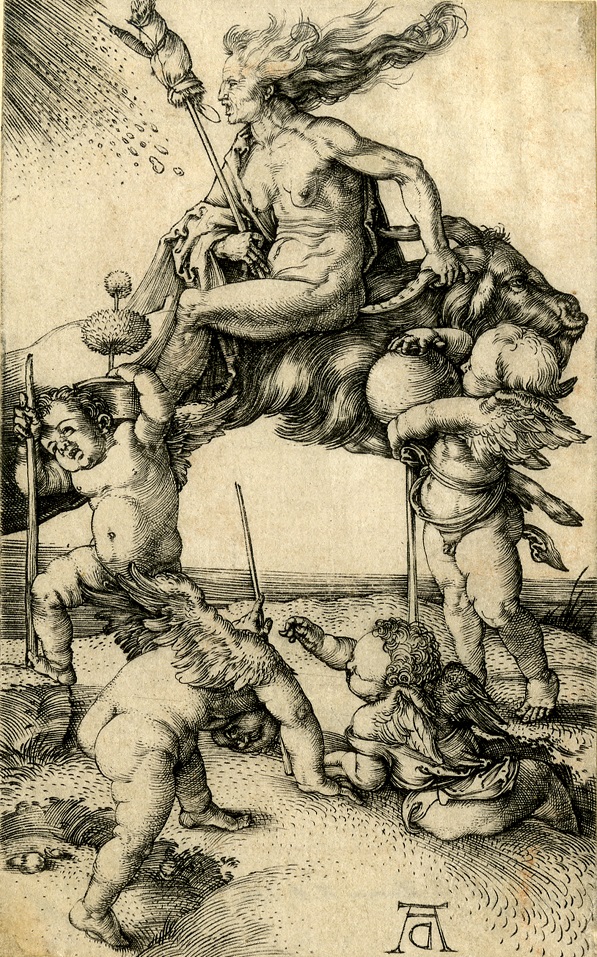 Many of the earliest images seen here cast witches as terrifying crones, as in Veneziano's engraving The Witches' Rout (c.1520, main picture) in which a muscular and ghastly old woman rides on top of a curiously animated skeleton. In Mantegna's Battle of the Sea Gods, c.1470-1500, a similarly monstrous female presides over the scene. A second working of this subject, also by Mantegna which sometimes serves as a companion to this print, is not included in the exhibition, but a comparison of the two demonstrates the dramatic impetus added by the snarling old woman, who, motivated by envy, supposedly that most female of sins, has inspired this raging battle.
It should come as no surprise that Dürer was an early adopter of some of the most enduring visual attributes of witches, producing a much circulated engraving of a wicked old woman riding a goat backwards. (Pictured above right: A witch riding backwards on a goat, with four putti, two carrying an alchemist's pot, a thorn apple plant, c.1500). Clutching a broomstick, her hair streams behind her as if blown by some ill wind, and Dürer's famous AD monogram is reversed in acknowledgement of the diabolical power of witches to invert and upset the natural order of things.
More beguiling though is his earlier print The Four Witches, 1497 (pictured below left), a mysterious image of a group of nude women that subverts the motif of the Three Graces, who together personify female virtue. The only indication that these women are not just harmless beauties is the skull on the floor, while in the lower left of the picture and easily overlooked altogether, a devil peeps round the door. Dürer has treated youthful beauty as a weapon in itself, used by witches to seduce and corrupt unsuspecting men.
The theme of the devil disguised as a beautiful woman was commonly used to add vim to the popular religious subject of the temptation of St Anthony, a story that, in the Renaissance, became entirely about sexual weakness. Multiple examples show the enduring popularity of the theme, and the possibilities it offered for showing men as the victims of predatory women. An example from the 19th century shows that once witchcraft was no longer considered a threat to be taken seriously, the figure of the femme fatale took over as an up-to-date, but no less dangerous incarnation of malevolent womanhood. William Strang's deeply sinister Temptation of St Anthony, 1883, crackles with dark energy, and with its faceless nude woman and cowering male figure, it hints at sadism and sexual violence.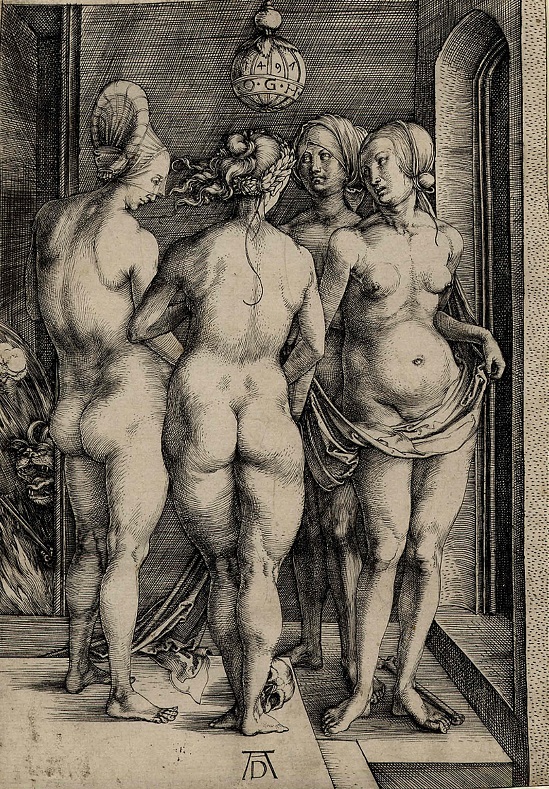 Compelling as such later works often are, they lack the raw immediacy of earlier images, made when the persecution of witches was rife. From about 1550 to 1630, coinciding with periods of terrible political and religious unrest, witch hunts were epidemic across Europe with women, men and children accused of witchcraft.
Forced confessions produced lewd details of the deviant activities of witches, fuelling rumours of diabolical practices that threatened the very fabric of society. In this new era of print, stories and images relating the latest outrages circulated in the form of broadsides – throw-away, printed sheets that functioned much like newspapers – and more expensive prints produced for collectors. Ephemeral by nature, few broadsides have survived, but artists' drawings along with some of the more upmarket prints give a flavour of the climate of fear and persecution that prevailed. A print after Pieter Bruegel the Elder invokes the apocalyptic images of Hieronymous Bosch, his claustrophobic, topsy-turvy scenes populated by strange beasts that are simultaneously comic and terrifying.
The femme fatale took over as an up-to-date, but no less dangerous incarnation of malevolent womanhood
Share this article