DVD: Mary Shelley |

reviews, news & interviews
DVD: Mary Shelley
DVD: Mary Shelley
Quill pens and poetry voice-over: a remarkable life told with remarkable lack of originality
Tuesday, 04 September 2018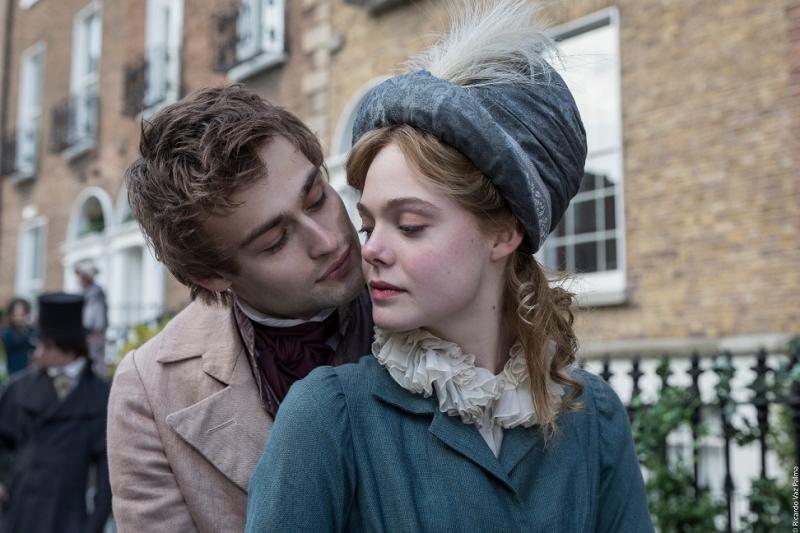 Fangsy running away with me? Douglas Booth and Elle Fanning
This should have been the perfect match. Saudi-born director Haifaa al-Mansour earned real acclaim for her 2012 debut film Wadjda, whose 12-year-old central character had to break the conventions of a restrictive society to realise her dream – owning her own bicycle. The challenges facing the eponymous heroine of al-Mansour's new film may have been of a somewhat different order – to live as an independent woman in her early 19th century literary world, along with the right to publish her masterpiece, Frankenstein, written when she was just 18, under her own name. But the two stories share a sense of characters struggling towards self-assertion, against an environment that would much rather they stuck to their allotted positions.
Which makes it all the more disappointing that Mary Shelley has lost the sheer freshness that made Wadjda so memorable, and that this move into the English language is so distinctly formulaic. It isn't really a variant on that old chestnut, foreign-language filmmaker seduced by the new perspectives of Hollywood, either: al-Mansour was educated in the US and her linguistic fluency seems perfect, while this production originated from Dublin rather than Los Angeles. But the sense of moving from a world known and conveyed in the tiniest detail into one in which the finished work is almost an agglomerate that could have been crafted by practically anyone is palpable.
Which audience is it aiming for – square-and-solid BBC Sunday nights, or the wilder shores of teenage hipsterdom?
In this case, initial resemblances are closest to period drama of the sort that the BBC does so well, but Mary Shelley doesn't even reach the higher echelons of that esteemed form. That covers roughly the opening half of the film, in which al-Mansour shows her protagonist's early London world, from growing up in the household of her father, the radical William Godwin (and daughter of Mary Wollstonecraft, deceased), her first encounters with partner-to-be Percy Bysshe Shelley, and the ménage à trois – uneasily shared with her stepsister, Claire Clairmont – in which Mary lived after eloping with the revolutionary poet.
That world shifts with the appearance of a virtually Blackadderish Lord Byron in their midst (Clairmont throws herself at him, along with the challenge: "Do you think you are the only one who can attract a poet?"). From there it's a short hop and skip to Byron's Geneva residence, where the disintegrating quartet spends tumultuous days, complete with Byron's physician Polydory and the celebrated ghost-story competition that gave rise to Mary's novel.
It's remarkable that this is the first biopic of Mary Shelley, given the determination with which she obviously lived her life. The famous Geneva sojourn has received rather more attention, not least in Howard Brenton's Bloody Poetry (would Brenton recognise any of thge posturings here?), and the tone there moves relentlessly into crazy society life that, in their extras on this release, practically everyone involved compares (repeatedly) to the rock-star glamour of the Swinging Sixties. (Pictured below, from left, Bel Powley, Elle Fanning, Douglas Booth, Tom Sturridge)
The best that can be said about Mary Shelley is that its youthful cast has a certain chemistry, and that Elle Fanning in the title role grows as the film goes on. Until then it's Mary being pouty and Shelley (Douglas Booth) being swanky – which works quite well as characterisation actually, in a short-attention-span sort of way, though both are upstaged shamelessly by Tom Sturridge's Byron – caught up in a script that's consistently lunky and a score unrelentingly soupy (its ever-advancing piano-string combos practically constitute a threat to life).
In a production that sets its sights so low, we get that consistent bane of the most slip-shod films about writers – quill pens and poetry in relentless voice-over. You remain uncertain whether to blame al-Mansour or her producers for a piece that never seems to know which audience it's aiming for – square-and-solid BBC Sunday nights, or the wilder shores of teenage hipsterdom. "Find your own voice," is the advice that Godwin (a weary Stephen Dillane) gives his daughter as she sets out to write: it should be addressed, rather more urgently, to al-Mansour herself.

Overleaf: watch the trailer for Mary Shelley
It's Mary being pouty and Shelley being swanky, caught up in a script that's consistently lunky and a score unrelentingly soupy
rating
Share this article