Reissue CDs Weekly: Teenage Fanclub |

reviews, news & interviews
Reissue CDs Weekly: Teenage Fanclub
Reissue CDs Weekly: Teenage Fanclub
From 'Bandwagonesque' to 'Howdy!': a decade's worth of albums from Scotland's pop-rock sensation
On the starting line: Teenage Fanclub get set for competition on the sleeve of their 1995 album 'Grand Prix'
The cover images of the four albums Teenage Fanclub issued on Creation Records suggest ambivalence. While Bandwagonesque's title acknowledges the hopping onto trends endemic in pop, the graphic of a bag with a dollar sign recognises the related collateralisation of music.
Thirteen's
mismatched halves of a ball hints towards oppositionality as well as, with the sporting reference, competitiveness.
Grand Prix
features a Teenage Fanclub-branded sports car. More awareness of competition, then.
Songs From Northern Britain
transports a closed fairground ride into a forested landscape, a destabilising juxtaposition. Whether abstruse or clear, the graphics seem freighted with meaning.
Although Teenage Fanclub were raising an eyebrow at and recognising the strategies required to climb the ladder of pop success, the band-free images also say the albums were about the music rather than the band's personalities. Of course, the lyrics of each album's songs did point to what the songwriters were thinking.
After Songs From Northern Britain, the band found itself on the major label Columbia and for the first time were pictured on one of their sleeves. With Howdy!, their sixth album overall and first and last for a major label, they were being brought out of their shell.
Bandwagonesque (first released in November 1991), Thirteen (October 1993), Grand Prix (May 1995), Songs From Northern Britain (July 1997) and Howdy! (October 2000) are reissued in a band-approved vinyl-only batch. Rather than reappearing on their original labels they arrive on Sony, the multinational which Creation boss Alan McGee made a deal with in 1992. Columbia is another part of the Sony conglomerate.
Hearing the five albums afresh and in order of release inevitably posits a narrative: one with peaks and troughs, and one also defined by varying levels of engagement with what they were setting out to do. Even so, they all charted with Songs From Northern Britain peaking at number 3 in the album charts. Of course, attempts to discern the nature of the still-active, still-vital band's historic mind-set won't alter how the albums are seen. They are well-loved releases by a well-loved band.
Thirteen is the least engaged and most scrappy of the five. Titles like "Song to the Cynic" and "Commercial Alternative" reflect the stream of ambivalence coursing throughout. In the latter, Norman Blake disarmingly sings "I wanna thank you, for staying cool / I wanna thank you, cause I'm a fool." Overall, despite its touching lyrics most of Thirteen comes across as by a weary band lacking strong new compositions or a direction. Stepping off the music business treadmill to refresh themselves might have helped.
However, though its predecessor Bandwagonesque remains a Big Star-suffused wonder, it is with the splendid Grand Prix that Teenage Fanclub really set their stall. Guitarist Raymond McGinley was flowering as songwriter, supplementing the songs of Blake and bassist Gerard Love. The follow-up album, Songs From Northern Britain, was even snappier and took them into the Top Ten on a label increasingly and distractingly defined by Oasis.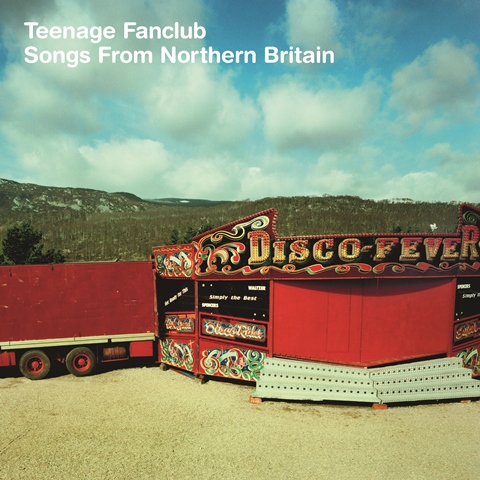 Post-Creation and on Columbia, came Howdy! followed. Downbeat and reflective yet still persuasive, it must have been a difficult to complete. The tracks were recorded in traditional recording studios, with overdubs subsequently recorded on stage at London's Astoria Theatre. Injecting some live vim was required to increase the album's impact.
On vinyl, original pressings of each album fetch from around £25 to £70 – upwards, in the case of Songs From Northern Britain, which must have barely sold on vinyl. Howdy! was originally issued on CD only. These reissues address a gap in the market but how they sound matters. Blake, Love and McGinley were actively involved in the remastering at Abbey Road and the results are fascinating. Bandwagonesque has had a previously unregistered layer of aural Vaseline removed. Grand Prix is a little distant sounding yet has become fresher than its original CD or vinyl counterparts. The winner, however, is Howdy! which is now more dynamic, immediate and punchy than the CD from 2000. Perhaps this is unsurprising when considering the too-high levels at which the album was originally mastered.
Each album includes a bonus seven-inch single, mostly of tracks which originally appeared only on CD singles and EPs.
They are: with Bandwagonesque, "Heavy Metal 6" (from the pre- Bandwagonesque mini-LP The King and "Long Hair" ("The Concept's" B-side); with Thirteen, "Country Song" (a previously unreleased outtake) and "Eyes Wide Open" (first heard on the 2004 mental health charity CD compilation One-In-Four); with Grand Prix, "Every Step is a Way Through" ("Neil Jung's" B-side) and "Some People Try to Fuck With You" ("Mellow Doubt's" B-side; with Songs From Northern Britain, "Middle of the Road" ("I Don't Want Control of You's" B-side) and "Broken" ("Ain't That Enough's" B-side); with Howdy!, "Thaw Me" and "One Thousand Lights" (both from "Dumb Dumb Dumb's" B-side). Eccentrically, the bonus seven-inch which came with first pressings of Grand Prix isn't included.
It's probably unlikely that these reissues are going to open new ears to Teenage Fanclub, especially in the current context of them playing fan-focussed live shows with songs drawn from specific periods in their lifespan. Nevertheless, it would be great if new ears did come their way. If they do, start with Bandwagonesque, then jump forward to Grand Prix and next take in the other three albums in the order they were originally released.
Next Week: Swanky new editions of Japan's Gentlemen Take Polaroids and Tin Drum
Teenage Fanclub were raising an eyebrow at and recognising the strategies required to climb the ladder of pop success
Share this article