Reissue CDs Weekly: Julian Cope |

reviews, news & interviews
Reissue CDs Weekly: Julian Cope
Reissue CDs Weekly: Julian Cope
The four albums from the rocky years with Island Records hit the shops again
The 1987 model Julian Cope, as seen on the sleeve of 'Saint Julian'
In terms of chart statistics, Julian Cope's period with Island Records looks pretty good. He issued four albums with the label and all of them charted. Saint Julian (issued in March 1987) peaked at 11, My Nation Underground (October 1988) stalled at 42 but Peggy Suicide (March 1991) and Jehovakill (October 1992) climbed to 23 and 20 respectively. Not bad.
Yet Jehovakill became his last album for Island and, in 1994, he signed with the Chrysalis Records subsidiary Echo for whom Autogeddon climbed to a 16 position. The chart statistics tell part of the story.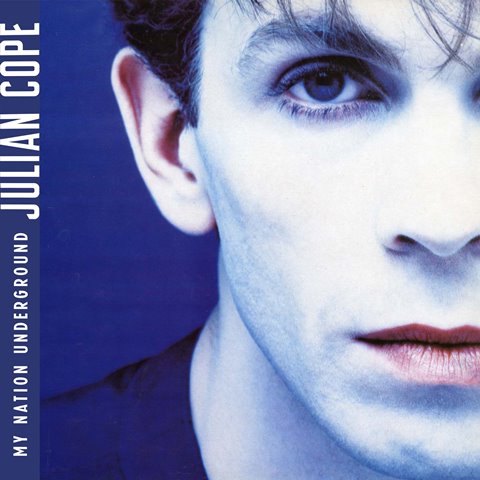 With Island, the release schedule was not linear. Between My Nation Underground and Peggy Suicide, Cope issued the raw, barely produced, musical stream of consciousness albums Skellington and Droolian on independent labels. Skellington was recorded at the same time as My Nation Underground, using Island's money. And after Peggy Suicide, Island themselves released the Floored Genius - The Best of Julian Cope and The Teardrop Explodes 1979-91 compilation, presumably a reminder to the market and maybe themselves too of the identity of the Julian Cope they had signed
The arrival of vinyl-only reissues of Saint Julian, My Nation Underground, Peggy Suicide and Jehovakill offers a chance to ponder what Cope was up to during his dance with Island. Although contracted to the label, he concurrently issued albums for other imprints. Surprisingly Island, despite the relative commercial failure of My Nation Underground in 1988 and the implicit nose-thumbing directed towards them, stuck with him into 1992. What then, did Island have on their hands?
Island picked up Cope after he made the fragmented but great Fried album for Mercury in 1985. That had followed the mostly poppy, average-selling and also great World Shut Your Mouth, his first post-Teardrop Explodes solo album. Fried resulted in Mercury dropping him. In essence, then, Cope's messy tenure with Island was an elongated version of what had already happened with Mercury.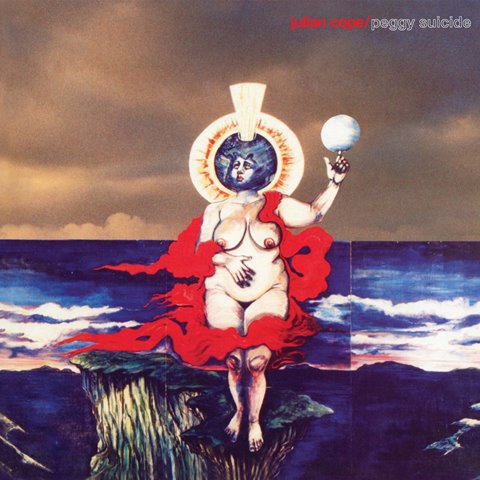 Saint Julian, the initial Island album, was analogous with World Shut Your Mouth. Quirky, hard-driving and pop oriented, it even featured a track called "World Shut Your Mouth". The cover image of a leather clad, beatific-faced, seemingly crucified Cope in a snow-encrusted scrapyard was hard to decode. Did he have a God complex? Was he a saint in a world that was a garbage heap? Whatever the interpretation, it was a fine, consistent album.
Its follow-up, My Nation Underground, was neither fine nor consistent. Sonically buffed up to a high gloss with a mix by Police producer Hugh Padgham, it featured two cover versions amongst its nine tracks: hardly a sign of flowing creative juices. It sounded like – and still sounds like – the sort of album a record company would want if they were trying to break an artist on American radio. Cope likely knew this as he recorded what became Skellington at the same time, at the same sessions. The rickety, self-funded Droolian soon followed. Even though he had gone along with it, the contrary Julian Cope was venting his opinion about being buffed-up to a high gloss.
Effectively, by recording and releasing material for other labels, Cope had breached his contract with Island (whatever on-the-hoof agreements were made with them). But rather than dumping him, the label issued the double album Peggy Suicide in 1991. This was a different Julian Cope. He did not appear on the album's front cover and the rear of the sleeve featured him with his costumed alter-ego Squabsy. The album drew from his feelings about the death of his friend Pete de Freitas (Echo & The Bunnymen's drummer) and a growing sense that the world was not in safe hands. There was no dalliance with the mainstream and the album was all-the better for it. It is one of Cope's best.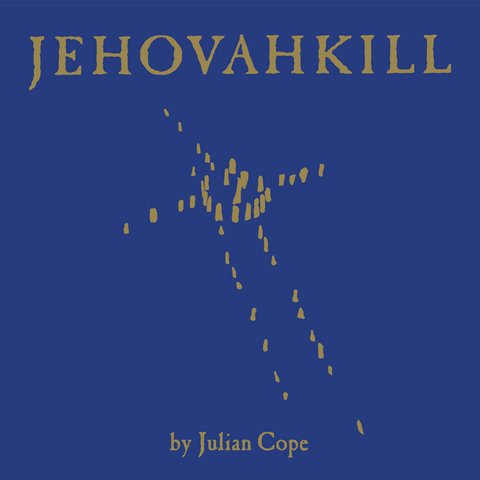 Jehovakill followed. While a little further out than Peggy Suicide and with a leaning towards Krautrock, it was another strong set and is close to Cope's best. However, that was it for him and Island. The label terminated his contract soon after its release.
The four Island albums chart an erratic path, one ultimately resulting in the self-determining Julian Cope of today. The reissues have no bonus tracks (for such, look for previous CD editions of Saint Julian and Jehovakill – the other two have not had expanded-edition CD reissues), are packaged as they were originally and sound fine. There is no information on the mastering and the first two sound treblier then original pressings. The cover images of Saint Julian and My Nation Underground look softer than those of the originals, as if they draw from scans of sleeves rather than the original album artwork. The new Jehovakill does not have a gatefold sleeve like the original (Side 4 is etched and has no music, also as per the original), but lacks its booklet.
Good condition second-hand copies of each album, excluding Jehovakill, sell for between £7 and £20. An original of Jehovakill with is its booklet insert can sell for up to £80. These represses are pegged at between £20 and £27. Whether or not a new reissue or a second-hand copy is chosen, start with Peggy Suicide, track back to Saint Julian and then move forward to Jehovakill. Next, find Skellington and Droolian. Treat My Nation Underground as a footnote.
Next week: Burning Britain, a brain-busting 4CD set of "Independent UK Punk 1980–1983"

The Island albums chart an erratic path, one ultimately resulting in the self-determining Julian Cope of today
Share this article