Reissue CDs Weekly: Burning Britain |

reviews, news & interviews
Reissue CDs Weekly: Burning Britain
Reissue CDs Weekly: Burning Britain
Deep-digging box set devoted to 'Independent UK Punk 1980-1983'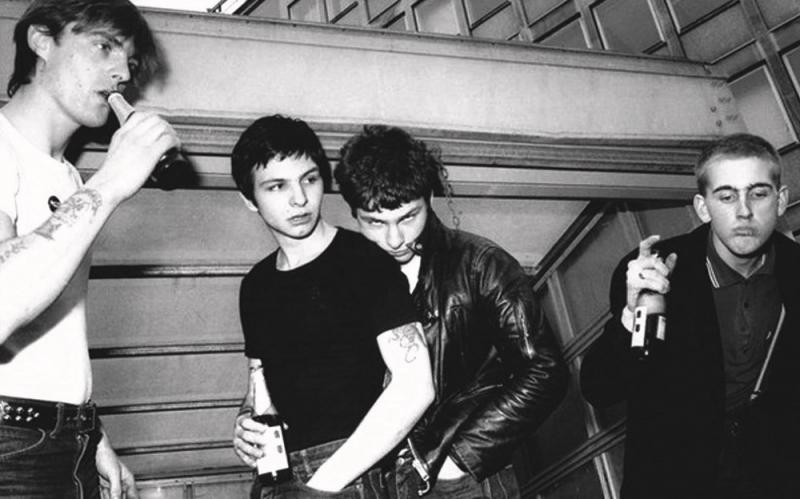 The Cockney Rejects, one of 'Burning Britain's' star turns, with 'new face of punk' Stinky Turner centre left in T-shirt
In early March 1980, the weekly music paper Sounds dedicated their front cover to "the new face of punk" with a photograph of Stinky Turner, the singer of The Cockney Rejects. What had, in 1977, been widely interpreted as a challenge to musical orthodoxy and as a new broom which was sweeping clean had, in turn, become a default style for new waves of bands.
Punk, as The Exploited put it in
1981
for the title of their debut album, was not dead. And punk itself was now the inspiration, rather than the assorted influences which had fed into Buzzcocks, The Clash, The Damned and the Sex Pistols.
The new 4CD set Burning Britain: A Story of Independent UK Punk 1980–1983 tackles head-on what came a few years after 1977 by collecting 114 tracks in a casebound package markedly contrasting with how some of its participants originally got their music out to the world. Septic Psychos "The Thatcher" from 1982 was circulated on cassettes with self-made inserts. The Sears' 1983 track "Not Prepared" was barely heard: it's drawn from a demo cassette that was not even copied for limited distribution.
Burning Britain digs deep. It also wrestles with an aspect of punk not previously subjected to the box-set treatment. As unlikely as it is, anarcho-punk bands sit alongside Oi/street-punk outfits. Madcap combos like The Notsensibles, Peter & the Test Tube Babies and The Toy Dolls leaven the tone. Also heard are bands active in 1977 which were still toiling away within the brackets of punk: Chelsea, The Lurkers, U.K. Subs and The Vibrators amongst them.
The set's title is drawn from Ian Glasper's essential 2004 book, Burning Britain: The History of UK Punk 1980–1984. He followed it up in 2006 with the equally indispensable The Day the Country Died: A History of Anarcho Punk 1980–1984. Where he had split punk into separate strands for the books, the box set coralles it all in one place. Fittingly, although Glasper did not compile Burning Britain the box set, he has written the introductory essay and track-by track commentary for its book. He is opinionated. Of the Subhumans, he eyebrow-raisingly asserts they "are one of the few UK bands who have never released a bad record."
Although Crass are absent – Glasper says it is to do with licensing issues – the box set diligently chronicles a key facet of British popular music which has, until now, escaped such all-encompassing aural scrutiny. Of course, much of what's here is exactly as expected: noisy, bee-in-jar guitars, hammering drums, hectoring vocals and terrace-chant choruses. Lyrics mostly express frustration, alleged injustices and perceptions of us-and-them divides.
Glasper acknowledges that "gigs [back then] were violent, sometimes really violent…sometimes thanks to warring factions clashing in ugly scenes that threatened to drag the scene so far underground it would choke on its own bile." In this context, it is extraordinary that The Exploited (pictured below left) got on Top of the Pops on 19 October 1981 to run through "Dead Cities" (their "Alternative" is heard).
No matter what year it was, 1977 cast shadows. Not just in the form of the bands which eschewed development to instead plug away at the bare-bones aural coalface (though the U.K. Subs cut collected, "Endangered Species", is more metal than punk) and the spectre of Sham 69, but in the music of bands which formed in response to first/second/etc. wave punk. The Partisans "17 Years of Hell" nods to the Sex Pistols' "God Save the Queen" while sections of Infa Riot's "Kids of the 80s" suggest a familiarity with Buzzcocks' "You Tear me Up". Given a little reconfiguration, Newtown Neurotics' "Mindless Violence" could be retro-fitted to slot into The Adverts' debut album.
While Burning Britain is an important release, there are some niggles. It kicks off with The Cockney Rejects' "Bad Man!", which was a single on EMI. Hardly independent then, as per the set's title. Similarly, Stiffs' "Volume Control" was released by Zonophone, an EMI imprint. Care should have been taken with the book's pictures. The photo of Chelsea is of a 1977 line-up, as is that of The Vibrators. Including The Damned's 1980 album track "Wait For the Blackout" as it was issued as a single in 1982 is pushing things.
Despite Disc One's comparative abundance of poppiness, Burning Britain: A Story of Independent UK Punk 1980–1983 is by the nature of what it is a demanding listen. But it's worth making the effort. While some who had been influenced by the punk of 1977 had glammed up to hit the charts – hello Adam Ant, Boy George, Spandau Ballet and Steve Strange – others, a few years younger, gritted their teeth and made a racket. Indeed, punk was not dead.
Next week: Shore Leave, the 1987 album by Feelies offshoot band Yung Wu

'Burning Britain' is by the nature of what it is a demanding listen
Explore topics
Share this article