Die Verlierer, New River Studios review - Berlin punks instantly find an audience at their UK debut |

reviews, news & interviews
Die Verlierer, New River Studios review - Berlin punks instantly find an audience at their UK debut
Die Verlierer, New River Studios review - Berlin punks instantly find an audience at their UK debut
Assured display makes the case this German band could go a long way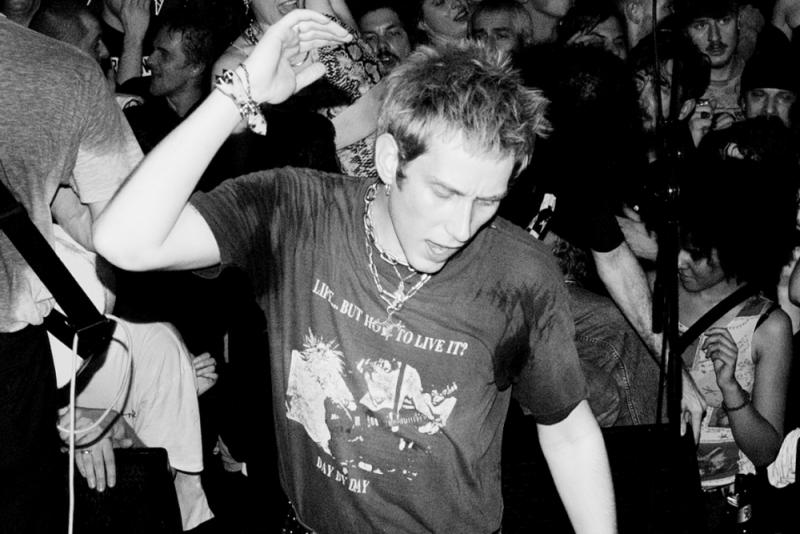 Die Verlierer's Hannes Berwing, without a roll-up cigarette
It's flabbergasting. OK, there's the power of the internet as a propagation tool but here's a German band playing their first UK show to a jumping-up-and-down audience punching the air while shouting along with the chorus of "X-Ray Vision" – which, indeed, is "X-Ray Vision". The reception is extraordinary.
Die Verlierer are from Berlin and have made one album. Their mix-and-match look takes in suit trousers, T-shirts, work boots and the odd formal jacket. Hair is short, a little bit glam-rock feathery. The sound is punk rock without being rooted in The Ramones, Sex Pistols or anything canonical. There's some Oi shoutiness – viz "X-Ray Vision". Vocals are often barked. Overall, however, it doesn't sound like anything in particular. And, there are tunes. Immediate tunes.
When singer Hannes Berwing lights-up his cigarette, he's told by the venue's manager 'any more, and you're out'
Live, what's on record is delivered with steamroller force while pulling off the enviable trick of remaining ramshackle. These people can play. Apart from the relatively subtle, textured "Into A" and "Plastic Life", the general impression evoked is of 1978 to 1979 when rough-edged punk bands began moving forward: like the Warsaw/Ideal For Living Joy Division, Kirk Brandon's Pack or Wallsend's The Wall. But Die Verlierer lack that period's darkness. Sure, they've got the same name as a gritty German TV film from 1987 – translating as "The Losers"; a grim depiction of inter-gang fights in the Ruhre set to a soundtrack of metal. Yet despite all this ostensible retrospection, Die Verlierer are totally in and of the present.
Should this need confirming, the show is well sold and the audience engaged from the moment the band wander onto the stage and biff into "Die Zeit". Singer – for most of the songs – Hannes Berwing is nonchalant, swaying back and forth from the waist upwards and growling into the mike. In contrast, the crowd go nuts throughout. Hiccups come with instrument swapping which frustratingly breaks the flow. When Berwing lights-up his second roll-up cigarette he's told by the visibly angry venue manager "any more, and you're out". Berwing nods and stops smoking. No one here looks like a punk revivalist. The age range is largely twenties into thirties. Bohemian catches it, though one audience member sports a T-shirt for Australian band The Hard-Ons. German is not overheard.
There is background. Die Verlierer did not arrive from nowhere. Berwing and Jonas Häussermann (bass) were in the punky Marke, who seem to have made no records. Lorenz Szukal (guitar, singing: he assumes the name Lorenz O'Tool) Julius Haß (drums: Jiles) and Oskar Haßler (guitar: Oska Wald) were in the Gun Club-ish garage-punk combo Chuckamuck, whose first release came out in 2006. Their last record appeared in 2022, so they still might be a going concern.
Considerations of whether Die Verlierer are a project or an organic entity are batted aside by the show's oomph and panache
Similarly, setting aside the overall punk-rock vibe, specifics are at play. "Mann im Mond" has a nodding acquaintance with The Fall's "L.A.", from 1985's This Nation's Saving Grace album. While shorn of its metallic aspects, Black Sabbath's "Black Sabbath" feeds into "Into A". "Die Zeit", the opener of their album, is like early Fear with a bit of Mick Jones dinga-dinga-ding morse-code guitar and the faux-gormlessness of first-album Wire. The fast sections of the stop-start "Deadgirl" are structurally akin to The New York Dolls's "Trash". Every now and then, an early Killing Joke stomp is apparent. "Plastic Life" is not far from Germany's own Ton Steine Scherben. Any or all of Die Verlierer have top-notch record collections.
The album was played in full, in the order it's sequenced on record and without an encore. Add this conceptual manner of performing to the band member's backgrounds and the musical touchstones, and it's hard not to wonder whether Die Verlierer are a project rather than an organic entity. Even so, such considerations are batted aside by the show's sheer oomph and panache.
Die Verlierer are so good at what they do, such fun and so immediately accepted, they have their own future in their hands – onwards and upwards; or remaining a cult level attraction? It's up to them. Perhaps they can do what roughly comparable bands like the early, Clash-styled Manic Street Preachers and the pre-silly Libertines did. Namely, get bigger and bigger. But, please, without smoothing-out the music or crashing and burning.