Reissue CDs Weekly: The Vibrators |

reviews, news & interviews
Reissue CDs Weekly: The Vibrators
Reissue CDs Weekly: The Vibrators
Whether punk or not, new box set of the opportunistic pop-rockers comes up with the goods musically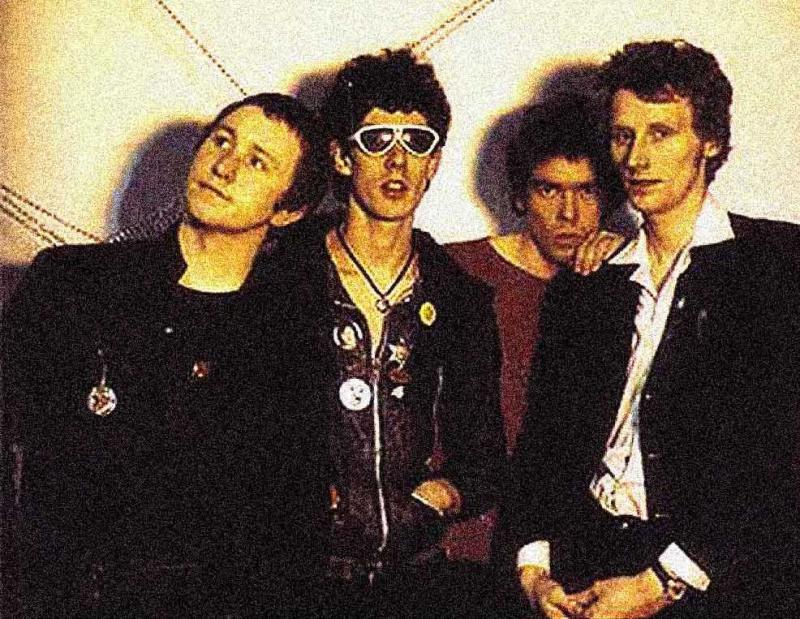 The Vibrators in 1977. Left to right: John Ellis, Ian "Knox" Carnochan, John "Eddie" Edwards, Pat Collier
When the Sex Pistols first played live on 6 November 1975 at St. Martin's School of Art, they were the support act to a Fifties-influenced band called Bazooka Joe whose roadie was John "Eddie" Edwards. Of the first band on that night, he declared "everyone said 'oh, they're not much good are they?' They were a bit untogether."
On 11 March 1976, Edwards made his own live debut as the drummer of another new band, The Vibrators. They opened for the rising Stranglers at Hornsey College of Art. His bandmates were guitarist John Ellis – who, in 1970, co-founded Bazooka Joe – bassist Pat Collier – who had passed through Bazooka Joe – and Ian "Knox" Carnochan, late of the bands Despair and Lipstick (the drummer in both was Richard Wernham: he had also passed through Bazooka Joe and was later in The Motors). Then, on 10 August 1976, The Vibrators supported the Sex Pistols at Oxford Street's 100 Club, ten minutes' walk from St. Martin's. A pop-cultural wheel had turned.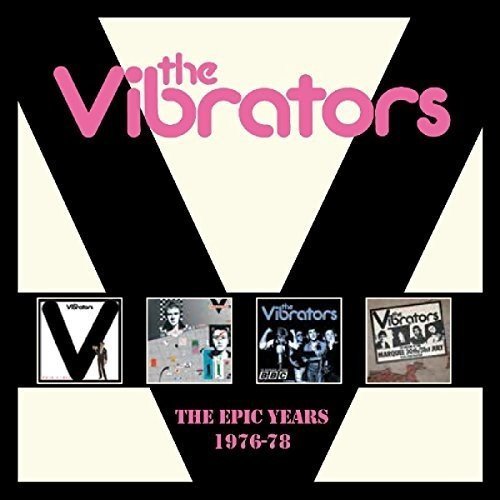 Beyond this marking Bazooka Joe as an important but largely unsung punk rock-era seedbed – their bass player was Stuart Goddard, the future Adam Ant; another of their guitarists was The Monochrome Set's Lester Square – it stresses that The Vibrators were the first band to emerge in response to the challenge laid down by the Sex Pistols. But despite the phallic-related similar names, The Vibrators were not quite punk and never had the hip credibility of comparative Johnny-come-latelies Buzzcocks, The Clash and The Damned, all of whom, whatever their backstories, arrived fully formed for punk. Ex-Mott the Hoople frontman Ian Hunter telling the music press The Vibrators – his opening band on tour in June 1977 – were not punk hardly helped Knox and co's standing as part of the new vanguard.
The new anniversary-of-1977 box set The Epic Years 1976-78 offers the chance to work out what The Vibrators were and how they fit in with punk rock. The music is often resolutely unpunky. "Baby, Baby", their first single for the Epic label, issued on 20 May 1977, was a romantic slow-paced rock ballad. On 30 July 1977, they performed a straight if speedy version of the Stones' "Jumpin' Jack Flash" at London's Marquee (the show is on disc four). Their debut single, issued on 19 November 1976 – a week before the Pistols "Anarchy in the U.K." – was "We Vibrate" (not included here as issued). It was pop R&B in mould of pub rockers Eddie & The Hot Rods. Inescapably, the conclusion is The Vibrators were not a punk band and paid no heed to the prevailing year-zero ethos but did take on the trappings of punk. They were an opportunistic pop-rock band. (pictured below left: The Vibrators in 1976 before their punk makeover – drummer John "Eddie" Edwards with the longest hair)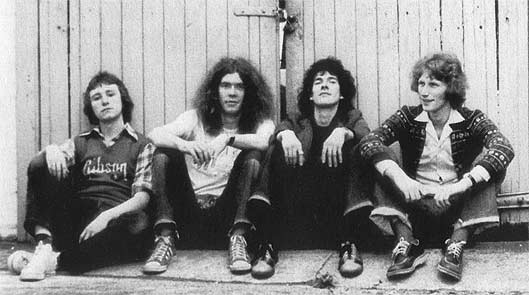 They had a couple of fascinations which helped them stand apart. BDSM sexuality crops up in their songs. The B-side of "We Vibrate" was titled "Whips and Furs" (Peel session versions of each are included here). Another of their songs was titled "I Need a Slave". They were also interested in war and Nazis in particular: the songs "I'm Gonna be Your Nazi Baby", "Troops of Tomorrow" and "War Zone" attest to this. Whether these were subject matter for controversy's sake or actual interests is not addressed in The Epic Years 1976-78's breezy liner notes. Neither is the uncanny similarity of The Only Ones' later "Another Girl, Another Planet" to the fantastic "Whips and Furs".
Beyond these peculiarities, The Vibrators were blessed with an unfortunate knack for getting things not-quite right in an era when getting it right was paramount. When they played the second day of 100 Club's legendary punk festival on 21 September 1976, Edwards still had pre-punk long hair. More egregiously, their own set was accompanied by one playing oldies covers with "Motorbikin'" hit-maker Chris Spedding. Hardly cool and on-message with the forward-looking outlook this period of flux demanded, though Spedding had produced the first Sex Pistols' demo.
They then signed with Spedding's label, the Mickie Most-run RAK – the home of pop acts Mud, Suzi Quatro, The Rubettes and Smokie. It was a lightweight – exceedingly uncool – label. Still, they got their single out before "Anarchy" and recorded the first punk-associated Peel session (heard on disc three). But they also backed Spedding on his fast-off-the-mark punk novelty single "Pogo Dancing", issued in the UK on 5 November 1976. Extraordinarily, The Vibrators were party to making fun of punk – the bandwagon they were jumping on – when it was hardly off the ground (pictured right: the French picture sleeve of the Spedding/Vibrators "Pogo Dancing" single – Edwards still sporting his unpunky long hair).
Despite the permanently mixed messages, they played (again) with the Sex Pistols in the Netherlands in January 1977 and signed with the punk-hungry Epic Records in March 1977 – forcing RAK to cancel a scheduled single of "Bad Time" – and went on to release four singles and two albums for the label: the core material of this clamshell box.
Musically, what's collected on The Epic Years 1976-78 evidences a band as muddled as everything above suggests. There are terrific pop songs like the first album Pure Mania's (issued in June 1977) "Sweet Sweet Heart" and the hard-edged, glam rock-ish "London Girls". When they try on punk in the codified Ramones-speed, slab-like guitar, terrace-chant vocals sense on "Petrol" and "Stiff Little Fingers" (which gave the band of the same name their handle), it sounds forced and oddly comes across as a template for California hardcore.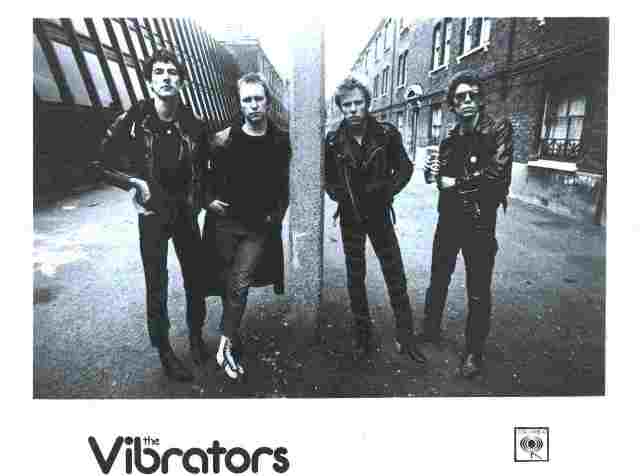 On their second album, May 1978's V2, they found their way musically. The forceful "Destroy" and "Troops of Tomorrow" posit a trad-rock inclined version of Killing Joke. However, this fruitful direction was not pursued as line-up changes were followed by a split in October 1978. The first of many reformations followed in 1979. (pictured left: The V2-era Vibrators in 1978 with latter-day bassist and future Adam & The Ants/Roxy Music member Gary Tibbs, second from right).
The Epic Years 1976-78 tracks this confused, confusing and intermittently great band across four discs. Nothing is previously unreleased. Disc one is Pure Mania plus two non-album single sides; disc two is V2 plus three non-album single sides; disc three is their three Peel sessions plus an Old Grey Whistle Test TV appearance; disc four is the Marquee show from 30 July 1977, which has been previously issued in a different mix. Although the liner notes do not say so, the version of Pure Mania heard is the relatively dense UK mix of album rather than the cleaner, thinner and inferior mix issued in America and Canada.
Despite the title's assertion, they signed with Epic in March 1977. They were on RAK in 1976 and the inclusion of their two singles for the label would have been good to make this a complete collection of their released works for the period covered by the sloppy title.
From the musical viewpoint, The Epic Years 1976-78 confirms The Vibrators were not cool. But at their best, whether punk or not, they made some fine recordings which stand repeated listening forty years on from when they were originally released. Which is more than many bands.
The Vibrators were blessed with an unfortunate knack for getting things not-quite right in an era when getting it right was paramount
Explore topics
Share this article
Subscribe to theartsdesk.com
Thank you for continuing to read our work on theartsdesk.com. For unlimited access to every article in its entirety, including our archive of more than 10,000 pieces, we're asking for £3.95 per month or £30 per year. We feel it's a very good deal, and hope you do too.
To take an annual subscription now simply click here.
And if you're looking for that extra gift for a friend or family member, why not treat them to a theartsdesk.com gift subscription?