Music Reissues Weekly: 999 - A Punk Rock Anthology |

reviews, news & interviews
Music Reissues Weekly: 999 - A Punk Rock Anthology
Music Reissues Weekly: 999 - A Punk Rock Anthology
Entry point compilation into the band who 'seem to have lost control'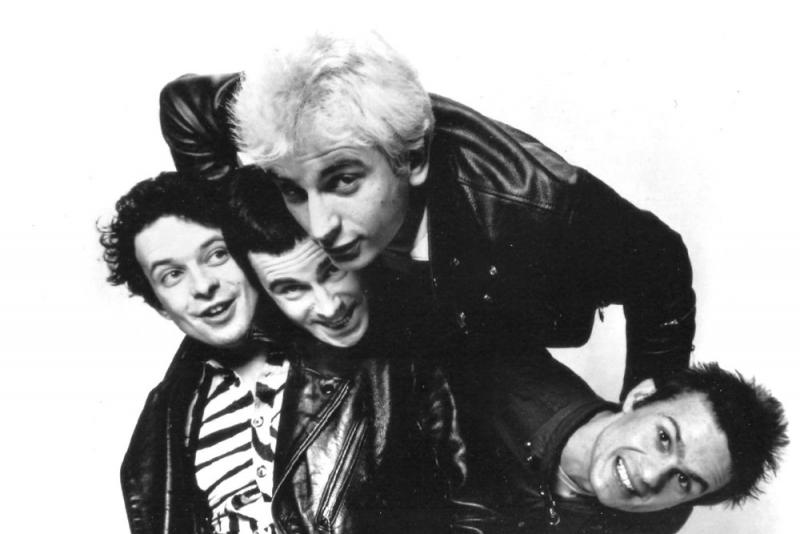 999: 'words and riff hurtle past at a preposterous speed'
"Ramonic buzzsaw impressionism guitars lovingly poured like a truckload of Quaker Oats over the indecipherable lyrical content that sounds like a rancid moggie that has snorted too much Pro-Plus."
So that was a possible thumbs-up from NME's Tony Parsons in his review of 999's August 1977 debut single "I'm Alive."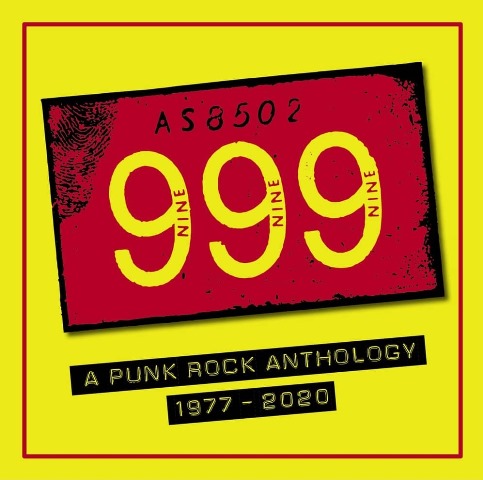 In October, the same music weekly's Bob Edmands pondered their second single, "Nasty Nasty." "The words and riff hurtle past at a preposterous speed, so fast that all concerned seem to have lost control. That should be impressive, in a crazed perverse sort of way, but it isn't."
999's place in the UK's 1977 punk narrative isn't cut and dried. Paul Morley described them as "heavy-pop" in February 1978. They looked mod-sharp, akin to a more colourful version of the pre army-style gear Clash. As the reviews above acknowledge, they provoked strong reactions. Central to this was the voice of frontman Nick Cash. High-pitched and piercing, it wasn't the rock yowl of Robert Plant but a more idiosyncratic apparatus. Nonetheless, they issued an unbroken string of great, still-fresh singles: "I'm Alive," "Nasty Nasty," "Emergency," "Me and my Desire," "Feelin' Alright With the Crew," "Homicide" – into late 1978, 999 delivered. Their first album, issued in April 1978, was patchy but it's follow-up, November 1978's Separates, was stronger.
After this, a linear path dissolves as they shifted from one label to another and, during spring 1979, began focussing on America with the first of a series of tours there. The dates in the title of the double-CD set A Punk Rock Anthology (1977-2020) confirm the story is on-going though it's the first few years which matter: these are encapsulated by Tracks 1 to 14 of Disc One. That said, the 1981 single "Obsessed" is pretty hot.
999's background is notable. Their drummer Paul Buck – who traded as Pablo LaBritain – was at boarding school with the pupil who would be pub-rock band 101'ers frontman Joe Strummer, and was briefly in a rehearsal-only version of Strummer's next outfit The Clash in June 1976. Buck was very aware of the punk thing being on the near horizon. 999's frontman Nick Cash used to be Keith Lucas and as such from 1971 was in Ian Dury's Kilburn and the High Roads, the original version of which fizzled out in June 1975. Lucas had been taught at Canterbury College of Art by Dury. He also would have known where the pop-cultural winds were blowing. So 999 were biographically a bit like The Clash, a band fronted another former pub rocker.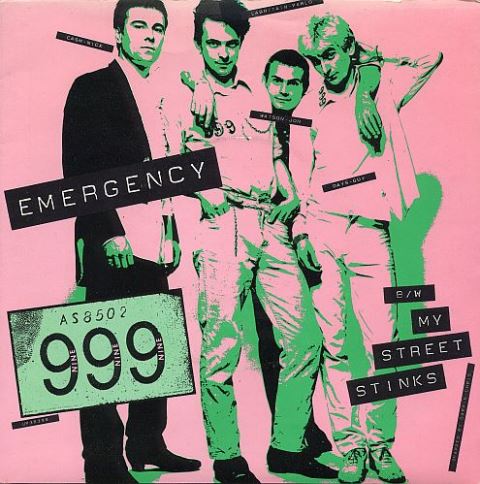 But despite their early consciousness of what was written in the punk-rock runes, 999 took a little while to get going. Their debut show was on 22 January 1977, and Lucas went under the name Gene Carsons for a while before becoming Nick Cash. The band was initially called The Dials, then 48 Hours after The Clash song and next were known as The Fanatics. On 14 May 1977, they first played as 999 and swiftly began touring. They made connections: the Albion booking agency picked them up and after the independently issued "I'm Alive" they signed with United Artists, home of The Stranglers (another Albion client) and Buzzcocks.
At the time it wasn't readily apparent, but there were musical nods back to Lucas/Cash's past. Their songs "I'm Alive and "Quite Disappointing" (the A- and B-side of their first single) had been in the Kilburns repertoire – presumably played without the hastiness of the 1977 recordings. "Emergency" was also a Kilburns-period song, which Lucas/Cash had written with his brother – who was Guy Days, 999's future guitarist.
Looming over all this dialogue between pasts and presents are the terrific singles 999 made soon after they began hurtling forwards. There have been endless compilations, but the straightforward A Punk Rock Anthology (1977-2020) is a good entry point.
Next week: You Loved Me - previously unheard 1970 album by auteur jazz vocalist Patty Waters
999 were biographically a bit like The Clash, a band fronted another former pub rocker
Explore topics
Share this article