The Flying Lovers of Vitebsk, Kneehigh on tour review - sweetest musical Chagalliana |

reviews, news & interviews
The Flying Lovers of Vitebsk, Kneehigh on tour review - sweetest musical Chagalliana
The Flying Lovers of Vitebsk, Kneehigh on tour review - sweetest musical Chagalliana
Wilton's Music Hall first stop for Emma Rice's fresh reincarnation of enduring love story
Thursday, 25 January 2018
Daisy Maywood and Mark Antolin as the loving Chagalls
Time flies so much more beguilingly in Daniel Jamieson and Emma Rice's 90-minute musical fantasia than it ever has, for me, in Bock and Harnick's Fiddler on the Roof – and the songs aren't bad, either.
The
inspiration
here – and inspiration's the word – is not Marc Chagall's trademark violinist on the tiles but the artist himself and his clever, talented
Vitebsk
other half Bella Rosenfeld as they wing their way through the fraught first half of the 20th century. Rice and Jamieson, young and in
love
, played the couple 25 years ago, which makes this superb small-scale piece of total theatre a classic; but in its current form, it has all the freshness of an Edinburgh Fringe First winner where supremely talented youth is the keynote.
Marc Antolin and Daisy Maywood, in a perfectly balanced double act, move with their words and perfectly choregraphed bodies, and they can sing beautifully, too, accompanied by James Gow and Ian Ross on cello, piano, trumpet, accordion and mandolin (the two pictured below). Ross's score takes us from skilfully adapted variations in the second movement of Tchaikovsky's elegiac Piano Trio – dedicated to the memory of the great Jewish pianist Nikolay Rubinstein – to Yiddish lullabies and popular song. I'm not sure the music needs amplifying – a Rice trademark, one that controversially dogged her Globe tenure – but it still sounds very fine.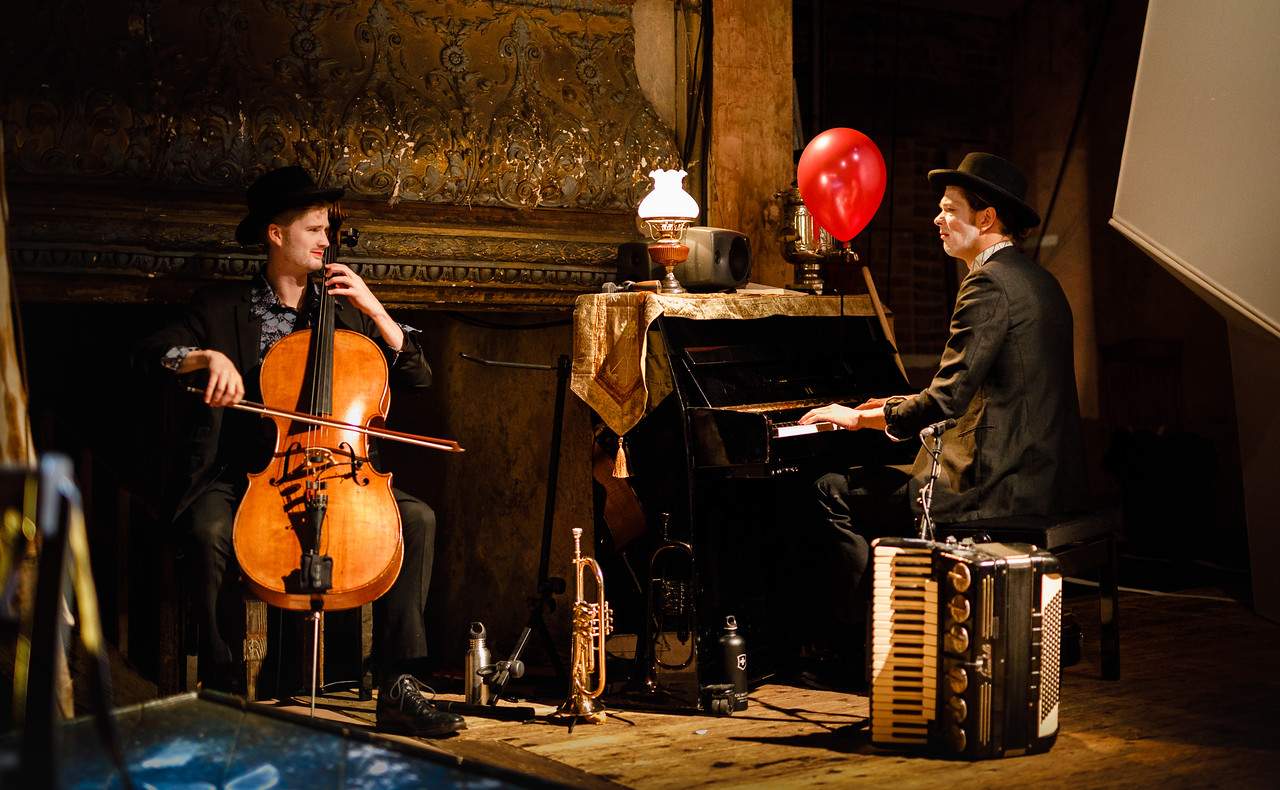 There's sweetness here, but also poignancy and heartache. The couple's courtship, interrupted by Chagall's four years away making his name in Paris and Berlin, is all secret rapture and public joy, a riverside idyll followed by a joyous wedding with ingenious use of chairs and extra legs for the liveliest of the rituals. Yet there's sorrow in the wartime persecution of the Jews within the Pale of Settlement, crystallised in another theatrical representation, of Chagall working on his celebrated painting of the old rabbi (pictured below). Ructions aren't long in coming, either, with the artist's childlike, or maybe just childish, egotistical behaviour during the couple's unhappy time in Petersburg/Petrograd, off working on an exhibition and not seeing his new-born daughter for the first four days.
Sophie Clist's economical but brilliant designs and Malcolm Rippeth's rainbow of lighting play an equally important role in evoking the greens, yellows, purples, reds and blues of Chagall's more colourful Vitebsk evocations (his palette, of course, could be much more selective just as often). You want to shout along with joy when he celebrates the first anniversary of the Revolution in Vitebsk with his hallmark menagerie on banners around the town, and you want to go back and look up images of his work for the State Jewish Kamerny Theatre in Petrograd (called "Petersburg" for recognition's sake throughout here). Which you can, incidentally, in the wonderful catalogue for the exhibition Marc Chagall: The Russian Years 1906-1922.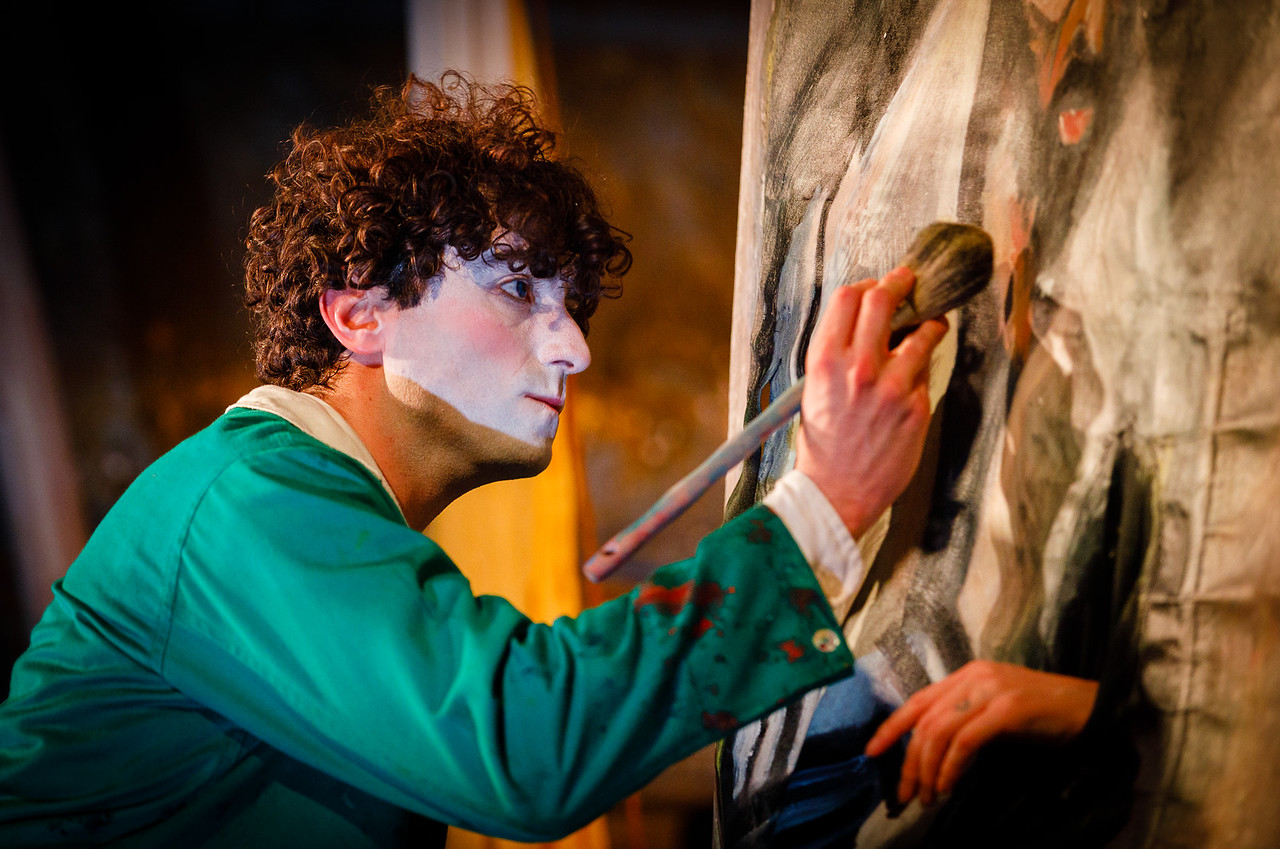 The play takes us much further, of course, zooming through the years of exile and wandering to focus on Bella's moving decision to write in Yiddish about the Vitebsk she knew when it's destroyed by the Nazis. I presume the excerpt Maywood reads so movingly is from the actual book, translated into French by the Chagalls' daughter Ida and illustrated by the artist after Rosenfeld's untimely death in America, not yet 50 (of a streptococcal infection which would have been cured by penicillin – but that was in short supply during the Second World War). The joint posthumous work served as a wonderful means of bringing them together as equals in art as well as life, Bella no longer just the muse she was in his husband's early lyrical paintings.
Rosenfeld's writing there is spare and simple, something not always to be found in Jamieson's text, which can be contrivedly poetic at times. But not towards the end; to balance that monologue, Antolin gets another one of comparably restrained emotion, conveying the artist's belated enlightenment about how his brilliant wife and he saw the same things, but not always in the same way. An epilogue brushed, but not coyly by angel wings, and a close-harmony encore are just perfect, too.
The hopefully immortal tribute of this play – it would make an excellent film, a romance to delight anyone who loved La La Land – gives the Chagalls further life in what Rice eloquently describes in the programme as an ongoing meditation on the complexities of love and the trials of life (though she acknowledges that ours are small compared to what this couple went through). She has done nothing finer, and in The Flying Lovers of Vitebsk's latest incarnation, youth still gilds the pictures. Catch it where you can.
In this musical play's latest incarnation, youth still gilds the picture
rating
Share this article