Little Women, BBC One review - life during wartime with the March sisters |

reviews, news & interviews
Little Women, BBC One review - life during wartime with the March sisters
Little Women, BBC One review - life during wartime with the March sisters
Agreeable yet soporific adaptation of Louisa May Alcott's enduring novel
Thursday, 28 December 2017
Marmee (Emily Watson, centre) with daughters Meg, Jo, Amy and Beth
One of the much-hyped jewels in the crown of the family-friendly BBC holiday season is this new three-episode adaptation of Louisa May Alcott's much loved novel by Heidi Thomas, the writer of Call the Midwife.
We started in the New England winter – a simulacrum of Concord, Massachusetts, where Alcott lived with her three sisters, in circumstances of genteel poverty that she lightly fictionalised in her best-selling novel.
An American classic since its publication, and never out of print, Little Women has already made it into half a dozen films, several television adaptations, a piece of theatre and even an opera. Thomas's version is topical in emphasising the proto-feminist sentiments loaded onto Josephine, known as Jo, the second oldest, and the character most closely modelled on the author herself.
The Little Women are the four March sisters. Their father is away as a Union Army chaplain during the Civil War, and in his absence the girls are being raised by their mother Marmee. We meet the oldest, calm and sensible Meg, who works as a governess, energetic Jo, and frail, loving and musical Beth. The youngest is spoilt blonde Amy, who's the only sister going to school.
Handily, the girls ranging in age from adolescence to very young adulthood enact different aspects of growing up: the domestically gifted, the caring, the considerate, the determined, the proto-feminist, the tomboy – not being born a boy is the most disappointing thing that has ever happened to me, says Jo.
Here be snowy roads, ice skating ­– Amy nearly drowned when the ice cracked, in a brilliantly staged scene – grand mansions and modest homes, and a village immaculately picturesque. Alcott's gift was to make real people of her fractious, affectionate family but as usual, even with fine acting, television cannot help sanitising the material world; at least make-up was restrained and the costumes believable, and interiors much less glossy than usual.
But (whisper who dares) high production values and outstanding acting are not quite enough
Next door to the sisters was the beautiful Laurie (Jonah Hauer-King), the charming orphaned grandson to wealthy Mr Laurence (Michael Gambon), who's accompanied by his handsome young tutor in the hope of getting his academic attainments up to Harvard standards. (Pictured above, Hauer-King with Maya Hawke as Jo March)
Domestic incident succeeded domestic incident: Jo is terminally clumsy as well as inventive, and ironing her sister's hair caused much of it to fall out. Marmee (Emily Watson) was all too frequently pictured kneading bread. Monied Great Aunt Marsh (a tartar but played here by a remarkably restrained Angela Lansbury, pictured below with Michael Gambon) lives nearby, and was super-critical of her nephew for being foolish about money. Laurie was motiveless, Jo was writing a novel and wanted to travel; Amy so furious at missing the theatre to which her elder sisters had been invited she burned the novel in progress. Jo's anger was awesome, and perfect Marmee confessed her own inner rages.
Come the spring, a telegram arrived to tell the gallant family that Father March was desperately ill in Washington DC. Marmee couldn't afford the fare, so Jo begged the local barber to buy her hair (referred to by her family as her one beauty), but her sacrifice proved vain as Great Aunt March stumped up the money. The last word rested with Marmee: I want to keep all my girls as long as I can, but I also want real love for all of you.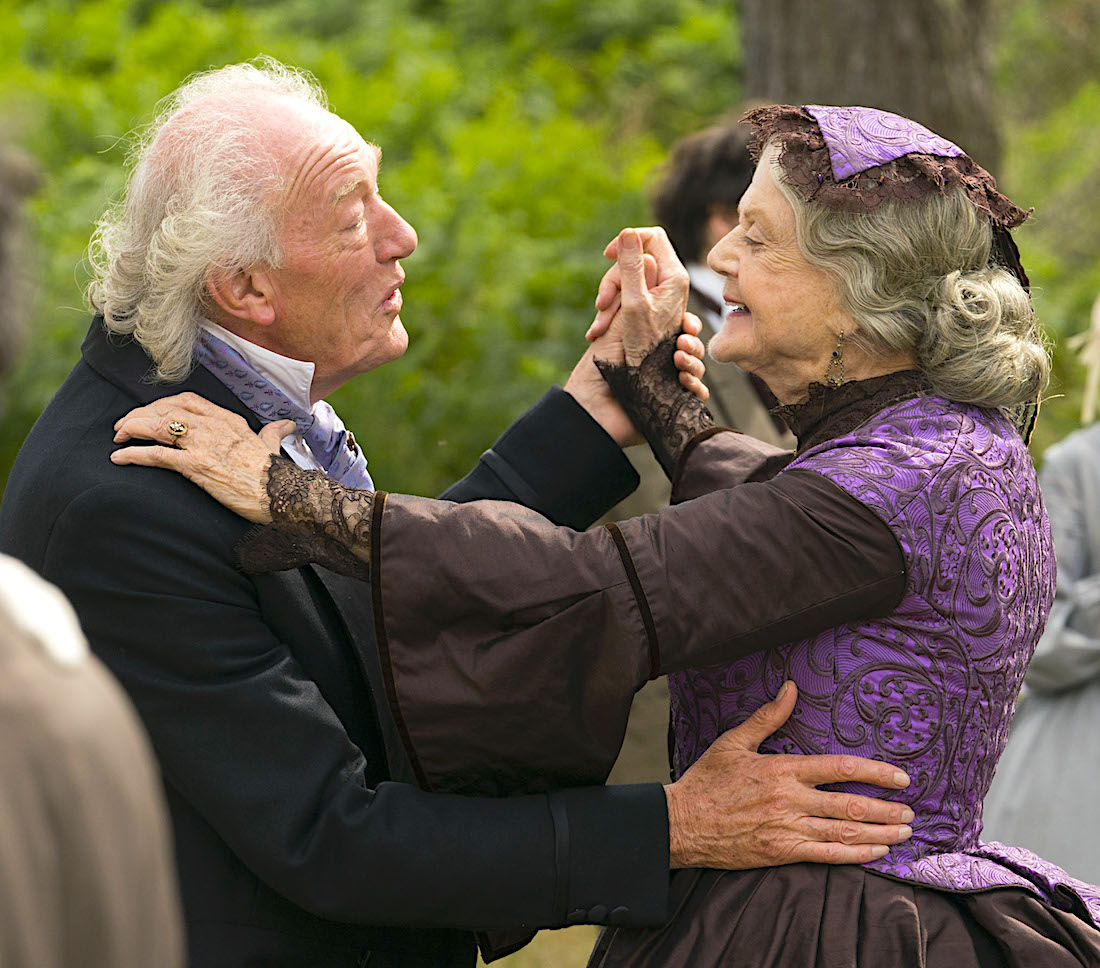 The viewer is slowly absorbed into a succession of events in March family life, ranging from the trivial to the momentous. The second episode found Laurie railing against trying to go to college and being scolded by Jo, subtly inveighing against male privilege and economic superiority. Amy was bullied at school and beaten by her teacher, and the snobberies of a small society were revealed. The Civil War loomed large in the newspapers, the poor family that the March girls visit was beset by tragedy, and Beth the luminously good sibling caught scarlet fever on their doomed do-good visit.
The story is one of domestic ups and downs enlivened by insights into societal roles and class differences, and extremely well crafted. But (whisper who dares) high production values and outstanding acting are not quite enough. For all the historic charm in its picturesque packaging, it is hard to care very much about most of the characters as we witness one event following another. Boredom crept in, and finally became overwhelming.
Episode 3 of Little Women is on BBC One on Thursday December 28 at 8.30pm
Alcott's gift was to make real people of her fractious, affectionate family
rating
Share this article