Belleville, Donmar Warehouse review - prickly and unnerving |

reviews, news & interviews
Belleville, Donmar Warehouse review - prickly and unnerving
Belleville, Donmar Warehouse review - prickly and unnerving
Imogen Poots and James Norton in terrific form as American expats living on the edge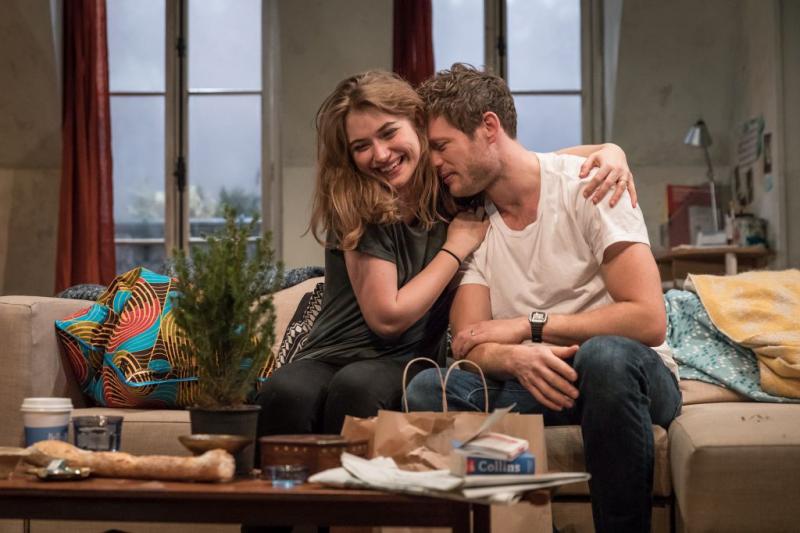 Not quite Gershwin: Imogen Poots and James Norton play Americans in Paris in 'Belleville'
The city of love provides a backdrop for marital discord and worse in Belleville, Amy Herzog's celebrated Off Broadway play now receiving a riveting British premiere at the Donmar.
The director, Michael Longhurst, is rivaling Dominic Cooke (of
Follies
renown) as the British theatre's current American chronicler of choice, with the glorious
Gloria
and Chichester's
Caroline, or Change
already well-received this year.
Belleville
is a more elusive and slippery piece: a Hitchcockian study in physical and emotional displacement that isn't beyond occasional forays into
grand guignol
. But Longhurst keeps Herzog's tensions simmering until they boil over:
An American in Paris
was never quite like this.
This UK iteration comes with a more glamorous, marquee-friendly pair of leads than was the case at New York Theatre Workshop, Herzog's New York home of late where I first saw the play in 2013. (Her extraordinary Mary Jane, seen at that same venue this autumn, is surely due a London run.) Committing to the stage at a time when they could be forgiven for thinking only of the screen, James Norton and Imogen Poots are in accent-perfect, emotionally precise form as two 28-year-old married Americans inhabiting gently rundown rented digs in Belleville, a quartier that Abby (Poots, pictured below) lauds for its "diversity" even as the thrill of the expat life on some level looks as if it's beginning to pall.
It doesn't help that Abby speaks only the most rudimentary French – enough, it would seem, to raise a protest when being harassed. Norton's sweet-faced spouse Zack is more fluent and has struck up a largely weed-fueled camaraderie with his Senegalese-born landlord and neighbour, Alioune (Malachi Kirby, pictured with Norton below), to whom he and Abby owe four months rent. But Zack's penchant for surreptiously watching porn on his laptiop when he ought to be busy with his AIDS research suggests that he may be no less rudderless than his more antic and animated wife, who would really rather be Stateside in any case for the birth of her sister's new baby. That, in turn, isn't possible due to visa complications that Abby doesn't quite understand.
A portrait of the expanding fissures in a relationship under stress, Belleville is deceptive in seeming for its first half or so to weight responsibility for the worsening fault lines in the direction of Abby. That's partly because Poots, in only her second-ever London stage appearance (both times, interestingly, playing Americans with a fondness for drink), is a more physically robust, outsized presence than Maria Dizzia was in New York. She's needy and prickly in turn, and the excellent Poots often captures both at once.
Playing someone who is relentlessly "on", the actress makes one wonder how the contrastingly mild Zack has accommodated so temperamentally opposite a wife, albeity one mourning the death of her mother and also revealed to be off her meds. That's true only until such time as various facades fall away, exposing the lies and evasions that have jointly fed this shared life. Herzog has great fun larding her text with the necessary clues, and Poots and Norton bring to this emotional cat-and-mouse game a ready physicality and ease that draw the audience in. Poots, for one, deftly fields an extended scene involving a toenail (!) that elicits gasps one might associate with Laurence Olivier tending to Dustin Hoffman's teeth onscreen in Marathon Man. Norton is so preternaturally charming that it takes a while before you wonder quite why it is that he keeps such a tight rein over his wife's phone, among other issues of control, and Herzog evenhandedly gives both characters a scene where they lock themselves in the bathroom, to very different results.
The production goes in for a busier, more alarmist soundscape (courtesy Ben and Max Ringham) than I recall from New York, and with the ambient noise of everything from babies to street traffic threatening to overtake an already-uneasy space, one at times half expects a poltergeist or two to seal the anxious deal with an impromptu appearance. But the play remains a cunning study in lives built on ever-shifting sand, next to which Alioune's wife, Amina (Faith Alabi), emerges as an eleventh-hour figure of commendable straightforwardness and calm. Herzog is smart, too, about the way in which a fresh start in life can amplify anxiety at the exact moment that one seeks to allay it. Abby speaks drunkenly of herself and Paul as "strangers in a strange land", by which one assumes she is referring to Paris, only to discover that she could equally well be referencing the couple's sense of one another as glimpsed at that point before the millennial pressure cooker goes into meltdown.
Poots and Norton bring to this emotional cat-and-mouse game a ready physicality and ease that draw the audience in
rating
Explore topics
Share this article