Jane Eyre, National Theatre review - a dynamic treatment that just misses |

reviews, news & interviews
Jane Eyre, National Theatre review - a dynamic treatment that just misses
Jane Eyre, National Theatre review - a dynamic treatment that just misses
Athletic adaptation of Charlotte Brontë's novel doesn't quite fly
Friday, 29 September 2017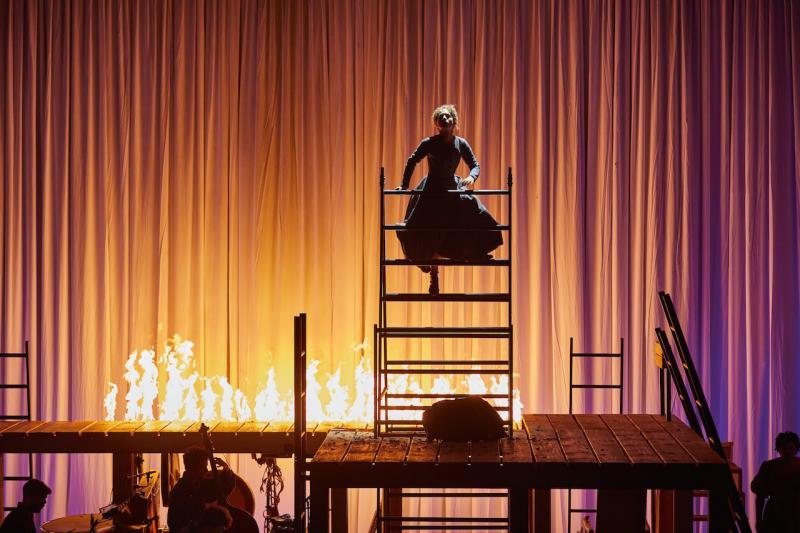 'I am no bird, and no net ensnares me': Nadia Clifford as Jane Eyre, in Sally Cookson's adaptation of the novel
Sometimes you go to the theatre and in the first 10 minutes are convinced that the production is going to smash it, only to find by half time that it's not. Initial delight gives way to mild irritation, and as a member of the ticket-buying public you draw a line under it and hope for better luck next time. A critic, however, must identify what didn't work and why.
Sally Cookson's stage
adaptation
of
Charlotte Brontë
's best-loved novel seems to have everything going for it: dynamism, narrative clarity and a willingness to strip the story to the beating heart beneath the corset-stays. It takes a bold, kinetic approach, and I very much wanted to like it.
The production first appeared three years ago at Bristol Old Vic as a two-part affair – in the manner of the RSC's Nicholas Nickleby, whose style it quite closely resembles. It was refashioned into a single-sitting show for its first run at the National then recast for a UK tour before landing back at the Lyttelton for a month. Though devised by the original cast, the piece should by now be a comfortable fit for the present line-up.
The action is set on what looks like a giant Ikea bunk bed (design, Michael Vale), with two chunky pine platforms, a ramp, and lots of metal ladders leading nowhere. The band of three multi-tasking musicians hunker down in the middle, but the seven actors rush about continually, not always with an obvious purpose. Only two of them are allowed the luxury of playing a single character: Nadia Clifford, who makes a believably "poor, obscure, plain and little" but pleasingly spirited Jane, and the singer Melanie Marshall. She meanders about in an evening gown directing voluptuous vocalises at the characters in the story and only after the interval is revealed to be none other than Bertha, the mad first Mrs Rochester in the attic. The violent red of her frock should have warned us.
The rest of the cast multi-role frantically in a manner that is not only colour-blind, gender-blind and age-blind but species-blind too. By the time Mr Rochester falls off his horse on the moor we have already accepted the sight of beardy blokes as emaciated little girls at Lowood School, and a phalanx of actors running on the spot as the coach and horses that transports Jane across the north of England. Yet still we're unprepared for the comical attention to detail of Paul Mundell as Pilot, Mr Rochester's large and lolloping dog. He comes close to stealing every scene he's in.
Charlotte Brontë's pen goes to places that perhaps live theatre can't
So far, so good, but Benji Bower's musical score, at first deft and discreet, soon becomes overbearing, and its anachronisms increasingly bizarre. While the singer's lush rendition of "Mad About the Boy" is merely confusing (which boy? who is mad about him?), her later attempt on "Crazy" by Gnarls Barkley goes too far. It's as if Cookson and her composer tapped in a few psychiatric key words and used whichever songs came up.
The show's pacing is also ultimately disappointing, given the commitment and energy of the cast. The story is slow in getting started, and despite the three-hour running time the dénouement feels rushed and almost crudely curtailed. This is a shame when Clifford and her Mr Rochester, Tim Delap, have developed such a touching rapport. Angular and frowny rather than brooding, Delap may not be many readers' ideal Master of Thornfield Hall, but he has internalised the backstory sufficiently to make us feel the painful remorse of a squandered life.
Elsewhere the production also works hard at conveying Jane's inner dialogue – there is a nice visual motif of casement windows flung open, the panes empty frames manipulated by actors. But the show is less good on the physical sensations which are such a feature of the novel. We never feel the child-slaying chill of Lowood School, nor the echoing loneliness of Thornfield when the Master is away, nor Jane's delirium when she leaves with nowhere to go and almost dies of cold and misery on the moors. One can only conclude that Brontë's pen goes to places that live theatre can't.
The show works hard at conveying Jane's inner dialogue. It's less good on the physical sensations that are such a feature of the novel
rating
Explore topics
Share this article