Liar, ITV - who, if anybody, is telling the truth? |

reviews, news & interviews
Liar, ITV - who, if anybody, is telling the truth?
Liar, ITV - who, if anybody, is telling the truth?
Secrets and evasions in the Williams brothers' rape-allegation drama
Tuesday, 12 September 2017
Frugal with the actualité? Joanne Froggatt as Laura Nielson, Ioan Gruffudd as Andrew Earlham
Could handsome, successful, designer-stubbly Ioan Gruffudd really be a rapist? Yes, according to schoolteacher Laura Nielson (Joanne Froggatt). No, according to Gruffudd's character Andrew Earlham, a distinguished surgeon and widower apparently horrified to be accused of such a thing.
As you may have heard, the scriptwriting Williams brothers (Harry and Jack) – famed for, among other things, The Missing – have been busy. Their six-part mystery Liar kicked off at exactly the same time as their six-part thriller Rellik on BBC One, a coincidence almost as uncanny as three hurricanes tearing up the Atlantic simultaneously.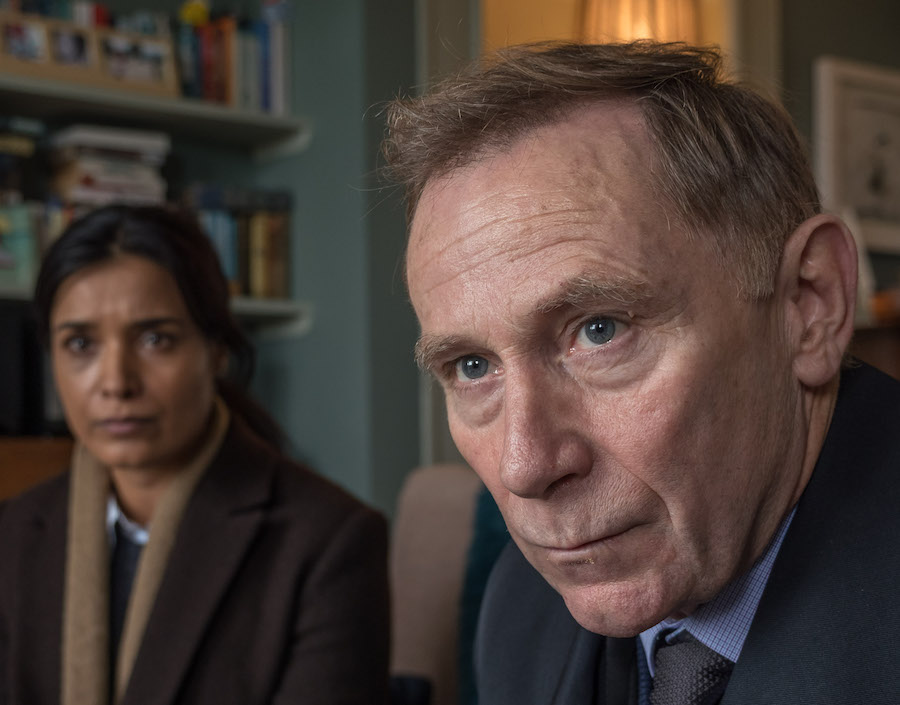 The premise of Liar seemed relatively simple. Laura, who'd recently broken up with her partner Tom (Warren Brown), didn't need too much urging from her sister Katy (Zoë Tapper) to accept the offer of a date from Andrew, whose son Luke happens to be one of Laura's pupils. Katy is a medic who works in the same hospital as our eminent surgeon, and told her sister she'd be nuts to turn him down. They duly met for a nice dinner on the local pier (the story is set on the Kent coast). Andrew walked Laura home, and that would have been the end of it had his phone not been out of juice when he wanted to call a cab. Or was it? Anyway she invited him in, and … we're not sure what happened next.
Laura woke up the next morning in a fraught and traumatised state. As she told her sister, she was convinced she'd been raped, but couldn't remember any details. She underwent a medical examination at the hospital, then called the cops (Danny Webb and Shelley Conn, pictured above), who eagerly hauled Earlham down to the local nick. However, their ardour cooled when tests showed no physical evidence of rape or a struggle, nor any sign that Laura had been drugged. When they quizzed Laura again, there were gaping holes in her recollection of events. He said he'd gone into her bathroom to find a condom, but she couldn't remember if he had or not. She said she told him to stop when they were about to have sex, but he insists she didn't.
Thus far, there's no way of knowing who's telling the truth (neither of them, possibly). However, the crafty Williamses have been busily laying a minefield of teasing clues in our path. Katy's husband Liam (Richie Campbell, pictured left) set alarms screaming when he casually asked his wife, "do the police know what happened last time?" Laura herself has confessed that she fears the fuzz won't believe her once they find out she used to be on "medication". Meanwhile Katy and Tom have been secretly doing the nasty, while the suicide of Earlham's wife Mary in 2006 looks like it might have the potential to sabotage the doc's outward display of probity.
According to one previewer, "Laura cannot predict how this single encounter will unravel her entire life, pitting the two against one another in a brutal battle for the truth." I can't predict it either, so I suppose I'll have to come back next week. Well, probably.