Barber Shop Chronicles, National Theatre review - foot-stompingly pleasurable |

reviews, news & interviews
Barber Shop Chronicles, National Theatre review - foot-stompingly pleasurable
Barber Shop Chronicles, National Theatre review - foot-stompingly pleasurable
Inua Ellams' new play about fatherhood and masculinity has an enjoyably global reach
Close shave: David Webber and Fisayo Akinade in 'Barber Shop Chronicles'.
The strapline for this joyful show is: "One day; six cities; a thousand stories." Allowing for hyperbole, this is just about right. Performance poet Inua Ellams's new show is set in a handful of cities that stretch across one part of the globe, from London to Lagos, Accra, Kampala, Harare and Johannesburg.
Each of the 14 scenes in this co-production between the
National Theatre
, West Yorkshire Playhouse and Fuel, is set in a barber shop, with most of them in London, and the others are loosely connected to the main centre. But the main theme is not geography, but fatherhood and masculinity.
The evening begins with a foot-stomping pre-show entertainment, which lasts for more than 20 minutes and sees the cast take members of the audience onto the stage to give them a quick session in the chair or a fast spin on the dancefloor, with thumping world music and great moves. Then the actual play begins. After a quick prelude in Lagos, the main focus is the Three Kings barber shop in London. Samuel, a young man, shares the chairs with the older Nigerian Emmanuel and thirtysomething Caribbean Winston. A family secret involving Samuel's father lies like an unexploded hand grenade, waiting to explode.
The barber shop is one of those places, like the old-fashioned English pub or the working men's club of yesteryear, where men gather, and where men talk. In Ellams's vision, it is both a confessional and a therapy room, a place to boast and brag, and a location where men fight and maybe even heal. In each of the six locations his African men watch the same soccer match, Chelsea versus Barcelona (pictured below), with varying loyalties and comments. So the barber shop is a locker room as well as a church.
With its larger-than-life characters, its humorous jokes and its stories, this a thematically coherent evening that it is as much about language as it is about relationships. The role of pidgin, of the different varieties of African English, is debated and discussed, and the play's energetic linguistic flavours make an argument for diversity all by themselves. Other subjects that engage the characters are the disciplining of children, the place of women in their lives and the business of religion, as well as of politics. And this is all done with a crease of a smile in almost every exchange.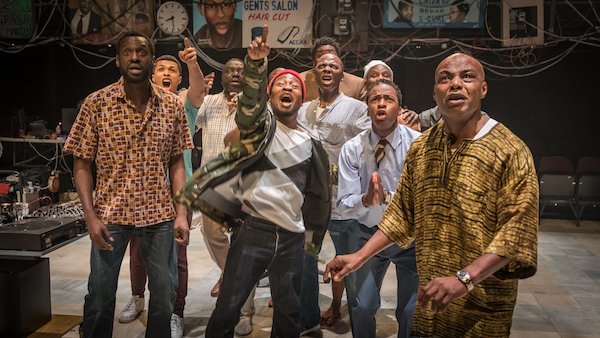 The main emotional punch of the show comes from the awkward relationship between fathers and sons. This takes a large number of forms: from the bewilderment of a father with what to do with his new-born baby to the way that so many of the men have been bought up by single women, after their fathers have gone missing. This fact of absent dads – which also suggests a political point about the lack of paternal governance – causes a lot of emotional pain, and this feeling is latent in almost every scene of this panorama. It runs deep.
What lifts this rather slender 105-minute play into a thrilling night in the theatre is Bijan Sheibani's vigorous production, designed by Rae Smith, with its ensemble cast who commit completely to their characters and kick a bucketful of life into the stories they tell. Fisayo Akinade (Samuel), Cyril Nri (Emmanuel) and Anthony Welsh (Winston) in particular are impressive, and so are Hammed Animashaun, Abdul Salis, Patrice Naiambana and David Webber, all of whom play multiple roles. If you want to see a show that sends pulses of electricity through your veins, and delights you with its joy of life, then this will be for you.
The play's energetic linguistic flavours make an argument for diversity all by themselves
rating
Explore topics
Share this article