Fire in Babylon |

reviews, news & interviews
Fire in Babylon
Fire in Babylon
Was this the greatest cricket team of all time? The Windies in their pomp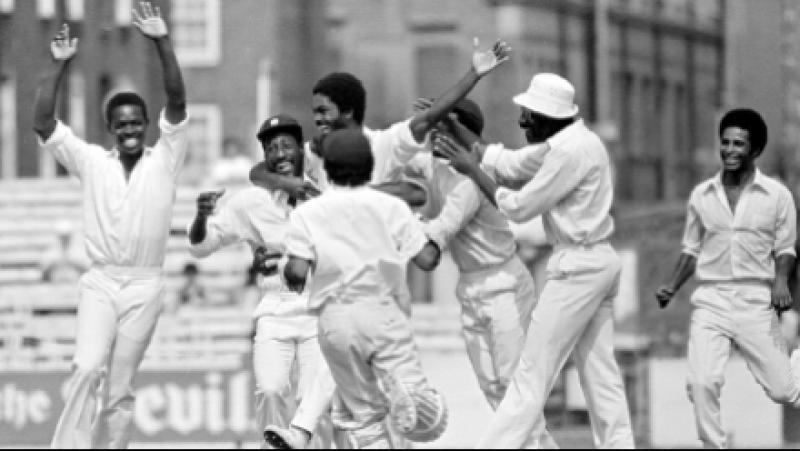 Prime time: Demolition time for England as the Windies hit their peak
To the relief of many an international batsman, there has never been anything to rival the stupendous West Indies teams which bestrode Planet Cricket with intimidating ferocity from the late Seventies into the Nineties. Fire in Babylon is the story of the side that Clive Lloyd built, and the way it became a formidable socio-political force in the Caribbean as well as a sporting global superpower.
The interlocking themes of sport, colonialism and the struggle against racial prejudice add up to a celluloid Molotov cocktail, and director Stevan Riley and producers John Battsek and Charles Steel have hurled it with unerring accuracy. They've pruned the narrative down to its core, and avoided cluttering it with distracting nuances or shades of grey. As they tell it, this was the best cricket team of all time, it wrote the book on massed batting and bowling firepower, and it gave the fragmented island nations of the West Indies a sense of cohesive identity for the first time in their history. Contributions from Bunny Wailer, author and teacher Frank I, historian Hilary Beckles and others paint in some social background, while the reggae and calypso soundtrack keeps up its own running commentary.
The story stretches back to the British colonial era, and the key moment in the 1950s when Frank Worrell became the first black West Indies captain. But the side couldn't shake off typecasting about their jolly "Calypso Cricket", which earned them patronising ticker-tape send-offs from Australia after they'd played exuberantly and lost.
Though the Windies always saved up extra ferocity for playing against England, their Caribbean colonisers, the film gives the Australians backhanded credit for launching their era of pulverising supremacy. When West Indies went Down Under in 1975, in the process of rebuilding under new captain Clive Lloyd, they were rocked to the core not only by the torrid fast bowling of Dennis Lillee and Jeff Thomson ("He was a mean man," batsman Desmond Haynes says of Thomson), but by the hostility and racist abuse from opposing players and spectators. Young fast bowler Michael Holding was one of several players who were pushed to the brink of quitting Test cricket altogether (Colin Croft today, pictured above).
Lloyd vowed to fight fire with fire, and he combed the Caribbean for up-and-coming fast bowlers. Australia had two, but the new-look Windies emerged with four, and came to England in 1976, raring to demolish the old enemy. England skipper Tony Greig, born in South Africa, made his fateful comment that he wanted to "make the West Indies grovel", which lit the touchpaper on a series which West Indies won 3-0. It would get much worse, as England would discover in 1984, when David Gower's side crashed to a 5-0 "blackwash". Australia's comeuppance was next on the schedule, with fast bowler Colin Croft recalling with relish how the formerly arrogant Aussies were terrorised into submission.
Thirty years on, cricket is a different beast with its trainers, nutritionists, sports psychologists and Twenty20 tournaments, but it's hard to picture any side from any era beating a Windies packed with all-time greats like Andy Roberts (pictured left), Joel Garner, Michael Holding, Viv Richards, Gordon Greenidge and Clive Lloyd. The film is a vivid and sometimes emotional reminder of their prowess, but it also reopens some old scars. The undertones of racial warfare were never far from the surface, while some veteran West Indies players still resent the way they were portrayed as terrorists or would-be murderers by other cricketing countries as soon as they started to win on a regular basis.
It's certainly a corrective to any lingering suggestions that politics and sport don't mix. The West Indies team was fuelled by notions of cultural pride and resistance to oppression - "one people, one nation, one vision", as Clive Lloyd put it - and its glory years coincided with the rise of other Caribbean icons like Bob Marley and Jimmy Cliff. When some West Indies players toured apartheid South Africa in the early Eighties, enjoying the status of "honorary whites" for the occasion, they were met with disgust and ostracism when they returned to the Caribbean. Interviews with Michael Holding and the imperious Viv Richards resonate with righteous horror at the idea of consorting with the apartheid regime (pictured above, left to right, Messrs Croft, Garner, Greenidge and Holding at the Oval last week).
It's a source of sadness to the Windies veterans that there are already Caribbean generations who know little or nothing about their achievements. Fire in Babylon, they hope, might help to turn that around.
Watch the trailer for Fire in Babylon
The undertones of racial warfare were never far from the surface, while some West Indies veterans resent the way they were portrayed as terrorists
Share this article