Silence |

reviews, news & interviews
Silence
Silence
Scorsese's latest is a mammoth, more ponderous than profound
Saturday, 31 December 2016
Among the captives: Andrew Garfield as Father Rodrigues, assailed by temptation
Audiences cannot fail to register the enormity of Martin Scorsese's achievement in Silence. At 160 minutes, it hangs heavy over the film: adapted from the 1966 novel by Japanese writer Shusaku Endo, Silence has been close on three decades in the director's preparation. It raises questions that are usually approached with Capital Letters. There are moments that are visually enthralling, landscapes of nature that dwarf the sufferings – visceral, in the literal sense, since they involve damage to the human body – inflicted on many of its characters. We'll leave the "and yets" to later…
The opening scene is paradigmatic: a wide landscape of torture, crucifixes placed by steaming pools which provide boiling water to agonise both the Christian believers of Japan and the western missionaries who came to convert them. It is 1633, and the Japanese authorities, perceiving Christianity as a threatening adjunct of colonialism, force their captives to deny their religion – to commit apostasy, the issue and the act which sears the very gut of Scorsese's film.
You may be reminded of Christoph Waltz, or alternatively of Ken Dodd's false teeth gags
Its usual form involved trampling on the fumi-e, an image of Christ or Mary; when proof of more extreme rejection was demanded, it involved spitting on the cross. Such were the dilemmas confronting Japan's hidden Christians, the Kakure Kirishitan, who attempted to worship in secret. But this opening scene forces a more extreme choice on the missionaries – to embrace their extreme suffering, in the manner of Christ, or to make an exemplary repudiation of belief. Under such circumstances, that denial can never be treated – let alone interpreted – as following God's will. Or can it?
The Jesuit priest at the centre of Silence is Father Ferreira (Liam Neeson, pictured below), although we encounter him only in its last scenes. When reports of Ferreira denying his faith eventually reach his order back in Lisbon, two of his incredulous disciples – Fathers Rodrigues (Andrew Garfield) and Francisco Garrupe (Adam Driver) – volunteer to travel to Japan to prove his innocence. They seem far from heroic figures, although they undertake such a journey at obvious risk to their own lives.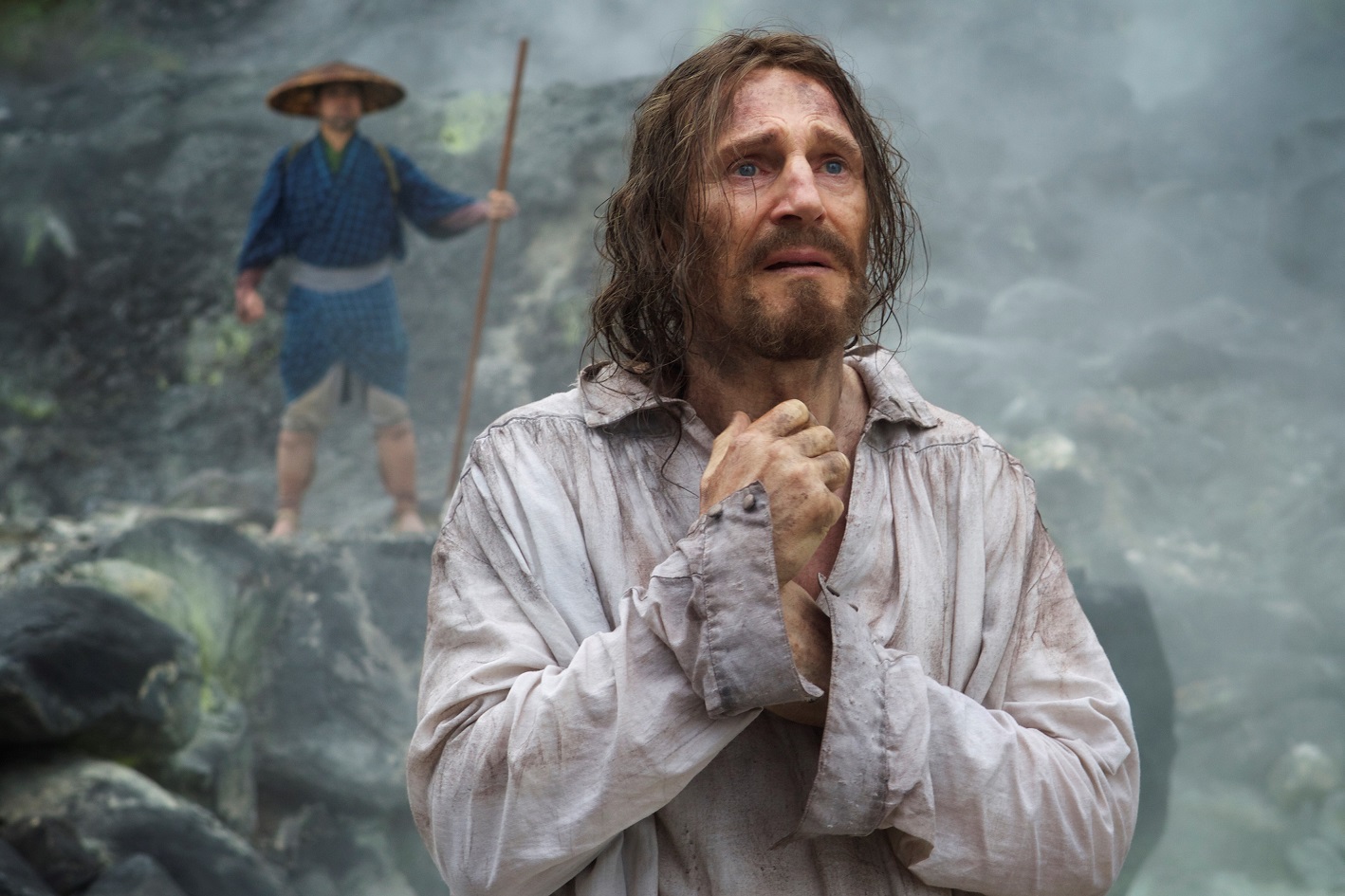 Their quest may have earned comparison to Conrad's Heart of Darkness, and along with that Coppola's Apocalypse Now, but it's a pale equation. Neeson's Ferreira has wrought not physical horror, rather – if anything – a cerebral one (while the charge that Silence aims for the brain, rather than the heart, is a real one). The two priests' journey to the shores of Japan is easy enough; in Macau they acquire a guide, the eccentric Kichijiro (Yosuke Kubozuka), whose lapses go beyond religion, and for whom denial and seeking forgiveness follow a practically cyclical basis, to occasionally comic effect.
But the priests' first encounters with the hidden believers of Japan (Taiwan provided most locations for the film) are deadly serious, not least because of the mortal threat of discovery. The celebration of sacrament (pictured below) in secret has the urgency of the early Roman catacomb believers, and is received with a joy that seems greater than in more secure environments (though whether that is actually the case is another question, raised later). Their ministry continues, but the two priests can only escape capture for so long, at which point Scorsese narrows the perspective of his film to concentrate on Garfield's character.
There's a change of register, too. Rodrigues faces expert opponents, in the figure of the local inquisitor Inoue (Issey Ogata) particularly, as well as the latter's interpreter (Tadanobu Asano). It's a sometimes unsettling balance: Ogata is something of a Japanese thespian legend – he played Emperor Hirohito in Alexander Sokurov's The Sun, too– who's as much famed as a comedian, and he manages occasionally disarming comic effects here. (You may be reminded either of Christoph Waltz, or alternatively of Ken Dodd's false teeth gags.)
Inoue's tactics are deadly, however. He forces his captive to witness cruelty wrought on others – burning and blood-draining are mild when set against crucifixion-drowning – all the time reminding Rodrigues that he only has to perform a single gesture to stop such torture. Intellectually too, he articulates the view later espoused by Ferreira himself when the two priests eventually meet, that the Japanese believers had never followed true Christianity, rather a mixed-up belief system that overlapped with their pantheism; and that Japan is a "swamp" where Christianity "does not take root". To all of Garfield's prayers, his God remains silent.
That final meeting with Ferreira is anticlimactic – worse, it lacks the intensity of communication that might provide dramatic conviction. The older westerner now lives with a Japanese wife, as in due course will Rodrigues (echoes of Scorsese's The Last Temptation of Christ). What we witness of their closing years is treated with a rapidity that at this stage comes as considerable relief. These are actors expiring with a whimper, and not making us believe in the significance of that last gasp, although how you interpret the film's final scene will certainly affect your final judgment of it (as, inescapably, will your own religious convictions, or lack thereof).
Scorsese regulars Dante Ferretti and Rodrigo Prieto make stand-out contributions in production design and cinematography respectively, as was to be expected. Three years after the drastically different The Wolf of Wall Street – that contrast is so huge – it's hard to say just what we might have expected from Silence. We can't judge the director for the range of his intentions, however, but rather on the integrality of his execution. On that basis Scorsese's new film falls short: being ponderous does not equate with achieving gravity.
MARTIN SCORSESE ON THEARTSDESK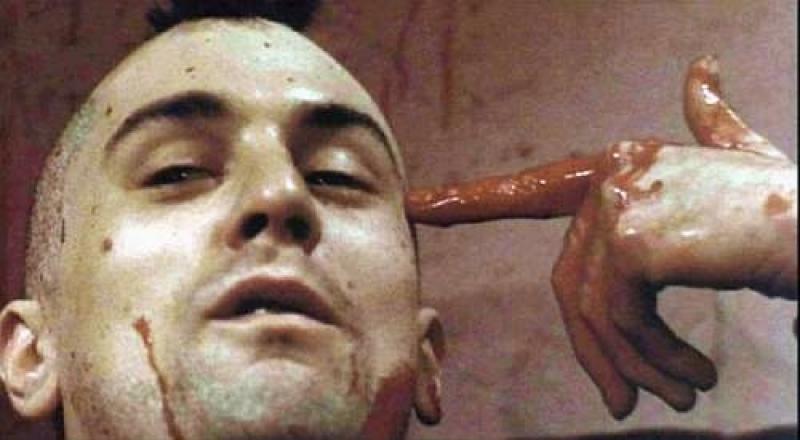 Taxi Driver (1976). Talking to me? Scorsese's classic starring Robert De Niro (pictured) is restored and re-released on its 35th anniversary
Shutter Island (2010). Not a blinder: Leonardo DiCaprio in Martin Scorsese's feverish paranoid thriller
Hugo (2011). Scorsese does a Spielberg in sumptuous look at the origins of cinema
George Harrison - Living in the Material World (2011). Martin Scorsese's epic documentary of the Quiet One
The Wolf of Wall Street (2014). Con brio: Scorsese and DiCaprio tell of the rise and fall of a broker
Arena: The 50 Year Argument (2014). A warmly engaging film about the 'New York Review of Books' might have been more than a birthday love-in
Vinyl (2016). Scorsese and Jagger's series is prone to warping, skipping and scratches
Silence (2016). Scorsese's latest is a mammoth, more ponderous than profound
Overleaf: watch the trailer for Silence
These are actors expiring on a whimper, and not making us believe in the significance of that last gasp
rating
Share this article
Subscribe to theartsdesk.com
Thank you for continuing to read our work on theartsdesk.com. For unlimited access to every article in its entirety, including our archive of more than 10,000 pieces, we're asking for £3.95 per month or £30 per year. We feel it's a very good deal, and hope you do too.
To take an annual subscription now simply click here.
And if you're looking for that extra gift for a friend or family member, why not treat them to a theartsdesk.com gift subscription?