Taxi Driver |

reviews, news & interviews
Taxi Driver
Taxi Driver
Talking to me? Robert De Niro blazes again in Scorsese's re-released classic
Tuesday, 07 February 2017
The only one here: Robert De Niro as Travis Bickle in Martin Scorsese's 'Taxi Driver'
Travis Bickle's Manhattan is long gone, and except for those nostalgic for its grindhouses and their exploitation fare, few surely regret its passing. It's been years since any modern-day Travis could cruise in a yellow taxi along the erstwhile "Deuce" - the squalid stretch of porn emporia and strip clubs on West 42nd Street - turn north up Eighth Avenue to the high forties and accurately observe, "All the animals come out at night - whores, skunk pussies, buggers, queens, fairies, dopers, junkies, sick, venal. Someday a real rain will come and wash all this scum off the streets." The rain - a reference to the Deluge - did come. After a decade of planning, the gentrification of Hell's Kitchen (and Disneyfication of The Deuce) was effectively completed during Rudolph W Giuliani's mayoralty in the Nineties, though some of the porn shops and strip clubs simply migrated a few blocks away.
No matter that Taxi Driver (1976, back out as a re-release from Park Circus this week) has the semblance of a dream, much of what Martin Scorsese shot for it was documentary footage. There was misery in its making. "I'm telling you, 42nd Street, Eighth Avenue, that was hell, shooting in those places," he tells Richard Schickel in the book Conversations with Scorsese. "That was, like, biblical in my mind, Hell and damnation and Jeremiah… I didn't enjoy shooting in those X-rated areas. The sense of wallowing in it was, for me, always filled with tension and extraordinary depression. And the film is very, very depressing."
Sociopaths invariably find excuses for their rage, but a cultural artefact cannot be held responsible
To David Thompson and Ian Christie, editors of Scorsese on Scorsese, he said, "We shot the film during a very hot summer and there's an atmosphere at night that's like a seeping kind of virus. You can smell it in the air and taste it in your mouth. It reminds me of the scene in The Ten Commandments portraying the killing of the first born, where a cloud of green smoke seeps along the palace floor and touches the foot of a first-born son, who falls dead. That's almost what it's like: a strange disease creeps along the streets of the city and, while we were shooting the film, we would slide along after it. Many times people threatened us and we had to take off quickly."
Living in Hell's Kitchen in the late Eighties, I collected my own set of memories: a waif-like teen prostitute flagging down trucks outside my apartment house on 46th Street each lunchtime for weeks on end; spent condoms in the gutters; being stalked by the six-foot hustler I rebuffed on 42nd the only time I walked down the street at 1am. Hundreds of mentally ill and homeless people lived locally. It wasn't simply a red-light district; it was a well of illness and pain.
That late-noir miasma lives on indelibly in Scorsese's masterpiece, though for all its actuality it acquired a mythic aura in a way that other searing films depicting contemporary necropoli have not, among them Neil Jordan's Mona Lisa (1986, London), Mike Leigh's Naked (1993, London), Wim Wenders's Land of Plenty (2004, Los Angeles) and Andrea Arnold's Red Road (2006, Glasgow). Naked is a great film, but it is more ruminatively philosophical than Taxi Driver, which has a unique febrile energy; Scorsese himself couldn't repeat it in Bringing Out the Dead (1999).
Taxi Driver's undiminished power owes partially to Scorsese's harnessing of Michael Johnson's restless camerawork, with its ominous pans and tracking shots, and Bernard Herrmann's insinuating sax-and-harp score (his last). Nothing was more important, though, than the jive of Paul Schrader's voiceover for Robert De Niro as Travis and the kinetic rhythms of the stylised dialogue, some Schrader's, some improvised, which flowed through the star, Harvey Keitel as the pimp Sport, and Jodie Foster as the 12-and-a-half-year-old Iris (pictured), whom Travis seeks to liberate from prostitution. It guided their body language - Travis is deliberate, Sport has a junkie's jitters, Foster is a larky kid. (Cybill Shepherd as Betsy, the narcissistic, Beatrice-like campaign worker Travis stalks after she rejects him for taking her to a porno, is pleasing in a wholly different register.)
Haunted by John Ford's The Searchers (1956) and the tormented racist Ethan Edwards's redemptive quest to rescue his teenage niece from miscegenation with a Comanche chief, Schrader first updated it in Hardcore (1978), about a Dutch Calvinist furniture manufacturer wresting his daughter from LA pornographers, then used it as the basis for Taxi Driver. The latter film is more psychologically and socially complex. Traumatised by what he's seen and done in Vietnam (though it's not mentioned), paranoid and puritanical, Travis wills himself to take murderous Oedipal revenge on Betsy's and Iris's father figures: first, he escapes, unidentified, his attempted assassination of the presidential candidate who's Betsy's boss; then goes after Sport (Keitel, pictured below) and his cohorts, resulting in one of the bloodiest götterdämmerungs in Hollywood cinema up to that point. He thus becomes the tabloid hero who earns Betsy's respect - or is that the dying fantasy of the wounded vigilante who sits on the whorehouse couch? - and the madman who should be treated in a high-security hospital. He is a purger who requires something more than purgation: how shocking it still is to see him pulling the trigger of the gun he has pressed to his head.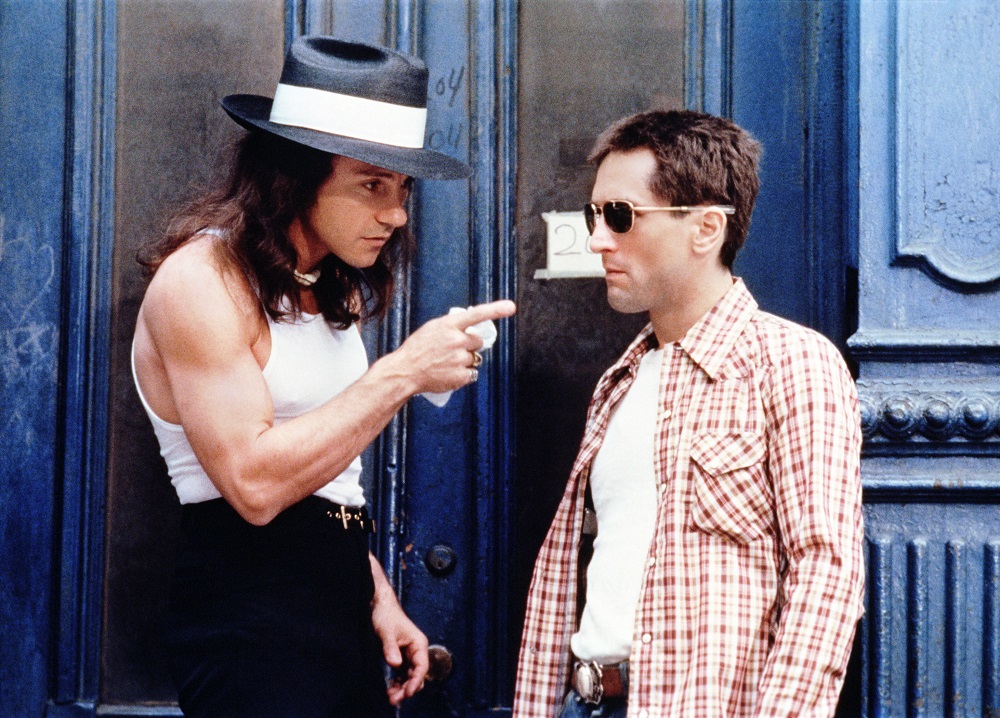 In 1981, Travis inspired John Hinckley Jr, who wanted to impress Foster, to try to assassinate President Reagan. Taxi Driver thus acquired an undeserved notoriety. Blaming the film as the root cause of Hinckley's act is akin to blaming it for Arthur Bremer's 1972 shooting of George Wallace (Schrader read Bremer's diaries before writing the script) or for Samuel Byck's assassination attempt on President Nixon in 1974 (Schrader says he based "Bickle" on a radio show called The Bickersons, not "Byck"), which generated the 2004 Sean Penn film The Assassination of Richard Nixon.
You could equally blame Travis for the shooting that killed six and left Congresswoman Gabrielle Giffords severely wounded this past January. It makes no sense; sociopaths invariably find excuses for their rage, but a cultural artefact cannot be held responsible. More pertinently, Travis, as a metaphor, was a caustic agent poured not just on rampant vice, and a society that sanctions it as a corrupt form of business, but on a political culture founded on empty rhetoric and the crime of sending men to die in capitalist wars of ideology. Assuming Travis didn't die from his neck wound, I like to think he's still hacking it on the New York streets, without the guns.
MARTIN SCORSESE ON THEARTSDESK
Shutter Island (2010). Not a blinder: Leonardo DiCaprio in Martin Scorsese's feverish paranoid thriller
Hugo (2011). Scorsese does a Spielberg in sumptuous look at the origins of cinema
George Harrison - Living in the Material World (2011). Martin Scorsese's epic documentary of the Quiet One
The Wolf of Wall Street (2014). Con brio: Scorsese and DiCaprio tell of the rise and fall of a broker
Arena: The 50 Year Argument (2014). A warmly engaging film about the 'New York Review of Books' might have been more than a birthday love-in
Vinyl (2016). Scorsese and Jagger's series is prone to warping, skipping and scratches
Silence (2016). Scorsese's latest is a mammoth, more ponderous than profound
Overleaf: watch the new trailer to Taxi Driver
Travis is a purger who requires something more than purgation: how shocking it still is to see him pulling the trigger of the gun he has pressed to his head
rating
Share this article