Blu-ray: Pool of London
Blu-ray: Pool of London
Multi-level crime thriller documenting post-World War Two London and racism
Thursday, 20 October 2016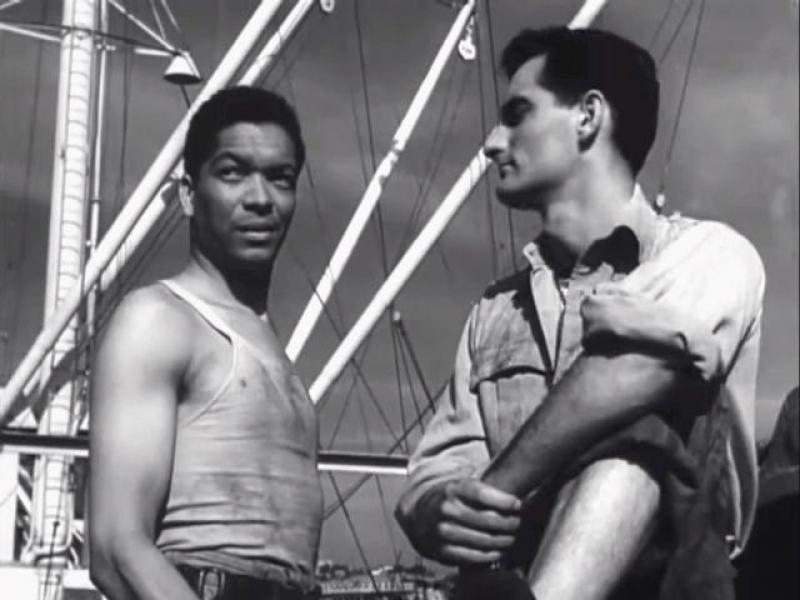 Merchant seamen Johnny Lambert (Earl Cameron, left) and Dan MacDonald (Bonar Colleano) in 'Pool of London'
True to its title, Pool of London is one of the great London films. More than this, it included British cinema's first – albeit chaste – interracial romance and convinces as film noir. Filmed in 1950 and released in February 1951, it was passed by the British Board of Film Censors for screening with no cuts. But it did get an "A" certificate, which meant children had to be accompanied by adults. This no children's film, though.
Merchant seamen Dan MacDonald (Bonar Colleano) and Johnny Lambert (Earl Cameron) arrive in London on the freighter Dunbar, which docks on the Thames in the heart of the city, where HMS Belfast is now berthed. MacDonald is white, American and wisecracking. Lambert is black, Jamaican, measured and on his last tour of duty. He has saved money to fund studies when he returns home. They're tight with each other. Lambert looks up to MacDonald. Up to no good, MacDonald attempts to take nylons off the ship for his girl but is thwarted by a customs officer. Lambert has no plans for his time on shore and stumbles into meeting Pat (Susan Shaw, who appears in the also-essential London films London Town, It Always Rains on Sunday and London Belongs to Me. She later married Colleano and the relationship began here). MacDonald gets involved in a heist which goes badly wrong, where he is meant to smuggle the stolen goods out of the country. Neither MacDonald nor Lambert get what they want.
While the film meets racism head on soon after the Empire Windrush began bringing Jamaican immigrants to Britain, it also features extraordinary footage of London's still-working docks and a shattered city, littered with heaps of World War Two rubble. Evocative street scenes and cameos from James Robertson Justice and Leslie Phillips bolster an episodic, over-stuffed film. The director of this bumpy Ealing production is Basil Dearden, who made it just after his similarly tough The Blue Lamp.
The new high-resolution home cinema release (last out on DVD in 2009) looks superb – especially so in high-contrast night scenes. Bonuses include a stills gallery, a recent interview with Cameron and a slightly rickety (Potter's Fields on the Thames's south bank is called Potter's Bar) short then-and-now look at the film's locations. There is no booklet. Although uneven, the still-evocative and effectively nuanced Pool of London should be seen.
In 'Pool of London', neither protagonist gets what they want
rating
Share this article