Magnificent Obsessions, Barbican Art Gallery |

reviews, news & interviews
Magnificent Obsessions, Barbican Art Gallery
Magnificent Obsessions, Barbican Art Gallery
Jumble sale or treasure trove? Exploring the collections of 14 postwar and contemporary artists
Some of the contents of Hanne Darboven's house in Hamburg, where she amassed a collection over four decades
The title has it about right: no matter what it is they are busily acquiring, collectors seem to be an obsessive bunch, and their obsessions can achieve quite magnificent proportions. The stereotyped image of the collector as a socially challenged monomaniac doesn't really fit with the popular understanding of the artistic temperament, though.
All that beavering away, categorising and ordering things seems so regimented, blinkered and above all uncreative, and yet the two occupations are intimately linked, the Renaissance sculptor Lorenzo Ghiberti the first in a long line of artist-collectors.
Intuitively we imagine that artists collect things that relate to their own work. While this is certainly not always the case, for the 14 featured artists, collecting provides an alternative means of exploring a preoccupation or theme and for Mexican artist Dr Lakra, who treats vintage pin-ups as blank canvases to be covered with tattoos (pictured right: The Mirror, 2003), collected objects are raw materials, to be assimilated and absorbed into a new object.
Interestingly, most of the collections here emphasise everyday objects, popular art, ephemera, bric-a-brac, natural objects and curiosities, things, in other words, that can be piled up and mixed together in a way that would be difficult if not downright irresponsible with an art collection. Occupying a separate bay of the gallery, and retaining the artist's own methods and styles of display, the visual impact of each collection is maximised and feels in some way characteristic of each artist.
Andy Warhol was a pathological collector, who enjoyed, above all, the moment of acquisition. While some items, notably Heinz Ketchup and Campbell's tomato juice boxes, reappeared in his art, many never saw the light of day, so that when his collection was auctioned after his death, many lots were still in the boxes and bags Warhol had received them in. The exhibition makes much of Warhol's collecting habits as symptomatic of his various hang-ups and neuroses, his need to accumulate possessions a reaction against a spartan childhood, his interest in domestic objects, like his famous cookie jars, evidence of his longing for an imagined, idealised past.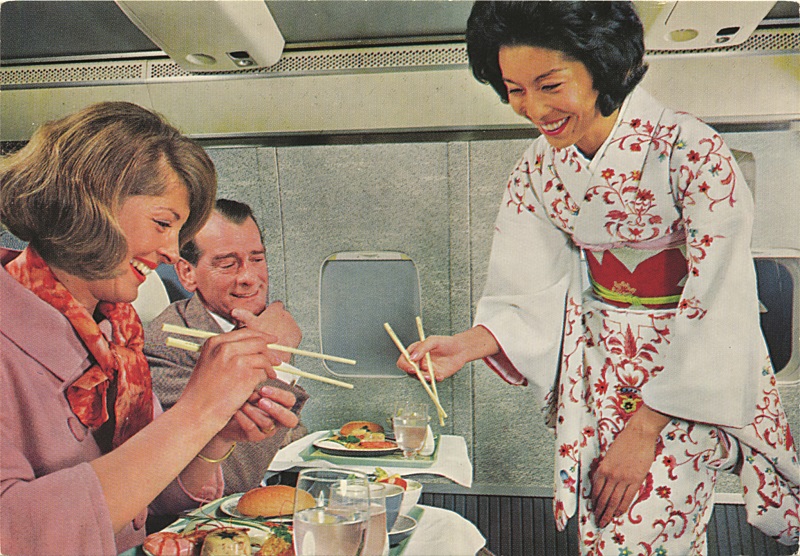 In contrast, photographer Martin Parr rejects any suggestion that his much-celebrated collections of postcards (pictured left: Flying postcard, 1960-90) and objects say anything about him, other than that he is a collector. In fact, to Parr, photography is a form of collecting, and he has written that: "By applying some order to our chaotic world, and assembling things into categories and ultimately into a book or a show, I can make a more coherent statement about my relationship to the world."
Parr's collections of ephemera and political memorabilia, as well as what has become a vast and historically important collection of postcards, are meticulously organised, and serve as an extension to his activities as a photographer. Tourism, class and consumerism are all major themes that are echoed in his postcards and collections of souvenirs and trinkets.
An interesting aspect of Parr's postcard collections and also perhaps key to understanding artists' collections more generally, is the repetition and reuse of images, themes and motifs. By virtue of their sameness, postcards celebrating the fundamentally anonymous and banal, like shopping centres and hotel rooms, invite categorisation for its own sake. Likewise, seaside postcards often replicate designs and images, with only the name of the resort to differentiate between them.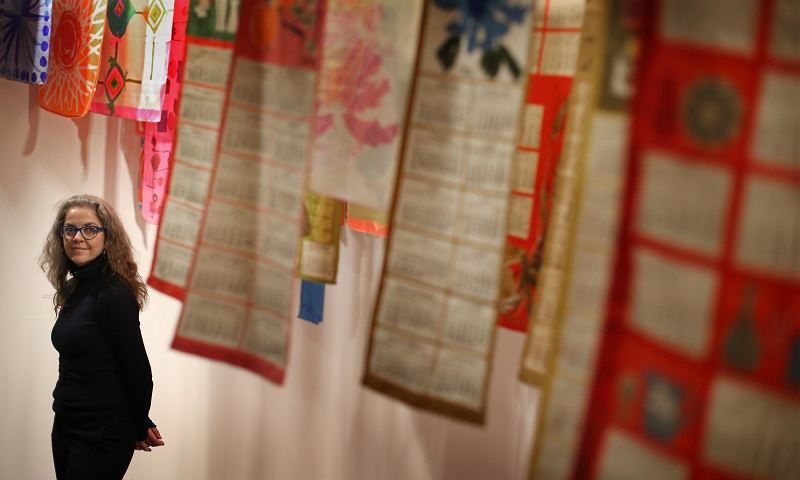 The visual effect that can be achieved by repetition, and by amassing many similar and identical objects is beautifully demonstrated by Pae White's collection of textiles (pictured right), displayed on so many washing lines that fill the space and echo her own work hanging nearby.
Sol LeWitt explores repeating motifs in his photobook, Autobiography, 1980, in which he catalogues every detail of his Manhattan loft, from plumbing and bins to saucepans and bookcases. It is a curious document, because while it contains any number of minor intrusions into his own privacy, it is unenlightening as an autobiography, challenging the idea that possessions are a tool with which to access their owner's psychology. It seems noteworthy, then, that LeWitt's own collection, while reflecting his own interests, is essentially outward-looking and represents at heart a process of engagement and exchange with other artists.
For the ceramic artist Edmund de Waal, collecting is firmly tied to his own personal narrative. His collections of fossils, stones, and other objects are displayed here much as he remembers arranging them as a child, while his collection of Japanese netsuke is closely linked to his family history. They serve as an interesting contrast to one of de Waal's own works, From the Collection of a Private Man, 2011, in which neutral-coloured pots and vessels are grouped on shelves. The grouping together of forms implies a collection but the blank, characterless objects communicate nothing, and in so doing they emphasise the self-revelatory nature of de Waal's own childhood collections.
The exhibition makes much of Warhol's collecting habits as symptomatic of his various hang-ups and neuroses
Explore topics
Share this article