Best of 2014: Opera |

reviews, news & interviews
Best of 2014: Opera
Best of 2014: Opera
A vintage year as our reviewers struggle to narrow it down to a Top 10
Saturday, 27 December 2014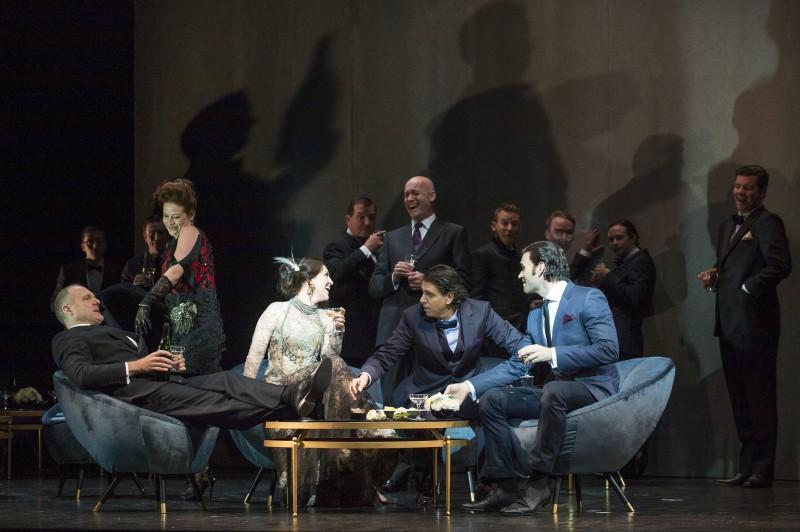 Stylish in every way: Venera Gimadieva and Michael Fabiano in Glyndebourne's 'La Traviata'
When everything works – conducting, singing, production, costumes, sets, lighting, choreography where relevant – then there's nothing like the art of opera. But how often does that happen? In my experience, very seldom, but not this year.
It's been of such a vintage that I couldn't possibly choose the best out of six fully-staged productions – three of them from our only native director of genius, Richard Jones, who as one of his favourite singers, Susan Bullock, put it to me, deserves every gong going – and one concert performance.
Fortunately I didn't need to lean too hard on my distinguished colleagues to help me out in two cases. Jessica Duchen felt the same as I did about the ENO staging of John Adams's bewilderingly rich and fluent The Gospel According to the Other Mary, and Stephen Walsh covers my most immediate operatic experience of the year, Graham Vick's promenade Khovanskygate in Birmingham. Indeed, that was one of the most exceptional performances of anything I've ever witnessed. If opera has a future, and is to draw in new audiences, Vick's approach is one way of securing it.
While there's no substitute for the total work of art, the Gesamtkunstwerk as Wagner defines it, opera in concert-hall semi-staging or less can do most of the work and leave the rest to your imagination (Alexandra Coghlan expands on that point below). Our five choices in this sphere need no special pleading, and out of them comes what was for many of us the performance of the year, Nina Stemme's astounding Salome (pictured above by Chris Christodoulou). Before it – and having caught only the first two of the four operas in last year's Proms Ring, where her Götterdämmerung Brünnhilde was a revelation to so many – I'd admired rather than been bowled over by the Swedish soprano. Her note-perfect, rock-solid and dramatically convincing Royal Opera Isolde at the end of the year goes to winning her a double gold medal.
The revival of Christof Loy's thoughtful and beautifully lit production, its sightlines much improved, and the arrival of Robert Carsen's justly famous staging of Poulenc's Dialogues des Carmélites – one of several other choices which could have made the shortlist – saved the Royal Opera from having slapped on it the label of unsuccessful Regietheater, director's opera, which shouldn't be a dirty word and in cases like these two certainly isn't in my book. Yet RO Director of Opera Kasper Holten, having kicked off his reign last year with a Eugene Onegin which I seem to have been among the few to love – it looks even better on DVD – started 2014 with yet another ill-defined Don Giovanni. Holten slips into the short list, all the same, through the Royal Opera's trip across the river to the Sam Wanamaker Playhouse with Cavalli's L'Ormindo.
Back at Covent Garden, there was a clichéd Idomeneo from Martin Kušej stuck in the 1970s and the year ended miserably with Katharina Thoma's inert Un ballo in maschera (here's another director who, unlike Kušej, I wouldn't write off – again I was in a minority who admired her Glyndebourne Ariadne auf Naxos). Jonathan Kent's awkward, oversized concept didn't quite dwarf dream lovers Jonas Kaufmann and Kristine Opolais in an otherwise marvellous Puccini Manon Lescaut (a choice by Jessica Duchen which didn't quite make the top 10 list). A similar lumpiness also did a fine cast no favours in Glyndebourne's only disappointing new production, of Mozart's La finta giardiniera; this jury is still out on the promise of young director Frederic Wake-Walker.
Apart from Loy's Tristan and Carsen's Carmelites, the other salvation of the Royal Opera season was Claus Guth's lucid but also atmospheric dream-solution to Strauss's monumental Die Frau ohne Schatten, strongly cast (Elena Pankratova, Michaela Schuster and Emily Magee pictured above) and with a transparent account of the fiendish score by Semyon Bychkov. That was as daring, repertoire-wise, as any British house got in Strauss anniversary year; to see any of the rarities you had to travel abroad. I was delighted to notch up Strauss's second opera, the one-act romantic comedy Feuersnot, in Dresden; it was a chance missed not to present that fast-moving masterpiece at the Proms. It would certainly have made a more balanced companion to the Salome than Elektra, too much the following night, and musically not on the same level. It also didn't help that I was still reeling from Patrice Chéreau's production, his last, filmed at Aix, my DVD of the decade on the BelAir label with Evelyn Herlitzius lacerating as the vengeful heroine and every role down to the usually insignificant servants contributing to a great ensemble.
It's always swings and roundabouts for London's two major houses, and while the Royal Opera had a disappointing year, English National Opera picked itself up from a run of turkeys last autumn to triumph in 2014. David Benedict raved about the revival of Britten's Peter Grimes. Other highlights which followed included Christopher Alden's handsome Victorian Rigoletto, two spot-on tours de force from Richard Jones (see below), musical high standards in Julian Anderson's way too telegraphic Greek tragedy compendium Thebans, Terry Gilliam's curate's-egg, chuck-everything-at-it attempt at Berlioz's most testosterone-driven score Benvenuto Cellini – which Jessica loved unreservedly, though I thought the tricky second half worked better than the overloaded first – and Mozart's The Marriage of Figaro in a revival of Fiona Shaw's production excelling the original: another highlight for Alexandra, barred from the top 10 only by virtue of being a revival.
ENO made little fanfare about producing two top women conductors in a row – Canadian Keri-Lynn Wilson handling Puccini well and Portuguese Joana Carneiro blazing in Adams: signs that the times are slowly changing. Meanwhile the flow of outstanding young singers makes it difficult to choose the best, though Paula Murrihy, pictured above with Michael Spyres, excelled in Cellini and at least three were to be found in the Snape Owen Wingrave, a showcase for innocence and experience. Am I worried about the future of opera? Not per se, not in this country, but ENO has to do something about its ticket pricing if it wants to get over the half-empty houses seen all too often even for well-reviewed shows. And no premiere this year stood out, least of all in the Linbury Theatre, but given the ratio of survivors to what Prokofiev called "one-day butterflies" that only means we should keep on trying all the harder to find the repertoire of the future.
After whittling, I still couldn't pare off one from the Top 10 list, so there are 11, listed in order of performance through the year. Contributors are Alexandra Coghlan, Kimon Daltas, Jessica Duchen, Christopher Lambton, Graham Rickson, Stephen Walsh and me.
Rodelinda, ENO

How to choose between three tirelessly inventive productions from the only visionary of the British stage, Richard Jones? I could have gone for his astounding reinvention of Hofmannsthal's stage directions for Strauss's Der Rosenkavalier at Glyndebourne, where the second and third acts passed quicker than they've ever done before in my experience – thanks also to Robin Ticciati's unobtrusive pacing – or The Girl of the Golden West at ENO, surprisingly faithful to the gold-rush scenario of Puccini's most musically elaborate opera. That I've plumped for one outside my comfort zone, Handel's Rodelinda, is simply because the vocal ensemble, led by the greatest countertenor of the present Iestyn Davies and that most stylish of sopranos Rebecca Evans (pictured above by Clive Barda with superb young actor Matt Casey as son Flavio), came closer to vocal perfection than in the other two operas. As always, Jones evokes elements from previous productions – portrait photographs, squalid small rooms, his own focused brand of mania – while moving on to something new and, in the splitting apart of the "house" at the end of Act Two, spellbinding. DN
L'Ormindo, Sam Wanamaker Playhouse
It should probably count as cheating. This Royal Opera production of Cavalli's L'Ormindo on its own terms wasn't astonishing – though competent and certainly amusing, it perhaps overspent energy in the search for laughs leaving other facets of the work less realised. But its use of the new Sam Wanamaker Playhouse at the Globe was so clever, and the replica Jacobean indoor theatre itself so charming in candlelight, that it became one of the most memorable London operatic experiences of recent years. Good old rope-and-pulley stagecraft has plenty of life left it in yet (pictured above, the ensemble by Stephen Cummiskey). A brilliant translation, splendid costumes and a delightful young cast also helped, of course. It was successful enough that they're bringing it back for 12 performances from 3 February 2015 – but don't rush to book. It's already sold out. KD
Khovanskygate, Freedom Tent, Birmingham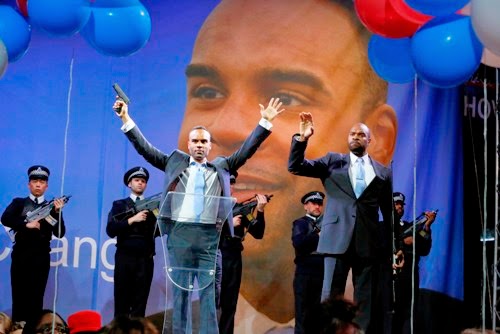 The memorable surprise of the year was certainly Graham Vick's production of Musorgsky's Khovanshchina, updated and retitled Khovanskygate, by Birmingham Opera in Edgbaston's well-named Freedom Tent. The performance had to overcome my instinctive loathing of walk-about opera, but did so by literally surrounding us with the work in all its chaos and confusion, just as if we had really crashed in on a riot (pictured above, Joseph Guyton and Eric Greene as Khovansky father and son, photo by Donald Cooper). It helped, of course, that the performance was musically the best I've heard of this difficult piece, not least in making sure that the more modish aspects of the production never interfered with the music's audibility. It's been a good year in general for Russian opera. Gergiev's semi-staged Betrothal in a Monastery in Cardiff's Millennium Centre was a revelation, a witty, vivacious, deeply sensitive account of this neglected masterpiece. What a shame that neither of these performances is ever likely to be repeated. SW
Owen Wingrave, Aldeburgh and Edinburgh Festivals
I never thought it would work for me, but Britten's opera for television based on Henry James's plea for pacifism moved me to tears and made my hair stand on end as staged at Snape Maltings. Neil Bartlett worked wonders with Stravinsky's The Rake's Progress on a shoestring at Aldeburgh some years back, and here with minimal sets he used one simple conceit: the ghosts of tradition besieging anti-military Owen become the military bullies of the future. The triumph was consolidated with deep-delving conductor Mark Wigglesworth. Like the Glyndebourne Traviata (see below), this was a venture where you felt that the singers were closely tied to every sound and gesture from the orchestra. The extra dimension was the mix of vintage British singers including Susan Bullock, Janis Kelly and Jonathan Summers, with outstanding newcomers. If Ross Ramgobin (pictured above as Owen by Robert Workman) and Catherine Backhouse don't make it big, there's as little justice in the world as there is in Britten's and James's hermetically sealed Paramore. DN
Götterdämmerung, Leeds Town Hall
The world's media descended upon Leeds Town Hall in July, when the city hosted the Tour de France's Grand Depart. Equally impressive was a hot Saturday afternoon and evening in early June, when Opera North's Götterdämmerung concluded the company's Ring Cycle. Long in gestation, this was jokily referred to as an austerity Ring, dependent on second-hand Wagner tubas. In retrospect, the budgetary constraints proved to be one of the cycle's greatest assets. Peter Mumford's elegant video and lighting effects neatly sidestepped Wagner's extravagant stage demands, making the drama disarmingly accessible. The casting was strong, with Alwyn Mellor's Brünnhilde (pictured above with Farnes and the Opera North Orchestra) and Mati Turri's bluff, likeable Siegfried both excellent. The biggest cheers rightly went to Opera North's modest, unfussy Music Director Richard Farnes, whose conducting of each instalment stunned those of us lucky enough to be in attendance. An augmented Orchestra of Opera North played as if possessed; the players' exhausted smiles saying so much. I blubbed, along with most of the audience. Farnes will conduct the whole cycle in 2016 – as a stopgap the company will perform a semi-staged Flying Dutchman next summer. GR
La traviata, Glyndebourne
Like Bartlett's and Wigglesworth's Owen Wingrave, if on a bigger budget, Tom Cairns's new Glyndebourne Traviata fielded a fine example of singers fusing with director, conductor and orchestra to provide a perfect unity. Sir Mark Elder is known for his detailed work on every front, and this was a masterclass in how both performers and players can realize the essence of Verdian phrasing. A star is definitely born, rather belatedly after his American triumphs, on the British stage in the shape of tenor Michael Fabiano, due back at Glyndebourne next season in rare Donizetti; the compelling and beautiful Violetta of Venera Gimedieva (pictured with Fabiano by Richard Hubert Smith) was not overshadowed by his Alfredo, and it was good to hear a real Verdi baritone, Tassis Christoyannis, back on the Glyndebourne stage. Cairns's production made its points unobtrusively, but always with painterly beauty from Hildegard Bechtler's designs and Peter Mumford's lighting: a reminder that no production makes it to the top without these vital components making an essential contribution. DN
Salome, Royal Albert Hall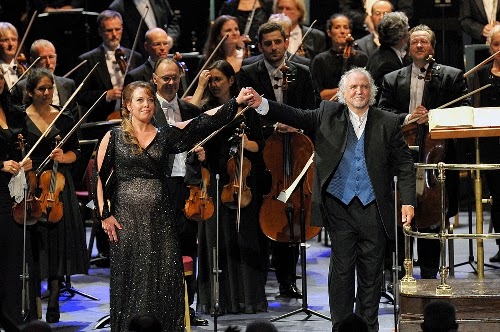 The Deutsche Oper Berlin under Donald Runnicles's musical guidance must be one of the best ensembles in the world, with one of the most transparent, silvery orchestras around and every bit part perfectly cast, if this demi-staged performance at the Proms was anything to go by. Runnicles followed up last year's spectacular Proms Tannhäuser with an effortlessly perceptive view of Strauss's spider-web, only swamping the voices when the occasion demanded it. While Samuel Youn's John the Baptist briefly came a cropper forcing the sound in the big space – no need – the audience was bowled over by Doris Soffel's imperious Herodias, but above all by Nina Stemme's Salome, an amazing interpretation which caught the teenage capriciousness of the early scenes before pulling all the stops out – as I've never quite heard her do before – for the "Transfiguration through Love" of the last 20 minutes as Salome addresses the prophet's severed head, arousing excitement, pity and disgust all at the same time (Stemme taking a bow with Runnicles pictured above by Chris Christodoulou). DN
Alcina, Barbican Hall
It's come as a surprise to me to discover that both my top opera picks for 2014 are concert performances rather than fully-staged productions. Opera-in-concert gets bad press, and when it is dull it is very dull indeed. Done right, however, it can be transcendent – the purest and most essential dramatic reading of a score. And it was so when Joyce DiDonato joined forces with the English Concert to bring a super-starry performance of Handel's great(est) opera to the Barbican. Alice Coote (pictured with DiDonato by Mark Allan) and Christine Rice joined DiDonato for the mightiest quota of mezzo-sopranos seen anywhere this year, and the result was vivid, humorous and moving. Plus there was That Dress by Vivienne Westwood. AC
Wozzeck, City Halls, Glasgow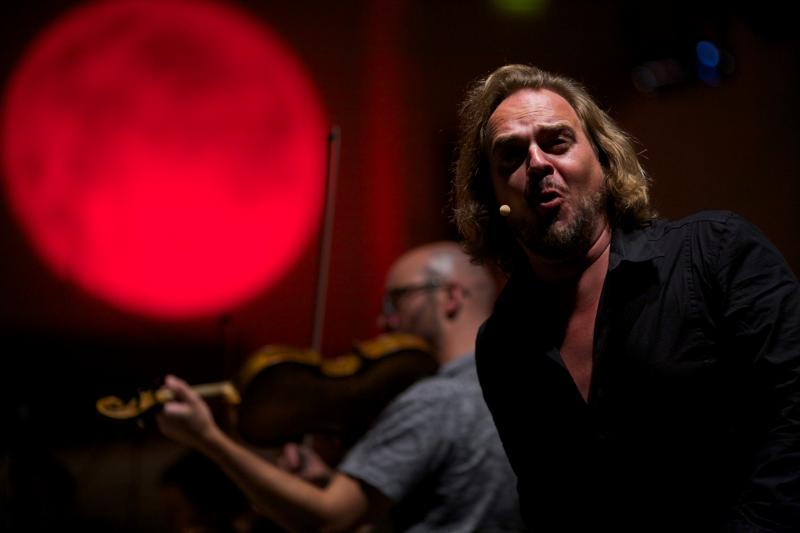 This very-slightly-staged concert performance of Berg's Wozzeck demonstrated that even on a damp Thursday night in Glasgow it is possible to present opera to the highest international standards in Scotland.This was a wonderfully rich evening demonstrating that neither Scottish Opera nor the Edinburgh Festival have a monopoly on unique operatic events north of the border. Credit must go to the BBC Scottish Symphony Orchestra and its principal conductor Donald Runnicles to have the imagination and determination to pull in an impressive cast (for one night only) that included huge performances by Thomas J Mayer in the title role (pictured by Alex Woodward) and Elena Zhidkova as Marie. Mayer was, in fact, a late substitution, but I was told by Runnicles' wife that "Donald was thrilled to get him". I had a chance to confirm Mayer's stature a few weeks later when I happened to hear him in Zurich's Opera House as a compelling Barak in Strauss's Die Frau ohne Schatten. CL

Pelléas et Mélisande , Royal Festival Hall
Superlatives are dangerous things, but I have no fear in applying them here. This concert performance of Debussy's opera by the Philharmonia Orchestra and Esa-Pekka Salonen was one of those rare instances of musical alchemy. A late change of personnel, a light-handed semi-staging by David Edwards and a reading full of generosity and insight from Salonen came together to generate something extraordinary. At the core of it all were Sandrine Piau and Stéphane Degout (pictured) as the eponymous innocents – performances so complete as to be unimprovable. Only a recording from this cast and these orchestral forces could crown what was a singular achievement: for me, the best night of music all year. AC
The Gospel According to the Other Mary, ENO
The first full staging of John Adams's "passion oratorio" (pictured left by Richard Hubert Smith) – premiered in concert in the US and heard once before here at the Barbican – did not please all, but those of us who loved it did love it very much. In spiritual impact it was astounding – even as an atheist I still run to Bach and Wagner's Parsifal for that same rush. Then there was the richness of its colouring, full of weird and fantastical percussion, plus electronic elements such as frogs at dawn; the strength and compassion of its settings – the fine poetry of past and present helps; and the absolute conviction of its performers, led by mezzo-soprano Patricia Bardon as Mary and, as Martha, Meredith Arwady, a true knock-'em-dead contralto. In the pit the young Portuguese conductor Joana Carneiro drew everything together and made it leap to coherent and vibrant life. Designer George Tsypin and lighting designer James F Ingalls matched the soundworld with magically shifting visual colour. Special plaudits for flex dancer Banks, a Lazarus and Angel Gabriel with much muscle. JD
While the Royal Opera had a mostly disappointing year, English National Opera picked itself up from a run of turkeys last autumn to triumph in 2014
Explore topics
Share this article