Opinion: Why I won't attend Gergiev's concerts
Opinion: Why I won't attend Gergiev's concerts
When a conductor unequivocally endorses a murderous state policy, it's time to draw the line
Putin presenting Gergiev with an award for the Mariinsky Theatre's achievements in 2007
Last Thursday I was giving a talk before a concert in Birmingham, decently but not inspiringly conducted by the much-liked Vasily Sinaisky. Had I been in London I could have taken my pick between two greater interpreters, Valery Gergiev launching his Berlioz series with the London Symphony Orchestra and veteran Yury Temirkanov returning to one of his standard programmes with the Philharmonia.
Both appeared on the list of 549 "trustees" supporting Vladimir Putin's 2012 re-election campaign. Temirkanov recently established chauvinist credentials which made the foolish remarks of young Vasily Petrenko about women conductors seem just playful. Alex Ross, one of the music world's leading champions of gay and other human rights, pointed us towards them in a New Yorker article: there you find a link to a Russian-language interview which includes Temirkanov saying "the essence of a conductor's profession is strength. The essence of woman is weakness". Would that stop me going to his concerts? No; and the same applies to Petrenko, who may engage mouth before brain but remains a remarkably assured interpreter as his ongoing Shostakovich cycle with his Royal Liverpool Philharmonic Orchestra continues to show. Reviewing the concerts and CDs of both conductors gives the writer a chance, where relevant, to draw attention to their unenlightened views.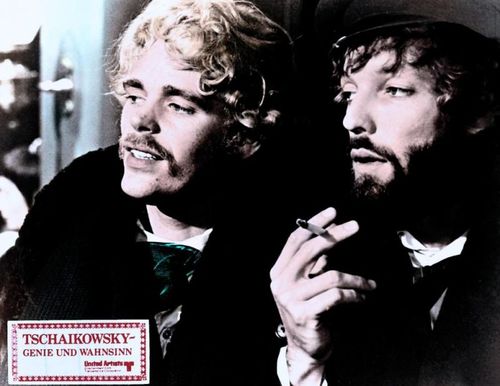 What set Gergiev beyond the pale for me was the comment reported by a reader of my last opinion article on the issue of artists and Russia's new institutionalized homophobia. He or she quoted Gergiev when questioned by a Rotterdam reporter about the laws making it a criminal offence not so much to promote as even to mention as significant an issue, say, as Tchaikovsky's homosexuality to a minor (Christopher Gable and Richard Chamberlain in Ken Russell's Tchaikovsky biopic The Music Lovers pictured above). His reply? According to my commenter's translation from Volkskrant, "This law is not about homosexuality; it targets paedophilia".
And so the huge outrage anyone, gay or straight, ought to feel at this supreme insult – humans' instinct to love where they will, and must, becomes an urge to defile children – boils over, as it did when Cardinal Bertone made his stupid remarks a few years back. But the Catholic Church under the apparently genuine humility of a noble Pope seems to have moved on. Russia has moved backwards. It was only last week a well-versed friend reminded me that homosexuality was legalised there in 1917, only to be re-criminalised in the dark year of 1936. The new, if chaotic country made it legal again in 1993. And now, in a vicious atmosphere which affects anyone who challenges the regime anywhere, one which it is not fanciful or hyperbolic to define as well on the way to emulating Stalin's turn for the worse, law upon law is added to create a climate of fear for gay people, among many others - from the Arctic 30 to Pussy Riot and Khodorkovsky - whom it is not this article's remit to discuss.
It is not the same as Section 28 in Thatcher's Britain. It affects all Russian institutions. In Stephen Fry's bold tour to meet brave people and stupid, malevolent lawmakers around the world for his BBC Two two-part documentary Out There, a St Petersburg lesbian told us how she was "correctively" raped and so badly beaten up that she spent a long time in hospital. When she tried to make her report to the police, they turned her away when they learned of her sexuality. The state laws are a licence for thugs to kill in every Russian town and city. The suicide rate among young gay people in Russia already stands officially at one in four; how much worse must that be in real terms.
No-one is saying that an artist has to stand up to his or her country's government. The right to a dignified silence belongs to everyone. But when artists like Gergiev, Netrebko, Temirkanov and Gergiev's latest tubthumping court pianist Denis Matsuev actively lend their name to a criminal regime, they can expect strong reactions. The ones in New York and San Francisco were mostly peaceful protests outside the opera houses, good-natured affairs where many of the great and good on the way to the performances were happy to be photographed with the demonstrators.
I applaud Peter Tatchell's characteristic response, to grandstand the Barbican audience before Gergiev's first LSO concert, but that wouldn't be my chosen way. I'll join, if I can, Tatchell's next, lower-key action outside the Barbican on Thursday evening (6pm to 7pm; bring sparklers and colourful, effective placards; smother Gergiev and Putin in rainbows).
Any personal animus here? Absolutely not; I don't like breaking faith with a conductor who has always been all ease and curiosity in interviews, wherever and however late they took place – in a taxi to his flat on the Neva embankment in Leningrad, as it then still was, continuing over a hospitable meal with family interjections, in a hotel room of the Astoria Hotel at two in the morning, in intervals between a blockbuster three-part concert.
I even feel sorry for the Faustian pact Gergiev seems to have made in exchange for an ever-expanding Mariinsky empire (will it extend to the Bolshoi, as recently intimated?) If I've been disappointed by many of his recent concerts and operatic performances, in which a ponderousness seems to have muddied the canvases, that's irrelevant to the present issue. I do wonder at the LSO letting him loose on Berlioz when the greatest interpreter of that composer, their beloved Colin Davis, is barely in his grave. That does, admittedly, make it easier to avoid the current Berliozfest.
A great creative artist's prerogative is one thing; the public's is anotherI'm not stopping colleagues, as you can see today. It would be foolish, and no better than the very lawgivers we criticize, to impose a blanket ban. So I circulated the information among theartsdesk's five other regular London-based classical music contributors, taking the rather Soviet view of the Brezhnev era that I would not forbid, simply advise.
One withdrew his claim, two preferred not to voice a public opinion, two were against taking action on the grounds that much the same sort of thing is going on in the rest of the world – what about even moderate Muslims, Igor asked provocatively, but in any case does one wrong cancel out another? – and one went ahead, as you can see today. Sebastian wanted me to invoke Berlioz's words: "What am I doing in Baden-Baden? I'm making music. Something completely forbidden to me in Paris, because of the lack of a good concert hall, the lack of money to pay for rehearsals, the lack of time to do them well, the lack of audience, the lack of everything."
Well, a great creative artist's prerogative is one thing; the public's is another. The players have no choice; the audience does. That's why you'll find me not inside the Barbican Hall on the other dates for Gergiev's Berlioz series, but outside on Thursday, waving sparklers, informing rather than heckling the concertgoers and hoping that if enough people join in, we can smother Gergiev and Putin in rainbows. Invitation to opinions can result in a deafening silence, but I'd welcome your comments on the subject.
Gergiev's reply? 'This law is not about homosexuality; it targets paedophilia'
Share this article