The Bolshoi acid trial begins - vitriol promised |

Dance reviews, news & interviews
The Bolshoi acid trial begins - vitriol promised
Prosecution opens, amid storm over sacked Bolshoi star's job scoop
After the attack: dancer Pavel Dmitrichenko under arrest, left, and his victim and boss Sergei Filin
Even by the grand Guignol standards of Russian ballet 2013, this week has been eventful. The trial of the Bolshoi dancer for attacking his boss with acid finally began on Tuesday, and with incredible, tension-ratcheting synchrony, the controversial, mouthy Bolshoi star who was fired in the summer for machinating against his leaders has been appointed to head Russia's world-famous ballet school.
To add still more salt to the seasoning, the same mouthy Bolshoi star will be appearing - it was revealed on Tuesday - as a witness on behalf of the accused dancer in the trial. The Brooks-Coulson hacking trial is milk pudding compared to what it's feared may be undammed in the unpredictable courts of Moscow.
To recap, one night last January the Bolshoi ballet director Sergei Filin - a handsome man and a handsome dancer, well known and appreciated by London audiences on recent Bolshoi tours - had acid thrown in his face. He suffered terrible burns to his eyes and face. Probably his instinctive act in grabbing handfuls of snow from the street and rubbing his burning face with it prevented more severe damage to his skin, but the eyes were another matter. The acid ate in, and kept eating.
There was history in past attacks on him - violent intimidation of past Bolshoi directors is not unknown. Filin's home had received menacing silent phone calls; his car tyres had been slashed, his email hacked. He and his boss, the Bolshoi Theatre general director, Anatoly Iksanov, had both been feeling pressure. Filin's predecessor, Gennady Yanin, had been scandalously dismissed after incriminating photos of him having gay sex were posted on the internet.
As far as Iksanov was concerned, Nikolai Tsiskaridze was a menace
As far as Iksanov was concerned, Nikolai Tsiskaridze was a menace. For several years he had been badgered by the Bolshoi's best-known male dancer - much less popular in Britain than Filin, but much more popular in Russia - to make him the ballet director. When Iksanov refused, appointing Filin, Tsiskaridze and his powerful friends pressed President Putin and the Culture Minister to put him in place of Iksanov.
All this was pre-history to the Filin attack. After Filin was shown, his face completely bandaged, and word came out that he would be flown to Europe for treatment, a leading dancer was arrested on suspicion of ordering the attack, plus two other men allegedly involved. The disturbing TV pictures of the bruised dancer, a short-fused 28-year-old who mostly danced villain parts but was popular among the Bolshoi troupe for getting stuck in on the workers' side, swiftly focused a coherent lobby in his defence, protesting that surely police brutality was involved. Suspicion was rife. The Bolshoi dancers, instinctively backing their own guy, voted him in as their absent trade union leader and demanded an independent inquiry, challenging the authorities' version of events.
The charismatic figure in their camp was "Kolya" Tsiskaridze, the Bolshoi's dramatic, hugely egotistical TV-friendly star, a man who made his own rules, who would proclaim to the press, "I am the Bolshoi", and who had his own TV chat-show. He and Iksanov made no pretence at being anything other than foes.
Iksanov, shocked by what had happened to Filin, blurted out that he believed Tsiskaridze's stirring and ambitious antagonism had fostered an unprecedentedly turbulent, divided company where such things as sex scandals and violence could happen. He hinted unwisely that Tsiskaridze had a more than tangential involvement with the attack on his rival - and this would prove his undoing.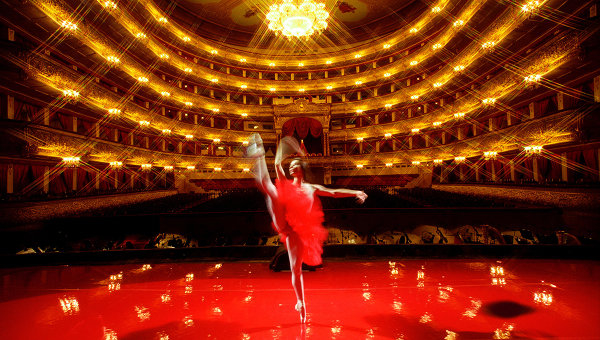 Tsiskaridze gave media interviews slamming Iksanov's completion of the Bolshoi Theatre's monstrously expensive, corrupted restoration (not a scheme Iksanov had signed off in the first place). Much more dubious and strange was his repeated claim that Filin was not really attacked with acid - that there was a giant conspiracy targeting Tsiskaridze, to drive him out of the Bolshoi. That there was never any acid, Filin was unblemished under his bandages, the Moscow police, the Moscow doctors, the German doctors, the media - all were in cahoots to cook up a plan to see Tsiskaridze booted out of his theatre. And that all was being conducted by the Bolshoi leadership, the men who exploited the dancers.
During the summer, both the men were removed from the chess-board: first Iksanov dismissed Tsiskaridze, by simply seeing that his contracts were expiring and refusing to renew them. Then, in turn, Iksanov was dismissed by Russia's Minister of Culture, Vladimir Medinsky, who replaced him with the theatre director from down the road in Moscow, Vladimir Urin from the Stanislavsky.
Tsiskaridze appeared preternaturally calm about his unemployed status; there was a comic moment when from far north in Yakutsk, an almost permanently frozen Siberian city officially termed Russia's coldest, came the offer to direct the local ballet company, if only they could afford him. It was never on. Tsiskaridze, as he said in several interviews, was the Bolshoi, and bolshoi means big, the biggest. It now appears he already knew what his next job would be.
Six weeks ago Filin symbolically returned to the Bolshoi Ballet as its artistic director. With further treatment still scheduled on his impaired vision, he has been assessed in the trial's documentation at having lost 35 percent of his earning capacity, thus qualifying for the legal definition of suffering grievous bodily harm.
The eyes were another matter. The acid ate in, and kept eating
Explore topics
Share this article
Subscribe to theartsdesk.com
Thank you for continuing to read our work on theartsdesk.com. For unlimited access to every article in its entirety, including our archive of more than 10,000 pieces, we're asking for £2.95 per month or £25 per year. We feel it's a very good deal, and hope you do too.
To take an annual subscription now simply click here.
And if you're looking for that extra gift for a friend or family member, why not treat them to a theartsdesk.com gift subscription?