theartsdesk in Verbier: Festival scales new heights |

reviews, news & interviews
theartsdesk in Verbier: Festival scales new heights
theartsdesk in Verbier: Festival scales new heights
Sunny days and starry, starry nights as Europe's loftiest festival turns 20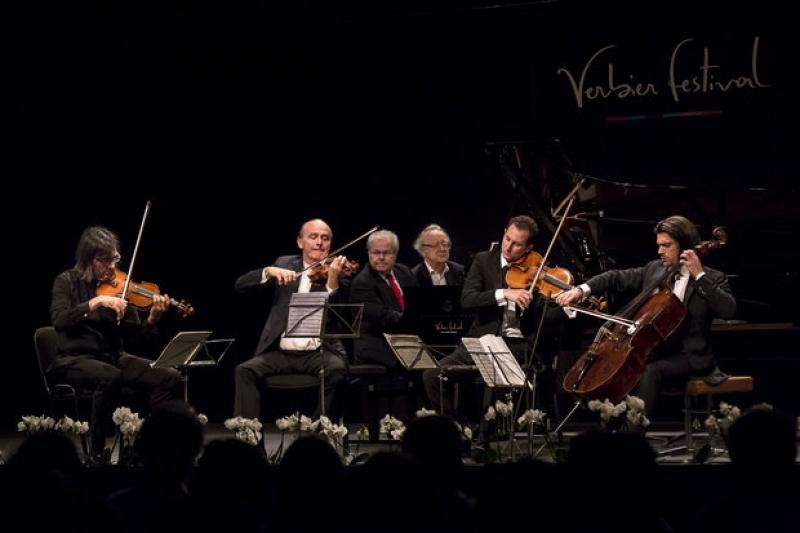 The A Team: Emmanuel Ax, Leonidas Kavakos, Gabor Takacs-Nagy, Antoine Tamestit, Gautier Capucon (and Alfred Brendel)
The moment when Alfred Brendel shuffled on stage during the Verbier Festival's 20th Anniversary Concert not to play, but to turn pages for long-time colleague Emmanuel Ax, expressed everything that is so special, so extraordinary about this festival. Walking off together, arms around each other's shoulders, these were not just international soloists, they were two great old men and two even greater musicians.
Verbier has made a lot of good friends during its 20-year history – a mere blink of the eye, as classical festivals go – and in this birthday year it was no surprise that they might just have thrown the musical party to end all parties.
It's hard to imagine a weekend where Mahler's epic Third Symphony isn't the biggest, grandest spectacle on offer, but big and grand though it was (more of which later) there's no doubt that the festival's birthday gala itself was the event that we'll all still be talking about when the 50th anniversary rolls around. Refusing to announce the programme in advance, festival director Martin Engstroem kept everyone guessing at how on earth he was going to corral a cast including Evgeny Kissin, Rufus Wainright, Mischa Maisky, Mikhail Pletnev, Emmanuel Ax, assorted Capuçon brothers, Khatia Buniatishvili, Yuri Bashmet, Leonidas Kavakos and still more superstars into a coherent concert.
Pletnev reminded us of the clarity of his touch and articulation, playing the musical straight-man to Trifonov
The solution was ingenious. After a first half dedicated to the ad hoc chamber music ensembles that are so much a part of the Verbier fabric, creating collaborations that have gone on to continue on disk and in concert halls around the world, we heard our second set of Chopin Preludes for the day – each prelude arranged by Dmitry Sitkovetsky and taken by a different artist or combination of artists. It was like musical fantasy football, as we all sat there mentally casting our dream-teams for the 24 movements.
The plaintive E minor Prelude No 4 was a natural fit for clarinettist Martin Fröst, who caressed its curving melody as no pianist could, anchored by Julien Quentin's nagging chordal accompaniment. Father and daughter Mischa (pictured below) and Lily Maisky came together for No 6, the great cellist filling up that striving, leaping tune with so much heart, counterbalancing the fluid virtuosity that Lera Auerbach and Ilya Gringolts had brought to No 3, ending with some exquisite violin harmonics. A pairing of piano (the venerable Menahem Pressler) and viola (Antoine Tamestit) brought great warmth to the glorious E major Prelude No 9, its sustained calm setting off the cheeky improvisation on No 10 that followed from Monty Alexander.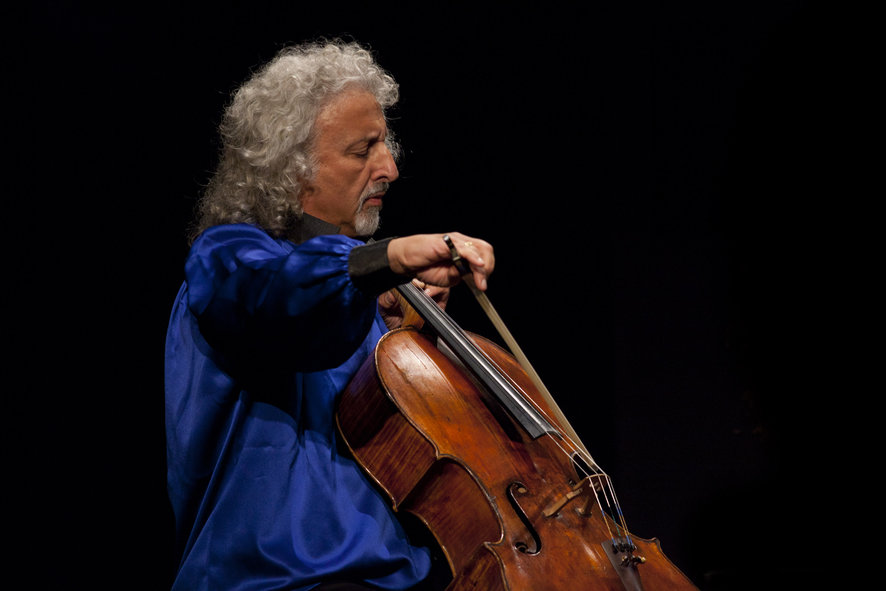 Some movements did remain in their original format, shared among the festival's many pianists. We opened with Yuja Wang's efficient Agitato, and the compressed emotional epic that is No 12 went to Trifonov (who else?), while Ax brought an unusually subdued approach to No 20's Largo, finding more quiet regret than thunder in it. And it was only fitting and natural that the sequence should end in purest form, with Kissin's interpretation of the Allegro Appassionato – so simple, so impossibly elegant.
The first half was an embarrassment of musical riches, combining and recombining these same forces into new and familiar ensembles. It was almost like stepping back in time to see Yuri Bashmet and Mischa Maisky, together with Nicholas Angelich, Dmitry Sitkovetsky and Ilya Gringolts come together for the Allegretto of the Shostakovich Quintet in G minor – some serious Russian power giving this inscrutable Russian finale to decisive life. Bringing things up to date, virtuoso Fröst teamed up with members of the festival's Chamber Orchestra to offer a riotous Klezmer number, coaxing everything from a howl to a croon from his instrument, and matching Monty Alexander's improvisation on "Happy Birthday" for impish exuberance. One of the big highlights for everyone at this year's festival was surely the chance to hear Mikhail Pletnev again, newly returned to the piano after almost a decade away as a conductor. Joining virtuoso-du-jour Trifonov at two pianos, he reminded us of the clarity of his touch and articulation, playing the musical straight-man to Trifonov in a thrilling arrangement of the Galop and Valse from Prokofiev's Cendrillon.
Any visit to Verbier is inevitably as much about what you don't manage to see as what you do. All kinds of resolutions are made as you wind your way up into the Alps, leaving the urban slump of Geneva behind for the craggy beauty of the mountains and meadows. With around 15 hours of music available each day (most of it free), you find yourself torn. Should you go and hear Alfred Brendel give a masterclass, Rufus Wainright in conversation, or go and watch one of the many chamber performances from the musicians of the Festival Academy – those young soloists we'll all be fighting to see at the Wigmore all too soon? Not forgetting of course the lure of the surroundings themselves, with ridges begging to be walked and wooden terraces perfect for coffee and too much Swiss cake in the sunshine. The list of what I didn't manage to see this year dwarfs the events I did, but such is the energy and the pervasive atmosphere of musical engagement and activity at Verbier that it all soaks in by osmosis. Open your windows and you'll hear a jazz band performing in the town square, sit in a restaurant and you'll overhear a debate about the relative merits of the various Haydn quartets.
Verbier is a festival entirely made up of best-bits, of highlights – Trifonov performing the 24 Chopin Preludes so beautifully up in the church, Renaud Capuçon (pictured right with Trifonov) joining him to remind us what only a Frenchman can do to Franck's Sonata in A – but even among so much it would be hard to overlook the performance of Mahler's Third Symphony by the Verbier Festival Orchestra and mezzo-soprano Lilli Paasikivi, conducted by Andres Orozco-Estrada. This young Colombian conductor is making his debut everywhere next season, including with the LPO, LSO and at Glyndebourne, and judging by his Mahler we're in for some excitement.
The Festival Orchestra is the bowing, blowing, plucking heart of Verbier, made up of so much young talent from around the world. But regardless of their individual skills and virtuosity what was most impressive here was their ensemble attitude. There was no jostling for attention or raggedness in a symphony whose beauty is all in the details – the slow pacing of 90 minutes of almost continuous music-making, the gently unfolding canvas of bucolic colours that Mahler spreads out.
The opening brass call and clash of percussion announced that the orchestra meant business, but after this so much of the interest was in moments of restraint – the delicate growth of the wind solos out of Mahler's stern little march for strings in the first movement, the string blend in the second and the prickling intensity of their pianissimo in the sixth. The choruses of women and children (drawn partly from the local region, partly from New York's Collegiate Chorale) amplified and brightened the orchestral texture, and if Paasikivi might have lavished a little more love on the rich texts, the warmth of her tone almost compensated.
It was Mahler himself who expressed the belief that "the symphony must be like the world. It must embrace everything." It's a hope that comes as close as possible to being fulfilled by the Third Symphony. Heard here, performed by the next generation of professionals, it was an idea that seemed unusually pervasive. Good festivals, like good symphonies, must embrace the broadest possible range and scope of events if they are to stimulate. Verbier may be a tiny town perched on the edge of the world, but each summer its arms are spread wide indeed.
Mahler expressed the belief that 'the symphony must be like the world. It must embrace everything'
Explore topics
Share this article