theartsdesk in Verbier: Musicians Peak in the Alps |

reviews, news & interviews
theartsdesk in Verbier: Musicians Peak in the Alps
theartsdesk in Verbier: Musicians Peak in the Alps
Top-notch music-making in elevated surroundings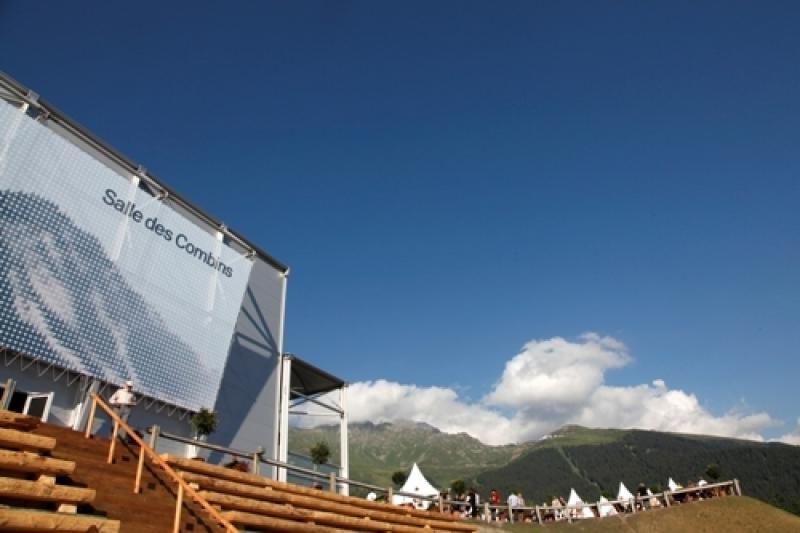 Verbier's new Salle des Combins: rain on the roof but a real concert hall for all that
You want to see Yuri Bashmet, arguably the greatest living viola player, but you can't because you've chosen to go to a recital by Yevgeny Kissin, one of the world's top pianists, on the same evening in another hall. Even the option of dashing from one half to another is complicated by timing and distance. No, this isn't Berlin, London or Vienna.
It's just a typical dilemma in the 17-day life of the
Verbier Festival
, high in the major Alps of Switzerland's Valais region.
The venues may not be pretty, but their surroundings are stupendous, and I don't think I've ever heard so many first-class musicians play so many works I've never had the privilege of hearing live before in so short a space of time.
Not that everything can be expected to go smoothly. On this year's first night, four cows were struck dead in a thunderstorm and a power failure delayed the opening concert. I turned up six days later in the pouring rain, settled into my gloomy self-catering accommodation - eventually I held out for an apartment with light and a view - and killed a bit of time on my own before my first concert. I walked into the even darker, disco-lit modern church up the hill expecting soprano sensation Measha Brueggergosman, looked at my programme and found I was getting Barbara Bonney - another star, it's true, but these days not my kind of star. So I should have plumped, as everyone enthusiastically told me later, for Daniel Harding conducting the young musicians of the Verbier Festival Orchestra in a Stravinsky Rite of Spring never to be forgotten.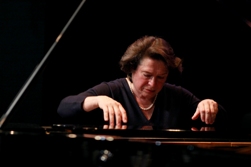 Never mind. I was really here for the Minerva of the piano, Elisabeth Leonskaja (pictured right by Aline Paley), and my privileged stretch of the late-night Schubert sonatas series she was performing, half of them for the first time. It hadn't gone well for this most vivacious of Russian pianists. Her first three concerts in Verbier's Cinema had been, she later whispered to me with an incredulous smile, "terrible" - bad acoustics, a piano she could get nothing out of. Not one to complain, she'd been encouraged by my fellow writer Michael Church to insist on something better.
So it was that the devotees, some of them travelling the world to hear their goddess, filled only the central block of the 1,700 seats in the newly constructed Salle des Combins, a venue to replace last year's site near the cable-car station which is now being bulldozed to make way for a new hotel. Here, location wise, there's no doubt that everyone gets the better deal. Anyway, there was nothing but novelty on the first late-night double bill I heard, two earlier Schubert sonatas brimming over with the harmonic daring and melodic unpredictability that make the composer always a true original. In subsequent instalments we heard Leonskaja's range and chameleonic ability to switch from sonorous, thundering but always clear full pelt to feminine grace and childlike good humour in two graceful Titans, the colossal D major Sonata D850 with its deceptively naive seeming finale, and the cataracts of D959, a work which even Leonskaja's mentor and duo-partner Sviatoslav Richter for some reason never tackled.
This is by no means the end of the Leonskaja story: theartsdesk will feature our interview nearer to the time of her next Schubert concert in London. Suffice it to say that I'm very happy: not since Richter's Chichester Cathedral recital back in 1989 have I heard such Olympian pianism.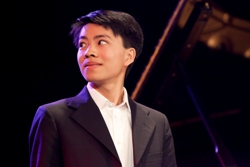 But there were other, more surprising treats in store. The day after the first late-nighter, I returned to the church for a piano-trio programme and heard, in the very first notes of 18-year-old pianist-composer Kit Armstrong (pictured left by Nicolas Brodard), an enveloping grace and musicality. What a way to start the day, even if this was hardly the sun-filled Queen's Hall on an Edinburgh Festival morning: the clarte in a similarly youthful Debussy's early Piano Trio provided all the inner light we needed. Armstrong worked, seemingly effortlessly, with violinist Vilde Frang and the delicately imaginative cellist Andreas Brantelid to make me wonder why I didn't know this wonderful work. If they'd made a CD of the concert to sell on exit, I'd have snapped it up.
Armstrong's own trio, whimsically and apparently not very significantly entitled "Stop laughing, we're rehearsing", featured strong writing for each of the instruments, but I wasn't convinced that the touch of angst in it really belonged to this rather playful performer. Encoring the scherzo of the much straighter early Beethoven trio (Op 1 No 3), with Ilya Gringolts replacing Frang (and pictured with Armstrong and Brantelid below) he impishly inverted the crystalline piano runs, making his fellow artists smile but failing to throw them off their tracks.
The serendipitous coming-together of top soloists to make chamber music is a speciality in which Verbier excels, perhaps even more so than any other festival. Not that it always works. I spoke after the recital to a Verbier regular who reckoned that it had in this instance, but that sometimes the personalities were too big, and the rehearsal time too short, for the subtle art of chamber music. The late Valentin Berlinsky of the Borodin Quartet once described the let's-play-a-late-Beethoven quartet approach on a wing and a prayer a case of "festival quality". And he wasn't being complimentary. It's true, you might hear better balanced performances at smaller celebrations aound Britain (I'm thinking, for instance, of the Peasmarsh Festival run by top violinist Anthony Marwood). Verbier is a bit starstruck, and it looks like Armstrong will be one of its typical phenomena. But the congress of the great and good isn't the only way of making the best music together.
On my last evening I witnessed one such mesalliance between celebrity and the complexity of a major work. Could it be anything but wonderful to hear Yuri Bashmet play Sancho Panza to Mischa Maisky's Don Quixote in the fiendishly elaborate Strauss "variations on a theme of knightly character"? Yes, it could.
Bashmet looked lost and came in twice in the wrong place, with almost catastrophic results. Maisky, slightly overplaying his hand yet very much the melancholy, aristocratic-profiled Quixote to the life, broke a string in the knight's last conflict, deftly swapped with the young principal cellist of the Verbier Festival Orchestra and took to his deathbed with a strange instrument. Perhaps he was right to want to reprise the bittersweet epilogue with his restringed treasure, but I thought it worked better the first time. Still, Charles Dutoit drew disciplined combat from the orchestra, no easy task. And curiously the best attuned of all the soloists to the chamber-musical arguments of this wonderful work was one of the VFO's two leaders.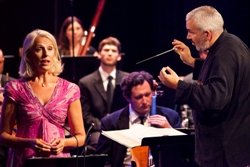 If I have any regret, it's that there wasn't time enough to see the young musicians in training. For the past 16 years they've furnished not only the full symphony orchestra but also a Chamber Orchestra of invited alumni, who worked wonders the previous night on an evening of delicate Faure, splashy Canteloube and hyperactive Mozart in the company of Anne Sofie von Otter and Marc Minkowski (pictured above). I can't say I agreed with Minkowski's rather odd tempo for the first movement allegro of Mozart's Symphony No 39, but the finale certainly sparkled. The roll call of players is truly international, as festival founder and director general Martin T:son Engstroem charmingly underlined in a Eurovision-style listing of personnel in the Saturday concert (what, no Italians? Italy - nul points).
In addition to this there are instrumental and vocal masterclasses with the likes of Alfred Brendel, Zakhar Bron, Natalia Gutman and Lynn Harrell. How was it I missed out on these? Maybe I should have been more inquisitive, but in all the hurly burly no one pointed me in the right direction. There was also a "voice studio" course which was to result in a fully staged performance of Puccini's La bohème under Barbara Bonney; rumour had it that the soprano and tenor were stars in the making.
But you can't do everything and it would be foolish not to make the most of the good Alpine weather if and when it comes - and something like it finally came on my second full day. Cable cars whisk you up to the heights, where among countless alternatives you can take a paradisical walk along a high mountain stream to a hospitable refuge (my option for Day Three). If the cloud sits up there, you can always do the kind of lower-level forest and meadow trek I undertook on the sunny afternoon of Day Two, with spectacular views across to the peaks and glacier of the Grand Combin and even, when the weather's clear enough, Mont Blanc.
So it was that on my last morning I had to choose between another church meeting of superstars and more mountain air. If the mists were thick on the peaks, I'd said, I'd go to the recital. But they weren't, so up I went again. Very nearly didn't get back in time to take the taxi back to Martigny Station, since the cable-car operator decided to take an hour off for lunch and I scarpered down the flowery ski slopes at top speed. And then at the bottom cable-car station whom should I encounter but Mischa Maisky, sporting his Helen-of-Troy necklace as he rocked a child in a pram. We exchanged a few friendly words about the quality of the young Verbier orchestra the previous evening, and then I jumped into my taxi to face the heat of the plains. It's that kind of place.
Watch Anne Sofie von Otter sing one of Canteloube's Chants d'Auvergne at the 2010 Festival with Marc Minkowski conducting the Verbier Festival Chamber Orchestra:



See David Nice among the "spectateurs" caught on the Verbier Festival's blog camera as they were leaving the Armstrong-led trio concert:



The serendipitous coming-together of top soloists to make chamber music is a speciality in which Verbier excels
Share this article