War and Peace: Russian National Orchestra, LPO, Jurowski, Royal Festival Hall |

reviews, news & interviews
War and Peace: Russian National Orchestra, LPO, Jurowski, Royal Festival Hall
War and Peace: Russian National Orchestra, LPO, Jurowski, Royal Festival Hall
Hybrid orchestra of Russian and British players pulls Shostakovich's sprawling Leningrad Symphony together
Saturday, 06 October 2012
Russian National Orchestra: good in parts, but stronger alongside its London colleagues
Can two half-orchestras playing together ever be better than one well-established organism? The second and third concerts in yet another special project masterminded by Vladimir Jurowski, drawing together British and Russian perspectives on war and peace, proved that they could. It may have been disappointing to find the Russian National Orchestra on Thursday evening launching so cold-bloodedly into the feral start of Vaughan Williams's Sixth Symphony.
But when many of their key players upped their game by joining colleagues from the London Philharmonic Orchestra the following evening in Shostakovich's Seventh Symphony, Jurowski encouraged them to find unerring firmness of purpose in a less uniformly inspired work which can lumber and sprawl.
The RNO certainly has its star players – principal oboist Olga Tomilova and flautist Maxim Rubtsov among them – and even though its seven double-basses were to be impressively augmented to the tune of 12 in the hybrid spectacular, their underpinning in both the Vaughan Williams and Prokofiev's Fifth Symphony had terrific resonance. The problem, it has always seemed to me, rests with some unfocused brass playing and the Russian violin section, oddly invertebrate.
We were made to believe in the undertow of struggle that never slackened for a second
Set alongside the incisive brilliance Jukka-Pekka Saraste had drawn from the BBC Symphony Orchestra in Wednesday night's Shostakovich Fourth, the impression made by VW's usually shattering symphony was disappointingly neutral. Jurowski negotiated the phrasing and the climaxes with well-sprung mastery, but it was hard to feel the composer's concentrated pain. Only the distant voices of divided or meandering strings functioned at a deeper level - which is quite something in Vaughan Williams's inconsolable wraith of an epilogue, though in this case not entirely justified by what had gone before. Had the outlines been more forceful, VW's eloquence would have merited the spotlight of the second half – a place occupied by the well-manouevred but rather overbearing Prokofiev. Full marks, anyway, to a highly artistic woodblock player.
The superband effect on Friday night included the luxury of two tubas, their presence felt in the well-tempered conflict of Tchaikovsky's 1812 Overture and the siren wails of Shostakovich's brass as the banal little tune of war accompanied, Bolero like, by a consummately handled side-drum, forged mechanically ahead (a ringtone counterpoint at the all-too quiet start of the juggernaut made its own commentary). Humanity was mostly to be found in a chain of outstanding woodwind solos shared with evident warmth between LPO and RNO principals.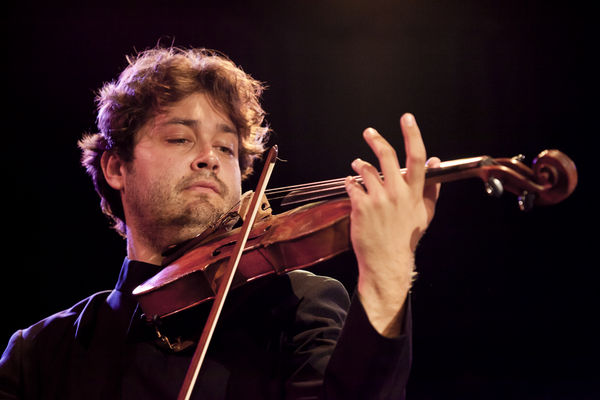 There were two commemorations being made here: 200 years since the Battle of Borodino and 70 since the Siege of Leningrad brought about the birth of Shostakovich's forthright symphony for the people. Canny links to make, certainly, but both pieces truly came to life without the weight of circumstance hanging heavy on them, as can so often be the case. It's easy to forget that Tchaikovsky starts with a string sextet privately voicing a public native chant, "Save us, o Lord". All the action that follows can seem like a patchwork of themes, but not under Jurowski's elegant guidance. Even the final cannonading had bounce and spring.
Jurowski's biggest challenge in the Shostakovich was always going to be the climactic drive towards a more ambiguous victory. The whole of the last movement needs a triumph of manner over Shostakovich's less than inspired matter; in a performance of surpassing shapeliness and conviction, we were made to believe in the undertow of struggle that never slackened for a second. The final burst into processional flames, with the 30-plus violins magnificently ranged left and right of the conductor and brass keeping their collective head, worked its blatant charm as it only really can in a great concert-hall occasion. This was certainly such an event.
Just as special, in its understated way, and a masterstroke of programming, was the central dialogue between peerless viola-player Lawrence Power (pictured above right by Nicolas Brodard) and much-reduced strings in Britten's Lachrymae – viewing Dowland's "If My Complaint Could Passions Move" first through a glass darkly and then, right at the end, face to face with touching simplicity. Power's and his orchestral colleagues' fine balance between projection and introspection was as much of a miracle, albeit on a poignantly small scale, as anything in a totally satisfying evening of committed musicianship.
The final burst into processional flames worked its blatant charm as it only really can in a great concert-hall event
rating
Share this article