Cause Célèbre, Old Vic |

reviews, news & interviews
Cause Célèbre, Old Vic
Cause Célèbre, Old Vic
Rattigan's final play proves awkward but not unappealing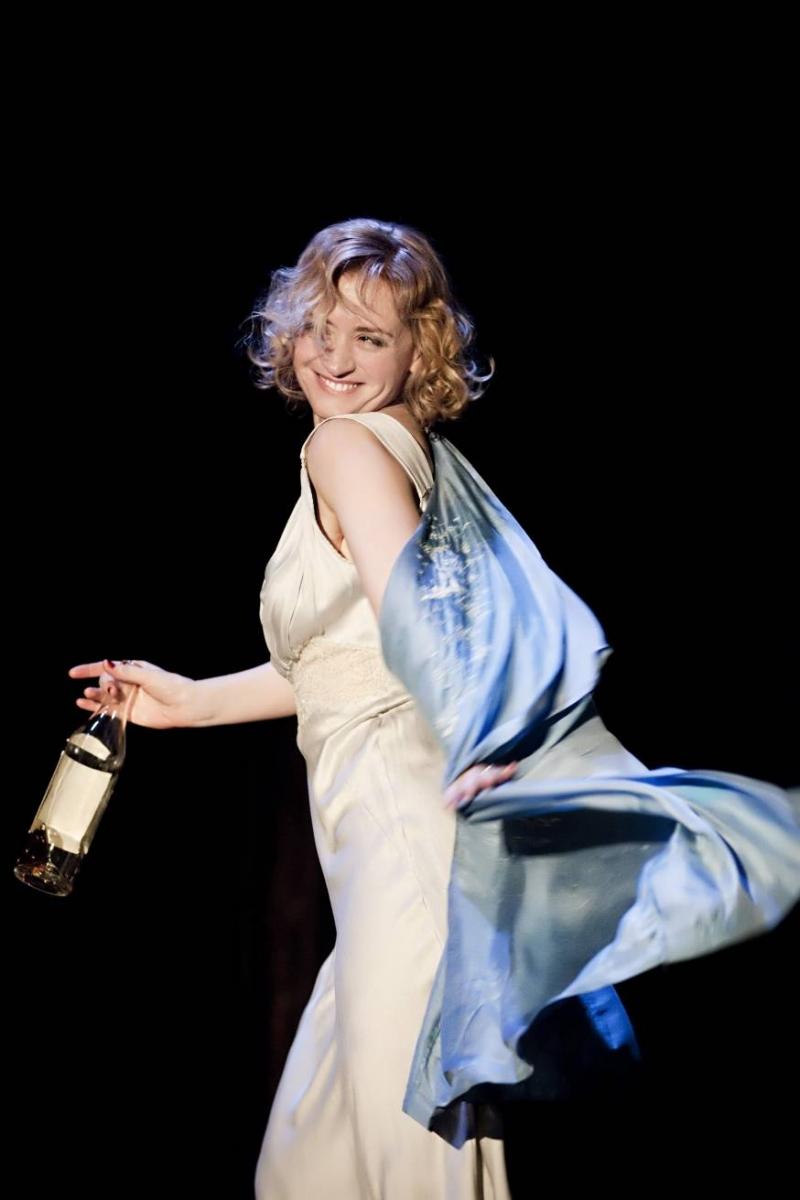 Uncomprehending and manic: Anne-Marie Duff's Alma makes a persuasive case
Sexual intercourse, according to Larkin, began in 1963. By 1974 it had had a free-thinking, free-loving decade to become comfortable and frankly rather routine. It was the year the Ramones formed, when The Texas Chainsaw Massacre was in cinemas and Erica Jong's Fear of Flying on bookshelves. Over at the Royal Court the "angry young men" might still be angry, but weren't exactly young any more.
The sexual revolution had been fought and won, and the cultural battlefield was now overgrown with a riotous tangle of attitudes and influences, each more liberal than the last. It was against this backdrop that the 63-year-old
Terence Rattigan
penned his final play:
Cause Célèbre
.
His last play was also his hardest won, a process that started in 1935 when Alma Rattenbury and her 17-year-old lover were accused of murdering her husband, and only came to fruition with a BBC commission for a radio play in 1974. Even this wasn't to be the end of it however; Rattigan would spend the last three years of his life struggling simultaneously with cancer and the creation of a stage adaptation – a process only completed some few months before his death.
The result, if not quite the polished affair of Separate Tables or The Deep Blue Sea, has an awkwardness about it that is far from unappealing: a bold study of the social and sexual mores of a past age which simultaneously interrogates the trial-by-tabloid phenomenon of Rattigan's present and our own.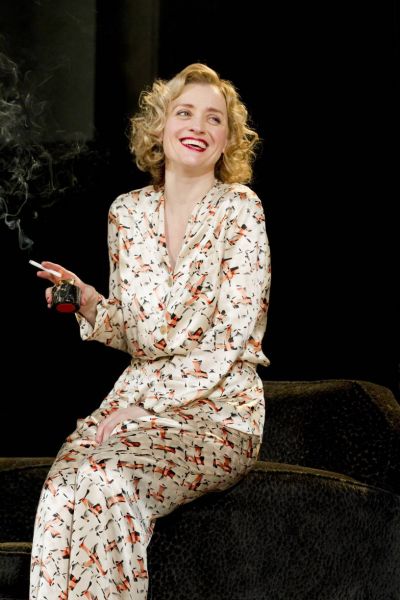 Rattigan complicates his courtroom drama by setting "middle-aged nympho dipso" Alma (Anne-Marie Duff, pictured right) against fictional creation Edith, the repressed and explicitly prejudiced forewoman of the jury. Although they never meet, these two women become the moral and emotional poles of the drama, repelling and drawing close with equally potent force. Rattigan's structural elegance can too easily become unimaginative, housewifely neatness, but the opposition between Edith's nullifying virtues and the affirming power of Alma's thoughtless vice is a compelling and untidy one.
After the radiant authenticity of her After the Dance at the National Theatre, all hopes were on Thea Sharrock repeating her triumph for the Old Vic. This isn't that production; the flaws of the play itself are too many and too evident here for full success, but there's an energy – clutched in the tension of Niamh Cusack's arms, twitching in the convulsions of Duff's laugh – that cuts through to the bone of Rattigan's drama.
It's hard to watch the awkward social comedy of Act II's trial and not be reminded that Rattigan's finest courtroom drama, The Winslow Boy, never went near an actual courtroom. The backbiting between legal colleagues (the fine Nicholas Jones doing his best impression of Nigel Hawthorne, and Richard Clifford), more concerned with improprieties of legal protocol than the physical improprieties of murder, makes its point with welcome humour, but devolves the drama too far from its women.
Matters aren't helped by Hildegard Bechtler's rather unsympathetic design that loses the actors in the dark expanse of the Old Vic stage. A second performance space, descending from above, addresses the quick shift issues that linger from the play's radio origins but with more functionality than grace, and no matter how Bruno Poet's lighting tries it can't bring atmosphere to the blandly understated décor it illuminates.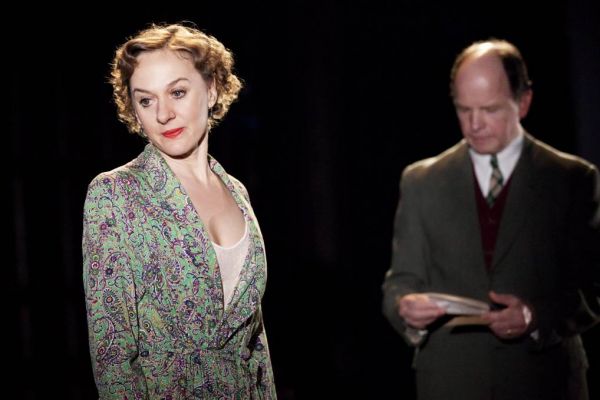 Uncomprehending and manic, Duff's delicately handled Alma plays to the thoughtlessness of the character. Hers is a virtue without intent; she breaks from the petty hypocrisy of Brighton society (where the "real horror" is a liaison with a servant rather than the brutal battering of an old man to death) while unaware of doing so: a rebel without any understanding of a greater cause. The cocky brutality of Tommy McDonnell as her young lover allows for as generous a reading of Alma as is possible; enjoyable, but perhaps not the most interesting of interpretations.
Niamh Cusack (as Edith, pictured above with Simon Chandler as her husband), though lurking in a skirt-and-sensible-shoes take on The Woman in Black in various scenes, is by contrast somewhat underdeveloped, her rigid morality ("I will not break the standards by which I've lived all my life") never given space to find its tone. Her final scene however, a pyrrhic victory in which her credo demands that she rejoice in the salvation of a woman who disgusts and horrifies her, is a moment of painful delight.
For all the strength of its central opposition, Cause Célèbre is a tragedy that happens quietly in the corners of the play. In an Audenesque gesture, Rattigan sets up a dramatic foreground scene only to draw the audience around behind it, to the teenage boy too polite to let his mother overhear his suicide attempt, to the dourly adoring old housekeeper who tries to save her mistress from herself, and to the elderly husband in the distance, surely not as unknowing or unfeeling as he appears. It's a structural subversion that Sharrock's production doesn't quite permit. The more she strives to create focus and coherence from this drama, spotlighting her heroes and banishing the rest to the darkness, the less its awkward polyphony is able to find its balance.
There's an energy – clutched in the tension of Niamh Cusack's arms, twitching in the convulsions of Anne-Marie Duff's laugh – that cuts through to the bone of Rattigan's drama
Explore topics
Share this article