After the Dance, National Theatre |

reviews, news & interviews
After the Dance, National Theatre
After the Dance, National Theatre
It's hard work bringing Rattigan's bunch of lost souls to life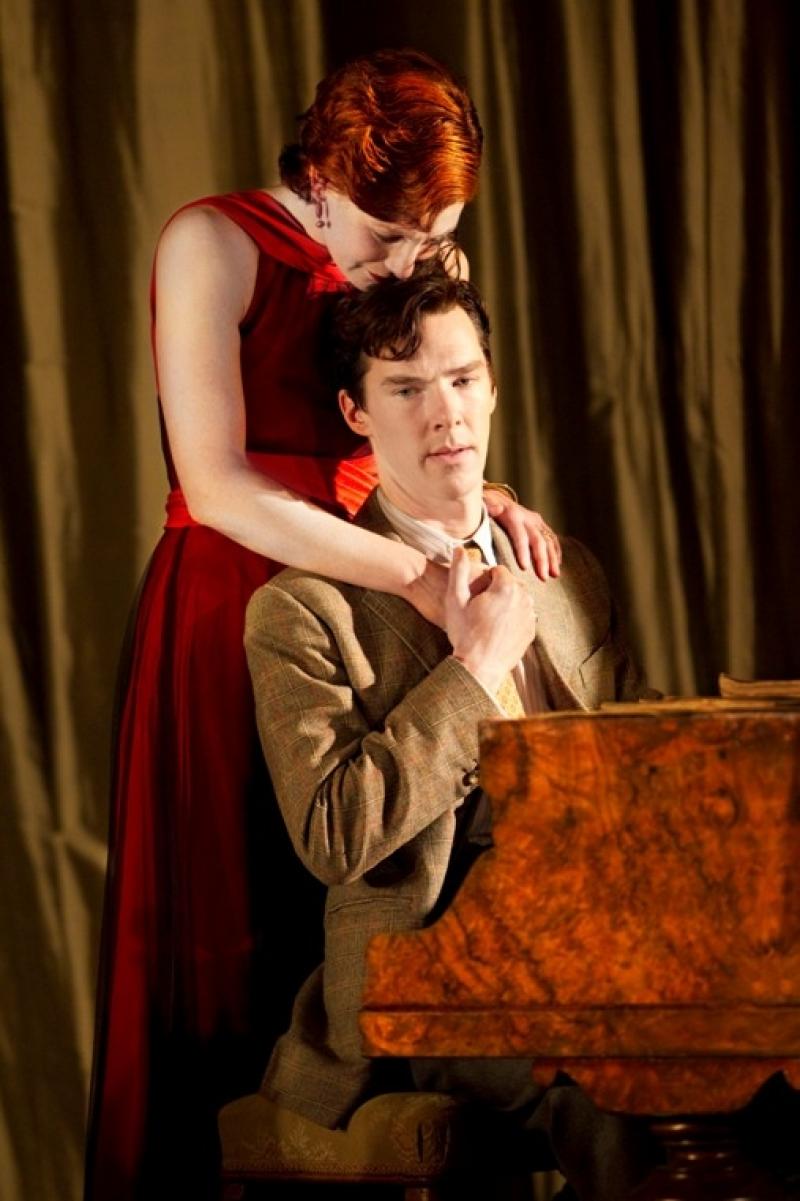 Music for lost souls: Nancy Carroll and Benedict Cumberbatch as Rattingan's hapless couple
A pall of ennui hangs over the 1930s drawing room of the National's latest Rattigan revival, as deadly as the boredom its burnt-out party people all dread.
The trouble is, I'm not sure to what extent the playwright intended it.To write about the etiolated and the unfocused, the lost souls of the inter-war years, needs energy and clarity. Here, though, some of us went away feeling muddy-headed irritation rather than sympathy at the end of a long evening. That might partly be ascribed to a script that thrusts forward melodrama when it needs truth, but a less than perfect Lyttelton ensemble didn't help.
Three of the five leads in Thea Sharrock's production deal as well as they can with Rattigan's sometimes implausible psychology. He was 28 when After the Dance opened in June 1939, a short-lived success to follow the froth of French Without Tears, so unless he was unnaturally precocious in his world-weariness, I doubt whether he could really have understood the mid-life crisis of characters 10 years older than himself.
It all glided into action timelessly enough, once we got past the unnecessary mood music and the audience's readiness to laugh uproariously at every line. The wealthy Scott-Fowlers have been giving parties for the last 12 years in their large but oddly comfortless London flat (ruthlessly evoked by the brilliant Hildegard Bechtler, even if she's used to grander and sometimes more abstract designs). They've been holding court since the mid-Twenties, still trying to keep things the same. There's a licensed jester - Adrian Scarborough, typically not putting a tragi-comic foot wrong from the minute we discover him under a newspaper on the ample sofa - and an impoverished cousin (John Heffernan) employed to type up the husband's less-than-sparkling monograph on the King of Naples.
So far, so good. Nancy Carroll exudes a purposefully stagey but spellbinding vivacity as the lady of house; when Benedict Cumberbatch's David Scott-Fowler enters, he tells us all we need to know with his superbly modulated, bass-baritone-tinged tones about the failed hopes of a superfluous man. But there the links with Chekhov and other Russians stop. You see, this lost chump is about to fall for every cliché in the book and straight into the arms of a young woman determined to put a stop to his cirrhosis-inducing drinking and half-hearted attempts at academic respectability.
The would-be child bride is the stumbling block of the evening - possibly of the play itself, since it's hard to imagine her clipped determination delivered in anything other than period cadences. Faye Castelow tries hard with the Celia Johnson delivery, but never for a minute hints at the pathos that much-imitated actress brought to Brief Encounter and other dramas. Again, it's not clear to what extent we're supposed to dislike this manipulative outsider. But I wonder if we should be totally repelled by Castelow's squeaky, far-from-pneumatic siren. I didn't believe in her powers of attraction for a minute; so the all-too-easy "ask her for a divorce and let's get married" scene at the heart of Act Two is where I lost all patience with these wretched people. Our sympathies are engaged briefly by the rejected wife. Carroll captures the abyss between the mask and the reality chillingly: when she stands with her back to the audience you realise this is the first time we've seen anyone alone on stage and not giving a performance. But even this superb actress makes it hard to swallow the notion that in 12 years of marriage Joan has never told David she truly loves him simply because she's afraid he would find that "boring" (the keyword of the entire play).
Maybe people did behave like that in the 1930s. But Rattigan's encapsulation of a certain attitude needs to be made credible, and here the truthfulness flickered in only a few well-placed, devastatingly simple sentences (mostly delivered by Carroll). As for Cumberbatch's David, the production tries hard to give him a hint of a soul by having him sit at the piano and switch from raucous party music to Chopin. Later Puccini's "E lucevan le stelle" swells in his mind as preparation for the song which very loosely plagiarised it, the Jolson-Rose number "Avalon". It's a lynchpin of the drama, suggesting that music articulates what the characters can't, and it's briefly moving at a key point. But after the shocking denouement, which I ought not to reveal, everyone slips back into type. Following the only really funny scene of the evening, a chat about Manchester with Jenny Galloway's perfect, laconic Miss Potter, Scarborough's jester turns truth-teller, as jesters often do, and the focus shifts back to Cumberbatch. The next scene, with Heffernan overdoing the alienation as the rejected suitor, is as unconvincing as Peter's "solution". We can't help caring about the protagonist of a latter Rattigan drama, The Deep Blue Sea, as incarnated by Penelope Wilton and Harriet Walter. But, for all Cumberbatch's faultless delivery, did I give a damn about the fate of David Scott-Fowler? Sadly not.
Share this article