Less Than Kind, Jermyn Street Theatre |

reviews, news & interviews
Less Than Kind, Jermyn Street Theatre
Less Than Kind, Jermyn Street Theatre
A worthy and unusual start to a year of Rattigan celebrations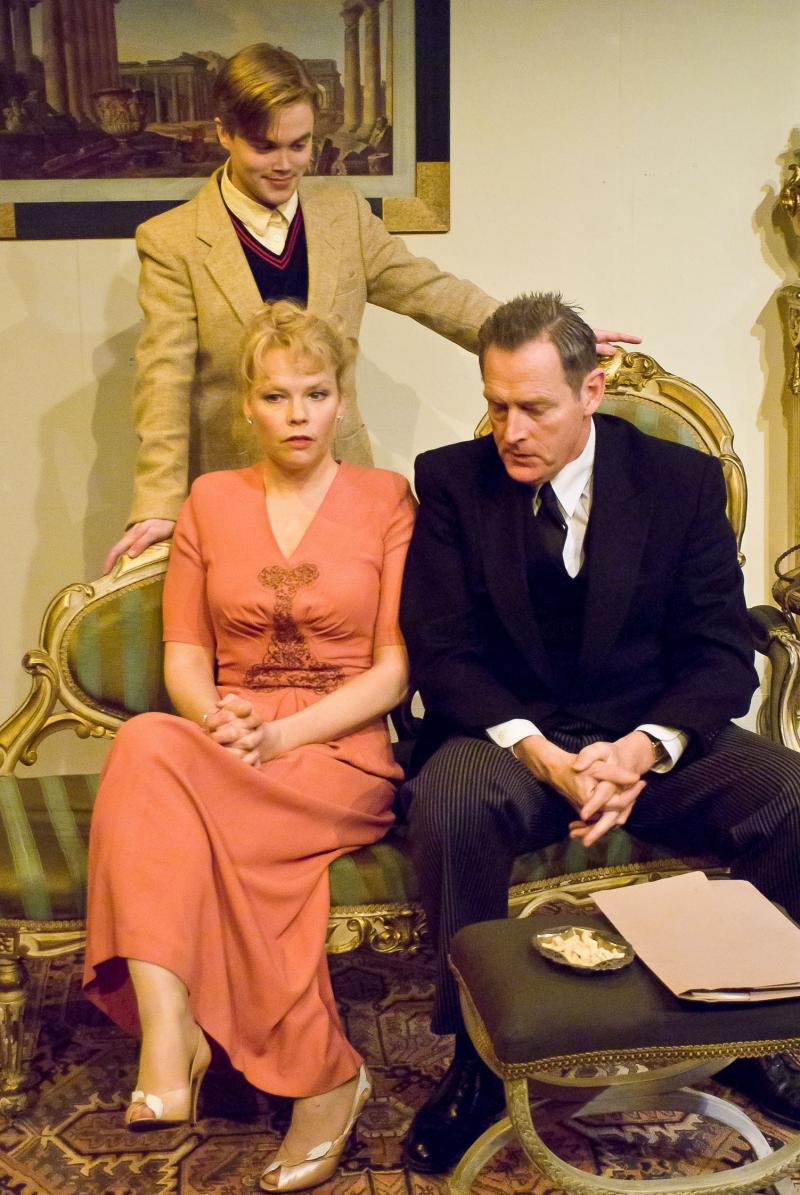 Happy Families: David Osmond plays Hamlet to Michael Simkins's Claudius
"There's no situation in the world that can't be passed off with small talk," claims hostess extraordinaire Olivia Brown in Terence Rattigan's Less Than Kind. It's a maxim that could well serve as Rattigan's theatrical epitaph, the philosophy that allows him to smuggle desperation, frustration and steel-capped social critique in amongst the silk peignoirs and smoking jackets of his drama.
In celebration of the centenary of this newly fashionable playwright's birth, the London stage is to be crowded with his work. Treats from Sienna Miller, Trevor Nunn, Simon Russell Beale and Thea Sharrock promise much, but none can rival the novelty of the world premiere currently on show at the Jermyn Street Theatre.
Originally conceived as a contemporary reworking of Hamlet and vehicle for Gertrude Lawrence, Rattigan's Less Than Kind was to arrive on stage as brittle social comedy Love in Idleness. German bombing raids, Rattigan's own insecurity and the velvet-gloved influence of Broadway husband and wife stars Alfred Lunt and Lynn Fontanne all conspired to create an entirely new drama under whose parasitic weight the original play disappeared completely. Resurrected from the sole surviving playtext, this production represents the first staging of Rattigan's initial creation.
Treading familiar wartime ground, Less Than Kind transposes the opening Hamlet scenario into the England of 1944. Seventeen-year-old Michael Brown (David Osmond) returns home after a five-year absence only to find his mother (Sara Crowe) living in sin with married cabinet minister Sir John Fletcher (Michael Simkins). Forcing his mother to choose between her son and lover, Michael must confront not only Sir John himself but also the seductive capitalist values he represents.
To reframe Hamlet as a comedy (however serious) is a dangerous undertaking, and one not entirely successful in Rattigan's hands. The premise itself adapts surprisingly well, and the conflict between the young and pink moral opprobrium of Michael and the worldly parrying of Sir John makes for an unusual take on father-son tensions. The problem comes with the more literal source references – the proposed theatre outing, Michael's demonstrative wearing of a black cravat – all of which serve only to push the audience back beyond the play's artful frame, effortful meta-theatre that the elegant structure simply doesn't need.
Long before Pinter had his pauses, Rattigan was there with his lack of pause – the flow of fluent, meaningless chatter that conceals every bit as loaded a subtext. Leading the way through some of the author's more felicitous meanderings is Sara Crowe's Olivia (pictured above with Michael Simkins as Sir John). A hostess of Machiavellian skill, her neat social manipulations are balanced by both a moral and maternal sense of duty that rounds out a potentially disposable, Wildean figure. Scattily affectionate – a tragic heroine waiting to happen – Crowe's Olivia provides the emotional platform for the drama, the stable point from which the excesses and exaggerations of Michael and Sir John (as well as Sir John's vacuously decorative wife Diana) may deviate.
All bland stare and smooth cheek, David Osmond's Michael (pictured left with Crowe and Caroline Head as Diana) is a terrifying Haneke-style creature. With a conscience as clear as his very pale skin, he expounds his beloved socialist doctrines, moving between petulant outburst and controlled menace fluently, lacking perhaps just a little of the implied vulnerability. Physically well matched in the tall and handsomely grizzled Simkins, the battle is deftly handled and the reconciliation even more so. Support from a terribly smooth Caroline Head as Diana and Katie Evans as requisite domestic Polton round out proceedings.
The tight space of the Jermyn Street Theatre comes into its own in this production, the enforced intimacy doing away with some of the stagy, nostalgic qualities that can blight Rattigan. Performances instinctively become less projected, action less emphatic, and the result is an uncharacteristically natural comedy. A real find, this archive treasure is well served by director Adrian Brown's delicate handling, and launches this centenary year in worthy style.
The conflict between the young and pink moral opprobrium of Michael and the worldly parrying of Sir John makes for an unusual take on father-son tensions
Explore topics
Share this article