The Knot of the Heart, Almeida Theatre |

reviews, news & interviews
The Knot of the Heart, Almeida Theatre
The Knot of the Heart, Almeida Theatre
Lisa Dillon lands the role of her career as an addict headed ever-downward - or not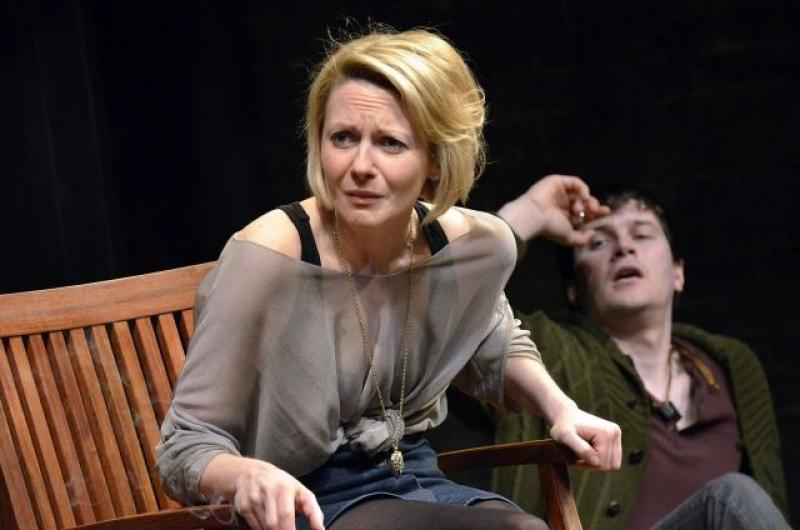 Knotty girl: Lisa Dillon (with Kieran Bew) stars in new David Eldridge play
The Knot of the Heart takes its title from a Sanskrit phrase, but David Eldridge's new play for the Almeida Theatre is likely to speak forcibly to anyone who has witnessed, not to mention experienced, the addiction unsparingly charted across two hefty acts. That the play may hit some too close to home was strongly evidenced on press night by responses ranging from audible sobs to walk-outs and a woman who fainted early on.
Whatever one's reaction to the whole, expect kudos aplenty for Lisa Dillon's supreme lead performance in a role written expressly for her: as gift-giving goes, the part of Lucy represents a generosity at telling odds with the minefield of rancour and self-reproach traversed during the actual play.
We first find Lucy in the garden of her mother's spacious Islington home near Gibson Square, which is to say in the Almeida's own backyard. A children's presenter and rising TV star, 27-year-old Lucy has lost her job as a result of her heroin habit and has come to seek sanctuary (and do more drugs) in the company of her desperately kindly mum, Barbara (Margot Leicester), whose galloping desire to please at all costs is either sensible parenting or vaguely pathetic. Or maybe both, given Eldridge's remarkable ability to see his characters, and their choices, in the round.
What follows are three years in the ebb and flow of Lucy's dependency on smack, a ravaging journey that lands her in hospital, a north-London crisis-intervention centre and, eventually, South Africa - the country used as a metaphor for an individual in a way I've never quite seen on stage before. Lucy's encounters shift between her febrile, emotionally fragile mum; older sister Angela (Abigail Cruttenden), a hard-nosed solicitor whose long-buried familial issues surface late on; and a warm, if insistent, care worker, Marina (Sophie Stanton), who offers Lucy a safe haven that both attracts and repels, contradiction and internal conflict being the names of the game.
Eldridge has clearly done his homework: among those thanked in the published text are numerous medical experts as well as the writer Julie Myerson, whose 2009 memoir, The Lost Child: A Mother's Story, suggests self-evident affinities with this play, even if Lucy is a passionate careerist, not the teenage son of Myerson's book. And The Knot of the Heart transmits a wounding honesty for much of its first act, not least in a brilliantly written and acted encounter between Lucy, who has been raped, and a gay (or so she assumes) male nurse. The protean Kieran Bew is absolutely terrific in that part, as he is playing all the men who come into Lucy's collision-prone life, a TV executive of dubious provenance especially skilfully portrayed.
Compassion warring with prickliness, defiance giving way to vulnerability and fear, Lucy swings between various modes of being and Dillon catches every flickering point on a spectrum veering from self-immolation to sarcasm and snobbery and occasional sweetness, too. "I'm me, I'm my own person," Lucy says, Dillon all the while communicating just how elusive is her character's sense of self. Arguing that addiction isn't just the preserve of council estates and the working class, Lucy at one point looks ashen and rough as if she has been hollowed out from within, and Dillon takes us on a prismatic journey encompassing both darkness and light, the very qualities of which - she tells her mother in their final scene together - the world is made. Those, too, are the poles between which Lucy is seen oscillating in her own closing remarks.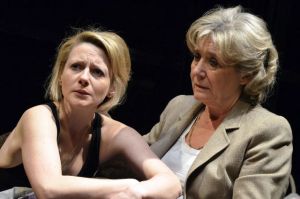 Where the writing doesn't entirely land is after the interval, by which point a freshly imagined case study of addiction struggles to deliver the back story, the play is better when it lives in the present than tries to anatomise the past. We get the inevitable disclosure of the truth surrounding the death when she was a baby of Lucy's dad. That, in turn, is telegraphed with the kind of remark - "The big thing. That no one ever talked about. How Daddy died" - characteristic of Neil LaBute at his most transparent. The shifting alliances within Lucy's family don't make fully organic sense, driven more by a need for convenient parallels and obligatory theatrics than by the first act's sense of life caught on a clearly damaged wing.
That said, under Michael Attenborough's compassionate yet clear-eyed direction, the acting excels across the board, not just Dillon, who - somewhat paradoxically, given the opportunity here for thespian showboating - delivers her least actressy, most honest performance yet. Cruttenden brings a brittle angularity to the role of the "sister" (the word gets used three times in quick succession near the end) who only at the 11th hour seems to connect in any meaningful way to her sibling, while the wonderful Leicester (pictured above with Dillon), eyes ablaze, locates the panic underpinning an observation like, "You look well." That comment, folded deep within The Knot of the Heart, comes awfully close - you guessed it - to breaking the heart.
Lisa Dillon catches every flickering point on a spectrum veering from self-immolation to snobbery and the occasional sweetness, too
Share this article