'I'd never written a play as a single action before': David Eldridge on 'Beginning' |

reviews, news & interviews
'I'd never written a play as a single action before': David Eldridge on 'Beginning'
'I'd never written a play as a single action before': David Eldridge on 'Beginning'
The playwright explores the gestation of his new play for the National Theatre
Saturday, 30 September 2017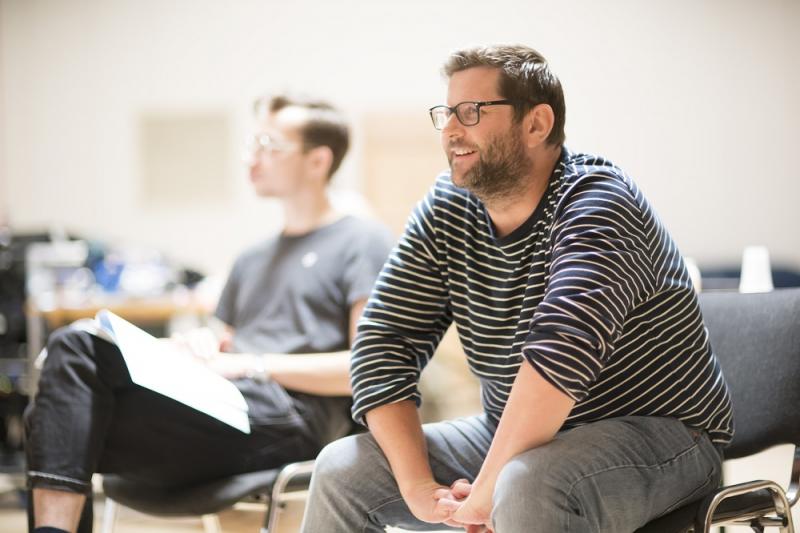 David Eldridge in rehearsal for 'Beginning'
My friend, the playwright Robert Holman, says that the writing of a play is always "the product of a moment". Of course, he's right, but sometimes you have to pick your moment.
In autumn 2015 a TV writing gig hadn't worked out in the way that I'd hoped it might and I had a gap. Sometimes as a writer it's great to find you have little to do but walk a lot, read a lot and think a lot, but I was in no mood to reflect. I had itchy fingers and needed to write. I'd had the idea of making a very detailed naturalistic play, beginning with a man and a woman looking at each other, for years; literally 10 years. But I'd never found my moment. Now I had, so I just decided to write it, if I could. A few weeks later I had a draft. A few weeks later again, I found myself sitting next to an agent at the theatre. She remarked there's something to be said for a "long-gestated play". It struck a chord. All those years of day-dreaming about this thing I'd wanted to write had coalesced in my imagination in a way I'd no appreciation of until I actually began Beginning. And I found all my current preoccupations had discreetly become part of the same thing too.
On screen you're cutting away all the time; and often the cut itself tells the story. A man with red hair walks towards another man with black hair brandishing a knife. Cut to a bathroom as the man with red hair washes blood off his knife. We know he's killed the man with black hair. Job done. But in theatre it's all about sustaining action. Too many scene changes, inelegantly done, make for a tiresome evening in the theatre. I was also interested that in plays and films love scenes tend to last no longer than a few minutes. They don't often feel like encounters as we experience them, when one may or may not manage to kiss someone. I'd never written a play as a single action before and it felt like an opportunity to really write with full commitment the awkwardness, embarrassment and courage it takes to talk to a stranger you've taken a shine to. (Pictured below: Sam Troughton, Polly Findlay and Justine Mitchell in rehearsal for Beginning at the National Theatre)
I wanted to make something which celebrates what I think is the most important collaboration in playmaking – and that's the collaboration between the writing and the actors. Beginning is an out-and-out piece for actors, and deliberately so. And it requires something different from a director than the bells and whistles, and the playful abstraction we have come to associate directing with, in the last decade. My play needs a director who can see the gift for an audience in the putting down or picking up of a drink, who can playfully choreograph two bodies in space with the attention to detail of a crafty manipulator of a masked Greek chorus. The play requires a director who wants to equip two actors with the tools, and to help them find the courage to be in the present tense with an audience for an evening in the theatre without a scene change or a break.
The seed for the story of my play may lie in a funny tale a mate told me over 10 years ago but its concerns are altogether contemporary. I've sensed strongly for some time that, while on the surface there are more numerous ways for us to connect and communicate than ever, for single people in their late 30s and 40s London can feel a lonely place. I wanted to write about that and the courage it can to take now when you get the opportunity to connect with someone in person, rather than on Tinder or Twitter – or Facebook or Guardian Soulmates. I'm from a generation too who learned at school that the world promised us everything. I remember vividly as a 13-year-old hearing in a geography lesson about all the leisure time we'd have to fill as an adult. So much for that then?
For liberal Londoners the last seven years have been a challenging time for their generally progressive beliefs. But when you're writing the world from a first-floor flat in north London it's the disappointments of an aching heart that come fully in to focus. Dreams of careers gone south, houses not lived in because you'll never be able to afford them, broken relationships and soul mates not found.
But progressives like playwrights are nothing if we're not dreamers. Philosopher and somewhat provocateur, John Gray, observes, "Among the many benefits of faith in progress the most important may be that it prevents too much self-knowledge." Perhaps to dream is only what it is to be human and maybe we need to believe things can get better to survive. Even if it's far from certain whether those dreams may ever come true.
I've sensed strongly for some time that for single people in their late 30s and 40s London can feel a lonely place
Explore topics
Share this article