Door left ajar for Royal Ballet star who quit |

reviews, news & interviews
Door left ajar for Royal Ballet star who quit
Door left ajar for Royal Ballet star who quit
Covent Garden remains supportive over sudden resignation of Sergei Polunin, superstar in the making
Thursday, 26 January 2012
A world stage: Polunin as cover boy for the Royal Opera House's 2009 brochure
The young Royal Ballet star Sergei Polunin, Covent Garden's most remarkable male discovery for years, has quit the company in a stunning shock that today sent consternation throughout the ballet world from the USA to Japan.
But tonight Royal Opera House chief executive Lord Hall said that he believed the company should support the dancer in "thinking about his life - the pressures on him are enormous", indicating that Polunin was undergoing a crisis and the door to his company remains open.
The Ukrainian, still only 21, rose rapidly through ranks within two years of joining the Royal Ballet from the Royal Ballet School and was promoted to top rank in 2010 aged only 19, the youngest male principal ever. After a recent performance of Ashton's Rhapsody theartsdesk's critic Judith Flanders wrote that he might be even better than Baryshnikov, for whom the ballet was created. His performance last summer with Tamara Rojo in the Fonteyn/Nureyev vehicle Marguerite and Armand by Ashton was equally able to withstand comparison with the original Armand.
Last night the dancer tweeted on his Twitter page: "Just have to go through one night!!! then will make my next moves."

Royal Ballet director Dame Monica Mason said as she announced Polunin's resignation, "This has obviously come as a huge shock, Sergei is a wonderful dancer and I have enjoyed watching him tremendously, both on stage and in the studio, over the past few years. I wish him every success in the future." Since this is her farewell season as director, and Polunin was probably the biggest new star discovered in her era, this will be a particular blow, not least as it cuts a sudden swathe through the castings for the Royal Ballet spring.
The celebrated ballerina Alina Cojocaru was due to perform the role of Titania opposite Polunin's Oberon in Ashton's The Dream next Wednesday. He was also due to dance two full-length ballets with the rising British hope Lauren Cuthbertson, as Romeo and the Jack of Hearts in Alice's Adventures in Wonderland. (Polunin and Cuthbertson pictured below in Manon by Tristram Kenton/ROH)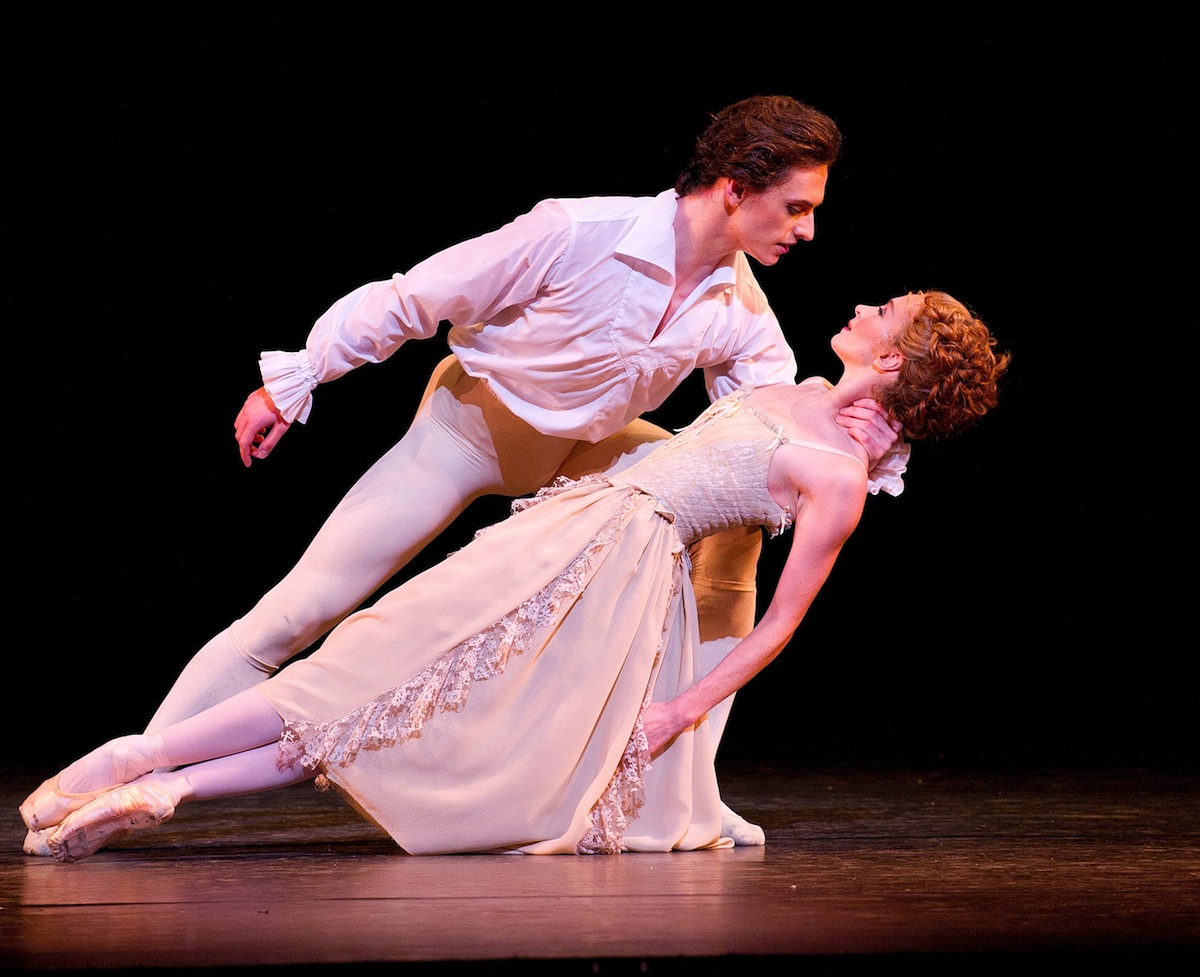 He also had leading roles in all the remaining programmes of the season, notably La Sylphide with Sarah Lamb and a much-anticipated debut with Cojocaru in Ashton's delicate Russian tragedy A Month in the Country.
This Friday Polunin joins another Royal Ballet rebel, Ivan Putrov, in an evening featuring male ballet at Sadler's Wells. Putrov, 31, a fellow Ukrainian and Royal Ballet principal, left the company in 2010 and hooked up with the controversial modern choreographer Javier de Frutos and the Pet Shop Boys for an ambitious Sadler's Wells creation, The Most Incredible Thing, last year.
In recent interviews Polunin has indicated that he wants to do more dancing around the world and has been feeling constricted by his London timetable. He has said that world galas are where the money is - and has also admitted to being both tattooed and the co-owner of a tattoo parlour.
If Polunin chooses to fly so quickly from his nest, he would not be the first male prodigy to do so. Born into a poor family in Kherson, Ukraine, he joined the Royal Ballet School at the age of 13, sponsored by the Nureyev Foundation. A talented gymnast who dreamed originally of the Olympics, he swiftly proved outstanding in ballet and joined the Royal Ballet at only 17. All the top roles have been laid at his feet by Dame Monica, but it was evidently either not enough to retain his interest or too much too quickly.
Tonight Lord Hall took a conciliatory line in television interviews that underscored the tone of Dame Monica's statement - telling Channel 4 News that Polunin needed time to think, and the company would remain supportive of him.
Leaving the nest in youth is more common - and successful - a step for young male dancers than female. Among the Royal Ballet's own top men, Carlos Acosta quit his home company in Cuba at 18 and Johan Kobborg left the Royal Danish Ballet not much older. Famously Baryshnikov and Nureyev both defected from the Kirov in their early twenties.
Ballet companies around the world would pay large fees to have such a handsome and charismatic stylist as Polunin as their star
There are ballet companies in the world who would pay large fees to have such a handsome and charismatic stylist as Polunin as their star - recently the Bolshoi's two leading young stars, Ivan Vasiliev and Natalia Osipova, did what was thought the unthinkable and took up lucrative contracts with the more obscure Mikhailovsky Ballet in St Petersburg, now under the direction of the Spanish contemporary choreographer Nacho Duato. However the Mikhailovsky Ballet are not involved with Polunin's departure, they confirmed.
It is very rare indeed for a dancer to make a move for money alone - it's almost always for artistic variety, or to take a break. The Royal Ballet has had several male defectors in the past 20 years. Adam Cooper, Sylvie Guillem's former partner, left to join Matthew Bourne in 1995 to play the Swan in his iconoclastic Swan Lake. Despite this change of direction, Cooper was invited back to the Royal Ballet as a guest star, and he is now a successful musical theatre performer and director, about to open in Singin' in the Rain in Shaftesbury Avenue. The same Bourne role also lured Royal Ballet soloist Thomas Whitehead for a time, before he returned to Covent Garden, while another leading soloist, Martin Harvey, quit permanently to join Dirty Dancing and is currently appearing in Twyla Tharp's Broadway hit Come Fly Away in the USA.
In 1999 Tetsuya Kumakawa's resignation was swiftly followed by those of William Trevitt, Michael Nunn and Stuart Cassidy to form K Ballet in Tokyo - later Trevitt and Nunn went on to form the Ballet Boyz with a more contemporary feel and directorial independence. Ivan Putrov has criticised the intensity of discipline at the Royal Ballet, favourably contrasting the freelance life of a self-determining dancer, and Polunin, his compatriot and colleague, may well be suggestible to this.

However, not many dancers in any era have possessed such a complete package of classical balletic refinement, glorious natural grace and potent dramatic talent that Polunin has become fêted for by Covent Garden balletomanes, for whom this is a huge and unwelcome shock. In the depth and breadth of the Royal Ballet's repertoire, from ballet-drama to the purest classical style, young Polunin has been a prospect for true greatness.
Watch the 19-year-old Polunin rehearsing Glen Tetley's Voluntaries at the Royal Ballet
Few dancers in any era have possessed the complete package of balletic refinement, glorious natural grace and potent dramatic talent that Polunin has become fêted for
Explore topics
Share this article