Alice's Adventures in Wonderland, The Royal Ballet |

Dance reviews, news & interviews
Alice's Adventures in Wonderland, The Royal Ballet
World premiere of an incurious ballet maxing-out on design and music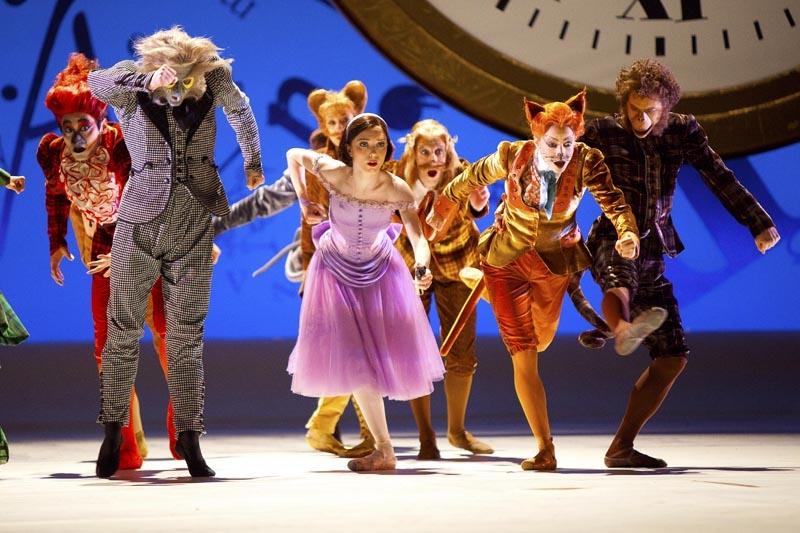 The Royal Ballet's new Alice: A design-led production surrounded as copiously by flying cheques as Alice is surrounded by flying playing cards
Some ballets are drugs in themselves - you're under their sway no matter what the performance. Other ballets need drugs to help. This new Alice's Adventures in Wonderland is definitely of the second kind, a very odd, very shallow, very bright and brilliantly bold staging, that makes no sense, that offers no depth, but which I suspect would be a blast if one were slightly stoned. But to slip a complimentary spliff under the programme's whirligig cover would take it out of the small-children Christmas market that I guess this enterprise is to occupy with the same massive box-office success as the cod-Ashton animalfest Tales of Beatrix Potter.
Possibly this production came into being in giggly sessions between Christopher Wheeldon and his composer, designer and dramaturg, surrounded as copiously by flying cheques as Alice is surrounded by flying playing cards, but rather more brainwashed than she is by the chimera that stage design will answer all problems. (See Charlotte MacMillan's full production portfolio on theartsdesk.)
It looks reassuringly expensive, as you'd expect of the first new full-length ballet at the Royal Ballet since Twyla Tharp's Mr Worldly Wise in 1995. You never saw such a lot of props, video and scenery (Bob Crowley) - even the trees take a bow at the curtain calls. There is a mansion house and garden set, a swirling video thingumajig for the rabbit hole and a cunning shrinking room (pictured left, Sarah Lamb as Alice © Charlotte MacMillan), the Duchess's Grand Guignol kitchen stuffed with huge pig carcasses, castles of playing cards, gardens of flowers and seas of tears, teapots and teacake pouffes. The characters are unstintingly costumed in mad hats, furry ears and whiskers (main picture), with glorious flamingo girls, hedgehog children and a Cheshire cat manipulated by puppeteers. The backcloths, lit in eyewatering primary colours, drop in and out like Christmas cards being stacked on an empty mantelpiece - an embroidered sampler house here, a cut-out garden maze there - the stage's black wings uninvitingly cancelling out any real travel of the imagination from one place to the next.
Much show, but with the White Rabbit's sense of timing. The first act is a diarrhoeic 70 minutes - even MacMillan's toughest dramas drew stumps at 45 minutes per act. This is a gigantic orchestra with weird percussion and ram's-horn trumpets emitting a positive Niagara Falls of picturesque music, two hours' worth. Joby Talbot's been known for the relative economy of film and TV music before, but for his industry, zeal and vigorously eclectic story-painting - with Prokofiev jokes and even Minkus jokes - he's man of the match, though an extraction to a 45-minute concert suite wouldn't be a bad idea. The Royal Opera House orchestra under Barry Wordsworth also deserve bouquets for their infectiously bouncy delivery.
The first act is a diarrhoeic 70 minutes - even MacMillan's toughest dramas drew stumps after 45 minutes per act
Share this article