Limen/Marguerite & Armand/Requiem, Royal Ballet |

reviews, news & interviews
Limen/Marguerite & Armand/Requiem, Royal Ballet
Limen/Marguerite & Armand/Requiem, Royal Ballet
A tale of three eras of choreography, from heated emotion to cool motion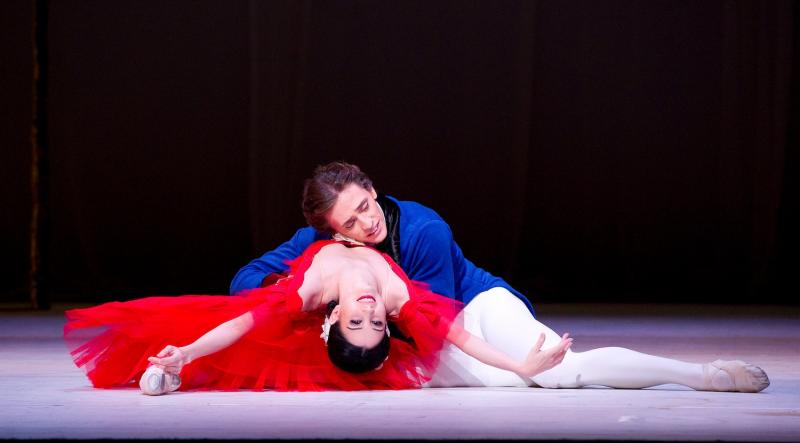 New immortal lovers: Rojo and Polunin as Marguerite and Armand
The cool physical activity of McGregor's Limen, the crimson passions of Ashton's Marguerite and Armand, the symbolic sculpture of MacMillan's Requiem - the weekend's new triple bill at Covent Garden shows three faces of British ballet-making over the past half-century.
While none is the masterpiece of its creator, together they describe an arc over time where lyrical emotion became replaced by gymnastic motion, compression by diffusion, individual idiosyncrasy by a kind of balletic collective.
Do I say, dance becomes less interesting thereby? False assumption. The fact that Merce Cunningham's company was giving their final performance forever in the UK the same night compels me to try to work out why, when Cunningham and McGregor both essentially mined their own trademark seams of movements, and both essentially refused the expressive stimulants possible from ingesting their music and decor, the one seemed always to me stirring and lively, and the other has seemed to me too predictable and narrow in scope.
Variety is part of it - Cunningham's work was hugely various, his methods extreme but effective in stopping him repeating himself, while I wish McGregor could reignite the fresh innovation of his early pieces for his Random dance company when he's working with the Royal Ballet. I find he simply works more interestingly on flat feet than pointe shoes. The obligatory centredness of ballet line leaves his choreography essentially searching for hyper-flexible mavericks like Edward Watson to make something different happen, with a super-extended leg or a super-hunched shoulder, and Watson does this to startling effect in Limen. But for the women, hoiking their legs to 6 o'clock, seguing into a swift pirouette and a serpentine wriggle of body with flaring arms like gymnasts on the beam is so frequently seen in the choreographic writing that it appears to be the limit. Sarah Lamb does it nicely, while Melissa Hamilton gives it a stroppy attack.
It's not to say that Limen is uninteresting: it has a fantastic LED light scheme by Tatsuo Miyajima that would overwhelm the dancers if Lucy Carter did not light them so romantically, and a sighing, smudgy, aurally picturesque cello concerto by Kaija Saariaho, compellingly performed by cellist Anssi Karttunen and conductor Barry Wordsworth. The busy bodies march and lash out their legs, unreal avatars apparently floating untethered among Miyajima's dancing digits, or in front of his twinkling lights. The bit that ventures beyond decoration is an unexpectedly smooth and sensual duet for Lamb and Eric Underwood which has hints of the mystery that occurs between two people dancing together because they have something to say to each other.
This latter is the formula of Marguerite and Armand, a compression of the Dumas tragedy on which Verdi's opera La traviata and Greta Garbo's film Camille are based. Once dismissed as an unrepeatable star vehicle for its 1963 dedicatees, Fonteyn and Nureyev, this fragrant, hothouse ballet was revived magnetically a decade ago by Sylvie Guillem and Nicolas Le Riche at Covent Garden.
Now with Tamara Rojo and the young Sergei Polunin debuting as the mistrustful young lover Armand, here was another pair of exceptional stage artists who weighed out the ballet's period drama and suggestions with the fastidiousness of jewellers.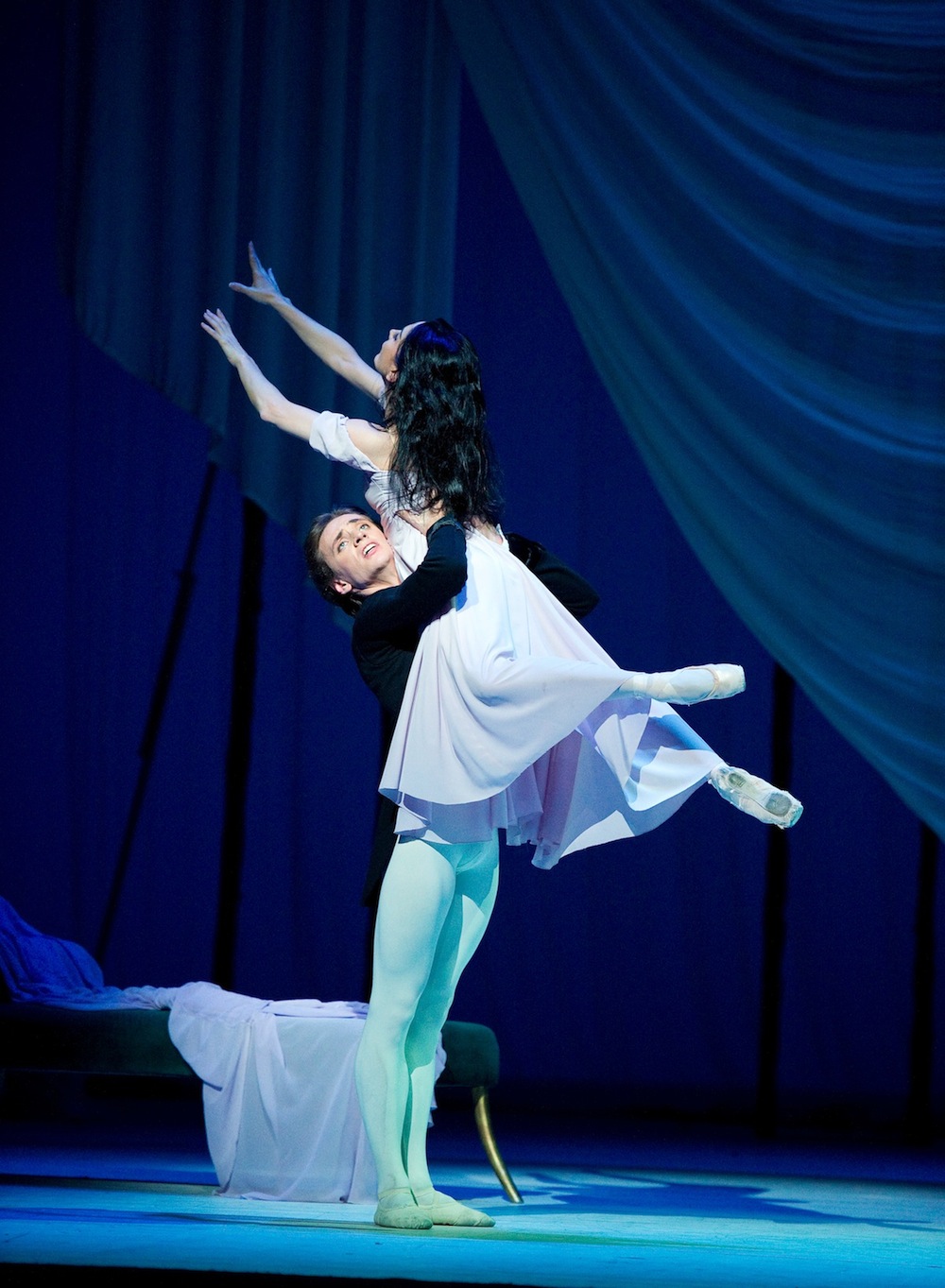 Rojo, looking perfectly sumptuous in the red, white or black dresses created by Cecil Beaton, invests each tiny element of movement with the finely sifted pain of great kabuki performance - she can become still with the force of a lightning strike.
Polunin, given a showier dancing role, uses his classical purity of line like a statement of rectitude. His opening solo, flying on stage as she deliriously dreams of him when on her deathbed (Rojo as the dying Marguerite with Polunin, pictured by Tristram Kenton/ROH), showed the moral force he would generate in the horror of his attack upon her in her salon, a sequence of choreography that registers with jolting violence because it erupts so unexpectedly from the stilted salon manners of the rest. Christopher Saunders, as the father who separates them, was far better than I remember him last time out, doing almost nothing momentously - his most significant movement may be when he shifts his cane from one hand to the other.
I wish Ashton had trusted Liszt's piano sonata enough to let it be played without the slurping orchestration slicked over it by Dudley Simpson in 1977, but then a more capable pianist would have to be found than Robert Clark. The music, used as an opulent aural setting for the story, is the weak aspect of this ballet, whose fascination is in how artists can do less and less in the steps, and make them register more and more remarkably. Rojo and Polunin wiped the slate clean of legendary resonances and created a heartrending new pair of lovers.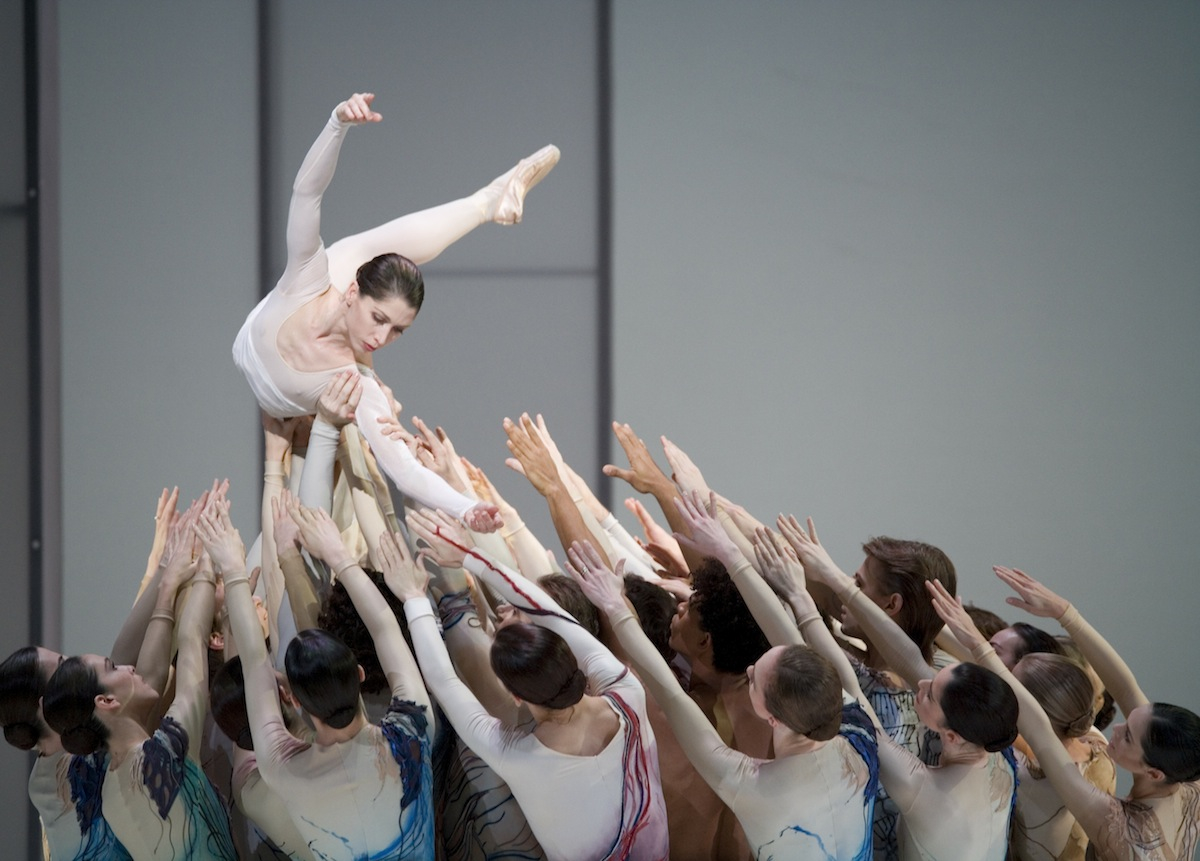 The pulling-power of MacMillan's Requiem ballet is more dependent upon its music, Fauré's Requiem, which is not particularly dansante, and the choreography has to work hard. He created this in 1976 as a memorial for his fellow choreographer John Cranko, his great friend, who died suddenly aged 45.
Celestial pillars of light reach skywards from the radiant stage, one of Yolanda Sonnabend's most ravishing designs for MacMillan's, and the dancers constantly seem to be flying through the sky, the men running on with the women poised like birds over their heads (pictured above © Johan Persson/ROH). The motif of flight contrasts with a hammering, protesting group shuffle for the earthlings, as if railing against divine fate.
A woman in white, like a blessed spirit, darts from the sky and spells out innocence in a charming solo to the soprano solo "Pie Jesu"; she contrasts with the earthier lamentation of another woman, and the man in a loincloth who may be the figure leaving earth for heaven. The religious context is delicately handled, and gives rise to some very beautiful sculptural formations reminiscent of Baroque religious painting.
The Irish blonde Melissa Hamilton again was striking in the earthier role - as she showed in Limen, she has an instinct for colouring abstract graphic shape with strong personality without unbalancing it. In that, she's like Leanne Benjamin (who continues to defy time - can she really be 47?), truly a gifted messenger of choreography. Federico Bonelli and Lauren Cuthbertson were clean-edged but conveyed nothing particularly personal in the other two leading roles, especially by contrast with the soprano and baritone Madeleine Pierard and Daniel Grice, the latter touchingly urgent in "Hostias".
Rojo and Polunin wiped the slate clean of legendary resonances and created a heartrending new pair of lovers
Explore topics
Share this article