theartsdesk on Vinyl 67: Squid, The Beatles, Beach Riot, Black Sabbath, Quantic, Heiko Maile and more |

reviews, news & interviews
theartsdesk on Vinyl 67: Squid, The Beatles, Beach Riot, Black Sabbath, Quantic, Heiko Maile and more
theartsdesk on Vinyl 67: Squid, The Beatles, Beach Riot, Black Sabbath, Quantic, Heiko Maile and more
The biggest, most wide-ranging, regular vinyl reviews in the galaxy
Wednesday, 01 December 2021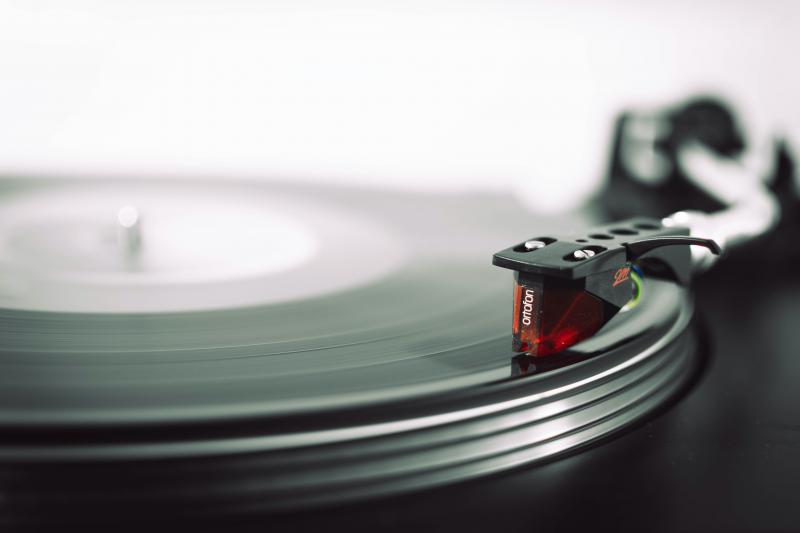 And the beat goes on, and on, on, and on
The first of two December round-ups from theartsdesk on Vinyl runs the gamut from folk-tronic oddness to Seventies heavy rock to avant-jazz to The Beatles, as well as much else. All musical life is here... except the crap stuff. So dive in!
VINYL OF THE MONTH
Simo Cell Yes.DJ (TEMƎT)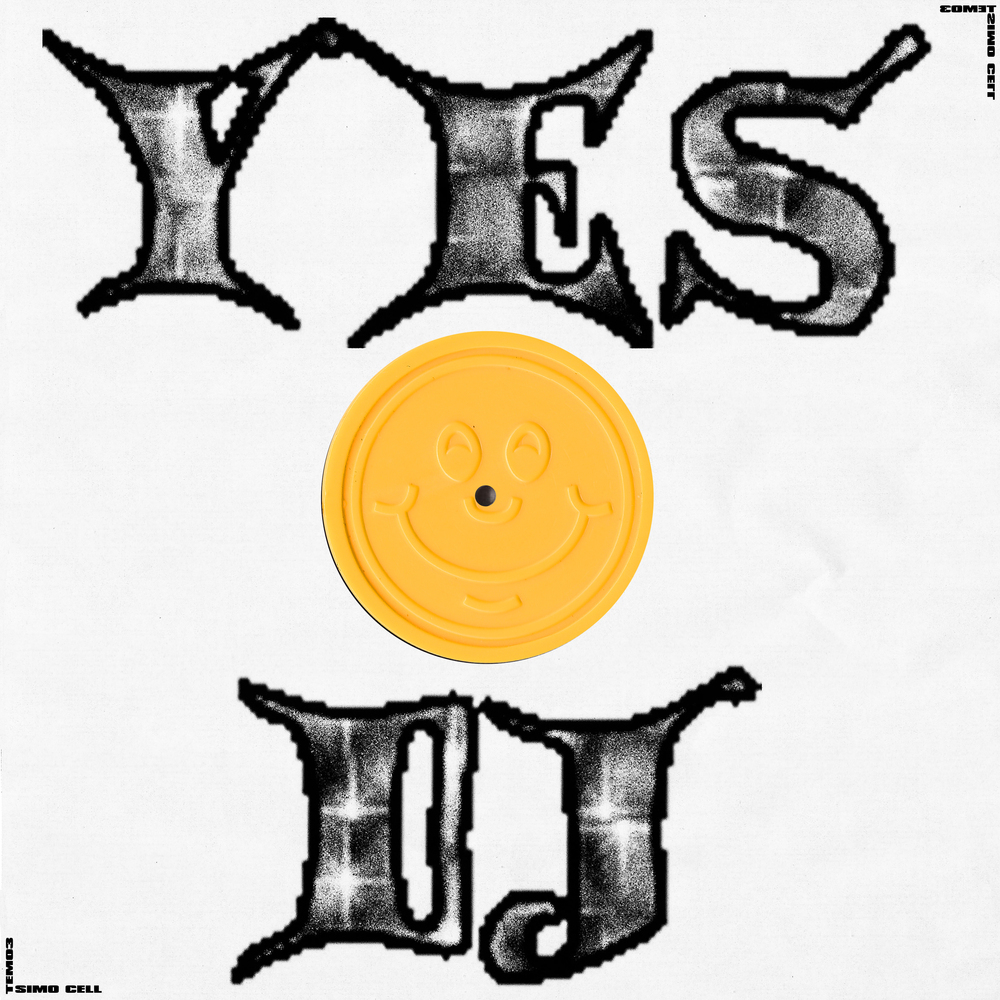 The latest from French producer Simo Cell is a bass-boomin' post-trap six tracker that doesn't play it straight at all. These are the kinds of tunes that should be heard on a giant sound system so that the earth itself rumbles. The enormous head-annihilating spacious tech-dub of "Farts", a highlight, sits easily beside the more manic title track. BPMs are not the point here, Yes.DJ is about sheer WEIGHT... it's earthquake music! The EP arrives with a chunky little photo fanzine of Cell's photos of drinks tokens from clubs and festivals around the world, with commentary. Overall, this EP is vanguard dancefloor gold without a 4/4 in earshot.
Squid Bright Green Field (Warp)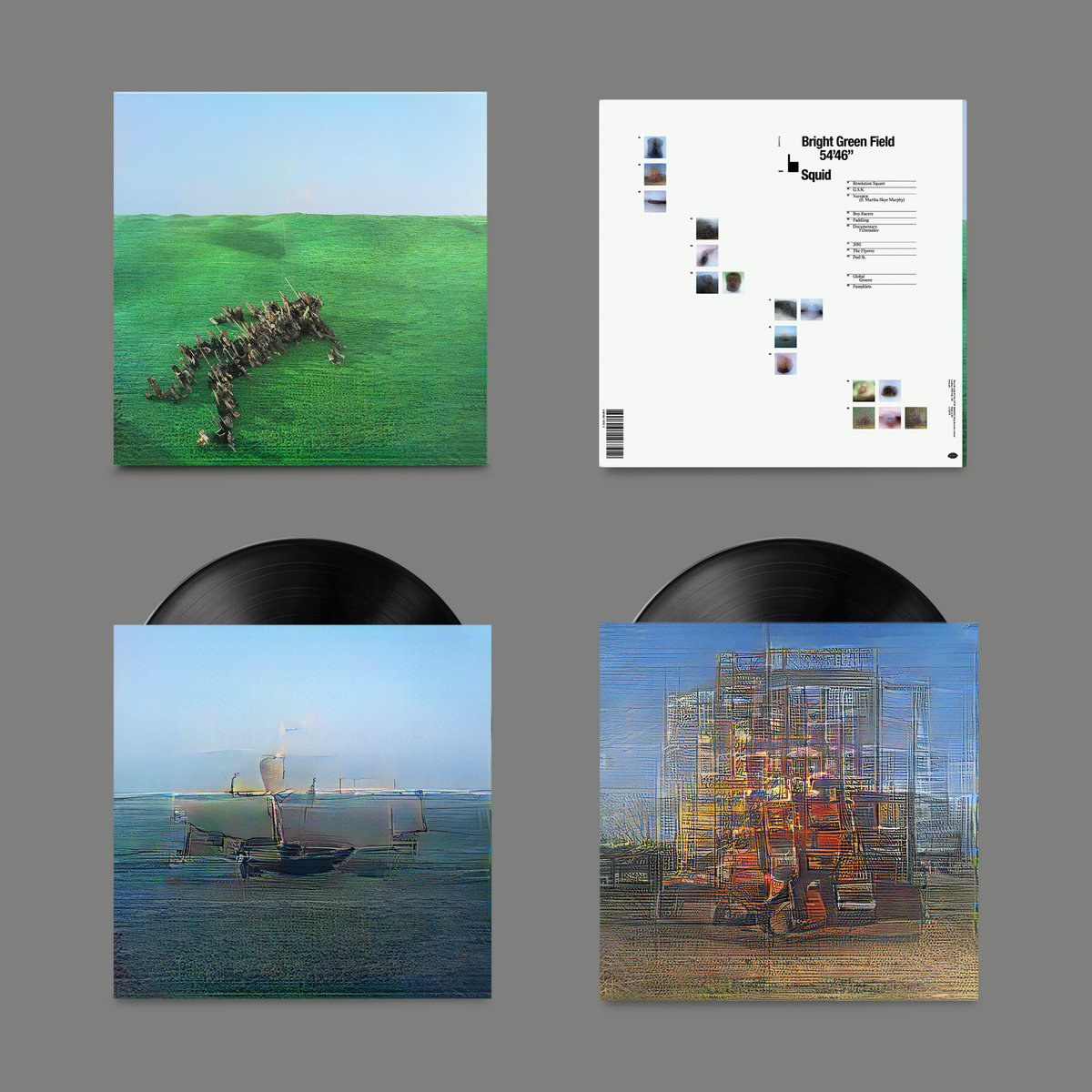 Mind you, this would be Vinyl of the Month, but for the fact it was released in May. I just happened to get my hands on the vinyl so felt compelled to include it anyway. Brighton band Squid have been firmly on my radar since their mighty 2019 single "Houseplants" (which, horrifically, I don't believe is available on vinyl!). Coming on double in lyric gatefold and art inner sleeves, Squid ride that tricky terrain between post-punk and art-rock and, even prog. Most who try this slide into a morass of sexless clever-clever and math-rockin' tediousness, but Squid keep things completely fat-free and biting. Their tightly played angular indie-funk squalls off occasionally into sheer rock attack, topped by the shouty Stump-ish vocals of singing drummer Ollie Judge (playing off brilliantly against the shrieking, breathy female vocal of Martha Syke Murphy on the superbly noisy and dynamic "Narrator"). The tiniest hint of jazz is in there too, notably on "Global Grooves". Observational stream-of-consciousness lyrics return to themes of cars, bikes, films, TV, buildings, shops, and, combined with the music, create a sense of societal claustrophobia and worry, but also the cathartic venting of that. It's one of the albums of the year, without a doubt.
The Beatles Let It Be Boxset (Universal)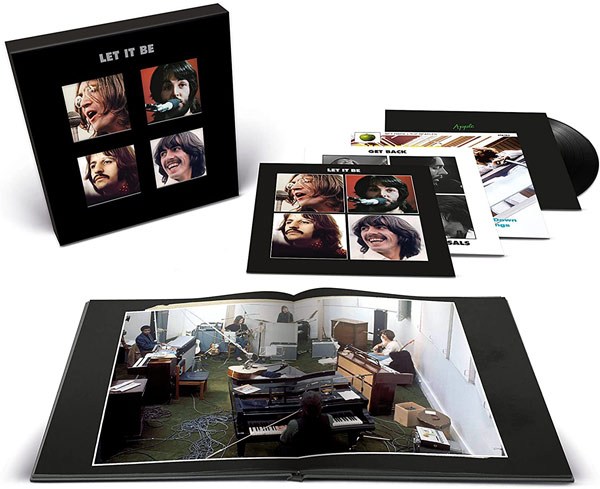 For those who haven't chowed down on enough Beatles after Peter Jackson's behemoth eight hour Get Back documentary, here's the ultimate vinyl equivalent. Inside a boxset with die-cut windows to display each Beatle separately, the ultra-fan will find the original album alongside a couple of albums of outtakes, jamming and studio blathering, some of which is of interest, dragging the listener back to the process of song-building but also to the silliness that allowed an affable looseness to the creative process of this most famous of bands. There's also the Get Back album, the original muted warts'n'all peek into The Beatles' world put together in 1969 by producer Glyn Johns. It was later nixed as the band moved forward to Abbey Road, trailing this unfinished film/concert/live project in their wake (until John Lennon invited Phil Spector aboard to mess about with it, one of the factors in the band's end). There's also the four track Let It Be EP featuring the original Johns mixes of "Across the Universe" and "I Me Mine" and new mixes of "Don't Let Me Down" and "Let It Be". If you want more, there's also a 100 page hardback book full of extra info, with a forward by Paul McCartney. Quite honestly, enough words have been expended on this music lately by people who know a lot more about The Beatles than I do but, to add my tuppence-worth to the deluge, deep-diving into the session material is the most fun, offering raw rock'n'skiffle guitar pop sassiness, interspersed with humour and a healthy disregard for their own myth; just check the raucous Take 10 of "I've Got a Feeling" for evidence.
Audiobooks Astro Tough (Heavenly) + Anna Phoebe Sea Souls (Eat the Peach)
The mighty David Wrench, master of synth-pop antics, returns with a second audiobooks album, his project with vocalist Evangeline Ling. The tracks vary from the strummed, droney head-nodder and not-strictly-synth-pop-at-all "He Called Me Bambi" to the Human League-ish "First Move" to the driving bleep-techno chugger "Black Lipstick". What they all have in common is a lyrically improvised quality, as if the duo decided to stick with the chatty humanity of a first attempt, rather than hone things to something less immediate. It's a good move and a good album. Comes on pond-scum-looking eco-vinyl with three 12" x 12" card inserts; one with the lyrics, one with photos of the pair, and one with paintings illustrating the
songs, presumably done by one of them. And by way of a neat segue, the violin player on much of the audiobooks album is Anna Phoebe, a much-in-demand instrumentalist who also maintains a varied solo career. It's not so neat, though, because the music on Sea Souls could hardly be more different. Rather than arch witty, meta tuneage, Phoebe majors is small ensemble mood music, dipped in the serialist tradition. These pieces have a briney naturalistic feel, as if made for a small low budget film about rusticity. Comes on blue vinyl and gatefold, the latter covered in likable blocky art.
Sølyst Spring (Bureau B) + Love-Songs & U. Schütte [Spannende Musik] (Bureau B) + Heiko Maile Demo Tapes 1984–86 (Bureau B) + Dunkelziffer Colours and Soul (Bureau B) + Dunkelziffer In the Night (Bureau B)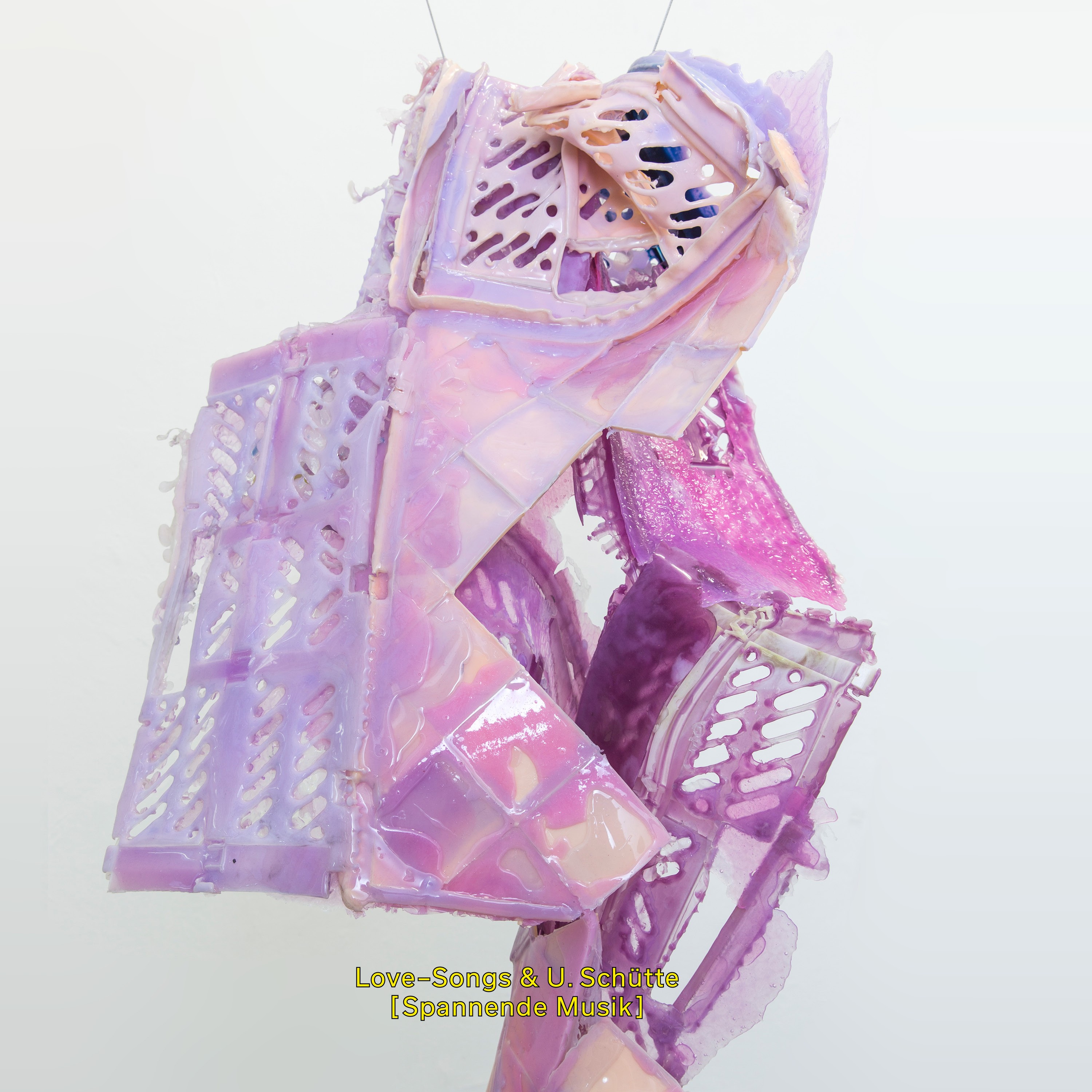 The first of a few label-based reviews this month gathers a plethora of material from Hamburg's electro-eccentric label Bureau B, who generally have something interesting going on, whether new material or archive collections. Sølyst is a pseudonym of Kreidler percussionist Thomas Klein and his fourth album, Spring, comprises eight tracks that run the gamut from the driving, siren-like clank attack of "Sheroes" to the murky, slowed-down experimentalism of the title track to the head-nodding robot plod of "Hold". All of it has a somewhat moody feel but is intriguing, nonetheless. Love-Songs' Nicht Nicht album was a hit with theartsdesk on Vinyl and now they get together with Ulf Schütte of avant-noisies Datashock for an album whose title translates as "Exciting Music". Side one is a collection of
elegantly paced percussive kosmische veering very much towards downtempo and even ambience in places. A couple of the cuts stand out as proper late night brain-gurgling narco gear but for the advanced traveller the relentless chug of the side-long "Langgezogener Hoher Ton", seamed with neurone-firin' wibble and scratchiness, is the one. Of the archive material, a collection of demos by Heiko Maile is a joy for analogue synth fetishists. It's the sound of him trying out new ideas for his synth-pop band Camouflage in his boyhood bedroom and in the basement of his family home. Often lightly touched by an industrial feel, there are minor gems here, redolent of contemporaneous influences such as Kraftwerk or Gary Numan, as well as proto-EBM cuts such as "Murky Water". It's enjoyable synth nostalgia in art/photo/info inner sleeve. Dunkelziffer were an Eighties Cologne-based collective and sequel to the
Krautrock phenomenon, with strong connections to Can and the Phantom Band. Their key contribution was co-opting reggae into the Germanic-psychedelic sound. Bureau B reissues their first and second albums, Colours and Soul and In the Night, from 1983 and 1984 respectively. The former is mostly made up of likeable Afro-percussive groovings, occasionally punctuated by actual punk-skank songs such as "Free", and even dipping into Calypso upon occasion. In the Night is more focused, offering a couple of songs that are close to reggae-pop (especially "I See You Smile") but also hosts of jazz-tinged post-punking (notably the excellent "Oriental Café). For theartsdesk on Vinyl, Bureau B have provided a welcome introduction to an obscure outfit, which is surely what this game is all about. Both come in photo/info inner sleeves.
Emmylou Harris and the Nash Ramblers Ramble in Music City (Nonesuch)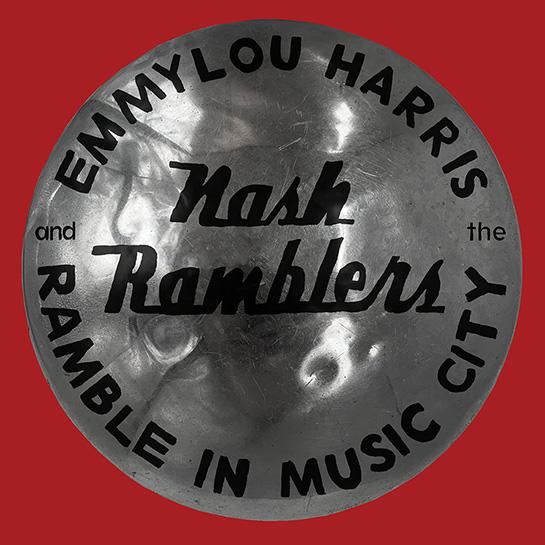 Emmylou Harris has never been one to sit still and, as is explained on the gatefold of this double album, in 1989, she'd worn herself and her voice out performing with her acclaimed electric outfit, The Hot Band. The swerve she took next gave her voice a break – sort of – and allowed her to explore a fresh direction with bluegrass fiddler extraordinaire Sam Nash when they put together the Nash Ramblers band. At the end of the tour that followed, by which time they were working like a well-oiled machine, a recording was made of a show in Tennessee Performing Arts Centre in Nashville in autumn of 1990. A better known live version of this outfit is the Grammy-winning live album, recorded seven months later at the same city's Ryman Auditorium (At the Ryman), but Ramble in Music City, dug from deep in the archives, while tight as anything, has a rough'nready celebratory charm as the band attack songs such as "Mystery Train", "Even Cowgirls Get the Blues" and "Leaving Louisiana in the Broad Daylight" with an undisguised barn-dancin' glee.
Maarja Nuut Hinged (Maarja Nuut)
Estonian folk musician Maarja Nuut is not one to stay still for long. The classically trained Nuut takes "folk" as a loose blueprint but, given her past collaborations with other artists and extensive dabbling in electronica, she clearly regards it as a malleable, global concern rather than a means of bridging solely into localised old traditions. Her third album, collaborations aside, features squirling percussion, electronic noodle and treated instrumentation. On cuts such as the hypnotic, psychedelic "Jojobell" she almost takes us to the dancefloor but, for the most part, she's more interested in examining her songwriting skills and displaying her voice against rustling samples and treated organic instrumentation, all inspired by inheriting her grandmother's farmhouse and creating "an imaginary reunion with relatives". She's in search of that famously elusive ghost in the machine and while not everything is more-ish, there's plenty to retain the interest. Comes on vinyl the colour of a bruising grey-white sky.
Beach Riot Subatomic Party Cool (Alcopop!) + The Brothers Keg Folklore, Myth and the Legend of the Brothers Keg (APF)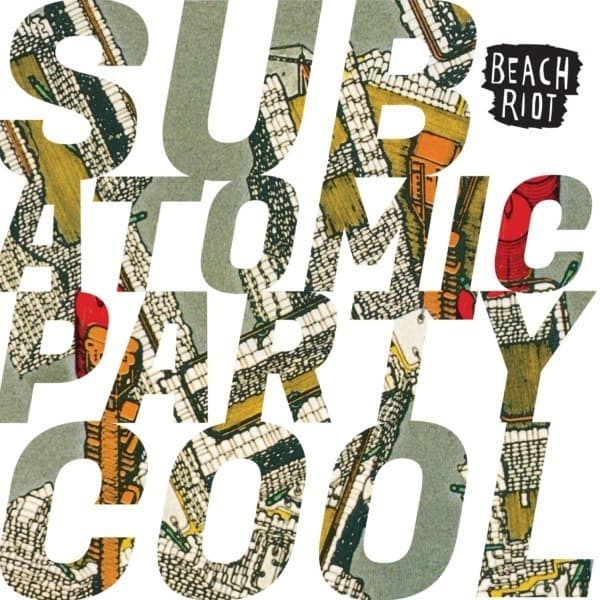 A couple of very different bands who believe in distorted guitars, rock'n'roll and that popular music should come weighted with a certain attitude rather than fleece-wearing nicety. The debut album from Brighton four-piece Beach Riot has that vim but also songwriting variety, with both a male and a female singer, coming in somewhere between Wolf Alice and long-lost Eighties indie chart-busters The Primitives. Balancing grungey bang-bang with choppy post-punkers such as "Sofa Sofa" and twangy, smoky balladic slowies such as "Unrequited Love", they hit it just right. And I bet they're great live too. Comes on this month's fabbest vinyl, flower-striped in red and off-white, with 12" x 12" photo collage insert. Coming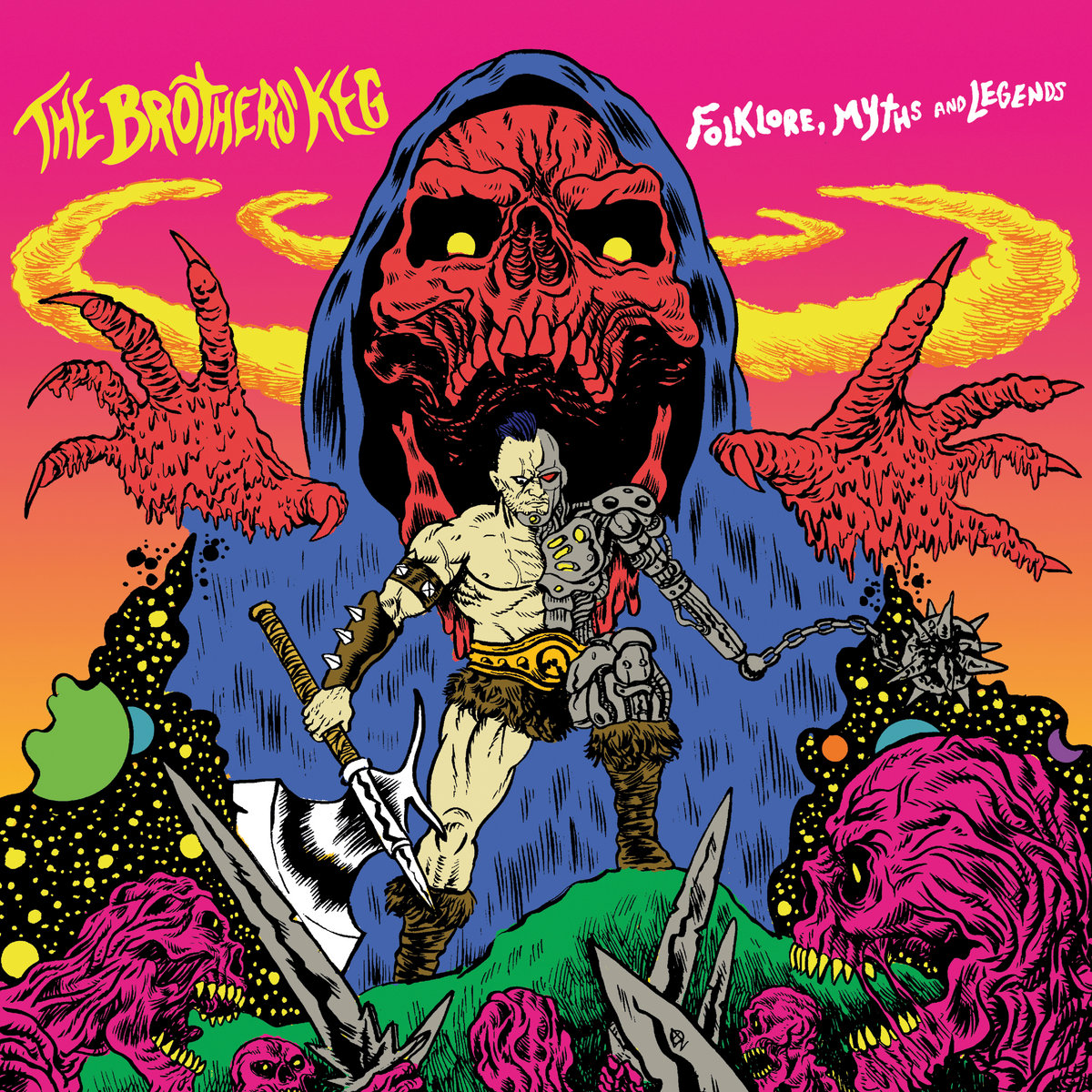 from a completely different place, except for the same fervent belief in messy, riffy guitars, are London's The Brothers Keg, a heavy rock trio with more than a little down-tuned doom in their blood. Their debut is cheap'n'cheerfully recorded but still musters a punk-prog atmosphere as they place themselves in the middle of an unresolvable concept album that's all urgent Dungeons & Dragons/Witcher horror fantasy, replete with portentous storytelling voiceover. Check these lyrics from the excellently titled "From the Records of Arthur Schnee": "They have lived lives without number, assumed infinite forms, beyond the minds of mankind, and amongst the labyrinth vaults of eternity, they have grown." For those who don't wish to engage with all that, the bonged out riffing and well-calculated wooshing Hawkwind-ish ebb and flow may just carry the day. The garish cover art fits perfectly and the vinyl is an equally lurid pink. Comes in lyric/info inner sleeve.
ÌFÉ 0000+0000 (Mais Um) + Rey Sapienz & The Congo Techno Ensemble Na Zala Zala (Nyege Nyege Tapes)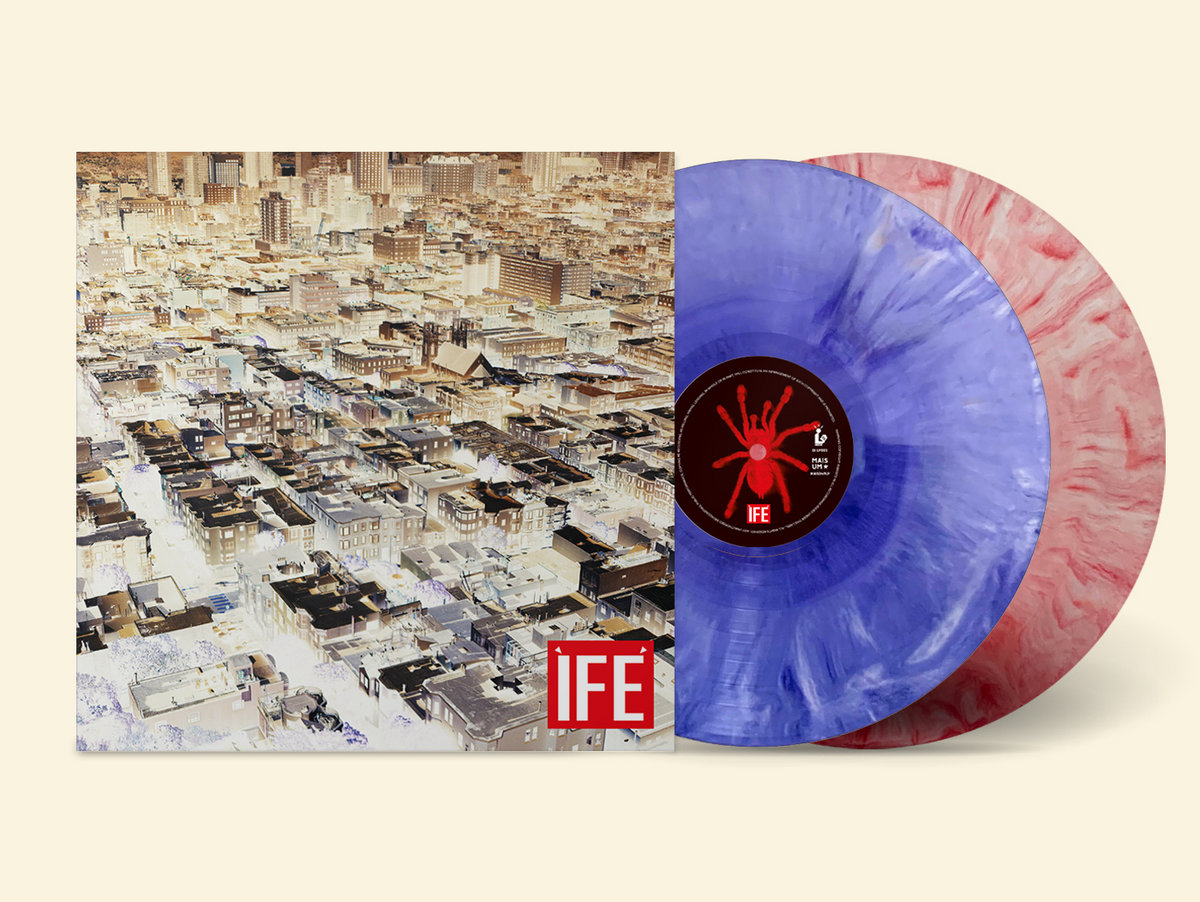 The second album from ÌFÉ has a whole tranche of back story. It is the work of Otura Mun, who is not only a practicing priest of the magical Yoruba religion Ifá, but also an expert on percussion who spent decades studying it in Texas and Puerto Rico. He's now based in New Orleans where this album was created. Enigmatically entitled 0000+0000, it comes on double on art/photo/info gatefold and, while it's ostensibly themed around death and night, it actually emanates an upbeat spirit, perhaps reflecting New Orleans' attitude to such matters. Riddled with incongruous Autotune vocals it's surprisingly pop; Afro-tronic grooves that are cheery and laced with weaving layers of percussion. Featuring an array of local guests, it's not a million miles from in-vogue country-styled hip hop (especially on "Voodoo Economics (Wolfman)" and is a curio of interest as much
because it's so nearly full pop as because it's patently not! Uganda-based Congolese musicians Rey Sapienz, percussionist-vocalist Papalas Palata and MC Fresh Dougis are The Congo Techno Ensemble. Their music is not in the vein of Konono No.1 a Congolese group whose output is often compared to techno sounds. Instead, imbued with an edge brought about by the band's experience of war and forced emigration, Na Zala Zala is more like a starker, harsher Buraka Som Sistema. Their crunching post-hip hop beats, Afro-electro sound, urgent growled and screeched lyrics add up to something with a sense of threat, of brooding, impending trouble, sometimes with an almost industrial underpinning. It's heavy music that deserves to be on the festival sound systems of Summer 2022. It says on the cover that it comes on orange vinyl but it looks red to me.
Black Sabbath Technical Ecstasy Super Deluxe Boxset (BMG)
The latest in Sabbath's ongoing boxset reissue campaign sees one of their least-loved 1970s albums receiving the reappraisal treatment. Originally released in 1976, it saw Sabbath, amid an ongoing blizzard of booze, cocaine and costly legal mess, sitting in very expensive studio in Florida and wondering how they were going to react to the rising tide of punk. Their answer was to confuse their fans, notably with cheery terrace anthem easy-listening pop such as "It's Alright", not a terrible song, but also not a very Sabbath one. Even riff-rock stuff such as "Rock'n'Roll Doctor" seems forced (also not very good). There's some tasty material too; opener "Back Street Kids" has galloping force, as well as lyrics that encapsulate where Ozzy's head was at ("Sitting in the back seat of a shiny limousine/Living in a taxi, can't remember where I've been/Playing my music, sitting in my hotel room/Writing about the stars and thinking about the hand of doom"). The accompanying New Mix album, then, is not hugely invigorating but the rougher-edged, rockin' Outtakes & Alternative Mixes disc is, giving a glimpse into how the album might have sounded if they hadn't coke-produced the life out of it. There are also four sides taken from Sabbath's '76-'77 world tour. These have their moments, notably closer "Children of the Grave". Finally, there's also a 40 page photo/art book and a poster.
Various VANGUARD: Bristol Street Art and the Start of a Global Movement (Vanguard Art)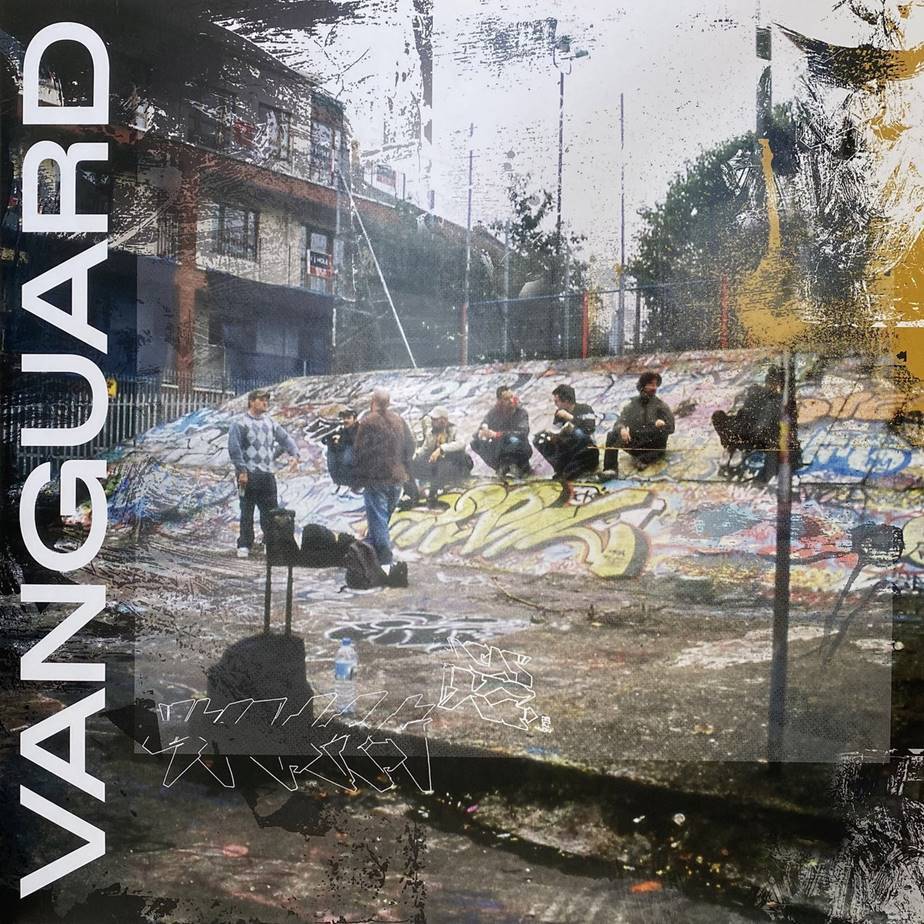 Earlier this year there was an exhibition at Bristol's M Shed Museum celebrating the city's central role in street art (with Banksy's success, it's hard to argue against such a claim!). There was also a Sky Arts Inside Art special and there's a book too. Perhaps less well known is the interlink the graf scene always had with the musical community, although, of course, one of the acts born of that scene, Massive Attack, went on to have a huge impact. There was a very particular 1990s sound, one the UK media came to know, loosely, as trip hop, much to its makers' annoyance. It was exemplified by stoned, loping hip hop breakbeats combined with easy, soulful strings, female vocals, and the occasional lazy rap and culty soundtrack sample along the way. It signified a time and place and this album, compiled by one of that scene's players, Boca 45, sums things up nicely. The big names are here, Smith & Mighty with a great cover of "Walk on By" and Massive Attack's first single, the just post-Wild Bunch "Any Love" (which, in any case, is basically a Smith & Mighty single, but done with Daddy G). On double in a densely written gatefold which lays out the background, these four sides are an insider's perspective on a scene that was as influential as it's visual equivalent, at least for a while (on everything from Portishead to less critically acclaimed acts such as Morcheeba). Other acts on board include the jazzier Purple Penguin, RPM and Numskulls, plus three Boca 45 tracks (!!!). Comes on creamy pink vinyl.
Light Conductor Sequence Two (Constellation)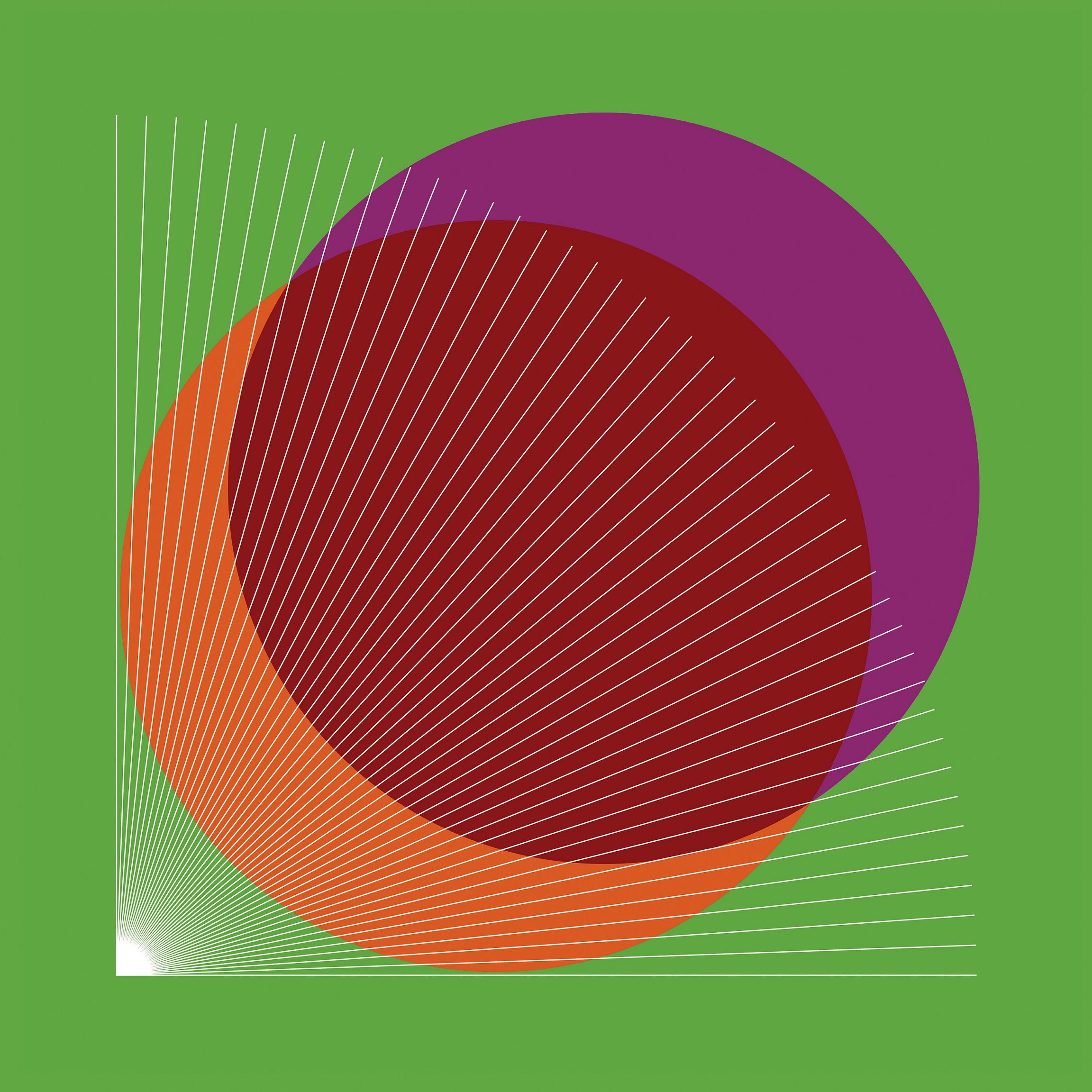 Drone/tone music is a hard thing to get right. Here at theartsdesk on Vinyl, we're sent a lot of it but not much good as it's an easy form to make but a difficult one to make well. Happily, this four track second album by Jason Lasek of Montreal indie outfit Besnard Lakes and Stephen Ramsay of Vancouver indie outfit Young Galaxy is the real deal. Within it, the A-side combination of analogue synths in swirling, twinkling, looping synchronicity, ever-building, somewhere between Philip Glass and late period Spacemen 3, is euphorically effective and an advance on their passable-but-not-essential debut. These two A-side tracks are especially lovely, glittering and pulsing. The longest cut, "Pyramids in Slow Rotation", which starts the second side, is less immediate (if this music can ever be called "immediate"!) and more ponderous, closer to actual tone music, but the ambient warmth of closer "Under a Double Sun" is a bright horizontal brain bath. Comes with a 12" x 12" insert of the striking cover art.
Quantic & Nidia Góngora Almas Conectadas (Tru Thoughts) + Anchorsong Mirage (Tru Thoughts)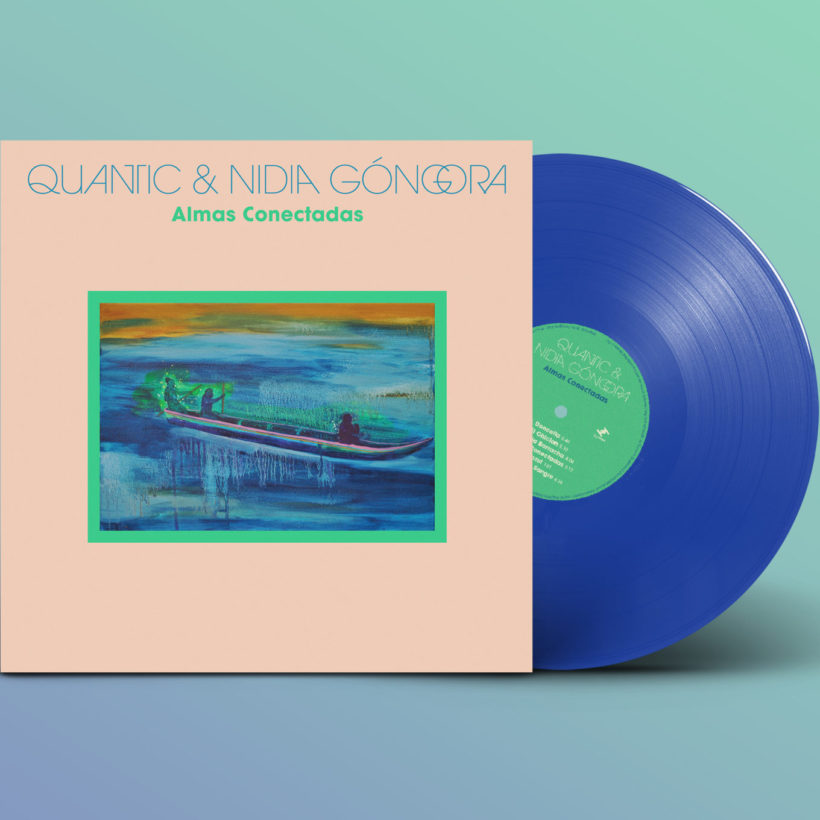 Two from Brighton's prolific and ever-listenable Tru Thoughts label. The second album by Will "Quantic" Holland with Colombian singer Nidia Góngora is a rich delight. Góngora is a queen of marimba in the South Pacific region of her country but works well with the peripatetic Holland, now based in New York. He can sometimes veer too close to tasteful for my ears but she brings out a rawness in his work so that, although it's sugared with soulful strings, what shines though is the celebratory South American folk aspect, her voice along bringing something unique to the party. Comes on gatefold with a 12" x 12" art lyric insert. The fourth Anchorsong album presents this writer with a quandary all music lovers face from time
to time. I like the London-based Japanese producer's work and have his previous albums, however, when I put this on, I could just as easily put one of them on. So why do I need it? It's pleasant and beautifully produced, borrowing elements from global musics, and there are some outstanding moments, such as the puttering, faux-Brazilian "Saudade". It's kind of hipster easy listening and does that very well, magpie borrowing from around the world with jazzy confidence, but, four albums in, it would be cool if he busted my expectations wide open. It arrives on double of eye-pleasing aquamarine vinyl.
Sissi Rada Nanodiamond (Kryptox) + Spiritczualic Enhancement Centre Carpet Album (Kryptox)
Mathias Modica used to run Gomma Records, Germany's go-to home for freaky neo-disco-electro floorfillers, but since 2018 he's focused on the increasingly worthwhile Kryptox out of Berlin. The label claims its territory is jazz but they're as concerned with electronic boundary-pushing and when their output hits the turntables, the listener is never quite sure what they're going to hear. With some of their more outré output, this can work against Kryptox, but with these two releases, they're bang on the nose. Sissi Rada is a rated classical Greek harpist, a singer and an electronic producer. Her wispy Greek language songs float around airily, her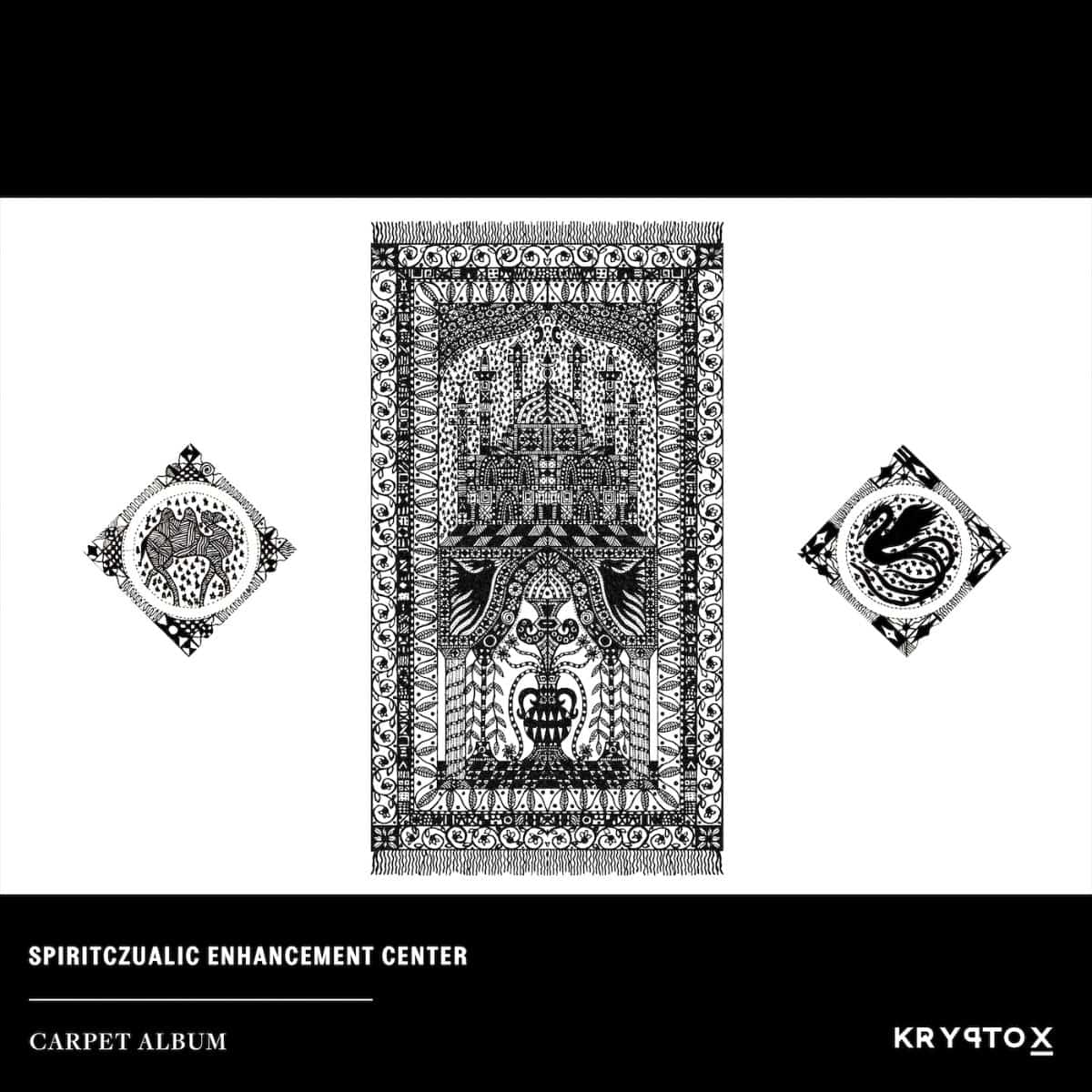 vocals layered into abstract squiggles and machine twitches, adding up to a sound that's palatably leftfield rather than confrontational. Clear-voiced electro-folk sits next to the squidgy dog-whistle meditation of "81948 (2000 OM69)" (produced by Brian Eno) and the sedate harp-backed songwriting of "Blueblack Tomb" (produced by Andi Toma of Mouse On Mars). Spiritczualic Enhancement Centre clearly didn't allow promo concerns to come into their thinking when choosing their name and why would they, since they're a "spectral trance-jazz ensemble with a psychedelic-punk methodology". The press release also tells us that their live shows are "wild happenings" – I'm in! – and that this fourth album was recorded on the hoof as they travelled Europe. There is something of the Seventies Krautrock commune vibe to their music. It's not as wild as Goat but has a shimmering slow-burning power, touched by dub, jammed head music with druggy intent, the rhythm section holding things down while everyone else either leaves things wide open or goes nuts. "Take your shoes off and feel at home," it says, among much else, on the back cover. Why Not! At this rate, Kryptox will be giving Norwegian "mad-jazz" labels such as Hubro, Jazzland, etc, a run for their money.
Charity Children Almost Young (Charity Children)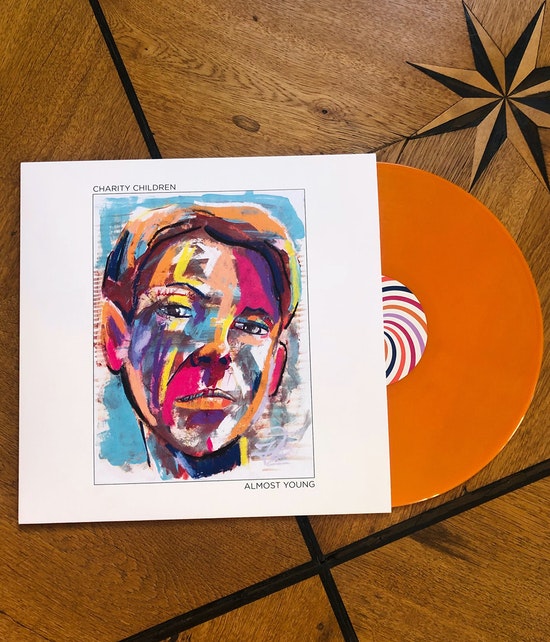 Charity Children are Berlin-based New Zealanders Chloë Lewer and Elliott McKee who were once an item but are no longer. Their third album comes with a photo/lyric inner sleeve which is apt as this band are as much about the words as the music. The opening song, "Kills Me", for instance, which may or may not be about their post-parting of the ways relationship, contains these couplets: "So, I will be your carpet/But let me clarify/Not the carpet that you walk on/but the carpet you can fly". The music is, loosely speaking, guitar pop but also has a baroque songwriterly quality that's closer to musical theatre or the likes of Pink Martini. Comes on bright orange vinyl.
ALSO WORTHY OF MENTION
Aurora Dee Raynes Crazy That You Love Me/The Letter (Tru Thoughts) + Elvis Costello & The Imposters Magnificent Hurt (EMI) + Slaqmajik Something Strange/Liar Liar (Slaqmajik) + Sam Redmore Nagu (Jalapeno) + Spidergawd Protoype Design (Crispin Glover): A selection of 7"s that have come theartsdesk on Vinyl's way. Aurora Dee Raynes is the London partnership between singer Danielle Kranendonk and beats-maker Stephen Raynes. "The Letter" is the one. It's a slow-burning electro-soul throb of feminine rage at a useless lover, delivered with exemplary power by Kranendonk. The other side is OK, a xylophonic jazz-soul groove, typical Tru Thoughts fare, but "The Letter" has real bite. A few more like that and everyone will be paying attention. Preceding Elvis Costello & The Imposters' new album The Boy Named If comes a fine slice of "Pump It Up"-style new wave snap, a rolling discordant and irritated-sounding rhythm section provides tight post-punk neatness to this rockin' cut. His best in a while. The Slaqmajik double-header is great fun. The band is a collaboration between DJ-producer Jonny Beaulaxe and instumentalist NoNameKid. "Something Strange" is a bangin' steroid disco slammer, featuring vocalist Twenea Terrons enunciating the title phrase with conviction, while on the flip singer Breezy Lee lays down soul love protestations against a backdrop of
bass-lathered breakbeat funk. Topping everything off is great cover art (pictured left) from artist Barry Reigate. A collectable package. "Nagu" was created to play at Sam Redmore's Birmingham club night Tropical Soundclash and is classic Jalapeno Records, in that's it's a horn-powered salsa-funk-hip hop jump-around which, with a few drinks inside, might prove irresistible. Finally, on the 7" front, Spidergawd are a Norwegian rock band whose tongue may be firmly in their cheek (or not!?!) as they deliver an outrageous Eighties stadium hard rock cut that sounds like Whitesnake if they bumped into Zodiac Mindwarp, or maybe Steel Panther; grand festival-rockin', bombastic, twin guitar metal fun that doesn't appear to take itself too seriously. Comes on maroon vinyl in transparent plastic outer sleeve featuring band ident.
Jerusalem In My Heart Qalaq (Constellation): Lebanese-Canadian producer-musician Radwan Ghazi Moumneh's ongoing Jerusalem In My Heart art project reflects the troubling realities of the Middle East. His latest album, indeed, is titled for an Arabic word meaning "deep worry" and arrives with parallel film work by his newest partner in Jerusalem In My Heart, Erin Weisgerber. Qalaq is more distinctively piecemeal than his previous album since it's a series of virtual collaborations with artists such as Tim Hecker, Moor Mother and Lucretia Dalt, who deconstruct Moumneh's music without ever taking us away from a chopped about sense of unease, grounded in musical tropes from the part of the world it empathises with. It's a music of busted multi-media, noises of
fuzz and worry, a concept piece that, appropriately, arrives in a sleeve featuring a striking photo (pictured right) by Miriam Boulos, taken in Beirut in October 2019. The inner sleeve art and 12" x 12" insert also feature notable photos, this time black and white ones by Tony Elieh, of the terrible port explosion in the same city. There is also a poetic fold-out entitled Night 3. It's a package of spooked lamentation, not an easy listen but an interesting one.
Dummy Mandatory Enjoyment (Trouble in Mind): The debut album from Los Angeles Krautrock fans Dummy builds all kinds of indie-pop songs around droned-out motorik rhythms. That mining Can, Neu!, etc for inspiration has slowly become a whole sub-genre of guitar-based indie is mostly a welcome development, and Dummy's music veers towards the sweet sound of C86-style Eighties indie, harmonies and fey vocals, but blurred into the backdrop of the ever-present rhythmic hum, whispers of looped electronic bleeps adding colour. Comes on art-info inner sleeve.
Poppy Ackroyd Pause (One Little Independent) + Bremer McCoy Natten (Luaka Bop): A couple of very different modernist piano outings. Brighton's Poppy Ackroyd's previous albums have placed piano at the centre of electronically treated soundscapes and effects but for her fourth she was determined she should be able to play everything with two hands only. This parameter did not stop her going out on a limb ("Suspended", for instance, is played by tapping strings inside the piano). This is subtle, thoughtful music created during lockdown's time of isolation. It doesn't shout at the listener about itself. Neither does Bremer McCoy's Natten (which means "night" in the duo's native Danish). Morton McCoy plays piano while Jonathan Bremer accompanies on bass. It's sleepily delicious comfort music, rooted in jazz but not defined by that genre; gentle reverb and light tunefulness massaging the mind. It's less experimental than Poppy Ackroyd's album but equally ripe for offering an oasis of calm.
Maymind June (Neal Cassady): On a smooth, rolling tip, June is the latest album from established Los Angeles electronic dance producer Maymind. Rather than a collection of DJ tools, the album is a playful set that bubbles along, never upping the BPM ante too far. By the second side, he really takes his foot off the gas for woozy cut-up vocal electro-flavoured cuts and semi-chilled wanderings. It's his individual sort of house music, kind of, underpinned by dub and a warmth throughout that's genial and a little stoned.
Ben Caplan Recollection (BCM): Another lockdown album but don't stop reading; the Canadian singer-songwriter has taken the opportunity to give his back catalogue a stripped-down reassessment. Some it is engagingly lovely – check out the Leonard Cohen-esque take on decade-old song "Drift Apart". Ben Caplan's evocative tones are husky yet emotive enough to add a gruff melancholy wherever required. In an inner sleeve showcasing all Caplan's old albums, it's a romantic late night outing with class.
Eivind Aarset 4-Tet Phantasmagoria (Jazzland) + Bendik Giske Cracks (Smalltown Supersound): A couple of Norwegian avant-jazz weirdnesses for you. To be fair, the Eivind Aarset double isn't really that "avant", it's more a jazz-flecked jam featuring Aarset's pals Erland Dahlen on drums/percussion/vibraphone, Auden Erlien on bass and Wetke Holt on more percussion, as well as all four of them on electronic bits'n'bobs. They begin with a driving Mogwai-ish rockin' cut but this belies the more out-there material, much of which is spaced-out head music splurged with synth gloops and tonally precise feedback. Berlin-based saxophonist Bendik Giske, on the other hand, dives into the avant-garde milieu with aplomb but, happily, his mission is one we're all welcome to join, rather than a dissonant squall. His instrument squawks amid murk and shimmering echo, while the title track doesn't noticeably appear to feature the instrument at all. Cracks is a fascinating work that places the sax amid looping minimalism so that it flutters in and out, like sounds heard through a nitrous oxide haze.
The Milk Carton Kids 10th Anniversary 3-LP Boxset (Thirty Tigers) + Mike Cooley, Patterson Hood & Jason Isbell Live at the Shoals Theatre, June 15, 2014 (Southeastern)
A couple of smaller scale boxsets. Californian troubadour duo The Milk Carton Kids celebrate the tenth anniversary of their second album (and first proper album as The Milk Carton Kids) with a three record set that features the original album, an over-carefully calibrated indie-country wander in the steps of Simon & Garfunkel. The pair have a buttoned-up politeness that's off-putting so it's pleasing to hear the rawer demo material on the other records, some of which I much prefer. There's also live fare that fans will enjoy and a booklet that contains photos, song analysis and an essay by Folk Alley journalist/podcaster Kim Ruehl. More to this writer's taste are the eight sides of concert material taken from an in-the-round acoustic night wherein Drive By Truckers' Mike Cooley and Patterson Hood get back together with their sometime bandmate-now-solo-artist Jason Isbell. Closing with a 12 minute take on the nostalgic teen music memories of "Let There Be Rock" ("I never saw Lynryd Skynrd but I sure saw…"), the set wanders around both the Truckers' career (mainly) and Isbell's too and gives the impression of an intimate celebratory Alabama night out… on blue and red vinyl!
Manu Delago Environ Me (One Little Independent): Hang-player extraordinaire Manu Delago offers an album-length contemplation, as the title hints, of the various environments he encounters in a daily life split primarily between London and the Tyrolean Alps. Appropriately enough, each track has a video to represent its themes but we're here to discuss the vinyl, which runs the gamut from skittering urban sounds, tapped wires and such, in the first half, then runs into more rustic peaceful terrain in the second. Naturally ecological concern is at the heart of it but as a listen it's simply a bubbly pan-centric sonic balm that eventually closes with its only vocal track, the quiet "Footsteps", featuring Isobel Cope. Comes on swirly mauve vinyl in art/info inner sleeve.
Laraaji Flow Goes the Universe (All Saints): Septuagenarian ambient zither and mbira perennial Laraaji seems to be having a moment lately. As in, more people seem to know who he is than at any time since his discovery by Brian Eno decades ago. To celebrate this, perhaps, All Saints Records re-release the nigh-on-three-decade old Flow Goes the Universe, repressed as a double, mastered by Pole's Stefan Betke, and in a gatefold that contains an extensive Laraaji interview. Depending on your mood, it's either wishy-washy new age shop background music – well, it IS wishy-washy new age shop background music! – or the mind may be drawn and soothed. This writer finds the zither material rather nothingy (the exception being the lively, even joyous, "Zither Dance") but the mbira pieces, augmented by found sounds ("live cave sounds"!) achieve a feeling of escape from the busy world.
Lustmord/Karin Park Alter (Pelagic): This is one for the proper goths. Not the ones that want to dance around to retro hammy gloom-rock, but the ones who want to sit in the dark with lighted candles and enjoy slow, morose ceremonial-sounding music. Karin Park of abject Norwegian art-metallers Årabrot provides mournful, almost ecclesiastical vocals while long-standing dark ambient overlord Lustmord builds solemn funereal atmospherics behind. It's not my kind of thing – too morose – but if you were planning a black mass for later this week, it might be just right. Comes on art gatefold with art inner sleeves.
School of X Armlock (Tambourhinocerous): The debut album by Danish indie-electro-popper Rasmus Littauer came out in 2020 but has recently appeared at theartsdesk on Vinyl, presumably the result of manufacturing plant delays (still waiting here for vinyl copies of music that was released at the start of the year). He is a collaborator with his country's musical royalty, the likes of Trentemøller and MØ, and his Empire of the Sun-flecked tuneful vulnerability, occasionally paired with light female vocals, has a now-ish feel that may see his career go places. We will find out when his imminent second album appears on plastic… in a year or two's time.
Soup Visions (Crispin Glover): First off, this is quite a package. The cover of the triple-set in gatefold is covered in treated photography of Lasse Hoile, in a way the gives it a psychedelic iridescence which is eye-frazzling. There's also a 12" x 12" 16 page booklet of his photos, featuring the band against a seascape, and a 12" x 12" lyric sheet that is equally decorated. When the needle hits the blue splatter vinyl records, the ears are treated to a cinematic orchestrated epic by Norwegian band Soup, that could be loosely described as prog but is more lusciously string-swathed and doesn't muck about with time signatures. It's rock in a loose sense but is pushing the envelope. Think Pink Floyd crossed with Pepe Deluxé!
Àbáse Laroyê (Oshu): Àbáse is the labour-of-love project of Hungarian producer-musician Szabolcs Bogná, who's a fixture of his homeland scene and a musician-for-hire globally. Bogná spent months in Rio de Janeiro and Salvador, hooking up with local musicians and recording material to which he then applied a modern electronic jazz sensibility. The result, over four sides, is a light, percussive Latin music with vibrant vocals that's a little too polite to be proper carnival fare but has injected a dose of that spirit into material better-suited to a sunny afternoon café or similar.
AND WHILE WE'RE HERE
There's a bunch of bluesy fare around that's taken the old form and folded it into new shapes. The second album New Zealand-based Brit musician Tom Rodwell is blues-based but explores a variety of song styles on the eclectic laid back Wood & Waste on Fireplaces Records. Literate and thoughtful, and wandering around genres, it's an easygoing affair. Warren Haynes has made a career out of jamming various forms of the blues so it makes sense that his Gov't Mule unit should fire out a double on gatefold Heavy Load Blues (Fantasy) that dips heavily into covers, alongside their own fare. It doesn't do much new but fans of his extended southern US barroom guitar play will be pleased. Brit-based Canadian one man band Son of Dave (Benjamin Darvill, once of Crash Test Dummies) is a reliable live turn, entertaining and with a backpack of well-wrought songs in a bluesey vein. His lastest album, Call Me a Cab (Godamn), says on the back "She dragged home a hundred dollar piano and gave it to him. They shut the doors as the world went mad." Which implies this venture was a lockdown affair. Whatever, it's another decent, playful addition to his catalogue. There's a fab song on The Future (Stax), the third album from Nathaniel Rateliff & the Night Sweats, which arrives on gatefold with a 12" x 12" art card insert by Doug Spencer and lyric inner sleeve. The song is called "Survivor" and amply shows off the album's beefy mastering. It's a stripped back, blues-soul thumper. Elsewhere Rateliff dips deeper into the southern soul heritage he and his record label are known for. He mines this seam well but, again, live would be the best place for it. Moving away from the blues, Bristol bedroom producer Chris Barrett, AKA, Post Yoga, created the whole of his latest album on the Yamaha PSS-170 synthezier and it's a testament to the usefulness of such restrictions, in that the electro-pop plod, combined with his wispy, sad-eyed songs, adds up to more than the sum of its parts. Comes on off-white vinyl. Belgian Seventies/Eighties alt-pop experimentalists Aksak Maboul continue their welcome comeback with two limited edition albums of remixes of tracks from last year's Figures album. Producers on board Redrawn Figures (Crammed Discs) include Cate le Bon, The Notwist, Matias Aguayo, Stubbleman, Shungu, Jordan Fields and Vanishing Twin. The results are quirky and interesting rather than club bangers, often pleasingly odd (check out Carl Stone's "redesign" of "Hotel Duties" for evidence of the latter). Those looking for more dancefloor heft could do worse than lay their hands on the six track record I'm currently listening to, which combines 4/4 no nonsense techno with darkly spacious Euro-electro cuts. However, it's a test press and the only details as to who it might be are the words "Replifact Media" printed on the white sleeve and the permanent markered "needs 009". Make of that what you will…
A welcome introduction to an obscure outfit, which is surely what this game is all about
Explore topics
Share this article