theartsdesk on Vinyl 66: Etta James, BABii, George Harrison, Helloween, Cat Stevens, Gnod and more |

reviews, news & interviews
theartsdesk on Vinyl 66: Etta James, BABii, George Harrison, Helloween, Cat Stevens, Gnod and more
theartsdesk on Vinyl 66: Etta James, BABii, George Harrison, Helloween, Cat Stevens, Gnod and more
The biggest, most wide-ranging, regular vinyl reviews in the solar system
Monday, 20 September 2021
The grooves that give it all
As the summer folds away on itself, theartsdesk on Vinyl returns. Beset by backlogs at pressing plants and delayed by COVID, it's finally here, jammed to the gunwales with commentary on a grand cross section of the finest music on plastic. Dive in!
VINYL OF THE MONTH
God Damn Raw Coward (One Little Independent)
Let's start with some NOISE! With their fourth album Wolverhampton band God Damn continue the reinvigoration that began with their eponymous 2020 Album. There's metal in there somewhere but mostly it's a roaring rage of punk rock, with singer Thomas Edwards howling his indignancy at, well, almost everything ("Your idols are all paedophiles who sold you who you are," runs a lyric in "Shit Guitar"). It's as relentless as it is invigorating; the blistering squawl of "Cowkaine" sounds as angry as a wasp-stung troll who's listened to too much grunge. In fact, every track is a hurricane until the final downbeat meditation "Dogshit in the Autumn Leaves" ("Cocaine off the dirty keys/And a suicide in all the penthouse flats"!). Raw Coward is the sound of band who've been locked down too long, letting it all - and I mean ALL - out. Comes on vinyl the shade of mud-stomped mulberries, with a 12" x 24" lyric sheet/poster of a nude man carrying a hatchet, about to chop up a Henry hoover.
Snazzback In the Place (Worm Discs)
Bristol alt-jazz mainstays Snazzback are one of the city's hardest-gigging bands, also building up a following for their residency at The Gallimaufrey bar-venue. The debut album by the seven-piece lands itself in the middle ground between jazz-funk and hip hop and something more experimental, progressive even. It plunges sometimes into almost-psychedelic episodes of quiet and wibble, then explodes into colourful life with soulful singing (by vocalist China Bowls) and MCing (by Solomon OB and Soss). In the place is a varied journey with sunny afternoon vibes but also less predictable wanderings. Comes with a 12" x 12" art/photo/info insert.
Jim Bob Who Do We Hate Today (Cherry Red)
Here comes the new Jim Bob calendar for 2022, its 12" x 12" 26 pages slotted neatly into one half of the art gatefold sleeve (the sole highlighted date is Jim Bob's birthday!). In the other half of the gatefold is the latest album from the prolific Carter the Unstoppable Sex Machine singer, following straight on from last year's Pop Up Jim Bob. The man has always had a way with a snippy satirical lyric attached it to memorable punk-tinged guitar pop, and time has not blunted his lyrical blade or songwriting skills. Targets run the gamut from gammon blokes ("#prayfortony") to the nutters home-bred by COVID lockdown ("The Summer of No Touching"). There's his usual tendency towards terrace anthem sing-alongs (such as "Song for the Unsung (You're So Modest You'll Never Think This Song is About You)" but equally capable of narrative observational epics such as "A Random Act".
Pizzagirl Softcore Mourn (Heist or Hit) + BABii Miirror (Gloo)
Two albums that mash up contemporary pop recording tech with rock oomph. The second album from Liverpool electro-rocker Pizzagirl (AKA Liam Brown) combines sensitive, contemporary post-emo lyrics with fat-sounding synth'n'guitar pop. Tuneful and noisy enough to have bite, Pizzagirls's music consists of straightforward songs, even with hints of Oasis-style anthemic here and there. It would be easy to imagine him gathering a shouty Yungblud-type following. Comes with a fold-out lyric sheet. Margate artist BABii (AKA Daisy Emily Warne) comes from a more sonically challenging place, somewhere between Grimes,
Let's Eat Grandma and Visionist. Her second album will, apparently, be accompanied by a book, an electronic game and a show. The double vinyl is a work of art in itself, one black but with a silver'n'brown splatter effect outwards from the centre, like a star in the night, the other going for the popular-this-month curds'n'whey look. Enigmatically packaged in art double in gatefold (took me a bit of Googling to find what it even was!), it's too crashing and stentorian to be crossover material, but it's easy to imagine BABii eventually making that FKA Twigs-style journey.
The Fall Are You Are Missing Winner (Cherry Red)
By the end of the Nineties The Fall were collapsing. They seemed to have had their day. A good innings. They'd fallen to pieces on stage in New York in 1998, with the iconoclastic Mark E Smith sacking the band in concert and being arrested later that night in his hotel room on charges of domestic violence. A couple of members held on after this calamity and 2000's The Unutterable album was kind of business as usual, but when those final members left, Smith recruited a new young band who weren't Fall fans ("I don't recruit Fall fans because they have a preset idea that you've got to be miserable"). Thus arrived 2001's Are You Are Missing Winner which is deliberately raw, lo-fi, garage, and an ugly underrated Fall classic. It's a noisy bastard of an album, ripe with unadulterated sneer, and incudes wilfully rough songs such as the excellent "Crop- Dust", a great cover of Lead Belly's "The Bourgeois Blues" (as "Bourgeois Town"), and the cacophonic, demented "Ibis-Afro Man" with its sampled chicken squawks. The reissued set arrives on double with extensive sleeve notes, on vinyl that's half grey and half mauve. It also includes a second disc of tasty bonus tracks such as the acoustic strummed "Rude (All the Time)" (an apt description of the late great prole art threat), the funky two minute "New Formation Sermon", the Stooges-like "I Wake Up the City", and even a track that simply earwigs on The Fall's pissed studio banter entitled "Where's the Fuckin' Taxi? Cunt". The whole thing is a glorious unholy fuck-you mess, just like the best rock'n'roll ought to be.
Polo & Pan Cyclorama (Hamburger/Ekler'O'ShocK/Virgin)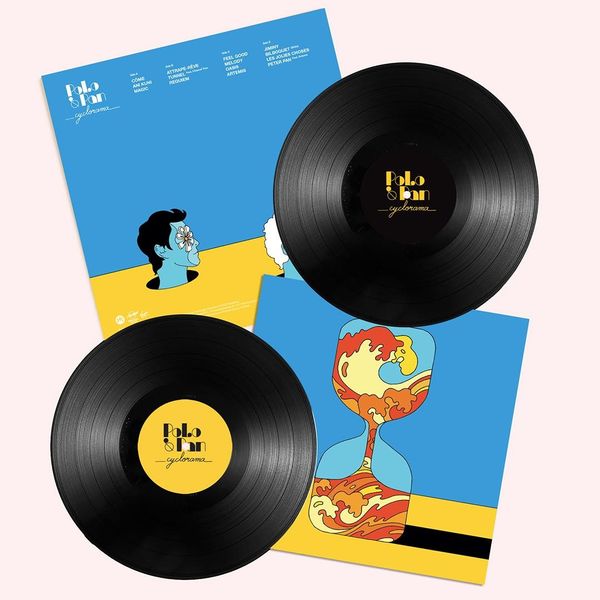 Polo & Pan are Parisian DJ-producers Paul Armand-Delille and Alexandre Grynszpan. I admit I've not heard their first album but their second one has overly sugary dance-pop snap. The big single (if you're French or Belgian, nations where it went Top 10) is "Anu Kuni" a bubbly yacht club frolic featuring childlike voices singing a chorus (actually a Native American hymn) but the album is full of catchy numbers, marinated in that particularly French aptitude for blending cool lounge sounds with exquisite electronic dance production. Songs such as "Tunnel", featuring Californian MC Channel Tres, "Feel Good" and "Jiminy" boast sweat-free yet super-clean tropical dancefloor jollity, but elsewhere the sounds slow down for creamy soundtrack kitsch. On double in art/info gatefold, many will find Cyclorama too opulently trite for its own good, smugly frivolous even. It is, indeed, too Gallically twee to be consumed in one sitting, but dip in and but there's much here to raise the spirits.
Etta James The Montreux Years (Montreux Media Ventures/BMG) + Nina Simone The Montreux Years (Montreux Media Ventures/BMG)
Two releases collecting live work by two of the greatest black American female singers ever to grace the microphone. Indeed, simply two of the greatest singers of all, full stop! Drawn from the archives of the late Claude Nobs, who created and oversaw the Montreux Jazz Festival from the mid-Sixties onwards, both are double albums on gatefold with extensive sleeve notes. On the Etta James set, those notes are by her press agent Bob Merlis. James is one of the most influential singers ever. It was her unique soul-screech that Janis Joplin imitated, in turn adopted by Robert Planet of Led Zeppelin; from there it became the default setting for heavy metal frontmen, from Iron Maiden to Guns N' Roses and far beyond. It therefore came to dominate popular music in a way she surely didn't anticipate. The Montreux Years set collects together prime cuts recorded between 1975 and 1993. It combines brassy Muscle Shoals-style stompers with gut-ripping slowies, such as "I'd Rather go Blind". James can swerve from heart-rending pleading to raw shriek-singing in the space of a few bars, and does it so convincingly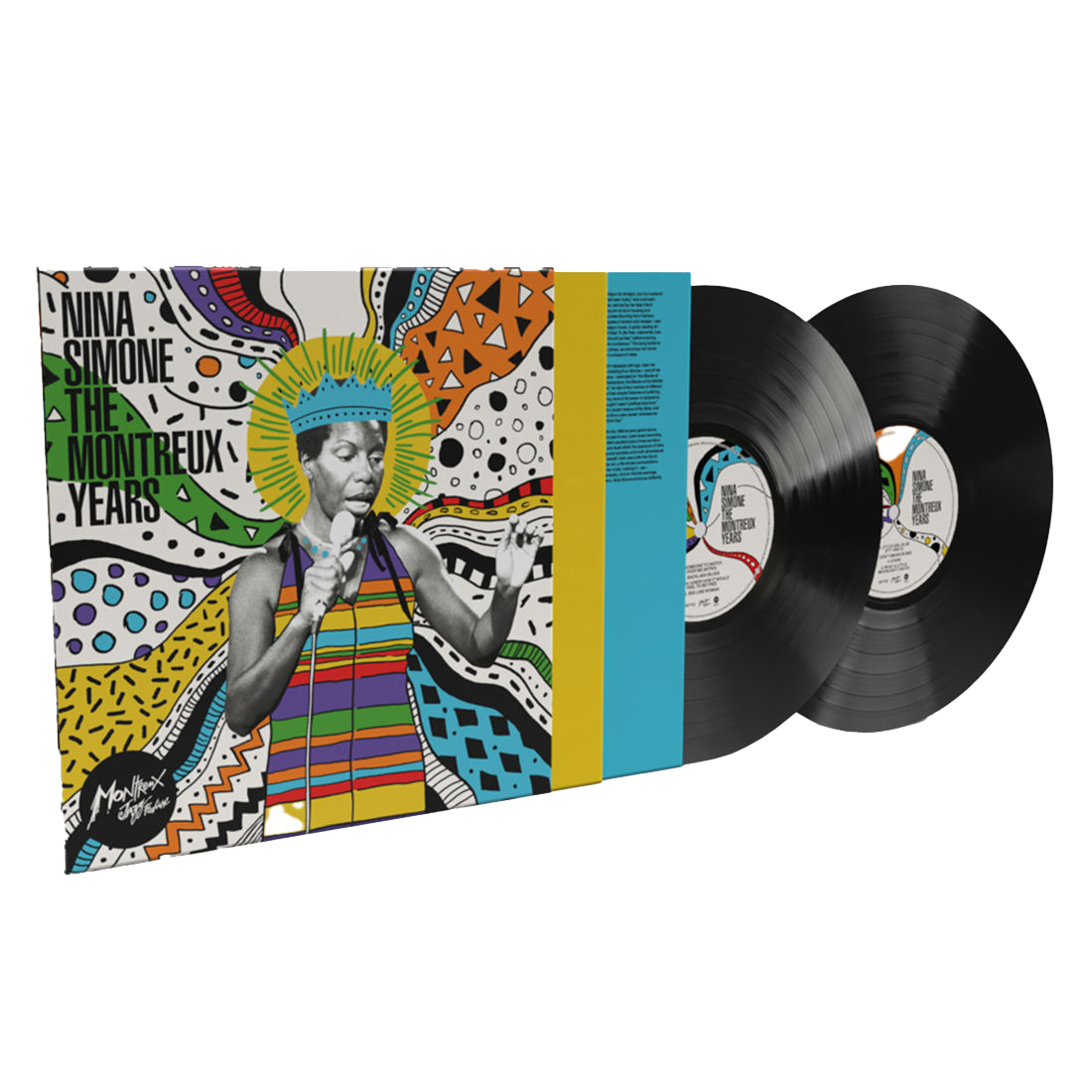 the listener is simply swept along in her wake. The Nina Simone set draws from performances between 1968 and 1990, and has inner sleeve notes by music journo Stevie Chick. Where Etta James is a raw ball of fire, Simone's set has a pared back jazz complexity within which she resides with humour and a socially aware don't-mess fierceness While partly dominated by exquisitely pared-back piano-accompanied songs, there are also moments such as the Afro-percussive "See-Line Woman", the pure drum attack of "African Mailman", and a celebratory sing-along version of "No Woman No Cry". Even the worn-out "May Baby Just Cares For Me", accompanied by crowd clapping and bongos, sounds good! Nina Simone is revealed, once again, as one of popular music's few true geniuses. Both sets include rarities never heard on record before.
Kasper Bjørke Sprinkles (hfn)
Seventh album from a Danish DJ-producer who's been around for at least a decade. A brilliantly abusive online review calls it "Sterile phoned-in bilge [that's] emotionally bereft, directionless, and ultimately pointless, written for people who have absolutely no interest in music, by someone with too much money and time on their clickety-click digits." Ha! I sympathise with the perspective as I'm sent a good chunk of electronica that perfectly fulfils this description, music made in home studios that may be therapy for the maker but has little use beyond that. However, Sprinkles is not such an album. It's noodly, sure, but then it is also simply pretty. This is calm music, the dreaded chill-out. It even has pan pipe noises on it! But unlike much music of this sort, it seems unforced and genuinely soothing, with enough bubble and roll and slivers of tune to hold the attention. Yes, it's not gonna jump up and grab you by the ears, but it stood out here amongst piles of music that, whether loud or not, didn't have such genial sonic hookiness.
Cromby featuring Tee Amara Qué Sientes (Phantasy Sound) + Dub Smugglers Sound System/Gnod Nuevo Comienzo 2021/Paint It Blacker (Golden Lion Sounds) + Crazy P/Jane Weaver Make Me Feel It/Mission Desire (Loops Variation) (Golden Lion Sounds)
Three singles that deserve attention. "Qué Sientes" by Berlin-based Irish DJ-producer Cromby is a dementedly fast electro-battering on 12" with dry Spanish spoken word lyrics by one Tee Amara over the top. It's almost too frenetic to do much with except wriggle about like you've been electrified, such is the lightning energy. More manageable (which I'm not suggesting is a good thing!) but almost equally worthwhile is the remix by Nicola Cruz which slows things down and mutates them into a tasty squiggly, acidic, technoid roller. Also on board is an instrumental of the original. Meanwhile, up in Yorkshire,
Todmorden's venue The Golden Lion has been firing out a series of limited edition 7"s on coloured vinyl. The two that theartsdesk on Vinyl have got our hands on are a transparent yellow one featuring Manchester's Dub Smugglers Sound System with a convincing On-U-on-techno-style cut and, on the flip, a pared back remix of Salford band Gnod, a thing of skittering, sparse beats and pings with the shouty vocal holding it all together. The other 7" is aquamarine in colour and contains disco-housers Crazy P with a sedately paced but typically upbeat hip-swinger, and prolific Mancunian alternative pop musician Jane Weaver with a trip hop breakbeat'n'vocal head-nodder, the latter originally available on her Loops in a Secret Society album on Fire Records a while back. Of the three, all tasty in their ways, my favourite is the Dub Smugglers Sound System/Gnod 7".
Madness The Rise & Fall (BMG)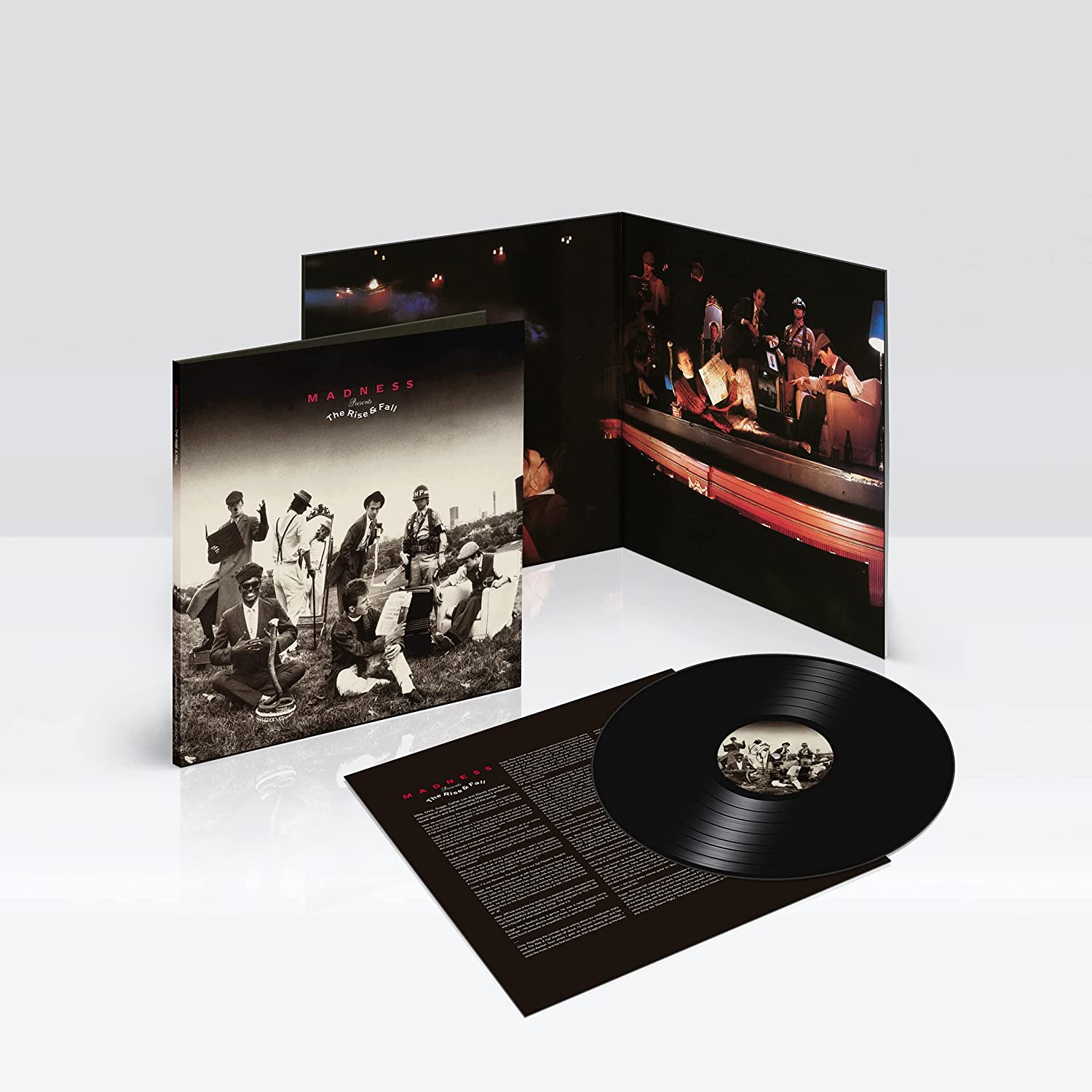 By November 1982 Madness were in their total pomp, peaking, riding the back of "It Must Be Love" and their sole chart-topper, "House of Fun", as well as the monster success of the singles collection Complete Madness. They had one more behemoth single up their sleeve, though, and it was on this album, "Our House", their only US Top 10 hit. This isn't to say that Madness were close to winding down, mind, but their imperial phase was coming to an end. The Rise & Fall captures them at a golden moment, as the band make clear on their extensive inner sleeve notes. On phot0 gatefold, the cover art has each band member "acting" one of the songs (keys-player Mike Barson in brown-face would not wash now but the intent is innocent enough; simply to represent the song "New Delhi", about his experiences as Londoner visiting India, overwhelmed by the experience). Originally intended as a concept album, it still loosely is, about London characters, but then so are all Madness albums. On board are gems such as a the maudlin "Tomorrow's (Just Another Day)" and jazzily moody "Madness (is all in the Mind)", hints at where the band would be, musically, within a couple of years, as does the melancholic oddity "Are You Coming (With Me)", but the stomping anti-Tory sing-along "Blue Skinned Beast" showcases a continued ability to construct singalong anthems.
Various Eddie Piller presents The Mod Revival (Part 2) (Demon) + Various Gary Crowley's Lost 80s Vol.2 (Demon)
Two double. sequel sets that celebrate music of the 1980s. In the case of the second volume of Eddie Piller's mod collection, there's also a sprinkling of songs from the end of the 1970s. Actually, there are even a couple from much later, such as Inspiral Carpets' "Saturn 5" and Ocean Colour Scene's "The Day We Caught the Train", but the majority of the set is dominated by Jam-influenced bands from the post-punk era, opening with Shane McGowan's pre-Pogues outfit The Nips and their snappy power popper "Gabrielle". It's a looser set than Part 1, drawing in more peripherally mod artists, so that for every long-lost Lambretta classic such as "Blood Spattered with Guitars" by The Accidents, there are more off-beat choices such as "Looking for Lewis and Clark" by Californian's garage-tinted country-rockers The Long Ryders. The memorabilia-laced inner sleeves, with fulsome sleeve notes by Piller, are also a bonus. The Gary Crowley set has even deeper-digging sleeve notes. His collection, like its predecessor, celebrates aspects of the Eighties less typical and renowned than, say "Rio" by Duran Duran or, at the other end of the spectrum, Psychocandy by The Jesus & Mary Chain. Instead Crowley's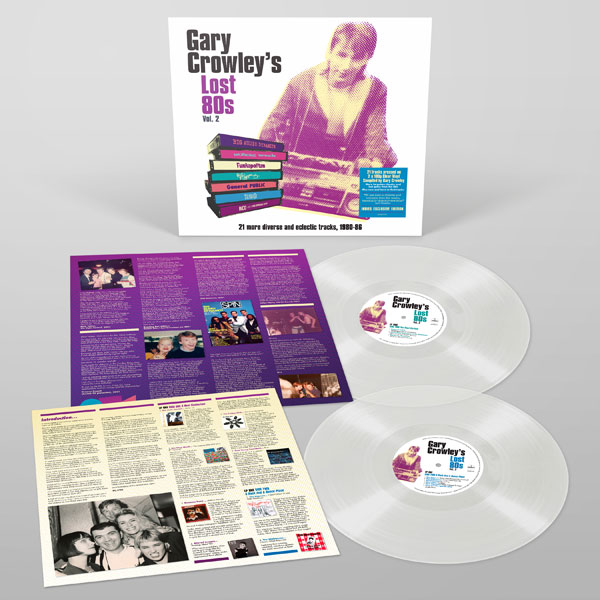 focus is – although far from solely – skittering indie-funk that often underpinned the decade from Orange Juice onwards (they're not on here), often with an injection of then-new synth technology. It's typified here by the frisky, dancefloor-friendly "The Secret Life of Arabia" by B.E.F. featuring Billy MacKenzie or, at a punkier level, by The Higsons' "I Don't Want to Live with Monkeys!". The final side showcases the Eighties stepping towards the wave of post-acid house dance music that was to dominate the next decade, with ahead-of-their-time 12" mixes by Colourbox, General Public and Big Audio Dynamite. It's a vibrant set, perhaps even more so than its predecessor (which, maybe, felt obliged to include more "names"). Final mention to Bananarama's cover of Sex Pistols' "No Feelings" which is a belter and, somehow, I'd never heard before!
Everything But the Girl Eden (Buzzin' Fly)
It was 1984. The NME were encouraging us to like jazz made by socialists. Groups such as Working Week played council-funded anti-Thatcher free festivals. In this milieu The Style Council were hip politics incarnate. And, late at night, when badge-covered students became intimate by tea-light, inevitably, Eden by Everything But the Girl would be on the stereo. The debut album by Ben Watt and Tracy Thorn as a duo completely embraced the post-"new pop" ethos of the era, leaving the vulgarities of punk behind to find a new way forward. At the time, I found Eden an irritant but, of course, it's a gorgeous album, the songwriting is tight, the instrumentation perfect, by classic jazz players Watt had sourced, coming to the fore on the instrumental "Crabwalk". The big tune is heartbreak anthem "Each and Every One", but the whole album is lyrically astute and gets under your skin. Back in the day it would always be on when I'd have preferred The Ramones of something. I didn't get it. I do now. Comes with 12" x 12" lyric/info insert.
Cat Stevens Harold and Maude: Songs from the Original Movie (Island) + Various Paura: A Collection of Italian Horror Sounds (Decca)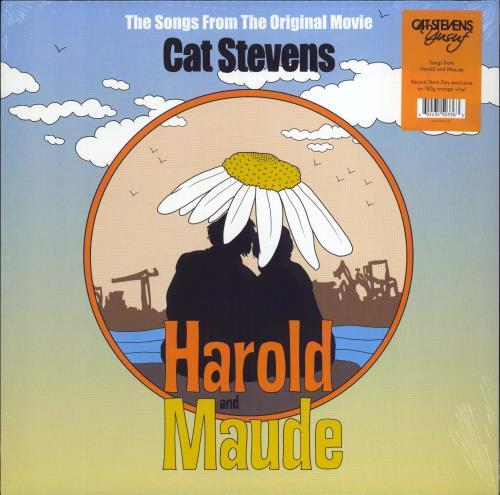 A couple of juicy film soundtrack outings. Hal Ashby's Harold and Maude is a classic from the golden 1970s era of US independent cinema, a film as oddball in tone as its central characters and plot exposition, but, to its fans, that's the joy of it. The music from it was mostly purloined from Cat Stevens' two albums Mona Bone Jakon and Tea for the Tillerman, including the title track of the latter. Stevens was riding high at the time, and also contributed a couple of extra songs, "Don't Be Shy" and "If You Want to Sing Out, Sing Out". His music is embedded in its era, at once gentle and easy, but also thoughtful, with a philosophical searching edge, entirely suiting the film. Comes on cartoon art inner sleeve on bright orange vinyl.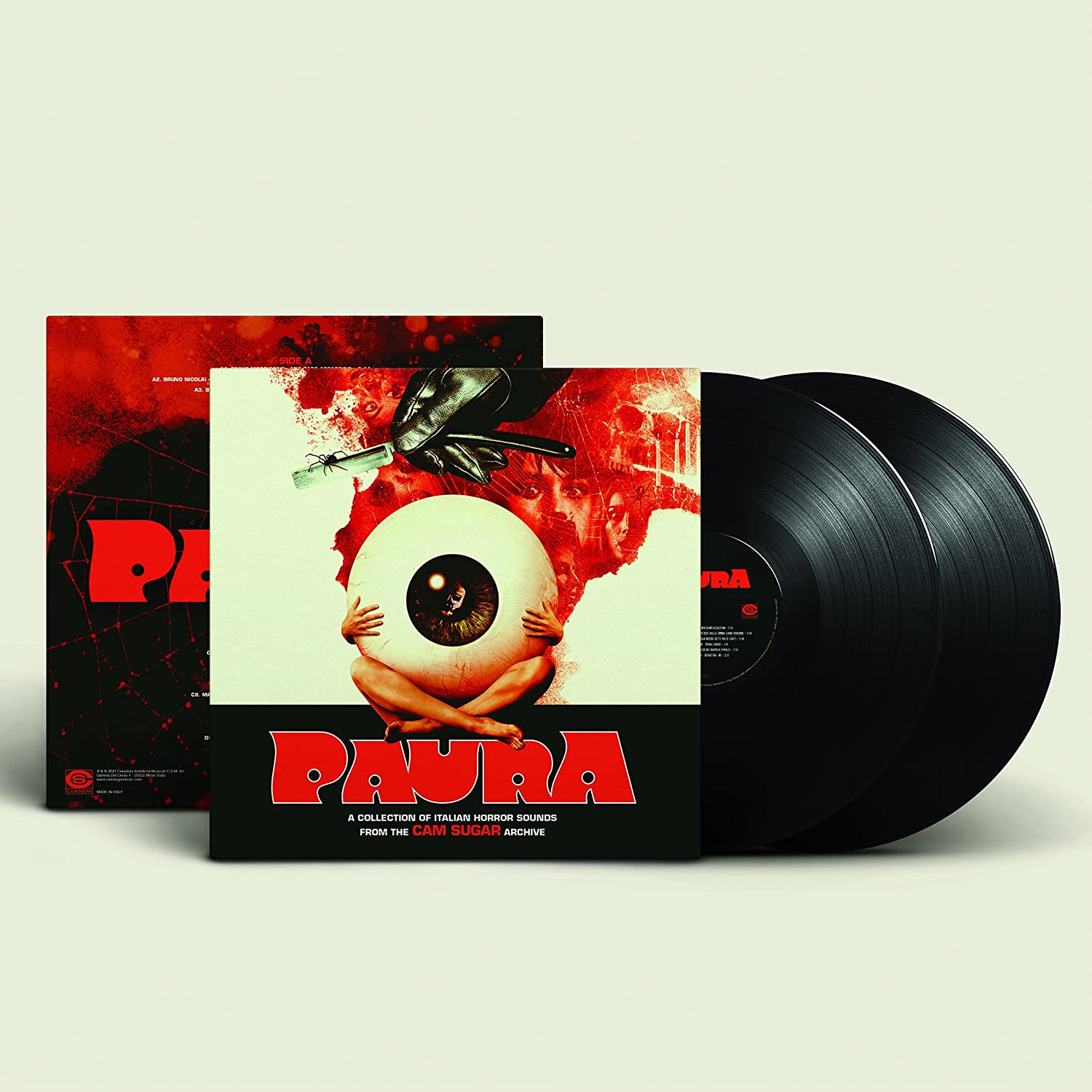 Completely different is the collection Paura, drawn from the archives of Italian film specialists Cam Sugar, focusing on horror. Arriving on double on info-art gatefold, a sticker on the front describes it as "a hypnotic sonic journey into the labyrinth of fear" and, indeed, some of the cuts, with creepy children's voices singing and so on, do reek of the peculiar uncanny vibe some of those otherwise very messy sub-Argento exploitation horrors muster. But elsewhere are gorgeous, luscious pieces that would not be out of place in a spaghetti western, as well as proggy escapades and even, in "E Tante Paura" by Daniel Patucchi, a grinding, spooked, semi-industrial dirge. Featuring rare and/or previously unreleased tracks by Ennio Morricone and Riz Ortolani, it's a must for lovers of this sort of culty stuff.
George Harrison All Things Must Pass (Capitol) + Eric Clapton Eric Clapton (Polydor)
Two albums from 1970 that contain a crossover of musicians and influences. By far the more acclaimed, of course, is Harrison's first proper solo debut (following the instrumental soundtrack noodlings/synth noodlings of, respectively, 1968's Wonderwall Music and 1969's Electronic Sound. It's the sound of a man exploding to life, spiritually and creatively, after playing an eventually frustrated second fiddle to his dominant Beatles songwriter pals for so long. It's a triple album marinated in the freedom Harrison had found jamming/playing with Bob Dylan, The Band and blues-soul duo Delaney & Bonnie. Partly produced by Phil Spector, it's a set that mingles country-rock and more soulful southern blues stylings with Harrison's raga-touched deep dip into Hari Krishna. Thus "Behind that Locked Door" is a pure slide guitar country ballad while "Art of Dying" is a brassy rocker flecked just so with Eric Clapton's guitar. Occasionally, songs such as "What is Life", which is kind of a soft rock Beatles number, remind of Harrison's past, but the big hit "My Sweet Lord", which only grows better with age, is a more solid reflection of where he was at. The triple album aspect seems excessive now but he clearly needed to get this lot off his chest, and it mostly works. It's varied and not boring! There are no less than four vinyl editions. The one sent to theartsdesk on Vinyl is just the main album remastered by Abbey Road sound don Paul Hicks and cut well to plastic, so I cannot comment on the extras found on the eight LP and five LP editions, or, indeed, the preposterous wooden boxset that contains eight records, eight CDs, "books", "figurines" and an illustration by longstanding Beatles pal and Revolver artwork creator Klaus Voorman. Clapton's own debut solo album, meanwhile, came in the wake of a 1960s that had
placed him at an almost-parallel pinnacle with bands such as Cream, The Yardbirds, and Blind Faith. It was recorded just prior to the official creation of Derek & the Dominoes (the band is, essentially, a proto-Derek & the Dominoes), whose one album was another career peak. It sounds like a jolly moment of calm amid the storm which was Clapton's hectic career at the time, Produced and much of it co-written by Clapton's mate Delaney Bramlett of the aforementioned Delaney & Bonney, it's a band having a righteous good time, purposefully lacking the combustible dynamics of, say, Cream (with accompanying personality clash headaches!). It's an unchallenging but likeable set of bouncy, Memphis-style southern roadhouse blues'n'soul numbers, with little ostentatious fret-wankery.
ALSO WORTHY OF MENTION
Alice Hubble Hexentanplatz (Happy Robots): Alice Hubble, once of twee-tronic indie duo Arthur & Martha, returns for a second outing by herself. She sounds like a person having a ball experimenting with analogue synths and sometimes, as on the title track, she hits a seam of sweet catchy songwriting. In fact, it's more consistently synth-pop than her debut which, while very approachable, was more gently experimental. This is no bad thing; welcoming bedroom pop with thoughtful lyrics rather than aiming for Charli XCX territory. Worth taking a dip. Comes of vinyl whose colour is somewhere between a crocodile and combat gear.
Helloween Helloween (Nuclear Blast): German metallers Helloween have a long and varied history going all the way back to 1984. Their eponymous new album draws very directly on that, because the line-up that's been together since 2005 is now supplemented by two members of key earlier line-ups, original singer-guitarist Kai Hansen and singer Michael Kiske, who fronted the band during their breakthrough period at the end of the Eighties. This new line-up is known to fans and the band as "Pumpkins United"! The album Helloween is a marvellously OTT thing; pummelling drums and triumphant, sheeny, polished guitars stand behind choral harmonized power metal vocals on a set that runs over six sides of vinyl, one of which features a hologram of a pumpkin that floats above the plastic when a torch is shined on it. It's an outrageous but tuneful set, more approachable than many might be imagine. Helloween are clearly enjoying themselves and it's contagious.
PJ Harvey White Chalk (Island) + PJ Harvey White Chalk – Demos (Island) + PJ Harvey & John Parish A Woman a Man Walked By (Island): With White Chalk in 2007 PJ Harvey decided to change things up drastically. Her default caustic guitar rock, which had been emphatically to the fore in raw form on her previous album, Uh Huh Her, was replaced by a set of spooked, even gothic, piano-led pieces, the result of Harvey embracing that instrument despite no formal training. These pared back, minor key meditations are an acquired taste compared to what came before; they have a sense of the uncanny about them. This aspect is drawn out further with the Demos. More to theartsdesk on Vinyl's taste is Harvey's 2009 collaboration with her old pal and musical associate John Parish, which arrived nearly a decade-and-a-half after their first set, Dance Hall at Louse Point (possibly my favourite thing she's done). Parish provides Harvey with a set of musical numbers which she reacts to lyrically, and the results are often exciting, usually featuring wilfully abstract banjo or ukulele, and ranging from mandolin doom-folk to the abstract lounge weirdness of "Leaving California" to the primal scream howled mayhem of "Pig Will Not". Coming on gatefold in lyric/info inner sleeve, it's an apt follow-up.
Cedric Burnside I Be Trying (Single Lock): In a gatefold sleeve made of cardboard so tough it might withstand a nuclear war, is the latest from Mississippi bluesman Cedric Burnside. This dude was raised super-deep in the hill country blues, his father a rated blues drummer and his grandfather bluesman RL Burnside. Rather than amping up the rock radio crossover factor like, say, Samantha Fish or Larkin Poe, Burnside keeps his sound relatively stripped back and the repetitive riffs simple. The best of it has solid songcraft attached to a kind of hypnotic roll that's earthy and convincing. Deep South Americana nerds will be happy to hear it was recorded in Memphis and features guitarist Luther Dickinson. Comes with a 12" x 12" info sheet.
DJ Food Kaleidoscope + Companion (Ahead of Our Time): Cards on the table, I'd forgotten what a cracking listen Kaleidoscope is. Released in 2000, it marked the moment when the DJ Food project, by then in the hands of DJ-producers Strictly Kev and PC, moved on from simply providing DJ tools, to creating an album of varied, witty head music, occasionally for the dancefloor too, burnished with a playful beatnik sensibility and genre-eclectic sample palette (rather than contemporaneous trip hop predictability). Psychedelically spacy here, bouncy and jazzy there, percussively opulent elsewhere, it arrives on four sides of vinyl, two in mottled orange and two in marbled off-white that looks like curds'n'whey. The original album is here on a two record set but there's also an equal amount of new material, much of which is a match for the main dish (check out the epic head-fry of "Quadraplex (A Trip to the Galactic Centre)"!).
Various Jesus Christ Superstar (Geffen): The original 1970 album returns on double in fold-out format, half-speed mastered at Abbey Road and sounding punchy. It's weird now to think of Andrew Lloyd Weber as a relative unknown, not fully on his path yet (although clearly he came from extreme privilege so was hardy a struggling artist!). When he and lyricist Tim Rice put the album Jesus Christ Superstar together they had couple of musicals under their belt but one was unheard (The Likes of Us) and the other had been performed but created no waves until much later (Joseph and the Amazing Technicolor Dreamcoat). So the pair gathered rockers, mostly from Joe Cocker's Grease Band (fresh from Woodstock!), but also Deep Purple's Ian Gillan, and theatre sorts such as Murray Head. They then put together this double album, before any musical or film. If Joseph vaguely cashed in on psychedelia, Superstar was attuned to the coming of the concept album. Listening now, one can hear it as a sort of Vegas take on those hippy times. Cuts such as the sax-addled "Damned for All Time" have a frantic grooviness, interspersed with default blues rockin' (encapsulated by the famous title track) and pastiche music theatre frivolity such as "King Herod's Song". The whole thing's, at most, a giggle, no more, but undoubtedly enjoyable with the outrageous Seventies-ness of the film which arrived in 1973
Parallel Action Parallel Action (C7nema100): Producer Jude Greenaway has been around the block a few times, as is attested by his Yellow Machines label, the output of which often harks back to the 1990s rave era where he began. Parallel Action is his latest incarnation and offers a gothic take on trip hop, lightly industrial and techno in places, also with Martina Topley-Bird-ish moments and, as showcased by the grimey vocal of Charlie Boy Manson, an infusion of in more contemporary styles. Crisply produced, it brings to mind mental images of shadowy figures slow-dancing in a desolate and ill-attended urban warehouse party at 4.00 AM. Comes on art-photo gatefold double in art-photo inner sleeves.
Elvis Costello and the Attractions/Various Spanish Model (Universal): This is an odd one. Elvis Costello - or one of his approved compadres - have taken the master tapes of his 1978 debut album This Year's Model, and had the vocals rerecorded in Spanish by a cross section of music stars from South America, Spain and the US, including Luis Fonsi of "Despacito" fame. The results are entertaining enough but, for my money, the whole thing would have been much more of blast if they'd gone at it like the band Mexrissey's collection of Morrissey covers, where the songs had been completely redone in a variety of lively Hispanic styles. As it is, well, it's OK but, for my money, a bit pointless. Comes on photo/info gatefold in lyric inner sleeve.
Kenny Garrett Sounds From the Ancestors (Mack Avenue): Once a youthful jazz prodigy who played with the likes of Miles Davis, US saxophonist Kenny Garrett is now 60 and his latest album falls in line with terrain being covered by the UK's ongoing jazz revival (Shabaka Hutchings, etc) in that it is partly an exploration of Africana via jazz, heavy on groovy percussive episodes. It also retains a direct line back to Garrett's own past output, explicitly tipping its hat along the way to John Coltrane, Art Blakey, Tony Allen and the late trumpet player Roy Hargrove. A stately work over two sides of vinyl in info gatefold, it pushes at the boundaries of what Garrett usually does in an enjoyable manner.
The Psychedelic Furs The Best of The Psychedelic Furs (Demon) + Goo Goo Dolls Rarities (Warner): Two compilation packages by heritage acts. Chronologically first, The Psychedelic Furs' record is a basic presentation of the hits – especially in terms of its plain artwork – so the only real question is, "Has it been well cut to vinyl and mastered?" and the good news is that the sound is full. It's 11 songs long, a cross section of their best-known singles, from early new wavey stuff to "Pretty in Pink" and early-Nineties cuts, also dropping in album aces such as "President Gas". The only shame is that "Alice's House' is not here! US punk poppers Goo Goo Dolls fire out a collection of, well, rarities from 1995 - 2007. These run the gamut from B-sides to acoustic versions, including their biggest hit, "Iris", to covers of songs such as INXS's "Don't Change", and there's one "remix" (actually just a tweaked production) which is "Long Way Down". I found it hard to make my way into this album's Nineties-sounding melodic alt-rock, then again, it's presumably aimed at longterm Goo Goo Dolls fans, and I'm not amongst that number. Comes on gatefold double in art/info inner sleeves.
Viktor Timofeev Palace of Peace and Reconciliation (Viktor Timofeev): Latvian artist Viktor Timofeev created these cuts on cassette between 2012 and 2014. Timofeev's usual game is multi-media concept pieces, visual and installation art, so Palace of Peace and Reconciliation has been a themed series that's included animations, a meal and a drink, pop-up exhibitions and more, the general idea being to provoke thoughts about alienation in the age of electronic communication. Thus, on one side of vinyl, in abstract art gatefold, we have a selection of squally soundscapes, white noise, and tones with glitchery going on, the general tone somewhere between threatening and doomed. I'll leave The Wire and the like to write an essay about its wider meaning.
Glenn Fallows and Mark Treffel The Globeflower Masters Vol. 1 (Mr Bongo): This funky tribute to library music is cheerfully enjoyable, cut fat to vinyl, and emanates good vibes without ever accelerating to anything more. Created by two Brighton musicians, it's typical of that town's head-nodding, spliffy, jazz-loving, breakbeat-friendly, hip hop-influenced, laid back musical bubble. If you're after a chilled smile on a sunny day, look no further; if you want any bite at all, maybe not. It's no accident that metal bands never put Brighton on their tour itinerary!
Paul Weller Wake Up the Nation (V2): Near the beginning of Weller's transformation from stodgy retro rocker to musical magpie, 2010's Wake Up the Nation is the sound of a well-weathered musician having a genre-unbounded blast in his studio with pals (including his old Jam mucker Bruce Foxton on a couple of tracks). From the easy listening waltz of "In Amsterdam" to the jagged post-punk psyche banger "Fast Car / Slow Traffic" to the Seventies-style space rock of "Pieces of a Dream", it's a mixed bag, varied and sonically interesting, although, to these ears, nothing is near a match for material he produced during his pre-solo era.
Belinda Carlisle A Woman & A Man Boxset (Demon): While her international career folded somewhat as the Nineties progressed, Britain and Australia couldn't get enough of Belinda Carlisle. Even with that in mind, her sixth solo album was a comeback success. Turning away from the shiny FM radio stadium pop that had kickstarted her solo career, and working with songwriters such as Roxette's Per Gessle, A Woman & A Man was a cross between her work with The Go-Go's and something more easy listening, laced with a Sixties pop feel. "California", for instance, almost wants to be indie – or at least "college radio" – and it was only one of four British hits the album gave her (including two Top 10). The boxset contains three records and a lyric/photo/info booklet. Disc one is the original album. Record two contains B-sides (including her takes on Marianne Faithful's "The Ballad of Lucy Jordan" which is nice, shimmeringly electro-country thing, and a unexpected but relatively straight cover of Sex Pistol's "Submission" ), with three Faithless-like club mixes of "Remember September" on the flip. The final sides have live tracks – an excuse to include a rousing version of "Heaven is a Place on Earth" - and a couple of acoustic cuts, including "Circle in the Sand".
Blood, Wine or Honey DTx2 (Bastard Jazz): When we last heard from Blood, Wine or Honey they were a three-piece and their debut album, Fear & Celebration, which I still play a lot, was Vinyl of the Month here in June 2018. The Hong Kong outfit are now a duo and their sound has changed drastically. Most notably, there's a more Cabaret Voltaire/early Human League-ish post-punk-tronic feel, accentuated by the half-spoken dry lyrics that dominate. To these ears they dominate too much and the new alt-pop direction, while not by any means disastrous, is somewhat of a disappointment after the promise of the unique free-flying-yet-approachable jazz-percussive originality of their debut. Comes with a wittily conceived DTx2 "activity sheet" of the kind kids are given in certain pizza restaurant chains (word search, dot-to-dot, etc), with a colourful art print on the flip.
Harold Budd Music from the HBO Series I Know This Much is True (All Saints) + The Radiophonic Workshop Possum OST (Radiophonic Workshop Ltd): A couple of soundtrack albums from important experimental modernists that I found interesting rather than vital. Possibly the last work by the late avant-ambient Californian composer Harold Budd, who died of COVID-19 last year aged 84, was the soundtrack to HBO's acclaimed mental health drama and novel adaptation I Know This Much is True. It consists of his first original material in six years alongside other extant cuts. On double on photo gatefold on transparent vinyl, it arrives in photo/info inner sleeves that include a chunky reflection on Budd by the show's writer-director Derek Cianfrance. The music itself, disconnected from the TV show (which I've not seen), is pleasantly chilled and elegantly crafted but floated by rather than winding me in. The Radiophonic Workshop are much-vaunted among electronica geeks, myself included. They were originally scientist-musicians who, in the early Sixties, followed in the footsteps of Musique Concrete, creating weird'n'wonderful soundtracks for BBC radio and TV. Their current incarnation, which includes original members Paddy Kingsland, Peter Howell, and Roger Limb, present a double set in info gatefold on rich jade green vinyl of music from the 2018 elevated horror film Possum. It includes the use of drones dug from the archives of cult Workshop legend Delia Derbyshire. Perhaps the entire soundtrack is here ("all the cues"), plus a fourth disc that consists of "early mixes and alterative takes". In truth, the sombre mood pieces are as much sound effects as music, although, every now and then, an orchestrated arrangement wells up. It makes for an often gloomy listening experience, although may work well with the film. Comes with a 16-page booklet of sinister black'n'white art by Joseph Avery and a similarly dark verse by Matthew Holness
AND WHILE WE'RE HERE
The Allergies are a divisive band. Some find their relentlessly cheery upbeat party funk both derivative and one-note while others - maybe those who keep the dancefloor busy at Craig Charles's roadshows - just get off on the energetic good time tuneage. Their latest album, their fifth, Promised Lane on Jalapeno, continues the party, with lashings of hip hop block party bounce and will undoubtedly put a post-lockdown bounce in the steps of their fans. Switzerland-based Irish producer Mano le Tough has also been busy under COVID restrictions, producing a measured double set, At the Moment (Pampa), that combines bleepy, shiny slow-rolling electronica with an infusion of tuneful melancholia. K.D.A.P. is the moniker adopted by Kevin Drew of Toronto indie outfit Broken Social Scene for his solo debut, Influences (Arts & Crafts), which is a very different creature from his day job, a soothing collection of bubbly, warm electronic instrumentals, a few of which achieve a pace, but mostly it's for comfortably grooving around in your head. One of Britain's finest independent labels, New Heavy Sounds, fires out a new 12" by London trio Mountain Caller, Chronicle: Prologue which appears to be a prequel to their debut album, the instrumental concept set Chronicle 1: The Truthseeker. The new three-tracker is an atmospheric doom-tinted head-nodder. Pete Aves, on the other hand, majors in witty, slightly funky indie singer-songwriting. His seventh album and first in five years, Sweet Are the Uses on Genepool Records, has a vibe of life lived but is also groovy, poetic, and a little jazzy. Prolific Bristol producer Andy Compton combines his talents, once again, for a second album as Blue Dream with Los Angelenos Irantzu Pujadas and Brad Kent: Trip to LA (Tangential Music) is an exquisitely produced selection of squelchy downtempo dancey grooves, somewhere between trip hop and cocktail bar house, but fitting neither tag. One for the smokers who like to jig about a bit. Leprous are a Norwegian prog metal band. Correction: Leprous were a Norwegian prog metal band but, over the years, they've been mutating to a much more accessible style and with their seventh album, Aphelion, on Sony, a double on art gatefold with lyric 12" x 12" insert, they head into territory that Muse have made their own. If they can grab attention it could be massive. Also from Norway but never going to be massive in a thousand years is SKRIM, the new name for the duo sPacemonKey, whose new release, The Crooked Path on Hubro Records, recalls the output of dementedly avant-garde early-'00s San Diego label Accretions. It's a cacophonic, squiggling, percussive gumbo that challenges but also rewards. Jazz in its most unhinged sense. Comes in photo inner sleeve. Berlin collective Field Kit's eponymous album on Nonostar Records sees film composer ​Hannah von Hübbenet successfully expand into classical-electronic territory, a set of glitched, ruminative musings with enough tunefulness, edge and skittering drum patterns to hold the attention. The Unimaginable Dreamworks EP on Warm Records brings together output released by San Francisco chiropractor musician Dr Robert Blackman between 1983 and 1985, which turns out, at its best – as on "San Francisco Dance" - to be percussive post-Talking Heads indie-funk that'd still hold the floor. Paranoid London have a good no-nonsense techno vibe about them. Their music is sometimes functional but something about them/it always has attitude. Thus it is with their Annihilate the World & Start All Over EP on their eponymous label with lead track "Annihilate the World" emanating propulsive buzz. There is something of Barry Adamson about the new soundtrack-for-a-non-existent film The Last Bastion by Adam Gibbons on Bastion Music Group. Gibbons is also soul-funk producer Lack of Afro but this first release under his own name is far more rockin', like a breakbeaty, steroid John Barry. On scarlet vinyl, it's a lovely one. French producer Bellaire also keeps things jolly, if less heavy, with mini-album Date at the Disco (AOC Records) which, on transparent vinyl, delivers a light breakbeaty, home listening-friendly funk that sometimes bleeds into outright jazziness. Renaissance dude Tot Taylor, who's been elusively surfing the music-art-theatre world for decades in various forms (Google him!), drops Frisbee, his first solo album in a quarter of a century on TheCampus Records, and it's a collection of sweetly constructed baroque pop songs, lyrically astute, loosely coming across a bit Al Stewart. Indie supergroup Piroshka, consisting of members of Elastica, Modern English and Moose, and fronted by Miki Berenyi of Lush, release a second album, Love Drips and Gathers, on transparent vinyl in art/lyric/info inner sleeve on Bella Union Records. It rushes about all over the place, from orchestral-sounding interludes to swirling indie-pop euphoria to psychedelic dreampop, and is an unexpectedly varied treat. Also swirling and somewhat psychedelic is the second album by multi-instrumentalist Christopher Bono and sound avant-garde-ist Gareth Jones as Nous Alpha. Entitled A Walk in the Woods, on Our Silent Canvas Records, and with an inner sleeve of notes explaining its background, it's a charming yet spiky emulation of the title's theme, rustling about one moment but suddenly bumping the ear with something less obviously pastoral the next. It's a trip worth taking. Hiatus Kaiyote's new album, Mood Valiant, on Brainfeeder Records, is one of those ones where it doesn't do anything much for me but I can hear it's doing something interesting and original. The Aussie quartet's chosen medium is soul/jazz-funk which they feed through an abstract production process that renders it unlike any usual genre definitions, flightily skewing all over, from gloopy sweet episodes to sudden bursts of noise-funk. Comes on photo gatefold on glow-in-the dark vinyl with 12" x 12" eight page photo/info booklet and, best of all, a super sheet of stickers. Grizzly Bear's second album Yellow House (Warp) received much acclaim on its release in 2006 and now reappears on double in art/info sleeves. It is another one that never got under my skin – and still doesn't - although it's easy to hear what fans enjoy about its imaginatively calibrated and original stew of art-folk, harmonically sound, but pulled apart, tweaked and overlaid with all manner of effects. Austin, Texas, singer-songwriter Molly Burch's latest, her third, Romantic Images on Captured Tracks, arrives on bright yellow vinyl with photo/info inner sleeve and a photo/info insert. Stylistically game and uninhibited, her latest album is a stab at pop which is admirable in intent, her voice floating on gentle electro-pop backing, but eventually rendered staid by trip hoppy drum tracks which are intrusive rather than elevating. For the micro-elite who miss Belgium's alt-jazz craze of the 1970s, keys-player Bram Weijters' latest outing, The Return by Bram Weijters' Crazy Men on Sdban, may prove a tonic, reinterpreting cuts of the period with zippy aplomb. As DJ Seinfeld, Swedish producer Armand Jakobsson, once of the Lobster Theremin moniker, returns with his second album, Mirrors, a double on gatefold on Ninja Tune. It leaves behind his previous stylings in a brilliantly mastered (as ever with Ninja Tune) and well-crafted hunk of house-tronica that veers between the dancefloor and spacier home listening, not in the ambient sense but in the way the production breathes. Another double from an electronic producer covering similar(ish) territory is the re-released Viewpoints album from Justice on Hydrogen Dukebox. This isn't the French duo Justice but the British drum & bass producer, however, this 1998 work steps away from the mad breaks of that era, or even the Bukem-style jazzier cuts, and heads for the producer's own tribute to Detroit techno. It's not Detroit techno but you can hear what it's getting at and the result is a slowly-unfolding listen, combining beats with technotronica. Nice to see Hydrogen Dukebox back, once one of the Nineties' consistently interesting electronic labels. The Pro-Teens, from Melbourne, approach alt-tronica somewhat differently with their sampledelic, soundtracky I Flip My Life Every Time I Fly on Mr Bongo, which sounds like a bunch of people having a lounge-touched laugh over breakbeats and is just the sort of thing this writer might have listened to after a few spliffs circa 1998. Finally, let's end on Portico Quartet, a band whose first few albums persuaded then the next few didn't. Not completely convinced by their latest, Monument on Gondwana Records, but there's something about its solemn mood that holds the attention, especially on the doleful "Ever Present". Never give up on any band. They often have something left in the tank. Portico Quartet used to be good live too. I expect they still are.
The whole thing is a glorious unholy fuck-you mess, just like the best rock'n'roll ought to be
Explore topics
Share this article