theartsdesk in the Faroe Islands: G! Festival 2016 |

reviews, news & interviews
theartsdesk in the Faroe Islands: G! Festival 2016
theartsdesk in the Faroe Islands: G! Festival 2016
A sense of communion at the North Atlantic festival where rain never stops play
Austria's Federspiel take in the remarkable view while playing G! Festival's main, beach-set stage
Familiar words pepper the lead item on the 9am radio news: "Brexit", "Theresa May", "Boris Johnson". Yet the bulletin is delivered in the first language of the 49,000-population Faroe Islands. The self-governing region of Denmark may be a remote cluster of 18 North Atlantic islands, but the Britain-watching contagion has spread to a place which has never been a member of the EU. Denmark is. The Faroes aren't.
The Faroes do it their way. How much so is apparent at the annual G! Festival, hosted by Syðrugøta. At the west end of the Gøtuvik fjord, the village of 416 looks classically Nordic and picture-postcard beautiful. Houses with stone footings and stained-timber superstructures assemble in concentric arcs on the terrace shelving down to the ocean. The stunning, mountain-fringed setting also looks Scottish and could be in the Highlands.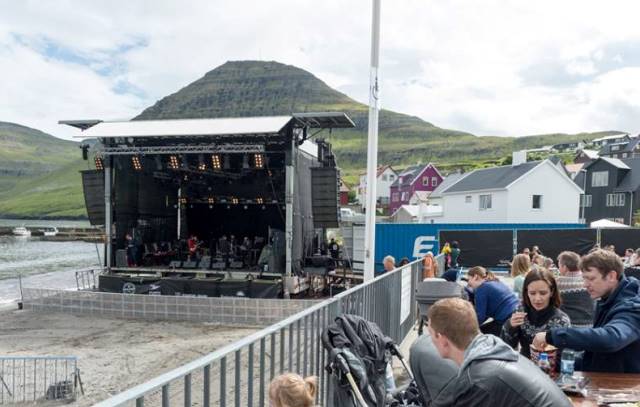 But it's not. North of The Shetlands, half-way between Iceland and Norway, The Faroes' own identity resonates forcefully over the three days of G! In Syðrugøta, it can't fail to as the village's core is surrounded by metal barriers marking the limits of the festival site. This is a concentrated dose of the Faroese where some of the snacks on offer are resolutely unfussy: whale, dried fish and mutton. For lightweights, such hardcore fare is tempered by butter chicken curry, nachos and pulled pork. Like the food, the beach-set main stage Sandur (pictured right) emphasises that G! exists at a series of interfaces: where land and the ocean meet; the see-saw abruptness of changes in the weather; between the tiny village and 3000 festival goers; between different styles of music. Instead of friction, there is an enviable adjustment. This is what The Faroes are about: constant accommodation of whatever comes along.
Everything comes together on the basalt-grey beach at Sandur when 70-year-old Annika Hoydal (pictured below left) appears just before 8pm on Saturday. Tagged as "among the Faroes' greatest musical treasures" and "the Queen of Faroese Music", she and her songs are embedded in the national psyche. There's a reflective lilt to her inexplicably familiar songs, and clear impressions of identity, place and roots in folk. She ought to be old-timey and singing to the audience which grew up with her, yet streams of festival goers who look barely 20 rush stagewards. Almost immediately, they link arms and begin the distinctive, winding Faroese chain dance.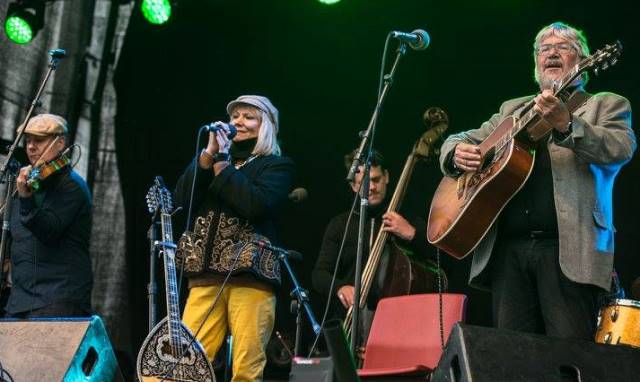 A couple of hours later, it's time for Sanglöta. The festival's pivotal event is a mass sing-along with a band playing Faroese classics. Emotion fills the air as the levels of passion run even higher. Some of the music is glutinous balladry and iffy schlager but the sense of communion envelopes. As Anikka Hoydal had, it speaks of some ur-memory. Young, old; male, female: anyone and everyone is swept along. So much so, it's impossible not to wonder if this is what the festival is about. Forget the metal bands, local stars, the overseas visitors. All anyone at G! wants to say is that I'm Faroese, we're all Faroese, music is what brings us together and this is when we do this.
Being parachuted into something so particular could be disconcerting. But wander up to a happily singing audience member and ask them what the song is about and you'll be told, say, that this is the story of a young girl getting to grips with the adult world. It's impossible not to get chatting to the uniformly warm festival goers, but help isn't needed to appreciate much of the rest of G!'s music.
And there's a lot of music here. At any given moment, the islands have 2000 music students. Four-fifths of the festival's bill is local. Inevitably, The Faroes has few venues and it's only possible to play so often before welcomes could be worn out. Questions about whether audiences might be jaded about some of what's on at G! are instantly shelved when surrounded by a wildly enthusiastic crowd. Music is loved and no one is afraid of showing it.
Eivør Pálsdóttir (pictured above right) grew up in Syðrugøta and is greeted as the star she evidently is. After dense rain, wind and incoming waves scotched her Sandur performance she played the second-stage Spælippláss, set up on an AstroTurf football pitch – The Faroes are football mad: the islands are littered with pitches. Alongside Teitur and the folk-inclined metal band Týr, she's amongst the best-known Faroese musical export. Recently heard on the soundtrack to The Last Kingdom her hard-edged set melded electronica and folk, and was all the proof needed that she's no longer for The Faroes or even Scandinavia alone.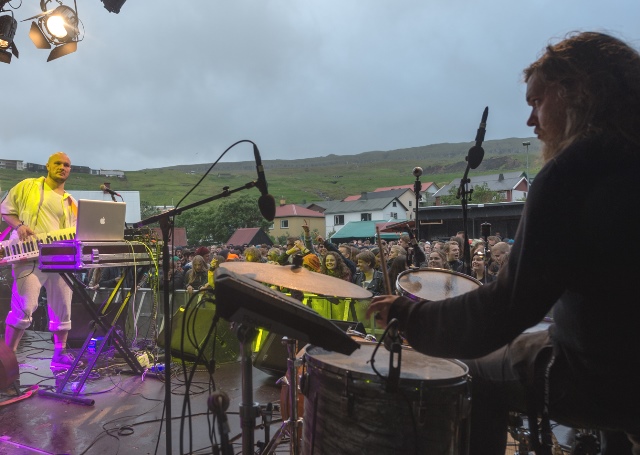 Saxophone-wielding Konni Kass is more obviously pop. Unlike Eivør, she has no albums out but at Spælippláss she flaunted a jazz-tinged soul-pop which could, with a bit of wind behind it, find an audience anywhere. The Eighties-style electro of Sakaris (pictured left) inspired a major cross-gender run-down across the AstroTurf. With a pair of albums out on The Faroes' only multi-act label Tutl, Sakaris Emil Joensen's band's funk, Thriller dynamics and way with an arms-aloft anthem mark them as a snug fit for the run of Top of the Pops repeats from 30 years ago currently airing on BBC4. Anyone in Dalston doing this would be hailed as a pop auteur. Up here, where high musical standards are a given, Sakaris inspire screams. Just as it should be.
From the neighbouring hamlet of Gøtugjógv, singer-songwriter Lyon is more solemn and evinces a Broadway sensibility akin to Randy Newman or Rufus Wainwright. Seeing him makes it hard not to ponder how this talent pool would fare if shipped off en masse to some hipster-claimed urban locale where they could get a push by labels, media and PR. Of course, writing about G! might help but it's notable that Eivør lives in Copenhagen. How fine it would be if there were no need to leave The Faroes to make a mark. Take the metal bands Goresquad and Iron Lungs. Each have great musicians, great frontmen, know exactly what they are doing and are tremendous fun. Stick them on stage at Tilburg's Roadburn Festival and they'd (metaphorically) kill.
Although The Faroes don't lack music, plum acts from elsewhere went down a treat. The Viennese folk-dance wind-instrument combo Federspiel were a blast. Denmark's Jacob Bellens made a game try at completing a soundcheck on the rain-battered Sandur but shifted his show to the cosy former knitwear factory Tøting. To as many people as could squeeze in, he pithily sang "I'm a fairly ordinary flower-picking type of guy." On a rain-free Spælippláss, Iceland's extraordinary Agent Fresco (pictured right) nodded to At the Drive In, Coldplay, emo, Explosions in the Sky. Muse, prog-rock and U2 over a set with so powerful an all-out attack it suggested they were playing a stadium rather than a village football pitch.
With the standard of what plays, G! Festival can't fail to be about the music. But it's also about The Faroe Islands. Where else would a village allow itself to be subsumed into into a festival yet not wall-off its gardens. Syðrugøta's football team even helps with the day-after clear up. Everything rubs along just fine. It's an example "Theresa May" and "Boris Johnson" would do well to look to.
Whale, dried fish and mutton are on offer, but the hardcore fare is tempered by nachos and pulled pork
Share this article