Shutter Island |

reviews, news & interviews
Shutter Island
Shutter Island
Not a blinder: Leonardo DiCaprio in Martin Scorsese's feverish paranoid thriller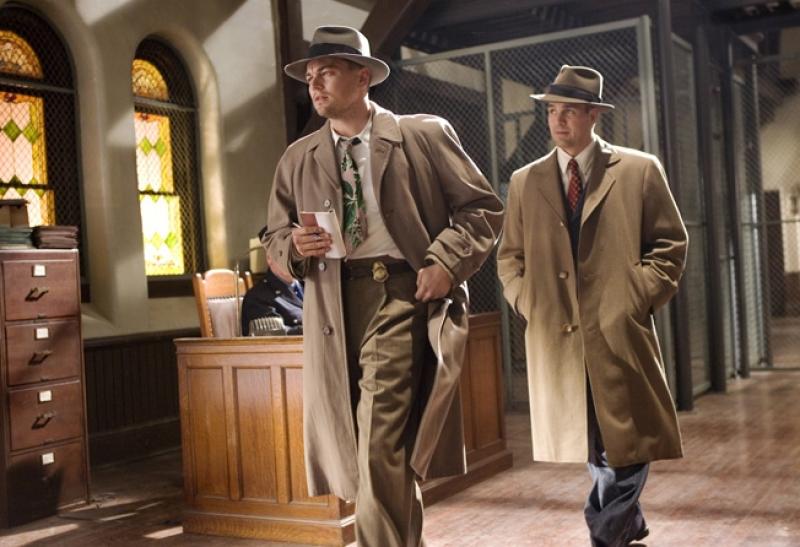 G-Men: Leonardo DiCaprio and Mark Ruffalo hot on the case in Shutter Island
The opening scene of Martin Scorsese's new film - a storm-tossed ferry buffeting its way to an isolated island off America's East Coast - bears an unmissable resemblance to that of Roman Polanski's The Ghost. So too does its premise, of a vulnerable young man who falls under the sway of a powerful, indefinably sinister older one.
Both are by senior directors who have bounced back from crises, professional and personal; both derive from popular thrillers (Scorsese's is based on a bestseller by Dennis Lehane) that twist and turn their way towards thumping third-act revelations. Yet could any two movies be more different in their net effect?
In Shutter Island the year is 1954, the Golden Age of the Cold War, the A-Bomb, lobotomies and mind-control conspiracies. Senator McCarthy is still (just about) on seat. A fine time, in short, to be alive and sentient in America. As the film begins, it is a dark and stormy night and, accompanied by thunderous chords, Federal Marshall Leonardo DiCaprio and his partner, Mark Ruffalo, are crossing the strait towards a looming Gothic mental asylum for the criminally insane. Only the most dangerous, damaged patients are housed there, they are warned immediately.
Their mission: to investigate the escape of a female inmate, a mother who has drowned her three young children. Helping them - perhaps - in their investigations are the head shrink, a silkily emollient, pipe-smoking, bow-tie wearing, British-accented Ben Kingsley, and his colleague, the equally urbane, German-accented Max von Sydow, whose very presence triggers in DiCaprio - a World War Two veteran - lurid flashbacks to corpses piled up at Dachau: scenes which the film exploits cynically to ramp up the general atmosphere of angst. Are these two good gentlemen perchance hiding something, a secret to do with grisly medical research, lab-rat psychological experiments? Or is it all in the Fed's imagination? Something, anyway, is amiss; he might be paranoid, but that doesn't mean that they're not out to get him.
DiCaprio has displaced Robert De Niro and Daniel Day Lewis as Scorsese's male muse of the moment (they have now made four films together). With age, his baby face has developed two little vertical frown lines (though, as in Revolutionary Road, he still looks a bit of a berk in a hat), and he's given ample chances here to flaunt his mask of anguish. It's a competent impersonation of emotional turmoil that can't hold a candle to the incendiary younger De Niro. When De Niro stares into the mirror, and into his very soul, as Travis Bickle in Taxi Driver ("You lookin' at me?") or as Jake La Motta (pictured right) in Raging Bull ("I coulda' been a contender"), these were indelible, iconic movie moments. Who will remember DiCaprio looking at his reflection, as he does in Shutter Island, and puking into the sink? The film's epigraph comes from T S Eliot's The Hollow Men. An apposite choice.
The plot thickens. The island is cut off by a Force 5 Hurricane. Fire, wind and water whirl around constantly, baleful characters in their own right. Impenetrable conversations take place. The patient, played by two different actresses, Emily Mortimer and Patricia Clarkson, turns up but her arrival explains nothing. All of which unfolds with tremendous baroque brio in Scorsese's signature set pieces. Individual scenes grab you by the throat. But the film appears incapable of building a sustained momentum, of keeping you hooked on its tangled plot. "When I lost the Oscar for Raging Bull, that's when I realised what my place in the system would be, if I did survive at all," said Scorsese in a 1991 interview. "On the outside, looking in." Well, he survived and won his Academy Award (for The Departed in 2006) and these days is snug and warm on the inside making highly successful, immaculately honed genre pictures. With Shutter Island, he has clocked up the biggest opening US box-office of his career.
Polanski's film, shot with an equal panache but also with pellucid simplicity, is a potboiler too, but it contains all sorts of fascinating wider references to the real world. Shutter Island - with its clotted homages to film noirs and B-movies of the period - is a navel-gazing exercise in style, an empty tale of sound and fury (which is why the concentration camp shots are such a distasteful intrusion). There was a time - how long ago it seems now - when Scorsese's work really counted for something. Here, for all the pyrotechnics, you feel nothing at all is at stake.
MORE MARTIN SCORSESE ON THEARTSDESK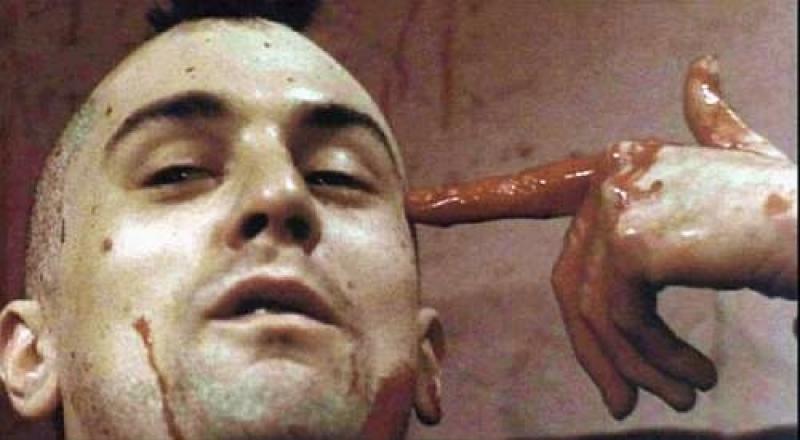 Taxi Driver (1976). Talking to me? Scorsese's classic starring Robert De Niro (pictured) is restored and re-released on its 35th anniversary
Hugo (2011). Scorsese does a Spielberg in sumptuous look at the origins of cinema
George Harrison - Living in the Material World (2011). Martin Scorsese's epic documentary of the Quiet One
The Wolf of Wall Street (2014). Con brio: Scorsese and DiCaprio tell of the rise and fall of a broker
Arena: The 50 Year Argument (2014). A warmly engaging film about the 'New York Review of Books' might have been more than a birthday love-in
Vinyl (2016). Scorsese and Jagger's series is prone to warping, skipping and scratches
Silence (2016). Scorsese's latest is a mammoth, more ponderous than profound