The Ghost
The Ghost
A Blairite prime minister comes under fire in Roman Polanski's political thriller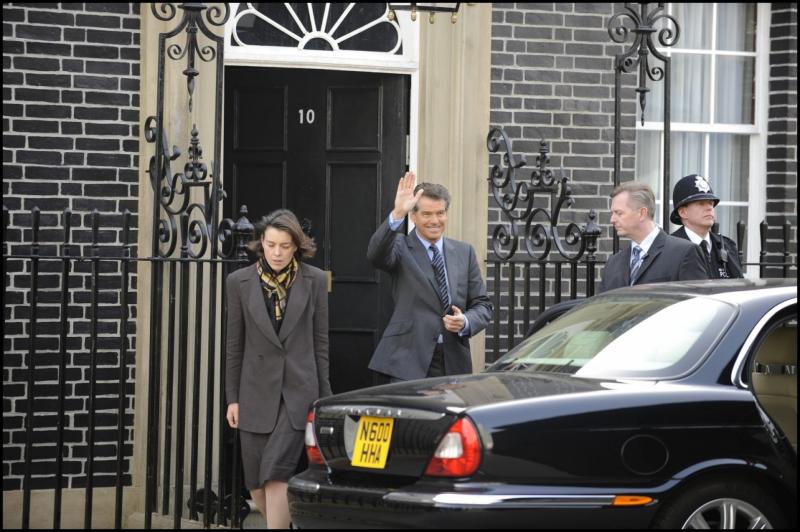 Echoes of real life: Olivia Williams and Pierce Brosnan pose outside No.10
Roman Polanski's vice-like paranoid thriller received its world premiere in Berlin in February amid the Chilcot inquiry and headlines about MI5's complicity in torture at Guantánamo Bay, and its topical echoes will rumble on uncomfortably (for some) in the run-up to next month's UK elections.
Based on Robert Harris's best-seller,
The Ghost
(or
The Ghost Writer
, as it's titled in certain territories), it features an ex-prime minister accused of precisely such crimes and the perhaps even more heinous ones of being in possession of bouffant hair, a cheesy, unconvincing grin and a manipulative, neurotic, highly intelligent wife. Resemblances to living persons are most certainly intentional.
It starts with a vivid image. As cars roll off a ferry one dark rainy evening, one unclaimed vehicle sits there stubbornly, blocking the traffic. The owner has disappeared without trace, who knows where. It's an eerie curtain-raiser to the film's wintry, fearful world. Cut to London where we find the Ghost (Ewan McGregor) entering his publishers' offices, a task more difficult than bank robbery. Passports are to be shown at all times. "Who are you expecting to bomb you, Random House?" he asks. He is there to audition for a highly prestigious, high-pressure gig: writing the memoirs of Adam Lang, the former PM. It's a rush job, the previous incumbent having been the driver of that abandoned car. The Ghost's experience has been confined to potboilers about faded showbiz stars. No problem. Actually, his lack of interest in politics is the very quality that lands him the commission.
He is despatched forthwith to spend the next few weeks holed up with Lang at his American publisher's swish beachfront home near Cape Cod (the Ghost, alas, finds himself billeted in a shabby hotel in a nearby out-of-season seaside resort that's as spooky as it is depressing). It's not, he discovers on day one, a relaxing and inspirational place to work in. Flanked by his blonde mistress (Kim Cattrall) and angry brunette wife, Olivia Williams, Lang (Pierce Brosnan) turns out to be a smug, celebrity-struck type whose brittle charm easily fractures when challenged. Moreover, he has just been accused of collaborating with the CIA in the extraordinary rendition and torture of suspected terrorists and is under house arrest pending summons to the war crimes tribunal in The Hague.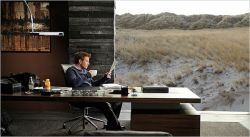 Blair's isn't the only real-life case stalking the movie, of course. Lang, hounded by controversy, besieged by the media, imprisoned in his high-security house, has unmissable echoes of Polanski's plight, with the piquant twist that Lang is barred from leaving the United States while it's the one place where the director can't go; The Ghost appears to have been shot in Berlin, whose streets pass, not terribly convincingly, for London, and on the Baltic Coast, standing in for America's Eastern seaboard. Not that it matters. Polanski's fantastic sense of genius loci comes into full play in his use of Lang's cold, hyper-modern house with its enormous plate-glass windows looking out on to the stormy beach while barely seeming to keep the elements at bay. Its walls are covered with livid Abstract Expressionist art - the red-spattered canvas by the Ghost's bed suggests that the previous occupant might have blown his brains out there.
McGregor imbues him with a likeable presence but the Ghost (a character so evanescent we never learn his name) is vaguely defined, a man with no family or connections who seems barely connected to the material world. He will inevitably become a spectre to haunt the PM as he uncovers secrets from the latter's dodgy past. Perhaps - who knows? - he will eventually meet an untimely end and become a literal ghost himself. His liking for the sauce (only spirits, of course, never wine, in a typically sly running joke) could just be his undoing.
The plot is hokey as all get out: there are some very trite contrivances involving scribbled notes with phone numbers and internet searches, and when Lang's ex-Foreign Secretary turned whistle-blower (a nicely ambiguous Robert Pugh) gives a big speech near the end explaining everything, it's an absolute certainty that there will be at least one additional, and rather foreseeable, twist.
In Polanski's hands, you forgive the clichés at the same time that you feel the material doesn't really deserve him. The claustrophobic house-bound confrontations at the beginning have their own psychological urgency; and, as the mechanics of the thriller click smoothly into gear, there's a fantastic sequence involving the disembodied voice of a rogue satnav system that segues into another creepy encounter with a shady American academic (Tom Wilkinson), and thence into a crescendo of brilliantly staged climaxes. For all his troubles, Polanski has evidently as a director not yet given up the ghost.

In Polanski's hands, you forgive the clichés at the same time that you feel the material doesn't really deserve him
Explore topics
Share this article